GooDee YG600 and Emotn C1 are both LCD projectors with approximated market positions. What are the differences between them?
The side-by-side comparison table below will help you to have a quick understanding of their differences.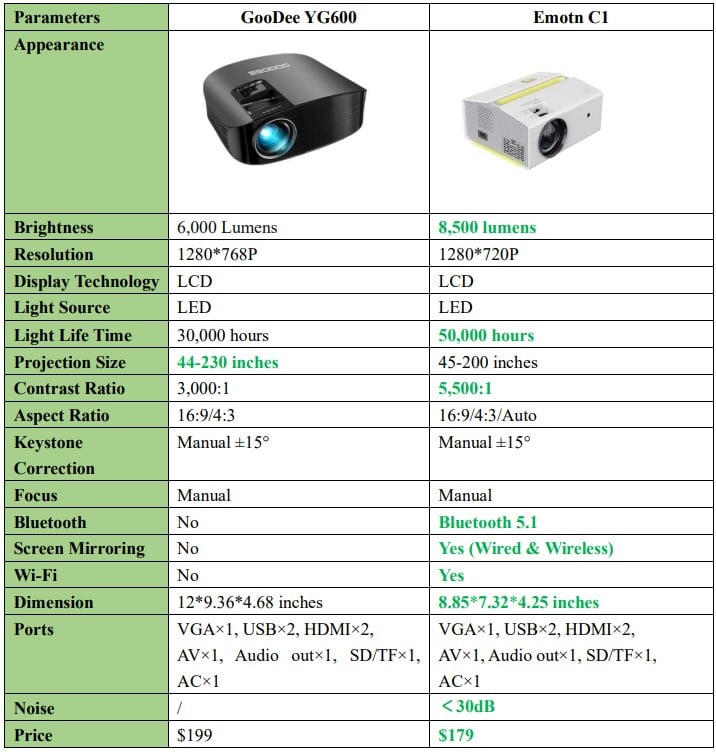 Appearance
GooDee YG600 adopts whole black, a little dull and boring. Emotn C1 adopts contrast color, using elegant white as the main color and fluorescent yellow as the embellishment, whose style is young and fashionable.
In terms of size, GooDee YG600 measures 12*9.36*4.68 inches while Emotn C1 measures 8.85*7.32*4.25 inches.
Compared with GooDee YG600, Emotn C1 is smaller and portable. GooDee YG600 is a little bulky.
In addition, Emotn C1 has a groove working as a phone stand. You can put the phone in it when using the screen mirroring feature for a long time, which both saves space and saves effort. The long groove and sidebars are made of silica gel, and therefore the touch is soft and comfortable.
Image
GooDee YG600 and Emotn C1 both use LED as the light source and adopt LCD display technology. They all support keystone correction and focus adjustment.
However, Emotn C1 is brighter and performs better in terms of image effect.
GooDee YG600 features 6,000 lumens while Emotn C1 features 8,500 lumens, meaning that Emotn C1 has a better image and viewing experience under ambient light.
Here is the image comparison.
User Interface
GooDee YG600 uses different elements in terms of the navigation bar on the homepage. The overall style is simple but difficult to understand. There is no brand logo and any guidance symbols on the homepage. The User Interface of YG600 GooDee is a little rough compared with Emotn C1.
Emotn C1 adopts compact rectangle modules with literal explanations to indicate different features of the projector. Users can know the operation quickly and instantly when they turn on the projector. The overall color matching is bright and comfortable. There is a brand logo on the right upper corner of the homepage, making the UI exquisite and elegant.
Smart Features
GooDee YG600 and Emotn C1 both support various external device connections, all of which are equipped with various ports, including 2 HDMI ports, 2 USB ports, 1 VGA port, 1 AV port, 1 audio output, and 1 SD/TF card port, supporting TV boxes, computer, phone, DVD player and other external devices.
Compared with GooDee YG600, Emotn C1 is more powerful in terms of other smart features.
Emotn C1 supports both wired and wireless screen mirroring, Wi-Fi connection, and Bluetooth 5.1, enabling users to get more content resources. It has two working modes, Projection Mode and Bluetooth Speaker Mode.
GooDee YG600 doesn't support screen mirroring, Wi-Fi, nor support Bluetooth. Users have to connect the projector to other external devices to watch videos.
Conclusion
GooDee YG600 and Emotn C1 are both LCD projectors, but Emotn C1 has more features. If you want a projector featuring high image quality, screen mirroring, Bluetooth, and a Wi-Fi connection, you can just buy Emotn C1 because it is much cheaper and smarter.