Before I got my home theatre system set up, one of my biggest worries was about the projector. The projector is the most important part of any home theatre, so getting it right was essential to my dream theatre.
Now that 4K projectors are widely available, it might be time to upgrade your current projector. Let's go through the best 4K projectors currently on the market.
Top picks for the best 4K projectors 2023
Are you looking for an affordable projector, or is money no object for you? Maybe you enjoy gaming through your projector. No matter what you use your 4K projector for, we've got you covered. Here are the best 4K projectors.
Best Overall: Samsung The Premiere
Specs:
Resolution: 3840×2160
HDR: Yes
Native Contrast Ratio: 1000:1
Dynamic Contrast Ratio: 2,000,000:1
Lamp: 2200 lumens
Connectivity: 3 HDMI, ethernet, USB, Bluetooth, WiFi
Price: $2,999.99
If you're looking for an all-in-one home theatre system, The Premiere by Samsung might be for you. It took more than a decade for Samsung to come out with their new projector, so expectations were high.
Luckily, the Premiere exceeded most of those expectations. With a max projection area of 130 inches and its three-color laser projection system, the Premiere can project 4K images with ease.
The Premiere also has a built-in 40W audio system, so there's no need to install a sound system of your own. The projector was built to sit on a coffee table in front of the projection wall, so there's no need for wall or ceiling installation.
Pros
40W sound system
No need for a ceiling or wall mount
Deep blacks and crisp colors
Samsung Smart TV technology
Cons
The operating system can lag
Momentary rainbow effect
Runner-Up: Epson Home Cinema 5050UB
Specs:
Resolution: 3840×2160
HDR: Yes
Dynamic Contrast Ratio: 1,000,000:1
Lamp: 2600 lumens
Connectivity: 2 HDMI, Ethernet, USB, disc drive, WiFi
Price: $2,999.99
The Epson Home Cinema 5050UB is another great projector, even if its resolution isn't native 4K. Instead, the Epson Home Cinema uses pixel-shifting technology to enhance its UHD video so that it mimics the ultra-crisp image of a 4K projector.
The Epson Home Cinema's chips utilize 3LCD technology, ensuring 100% color signal in every pixel. You can change the projection size from 80 inches to 120 inches and larger. Once you find a zoom and focus you enjoy, you can save it in your settings to use later.
The Epson Home Cinema also comes equipped with a wireless HDMI hub, which means you no longer need to run wires around your house. Just connect to WiFi, and you're ready to go!
Pros
Lens preset memory
3D capable
Wireless connectivity
Precision color
Cons
Non-native 4K resolution
Heavy
Need projector screen
Most Powerful: Dangbei Mars Pro
Specs: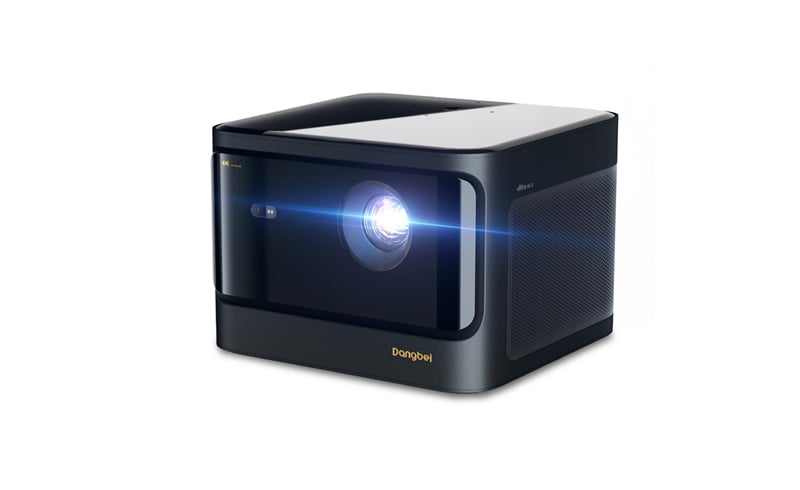 Pros:
Dolby Digital Plus and DTS Studio Sound
Supports 3D and HDR10+
ALPD laser light source with 3200 ANSI Lumens
Powerful smart features
Cons:
A little heavy
The Dangbei Mars Pro projector is equipped with the flagship processing chip MT9669 and has a large memory of 4G+128GB. Its system runs very smoothly, and the large storage space can download various software applications and video resources. Dangbei Mars Pro projector uses an ALPD laser light source, supports 4K native resolution, and has a brightness of up to 3200ANSI lumens. It is able to deliver true-to-life color with support for 4K Ultra HD, HDR 10, and HLG. What's more, Dolby Digital Plus and DTS Studio Sound technology are well applied to Dangebi Mars Pro, you can connect via Bluetooth to use as a standalone speaker.
Dangbei Mars Pro is featured with smart automatic adaption including Autofocus, Auto Keystone Correction( 40 Degrees Horizontal & Vertical), intelligent obstacle avoidance, and intelligent screen alignment. It even supports all-directional 3D play, with a more intense sense of reality, you can enjoy an immersive viewing experience without the need to go to the theater.
Best Deal: Optoma UHD50X
Specs:
Resolution: 3840×2160
HDR: Yes
Contrast Ratio: 500,000:1
Lamp: 3400 Lumens
Connectivity: 2 HDMI, USB, WiFi
Price: $1,399
The Optoma UHD50X is among the best projectors regarding price for the technology you get. Even if it's pricey, you get a lot of features. You can mount the projector on either a table or the ceiling, and its UltraDetail technology displays crisp images with dark black tones.
Optoma designed the UHD50X to display both images and video with perfect clarity, including video games. With its 36 ms response time on 4K projection, you won't miss a second of gaming with this projector.
Pros
3D compatible
Ceiling or table mount
Dynamic blacks and crisp colors
No lag for gaming
Cons
The operating system is slow
Cheap remote control
Runs hot
Most Expensive: JVC DLA-NX7
Specs:
Resolution: 4096 x 2160
HDR: Yes
Native Contrast Ratio: 80,000:1
Dynamic Contrast Ratio: 800,000:1
Lamp: 1900 Lumens
Connectivity: 2 HDMI, ethernet, USB, WiFi
Price: $9,499
If you're in the market for a 4K projector, and money isn't an object, you may want to consider the JVC DLA projectors. The DLA-NX7 is a tabletop projector that can fit into any room with its sleek design. One problem—the minimum throw distance is 20 feet, so you'll need a big room.
But the image from the DLA-NX7 is worth it. With its native 4K resolution and high contrast ratio, you'll get the most diverse set of colors and deepest blacks. It utilizes HDR technology to ensure every pixel looks sharp.
Pros
Extensive color gamut
3D capability
Automatic HDR sensors
Native 4K resolution
Cons
Best For Gaming: BenQ TK700STi
Specs:
Resolution: 3840×2160
HDR: Yes
FOFO Contrast Ratio: 10,000:1
Lamp: 3000 Lumens
Connectivity: 2 HDMI, USB, WiFi, Bluetooth, Google Cast
Price: $1,699
BenQ designed the TK700STi with gaming in mind, although movies also look fantastic on the projector. The TK700STi is a ceiling-mounted projector that has a 100-inch screen at a 6.5-foot throw distance. The TK700STi utilizes a DLP projection system to make sure its colors stay true to the image.
The reason why the TK700STi is an awesome gaming projector is its frame rate and lag time. It only has a 16 ms response time on 4K 60Hz resolution, which is far better than any other projector on this list. If you're into gaming, consider the BenQ before the others.
Pros
Excellent frame rate and response time
Progressive 3D capability
Low throw distance
Limited lag
Cons
Onboard buttons aren't intuitive
No 3D Bluray or DVD capability
Summary
If you're in the market for a new projector, make sure you find one that'll fit your needs. Perhaps you're a gamer who needs an excellent refresh rate, or maybe you're a cinephile who needs crisp images in their movies.
All in all, if you're looking for a projector that will wow you and your friends, you can't go wrong with The Premiere by Samsung. Its ultra-clear image and vivid colors will give you a whole new viewing experience. But if you want a powerful projector that has the best value, Dangbei Mars Pro would be worth your investment most.
Buying Guide for Choosing the Best 4K Projector
There are few critical factors that you need to take into account when choosing the best projector. They are throw ratio, brightness, and audio effect.
Audio effect – Choose the better sound
Most of the projectors house built-in speakers. When the projector is for business presentations or educational sessions. Sound won't matter a lot. But when we switch to 4K projectors, we would want an excellent audio effect to match with the images sprung alive in crisp detail for a very cinematic experience.
Throw ratio – Where should you place the projector?
When we are choosing the best 4K projector, you may well get the ultra-short throw projector or long short throw projector. These two kinds of throw ratios differ a lot, which affects where should you place the projector. In another word, you need to do some research on the throw ratio, because if you want a 4K projector that could easily fit in small spaces, a long throw projector may fail you. There is a formula for calculating the throw distance, but there is a shortcut as well. Projector Calculator will help you figure out the accurate placement distance between the projector and the screen in a few seconds.
Brightness – The Brighter, the better
Brightness matters a lot in the 4K projector. To maximize the amazing effect of 4K resolution, brightness is critical and essential. Without enough brightness, the razor-sharp details of images with 4K resolution won't be able to be presented on the screen. The color would be faded and not vivid enough.