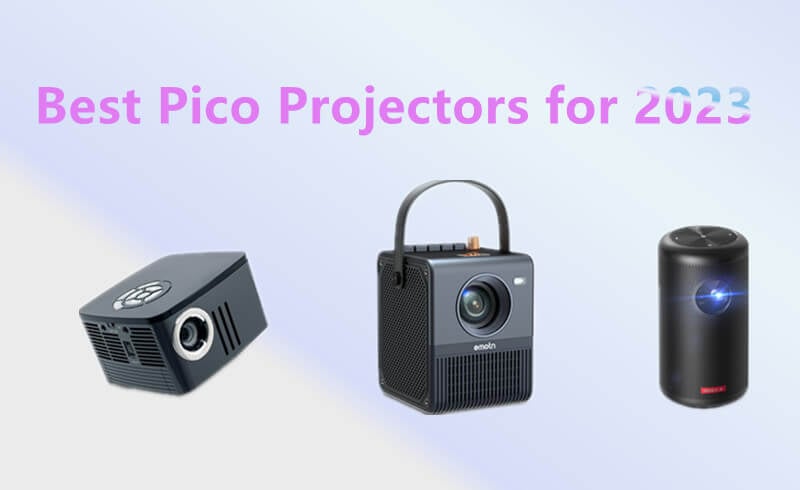 A pico projector is a convenient and easy-to-use piece of media equipment and is becoming increasingly popular for at-home and professional use. A quality pico projector can provide a crisp image and quality audio without needing a large monitor or speaker setup. 
The compact design of pico projectors makes them ideal for anyone who doesn't have space for a television or wants a portable option for viewing media. Whether traveling for work, going camping, or dealing with a small living space, a pico projector is a fantastic product in which to invest.
Top Picks for the Best Pico Projector 2023
Pico projectors can vary when it comes to prices and extra features. We've put together an inclusive list of the very best pico projectors that the industry has to offer.
Emotn H1 HD Projecor
Resolution: 1920×1080
Contrast: 3000:1
Lumens: 250 ANSI lumens
Projection Size: up to 251 in
Price: $289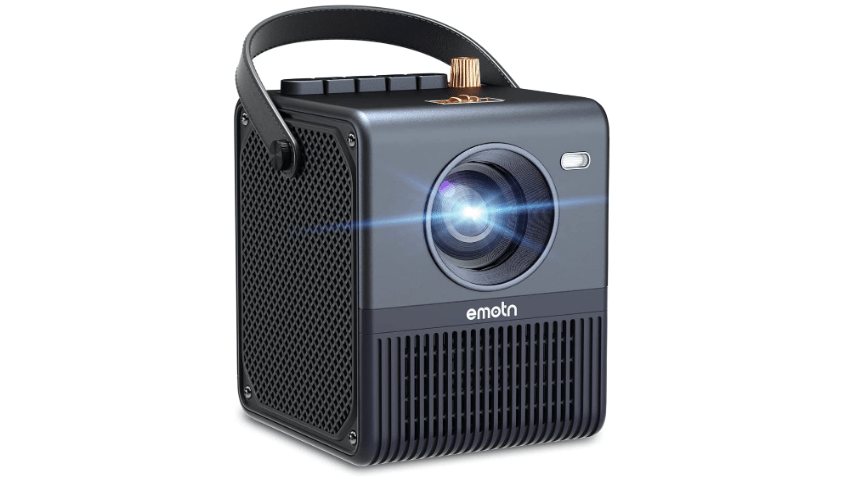 Emotn H1 houses native resolution of 1920×1080, but it is powerful to play a 4k video in H.265 encoding format through an external USB flash drive. Meanwhile, this projector is capable of delivering HDR images which can meet all of your home theatre needs. Emotn has built-in dual Hi-Fi stereo speakers which are powered by Emotn's professional DSP digital amplifier chip, can reproduce sound effects very well.
Moreover, Emotn H1 works with Emotn OS that accesses over 5,000 Streaming apps, users can seamlessly display content from Disney+、HBO Max、Prime Video、YouTube, and more on your portable projector for endless entertainment. Though it is a pico portable projector, Emotn H1 is very competitive in terms of smart features including WiFi, Bluetooth as well as auto keystone correction.
Anker Nebula Capsule II
Resolution:1280×720
Contrast: 10000:1
Lumens: 200 ANSI lumens
Projection Size: up to 100 in7
Price: $579.99
The Anker Nebula Capsule II may be on the higher end of the price range for pico projectors, but it's worth it. This tiny cylinder produces a fantastic image and sound quality.
This pico projector creates a crisp image, and with an autofocus feature, there's no fussing with the lens when setting up a movie. It has inputs for USB and HDMI, and a brightness level of 300 lumens. Wall and tripod mounts work for this projector.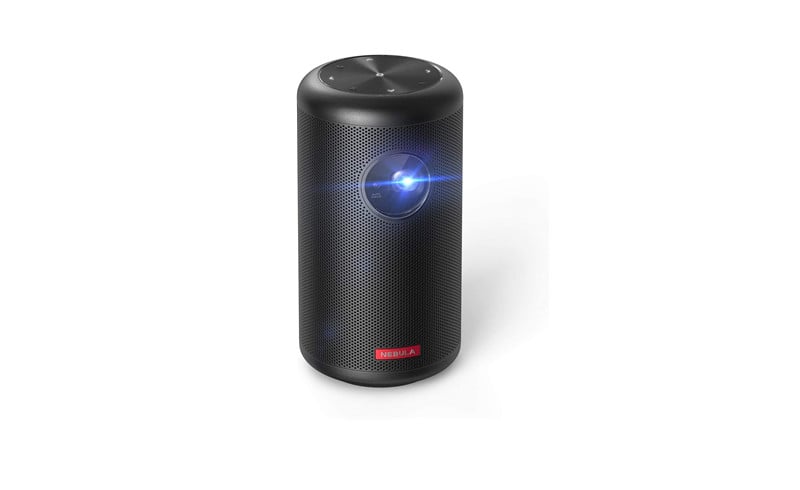 Additionally, the Anker Nebula Capsule II runs on Google's Android operating system, making it ultra-compatible with other devices and easy to download streaming apps such as Netflix or Hulu.
Hompow Mini Projector
Resolution: 1920×1080
Contrast: 5000:1
Lumens: ~360 ANSI lumens
Projection Size: up to 200 in
Price: $79.99
The Hompow Mini Projector is affordable and easy to use, making it ideal for anyone looking for a simple home theater setup or portable projector.
What's great about the Hompow Mini Projector is that it has plenty of input options, including VGA and USB, making it easy to watch media using a flash drive, Xbox, Kindle Firestick, and more.
This projector's lightweight and streamlined design will fit easily in your space and has a tabletop mounting style. At a low price, the Hompow Mini Projector will allow you to use all your favorite media devices without the excess clutter of a large television.
Vankyo Leisure 3
Resolution: 1920×1080
Contrast: 2000:1
Lumens: 120 ANSI lumens
Projection Size: up to 170 in
Price: $99.99
The Vankyo Leisure 3 is a great pico projector for home use, and it also comes with a handy carrying case for when you want to take it elsewhere. Conveniently, the Vankyo Leisure 3 has multiple inputs, making it compatible with several different types of devices.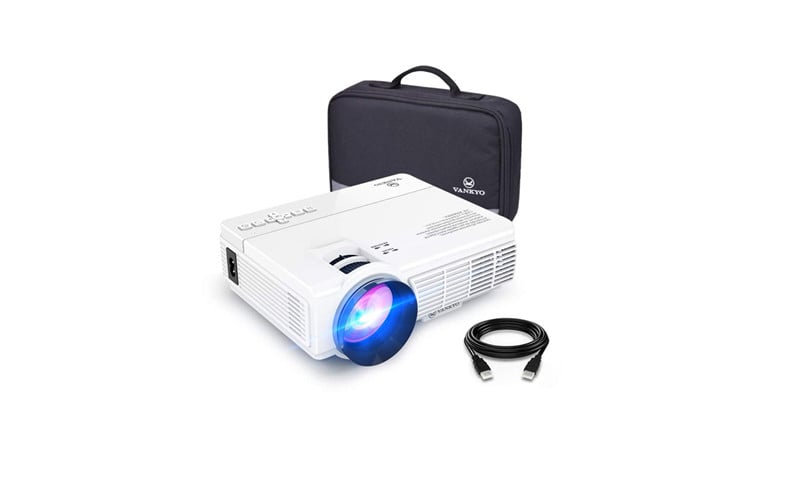 The one challenge with this pico projector is that the bulb is slightly dimmer than some competitor models. If you get the Vankyo Leisure 3, ensure that you have an easily darkened viewing space for an optimal watching experience.
ViewSonic Portable Projector
Resolution: 845×480
Contrast: 120000:1
Lumens: 120 ANSI lumens
Projection Size: up to 100 in
Price: $306
The ViewSonic Portable Projector is a high-tech pico projector that will give you the fancy viewing experience you're looking for, be it for recreation or business. This projector has a fantastic battery life, versatile input options, and a compact design.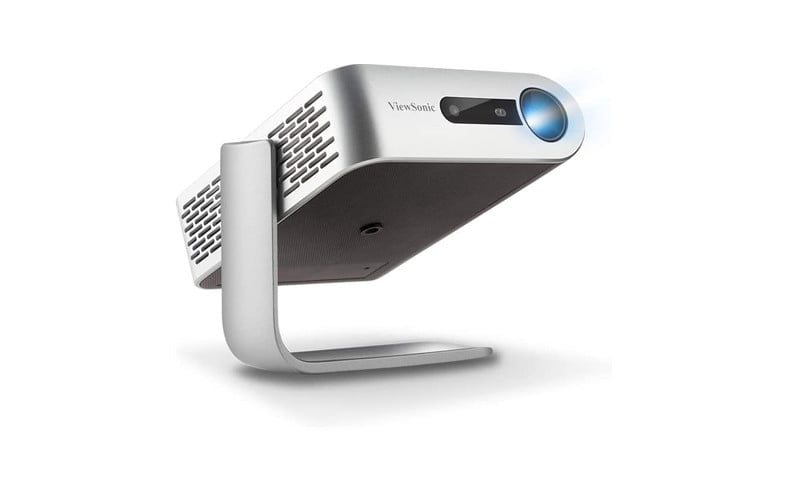 For easy use and storage, the ViewSonic Portable Project has a built-in stand that allows you to easily adjust the angle of the projector. Conveniently, this stand also serves as a lens cover when the projector is not in use. This projector is small enough to fit into your pocket, so be prepared to take it with you to all your work presentations and fun at-home movie nights.
AuKing Portable Video Mini Projector
Resolution: 800×480
Contrast: 2000:1
Lumens: ~1000 ANSI lumens
Projection Size: 170 in
Price: $87
The AuKing Portable Video Mini Projector is a mid-price pico projector with plenty of features that make it stand out alongside competitors. One of the most noted features is the sound quality: the built-in speaker is so good that many users find it unnecessary to use an external one.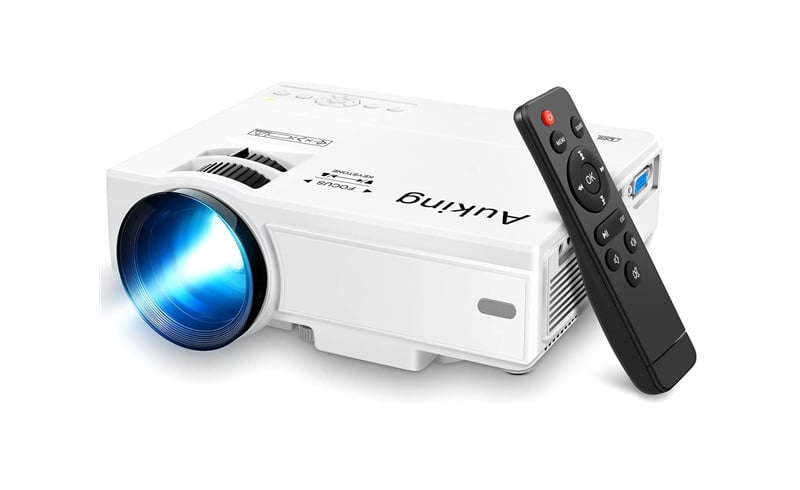 Furthermore, the AuKing Portable Video Mini Projector has inputs for USB, HDMI, and VGA, making it easy to use with most types of media playing equipment. This projector also has a high-quality bulb and lens that creates a bright and clear image that outperforms most of the competition.
AAXA P7 LED Projector
Resolution: 1920×1080
Contrast: 2000:1
Lumens: 600 ANSI lumens
Projection Size: 120 in
Price: $419
The AAXA P7 LED Projector is a luxury pico projector that is extremely reliable for portable use. This pico projector has a great range of input options, including HDMI, USB, MicroSD, and mini-VGA.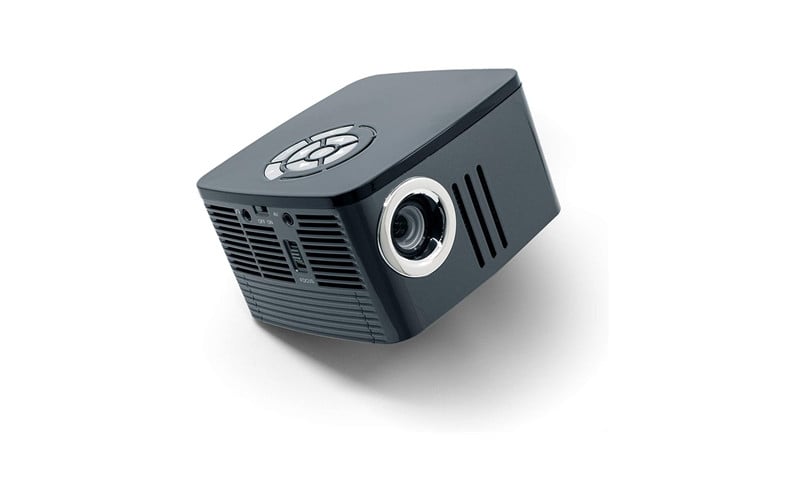 This model of the pico projector is particularly useful for travel, as the cube-shaped project is only four by four by three inches and only weighs 1.48 pounds. Keep in mind that this travel-friendly projector doesn't have an exceptionally long battery life, so be prepared to plug it in when watching a full-length film.
Summary
When picking out which is the best pico projector that is right for you, be sure to think about what your media equipment needs are and what you'll be using the projector for. If it's for professional purposes while on business trips, consider getting a projector that is sturdy and portable, with reliable image and sound. If it's for home use, think about what kind of project will fit in the space you have, and if it's compatible with your existing devices. Among the list, Emotn H1 might be a good value for money, for it is suitable for all kinds of scenarios, especially for home theater usage. With a price tag of $289, it has better performance than projectors with a similar price.
No matter which kind of pico projector you end up choosing, it is a wonderful and easy way to watch videos, movies, and presentations without dealing with a monitor. Once you have one, you'll fall in love with the convenience and quality of your pico projector.
Buying guide for the best pico projector
Before we start, we recommend you get an overview of the projector world by starting with the Projector beginner' guide. Or read the buying guide for projectors to gain a preliminary understanding. Knowing some main specs and basic knowledge will help you make an educated decision in choosing a pico projector.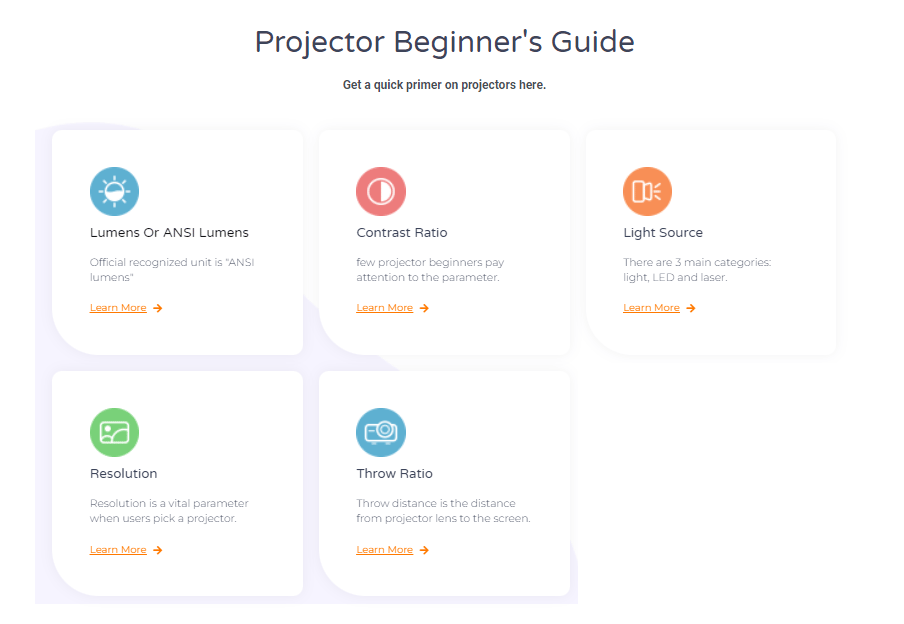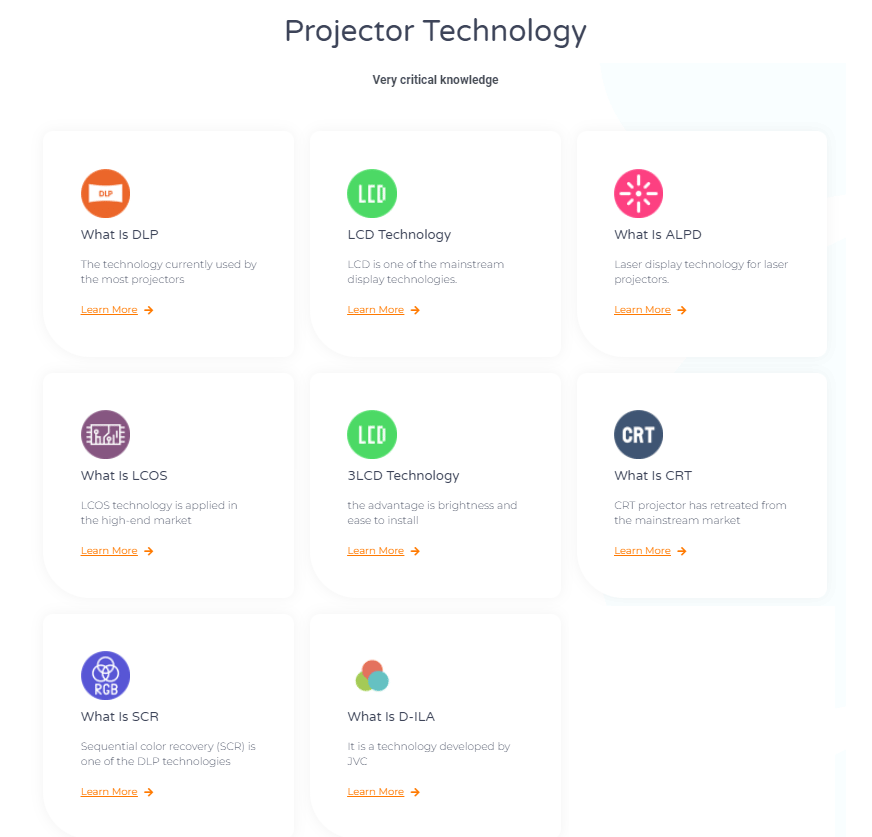 Things you need to know when choosing the best pico projector
Difference Between Pico Projector and Regular Projector
The major difference between them is their size and features. As the word "pico" indicates, pico projectors are lightweight and mini-sized, which are usually like a small boxes that you can easily put into a pocket. However, regular projectors are generally bigger in size and heavier in weight, meanwhile, they are more powerful and perform better. So what makes pico projectors superior is not their performance but is their high convenience and better portability.
Ease of Use
The main reason behind choosing a pico projector is that users are seeking convenience. Therefore, ease of use would be a critical factor that buyers should take into account. If the operation takes much time or the projector is hard to set up, the user experience of the pico projector will be badly damaged. So, you would want to choose a pico projector that is powered by an operating system and houses features and configurations simple to use.
FAQs for buying the best pico projector
Q: How much do pico projectors cost?
A: Pico projectors can cost you anywhere between $49 to $180 or more. Most of them would be under $200. Some pico projectors that offer higher resolution or are equipped with WiFi / Bluetooth connectivity will cost more.
Q: Are pico projectors worth it?
A: If you are not all about cinematic viewing and audio experience, not after a UHD 4K resolution and incredible brightness to compete with strong ambient lights. The pico projector is definitely worth it. They are easy to set up and you can take pico projectors on your outdoor trips to project a large-sized screen, adding much fun to your entertainment life.