The laser prjector is not only high in brightness, but also has a small size and low energy consumption, no need to replace the bulb, and the lifetime of the light source is up to 20,000 hours. In this list we have reviwed all the popular laser projectors from many reliable manufacturers and picked our choice of the best laser projector for you.
Things need to know before buying the best laser projector
What is laser projector
Generally speaking, the light sources commonly used in projectors can be divided into three types: traditional light sources, LED light sources and laser light sources. Whit that said, a laser technology refers to the projector that adopts laser phosphor as light source. As a young light source technology, laser has being widely used in engineering, education and household fields.
Great replacement for TV
Having a laser projector in your dedicated home theatre room or the living room. Laser projector is an all-round player in the projector world. It can cater the needs of movie-viewing and gaming; it also can apply well in business and educational scenario, but the high cost is blocking its widespread adoption in business and education. But an increasing number of home theater lovers have taken notice of this type of projector. They choose the best laser projector to replace the TV in the living room.
Our Picks for the bestlaser projector 2022
BenQ V7050i
$3,499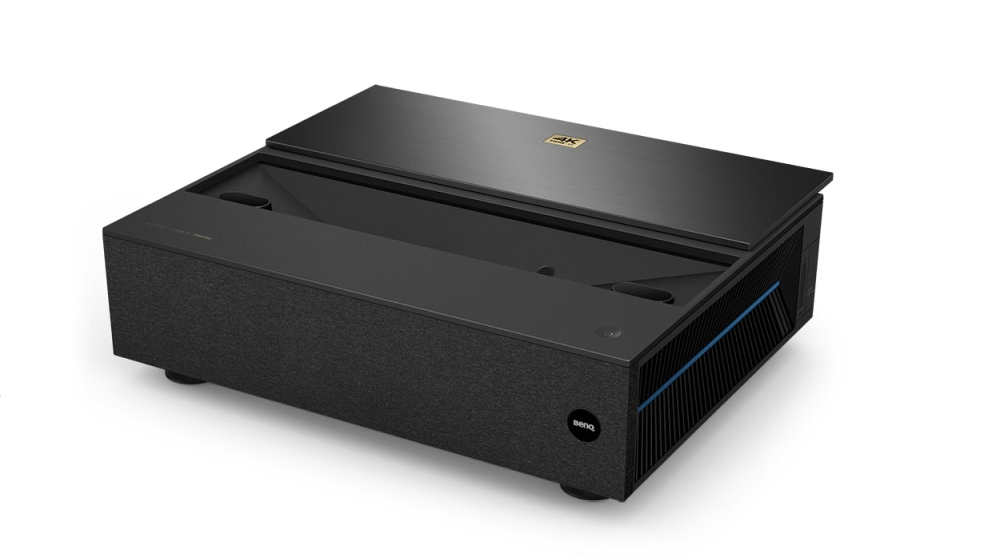 Pros:
8.3 million pixels for stunning pictures
Excellent quality short throw
Laser light source
Cons:
Maximum image size is 123 inch
The BenQ V7050i 4K (3840 × 2160) Laser projector makes viewing in lit rooms a pleasure, thanks to the 2500 ANSI lumens. 8.3 million pixels project beautiful images in sharp detail. This is one of the best ultra short throw projectors out there, with 100" projection size at 8.7" projection distance. DLP technology inside is the same tech used in 90% of the world's theaters, and 100% of digital IMAX theaters. That means incredible images, sharp and crisp, without losing anything for a long time to come.
Its HDR-PRO technology ensures quality color and clarity, and access to Android TV makes streaming content easy. Netflix is not native on this one, but there is a workaround, which is to watch it through Google Chrome browser or via HDMI.
Dangbei Mars Pro
$1,799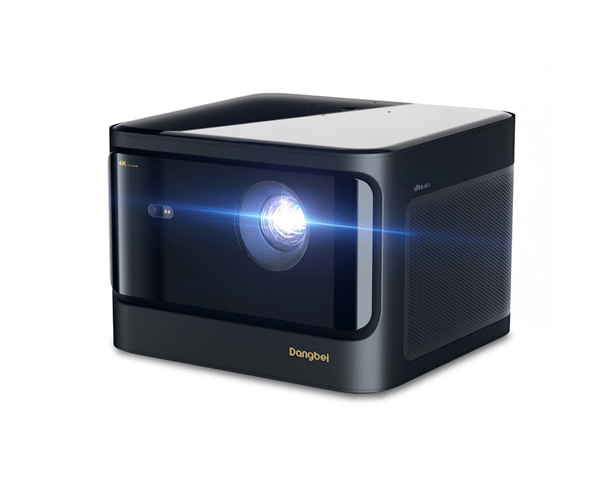 Dangbei Mars Pro adopts brighter and reliable laser technology, offers a wider color gamut and rapid warmup and cool down. Its Advanced 4K (3840 x 2160P) resolution and incredible 3200 ANSI Lumens, is able to deliver true-to-life color with support for 4K Ultra HD, HDR 10, HLG. What's more, Dolby Digital Plus and DTS Studio Sound technology is well applied to Dangebi Mars Pro, you can connect via Bluetooth to use as standalone speaker.
Dangbei Mars Pro is featured with smart automatic adaption including Auto focus, Auto Keystone Correction (40 Degrees Horizontal & Vertical), intelligent obstacle anvoidance and intelligent screen alignment. It even supports all-directional 3D play, with a more intense sense of reality, you can enjoy an immersive viewing experience with no need to go to the theater.
Pros:
Dolby Digital Plus and DTS Studio Sound
Advanced 4K (3840 x 2160) resolution
ALPD Laser light source with 3200 ANSI Lumens
Powerful smart features
Cons:
A little bit of heavy
LG HU810PW


$3,000 
LG HU810PW supports resolution of 3840×2160 with 2700 lumens. Its dynamic contrast ratio is up to incredible 2,000,000:1, together with HDR feature, this projector can present amazing depth and detail of colors expecailly the black area of picture.
The LQ HU810PW is an all-in-one home theatre system that will blow you away. The ceiling-mounted projector has two built-in 5W speakers. Although this might not be loud enough for an action movie, it'll do for most shows. The LG HU810PW uses two lasers to create the projections. Its dual laser system allows the projector to create deep, rich colors we all enjoy from a projector.
Pros:
Built-in speakers
Dual laser system
Bright image
4K DLP chip
Cons:
Confusing settings
Audio syncing issues
WeMax Nova
$2,600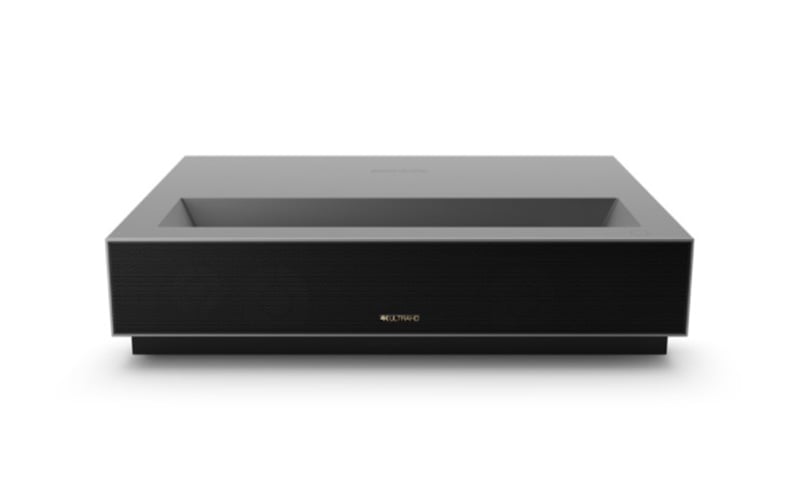 Pros:
Massive screen size with short throw distance
Highly powerful projection lamp
Offers inbuilt 30-watt speakers
Cons:
Average brightness
WeMax Nova has brightness is at 2100 ANSI lumens (the source/lamp being 5,000) and 4K (3840 x 2160) resolution image output. With Android TV, you get access to thousands of apps, including some of your favorite streaming options for both video and audio content. This is how you can get away with avoiding any other wires, making for a clean setup with a minimal footprint.
From this projector, you get excellent HDR10 performance from it. For connecting HDR video devices and others, you can use its HDMI, VGA, USB, ethernet, and audio ports. WeMax Nova also includes a decent 1-year long warranty which is to be expected at the given premium price tag.
XGIMI Aura 
$2,499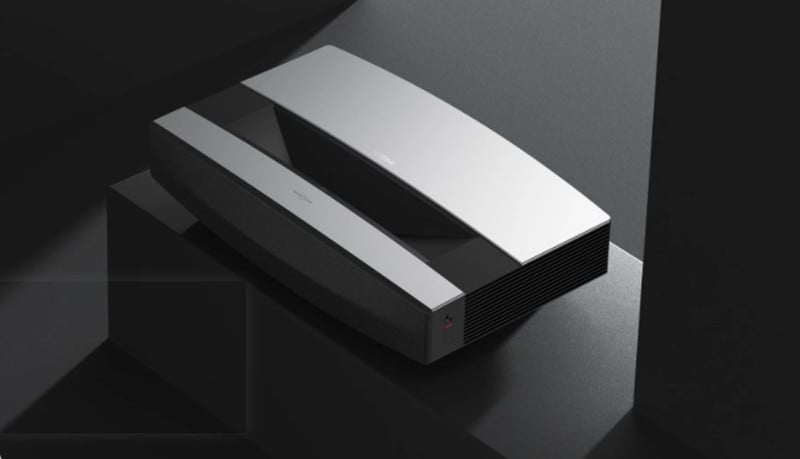 Pros:
Excellent sound for a projector
Bright picture with punchy colours
Decent motion handling
Cons:
Poor black detail
The XGIMI Aura has a 4K (3840 x 2160) resolution, and uses a phosphor ALPD laser source that produces up to 2400 lumens of brightness with a life expectancy of up to 25,000 hours. Across the front of the projector, a fabric mesh covers the Aura's four Harman Kardon speakers (powered by 15W of amplification), capable of handling DTS HD, DTS Studio Sound, and Dolby Audio.
Alongside the single HDMI ARC, the rear panel houses two additional HDMI 2.0 ports capable of handling 4K signals at up to 60Hz with support for HDR10, HDCP 2.2, and 3D content. There are also three USB 2.0 inputs and an ethernet connection.
Conclusion
No matter which laser projector you choose from this list, we believe that none of them would let you down. A laser projector has the natural advantage of high brightness and long lamp life. All the projectors listed offer 4K (3840 x 2160) resolution. But if you want your investment value the most, which is to get the most powerful projector with less money, Dangbei Mars Pro should be the best choice.
Reasons to choose the best laser projector
Longer lifespan
Laser light source generally has at least 20,000 hours of lifespan, which is way longer than lamp-based projectors. When we are talking about the life span of projectors, we are basically referring to the life span of the light source. Because as long as the lamp dims, the projector is not able to function anymore.
Stable performance
Lamp-based projectors usually need up to a few minutes to get ready after they are turned on. Laser projectors, however, can heat up almost at the moment you power them on, granting you maximum performance in merely a few seconds. Moreover, laser projectors produce less heat during working, and their power consumption is also lesser compared with lamp-based projectors. Generally, it will be 250-400 W for a laser projector with 3000 ANSI lumens.
Easier to maintain
There is no need to worry about the projector lamp or bulb replacement. This not only saves you a lot of trouble as well as the additional investment on the new lamp but also is more environment-friendly and decreases the waste.  You don't need to keep an eye on the left hours of the lamp, don't need to learn Projector Lamp Maintenance to Prolong Lifespan.
More things to know about the best laser projector
ALPD laser vs Regular laser
ALPD is the acronym of Advanced Laser Phosphor Display, which is a kind of laser display technology widely used in laser projectors. ALPD technology has seen many improvements in itself. With continuous development, ALPD technology has gained great progress on the accuracy of color production, is able to deliver a larger color gamut. What is ALPD Technology?
Laser TV vs Laser projector
Is there any difference between a Laser TV and a laser projector? Laser TV usually refers to the combination of an ultra-short-throw (UST) projector(equipped with a laser light source) and a wall-mounted screen.  Because UST projectors can be placed only inches from the wall, the projector offers images bright enough to stand up to ambient light in the room. In another word, a laser projector is not necessarily a Laser TV, but a Laser TV is definitely a laser projector.
Laser LED hybrid projectors
Actully there is a laser LED hybrid projector in market, which shares some benefits with 100% laser projectors.  For example, laser LED hybrid projectors offer the similarly long lamp life as laser projectors. But it cannot achieve the same brightness levels as a 100% laser projector. This is a balancing measure to lower the costs of laser projectors as well as to combine and intergate the merits of different kinds of light source technology.
FAQs for buying the best laser projector
Q: Which display technology does laser projector use?
A: Laser refers to the light source, not a type of display technology. In another word, just like lamp-based projectors and LED projectors, laser projectors are able to be equipped with DLP, 3LCD or LCOS display technology. As for more knowledge about the three main categories of display technology, you may read 3LCD vs DLP vs LCOS: What Are the Differences?
Q: Can I place laser projector near the screen?
A: First of all, the distance between the wall/screen and projector depends on the throw ratio. That is to say not all the laser projectors house the same throw ratio. It defers with the brans and models. Just like the more traditional lamp models, today's laser projectors have a feature called "Projection Ratio" which tells you how far away from the screen the projector should be to create the desired diagonal image.
Q: Can I replace the laser light source?
A: Laser projectors won't allow users to replace the light source. But this shouldn't be too much of a concern, because laser projectors have incredible long lamp life. Let's do a math, take a laser projector with 20,000 hours life span as example, if we watch it for 6 hours per day, then it can work for nearly 10 years. This is quite enough for home entertainment.
Read more:
Top 7 Best Pico Projectors for 2022
Top 6 Best Gaming Projectors for 2022
Top 5 Best Portable Projectors for 2022
Best UST Projector | Top Picks for 2022
Best Android TV Projector for Home Theater 2022
Best 3D Projectors for Home Theater 2022