If you're looking to build the home theater of your dreams, then you need the best projector. With the marvels of technology, home projectors can produce a better picture than the average cinema.
While the price of home projectors varies wildly from under $1000 to nearly $30000, it means that you can find a decent projector suitable for any budget.
Modern projectors aren't just about resolution anymore. Some have the capabilities to upscale low-quality footage to nearly 4k.
Strap in because this is the top 6 home theater projectors for 2022.
LG HU85LA
Specs
Resolution: 3840x2160P
Lumens: 2700 ANSI lumens
Lens Shift: Yes
Contrast Ratio: 2000000:1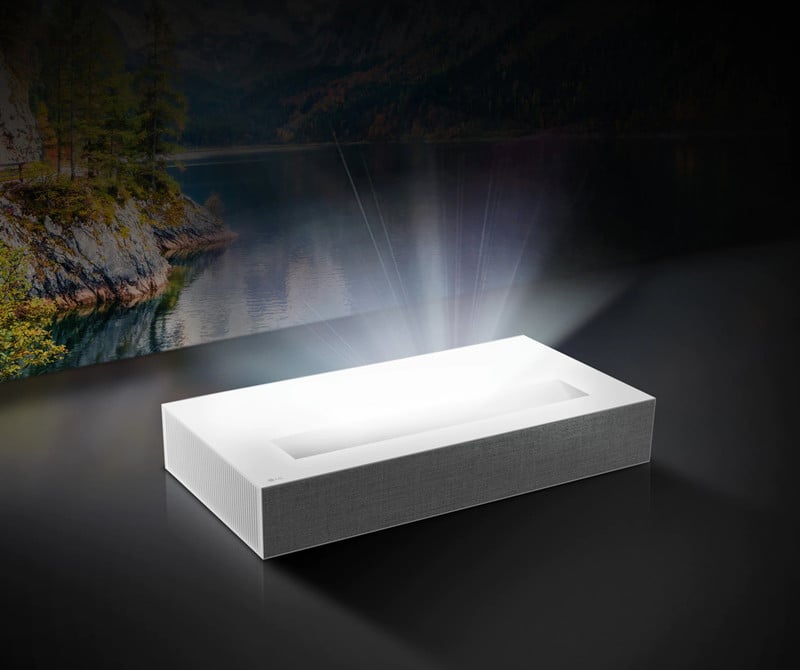 The LG HU85LA is perhaps the best projector on the market today. It offers high definition 4K laser projection up to 120-inch screen size. Using XPR technology, this projector uses a distinct 8.3 million pixels. That's double the definition of a standard movie theater projector.
Using HDR10 and TruMotion technology, the LG HU85LA can improve the quality of any image on the fly. The HDR10 tone mapping improves visual qualities sharpness, color, and lighting, while the TruMotion technology generates transition frames between existing frames in real-time to make each shot smoother.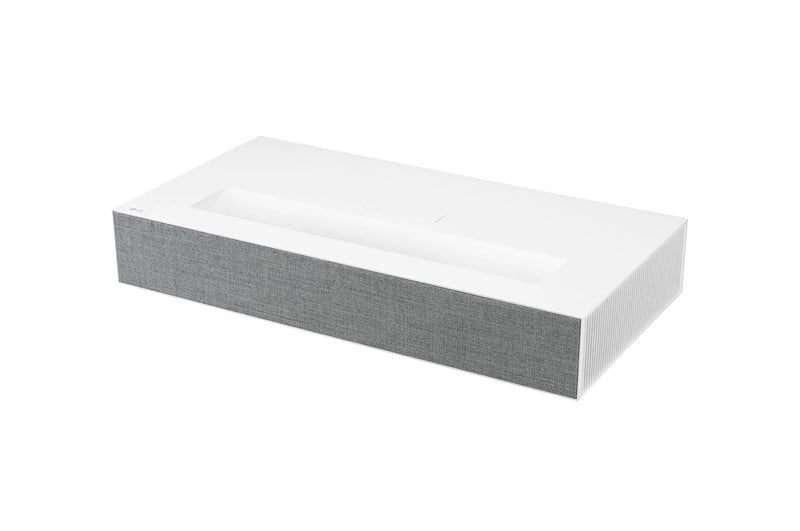 The LG HU85LA also features three-channel lasers for perfect 12-bit color, 12 warp adjustments to fit any surface, and a projection screen size range of 7.2 inches to 120 inches.
Pros
Best picture quality
Native 4k
Max screen size of 120 inches
Impressive speaker system
Sleek, unobtrusive design
Cons
The kvadrat cover may be hard to clean
Sony VPL-VW915ES
Specs
Resolution: 4096x2160P
Lumens: 2000 ANSI lumens
Lens Shift: Yes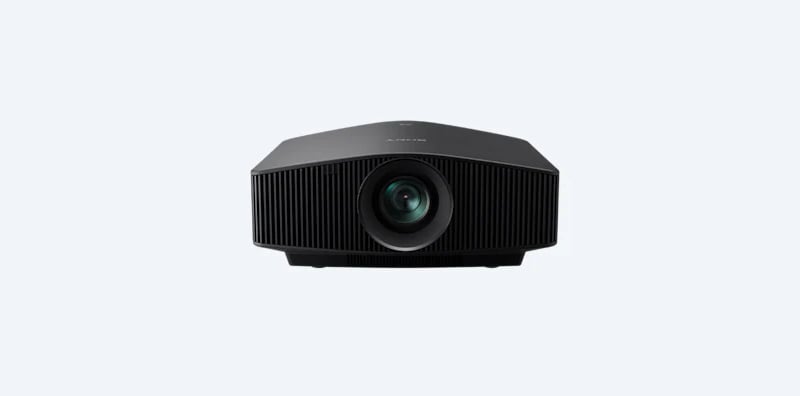 The Sony VPL-VW915ES is a top-of-the-line projector. It offers native 4k resolution with HDR10 tone mapping and an auto-calibrate system that enhances the picture. The depth of color is further aided by the exceptional black level performance.
The dynamic, frame-by-frame tone mapping and the laser light engine combine to make one of the cleanest, sharpest, most realistic pictures imaginable. The advanced X1 processor lets the projector upscale and enhances details and colors in real-time using the Reality Creation program.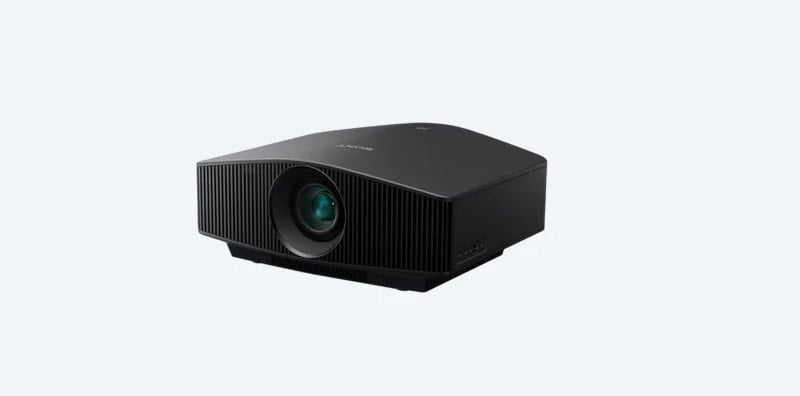 A cool extra feature of the Sony VPL-VW915ES is that it allows up to five preset picture setups.
That includes the picture size, warp, focus, and aspect ratio, all at the touch of a button. The adjustments are made possible with the motorized lenses that allow for a vertical and horizontal shift. That means the picture can change position and focus without using digital geometry. It offers a better image.
Pros
Native 4k
HDR10 and HLG compatible
Live rendered picture enhancement
Five adjustable presets
Cons
Epson Home Cinema 5050UB
Specs
Resolution: 4096x2160P
Lumens: 2600 ANSI Lumens
Lens Shift: Yes
Contrast Ratio: 1000000:1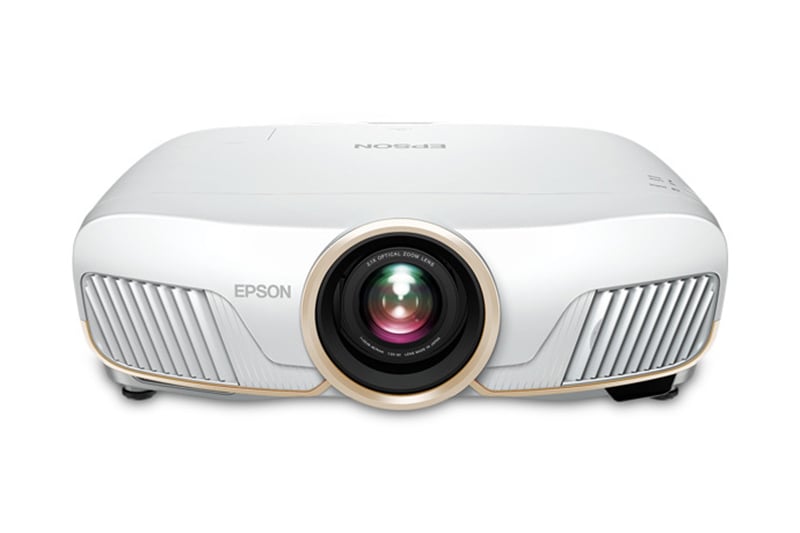 The Epson Home Cinema 5050UB is an affordable 4k projector with stunning image quality. The motorized lens shift ensures an easy and clear focus on any surface.
With HDR, high-contrast picture quality, and intense brightness, the Epson Home Cinema 5050UB is one of the best home projectors for the price.
One thing that the Epson Home Cinema 5050UB exceeds in comparison to similarly priced models is the sharpness of the image. It reduces washout and enhances sharpness and detail quite well.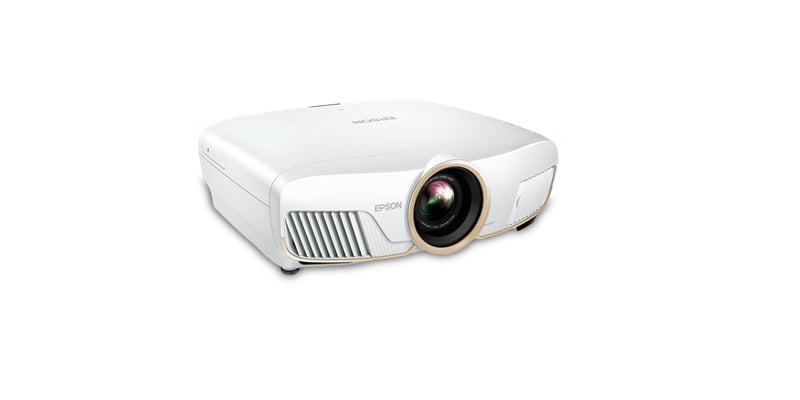 Pros
Low to mid-price range
Deep blacks
Sharp image
Cons
Very large comparatively
Lesser color depth than competitors
BenQ HT2050A
Specs
Resolution: 1920x1080P
Lumens: 2200 ANSI lumens
Lens Shift: No
Contrast Ratio: 15000:1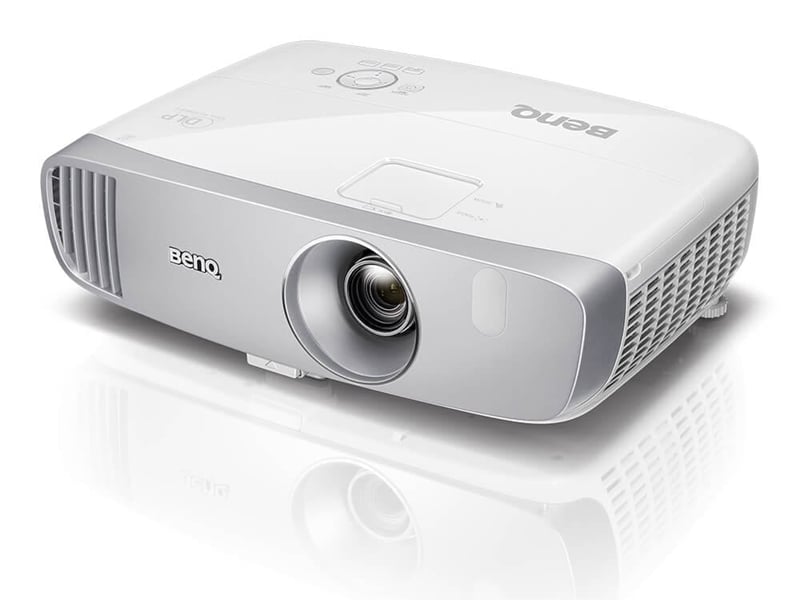 The BenQ HT2050A is one of the best projectors for under $1000. It has high contrast and image quality, as well as lens shift, which is uncommon in cheaper models.
The HD 1920x1080p is excellent for showing off the impressive depth of color the BenQ HT2050A has. The whites are bright, and the blacks are deep.
Though the adjustment range is small, it is better than nothing and certainly better than similar or more expensive models that don't have any adjustment options.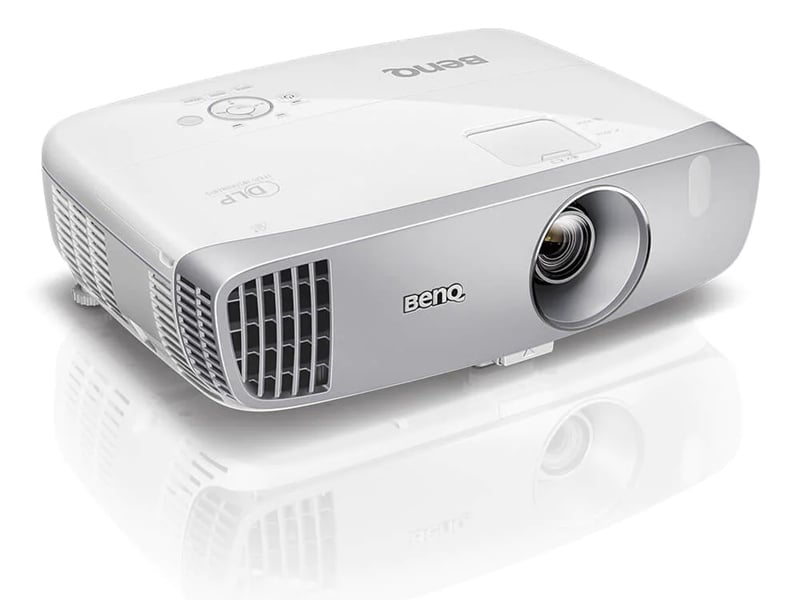 The BenQ HT2050A is compatible with most devices and offers low input lag for gaming.
Pros
Cheap
High-contrast picture
Bright colors
Cons
Small picture adjustment range
Optoma HZ39HDR
Specs
Resolution: 1920x1080P
Lumens: 4000 ANSI lumens
Lens Shift: No
Contrast Ratio: 300000:1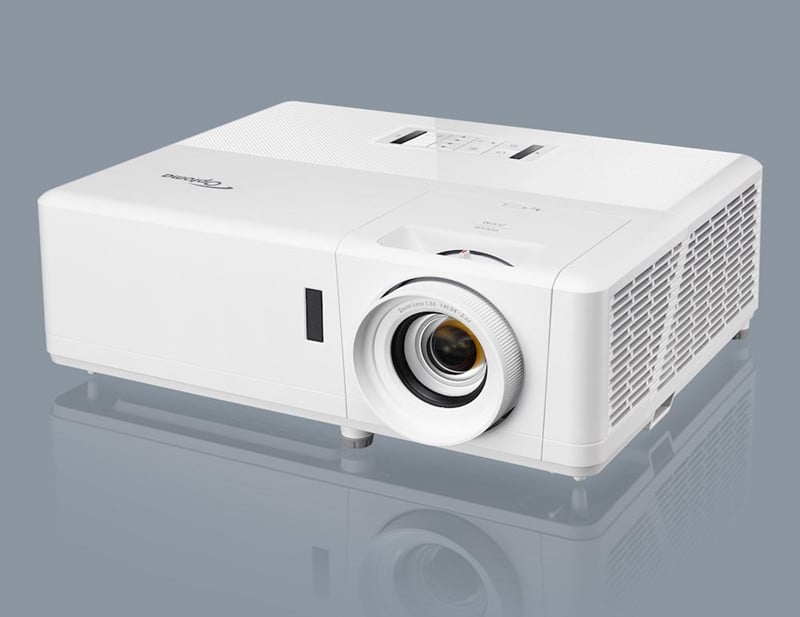 The Optoma HZ39HDR is a surprisingly good projector for the price. With a resolution of 1920x1080p HD, its picture quality is nothing to scoff at. The Optoma HZ39HDR supports both HDR and HLG and will accept 4k inputs.
The DuraCora laser projection delivers deep, rich colors and darker blacks. Besides offering stunning picture quality, it also has a high-end screen size range of up to 120 inches, like more expensive models.
Additionally, the Optoma HZ39HDR supports full 3D projection from any compatible device. The 3D glasses aren't included.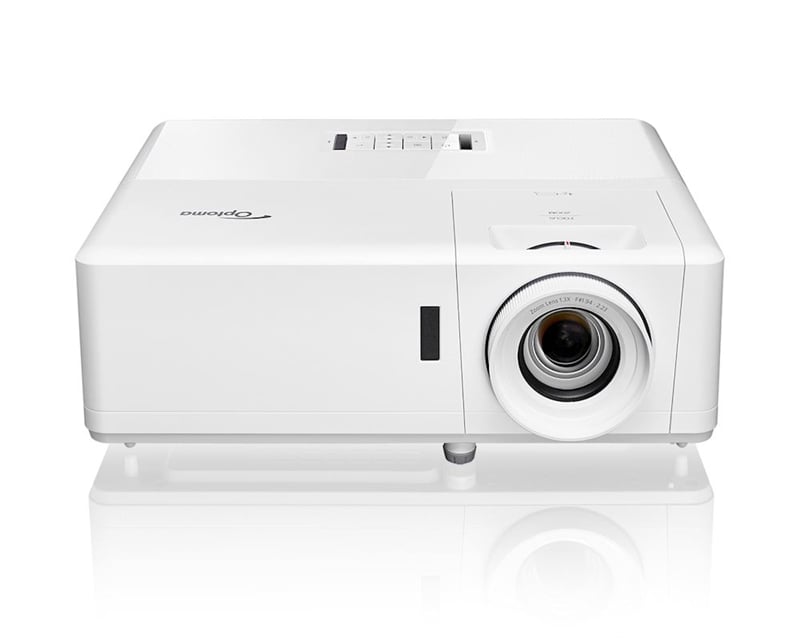 Pros
Very affordable
HDR and HLG compatible
3D support
Up to 120-inch screen size
Cons
The speakers are nothing special
JVC DLA-RS3000
Specs
Resolution: 4096x2160P
Lumens: 2200 ANSI lumens
Lens Shift: Yes
Contrast Ratio: 100000:1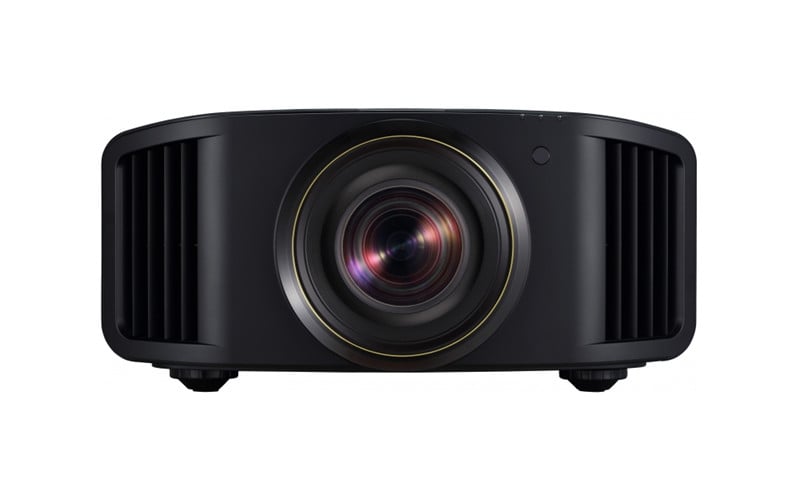 The JVC DLA-RS3000 is a high-end dynamic projector that offers unbeatable contrast, brightness, and color. With native 4k resolution, HDR tone mapping, the Theater Optimizer program, the JVC DLA-RS3000 can deliver DCI-P3 color space and better-than-theater picture quality.
The 100mm glass lens facilitates JVC's signature 8k e-shift technology that artificially ups the image quality to that of an 8192x4320p resolution.
Additional programs and settings help to automatically smooth out the transitions between frames and give new life to images through enhanced brightness, color, and clarity.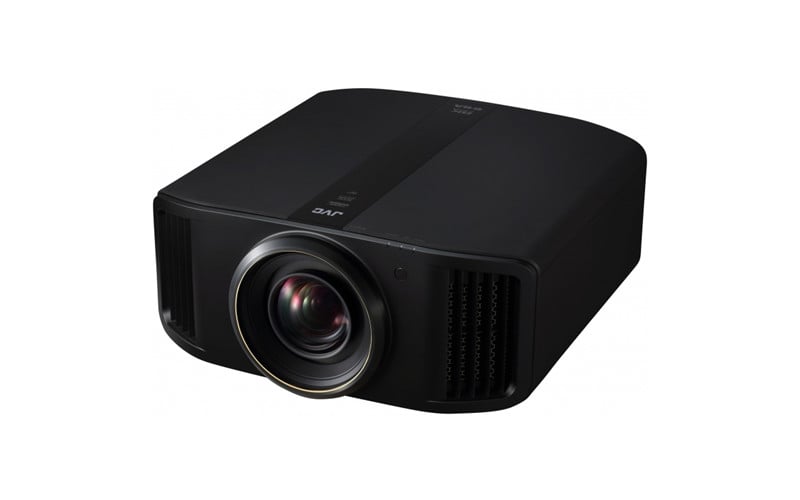 The JVC DLA-RS3000 has possibly the best color fidelity and the deepest black contrasts on the market.
Pros
Native 4k
8k e-shift technology
Best color and blacks
Cons
Summary
While top-end projectors can enhance image quality beyond your wildest dreams, not everyone can afford a $25,000 projector. No matter your price range, there is a home projector that is sure to take your viewing experience to the next level.
Whether you are a movie buff, a gamer, or a sports fanatic, finding the right projector can change your whole experience. Any of these six projectors are sure to change the way you view forever.
See more:
Top 6 Best Gaming Projectors for 2022
Top 6 Best 4K Projectors for 2022
Top 5 Best Portable Projectors for 2022
Top 8 Best Outdoor Projectors for 2022