UST is short for Ultra Short Throw. A projector has a throw ratio of less than 0.4:1, is rated for UST projector. The biggest advantage of UST projector is that you can simply place the projector above the screen, which means it won't require a large viewing room. On the other hand, you won't be bothered by the shadow which is caused by people walking between the projector and screen.
UST projectors bring great convenience to the building of home theater, and perfectly blend in your home decoration, making your living room looks neat and tidy. In this writting, we have reviewed a large number of hot-selling UST projectors, aiming at finding the best UST projector for you. Let's check out.
Our Top Picks for the Best UST Projector 2022
Samsung LSP7T
$2,999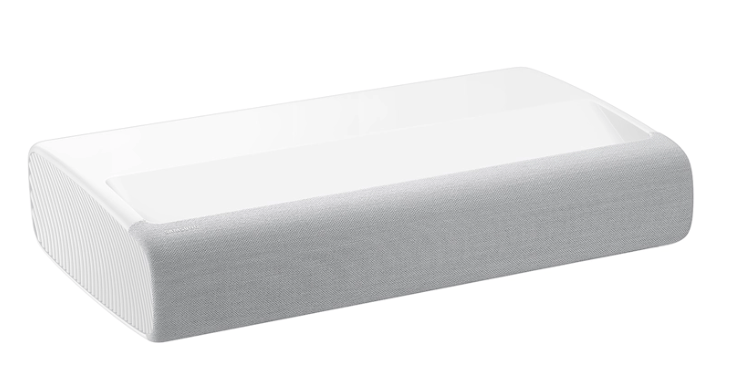 Pros:
Supports filmmaker mode
Low noise level
Great sound effect with 30-watts speakers
Contrast Ratio: 2,000,000: 1
Cons:
Don't support 3D
Average brightness
Samsung LSP7T has a total of 2200 lumens, along with native 4k (3840 x 2160) resolution, which proves its capabilitiy of giving the incredible picture quality. Samsung LSP7T can project an image of up to 120 inches with a throw ratio of 0.254:1, meanwhile offer the details in the color, deep blacks, and fantastic contrast ratio. Samsung LSP7T presents you Disney+, Netflix, and other popular streaming apps. What's more, you won't be bothered by the rainbow effects, fell free to embrace the flawless viewing experience.
VAVA 4K Laser
$2,799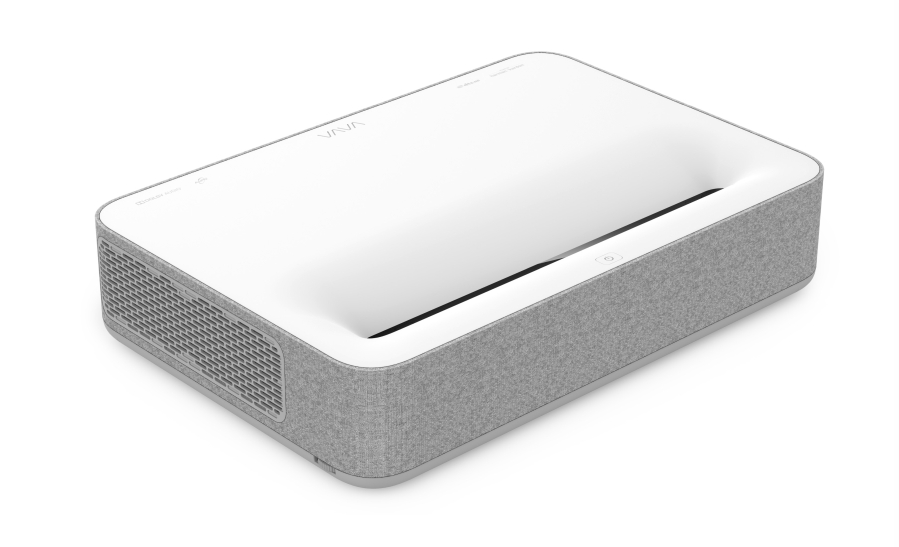 Pros:
Speakers provide cinema-quality sound
HDR10 offers huge color range
Up to 150 inch projection size
Cons:
Old Android 7.1 OS
A little loud fan noise
VAVA 4K Laser projects a huge image at a maximum size of 150 inches without degradation of picture quality. Its lifespan is up to incredible 25,000 hours and the resolution is up to 3840 x 2160. The built-in Android-based operating system neables VAVA 4K Laser to realize multiple smart feature. As for the excellent contrast ratio, the bright colors and dark blacks are delicate and crisp. VAVA 4K Laser Projector is able to bring you immersive home cinema experience, expecially with its internal 60-Watt Harman Kardon speaker, the audio effect would be excellent and room-fulling as well.
Epson LS100
$2,999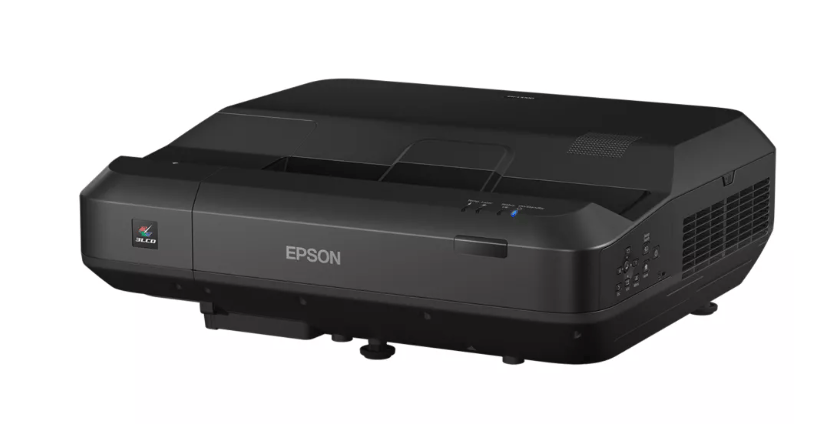 Pros:
4,000 lumens of brightness
Amazing high contrast ratio
Good build quality
Cons:
Only 1080p resolution
We rarely see any projector could be able to offer someting close to the contrast ratio that Epson LS100 is able to provide – an incredible 2500000:1. With such impressive contrast ratio, you'll see all the details shadows and dark areas which are meant to be seen. However, the only fly in the ointment is that its resolution is only HD 1080p, not saying that 1080p is not sharp, it would suffice in most daily use senario. Only is that projectors with 4K resolution is taking over the home cinema market. After all, Epson LS100's amazing contrast ratio performance would enter a new level if Epson LS100 could offer higher resosution. But we are impressed by its 4000 lumens of brightness, this means Epson LS100 can easily deal with strong ambient light.
Hisense PX1-PRO
$3,449


Pros:
High Dynamic Range expands color
Built-in 30W Dolby Atmos sound
HD 4K(3840 x 2160) resolution
Cons:
Average brightness
Featured with Digital Lens Focus feature, Hisense PX1-PRO can project images from 90 to 130 inches with razor-sharp picture quality. Feel free to immerge yourself in the incredible clarity and contrast ratio brought by this powerful UST projector. It has 2200 ANSI lumens, can offer crisp image when there is no strong ambient light. Plus, Hisense PX1-PRO is equipped with 30W Dolby Atmos sound, you would be satisfied with its powerful audio effect. Its 4K Ultra HD resolution offers over 8 million pixels to create maximum viewing immersion. Also Hisense PX1-PRO is featured with High Dynamic Range expands color so that you can enjoy a stunningly vibrant picture. Android TV brings a bulk of streaming content, allowing you to enjoy a show marathon and movie night.
Optoma CinemaX P2
$2,999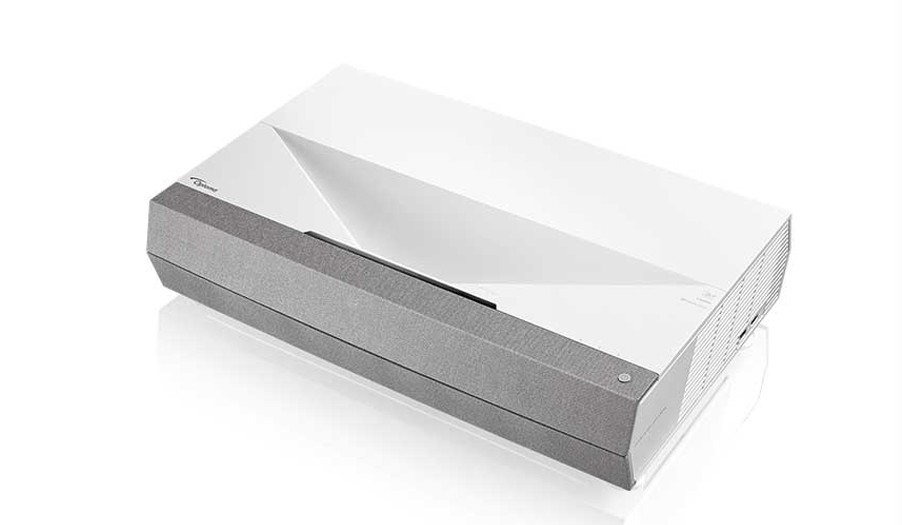 Pros:
Color management system
sublime 4K resolution
Bright enough to cope with moderate ambient light
Laser light source with long lifespan
Cons:
Only two of three HDMI ports support 4K with HDR
Optoma CinemaX P2 is HDR compatible and runs on color management system. Its brightness is rated at 3,000 ANSI lumens which means that it is enough to cope with moderate levels of ambient light. You can watching sports or playing games any time you like even in a semi-daylit room. The projector runs a customized version of Android operating system but without access to the Google Play Store. But with this ultra-short throw beamer, Optoma CinemaX P2 has a morden and concise appearance and its user friendly operation makes it easy to accommodate home theater building.
Conlusion
The best UST projectors listed above are all very competitve and poweful, if you want a high brightness, don't want to be busy with killing the light in the room, Epson LS100 should be your choice. If you want a projector has built in Android TV, you may go for Hisense PX1-PRO. Or, if you need a more budget-friendly UST projector, you may consider VAVA 4K Laser projector.
Reasons to choose the best UST projector
Easy to set up
A regular projector with a long throw requires a ceiling mount or tripod mounting, or you need to prepare a table to place the projector. Besides you have to leave a proper distance from the screen. However, a UST projector can sit a few inches from the screen and won't occupy to much space. Also, you won't need to rustle with the wires.
Better image quality
UST projectors generally are equipped with laser light sources. Laser light source means higher brightness, more natural color production and stable performance. Hence UST projectors can deliver massive, high-contrast, bright images even standing up well to ambient lighting.
Things need to know when buying the best UST projector
Requires an ALR screen
With regular projector, a flat clean white wall may suffice, but UST projectors differ a lot when projecting with or without a projector screen. Because the UST projector produces the high value light on the screen at a very short distance, the light above the unit will impact on the production of image. There is an ALR screen on market that is designed for UST projector. If you are interested, you may refer to Ambient Light Rejecting Screen – How Does It Work?
Choose better resolution
It seems all the UST projectors claim to be 4K featured. But parts of manufacturers are setting their language traps here. Not all the 4K resolution is native 4K. To be more specific, parts of UST projectors manage to realize 4K resolution by making use of pixel-shifting technology. Not saying that pixel-shifting is bad, after all, pixel-shifting 4K performs better than 1080p image output. Just try to pick the UST projector with true native 4K if your budget allows.
Good Onboard audio is important
We all know TVs typically offer subpar built-in speakers. When we choose an UST projector replace TV, we would want it provide sound quality on par with TV. Especially when we've got a massive screen from the UST projector, we would want good audio to match. Therefore, when choosing the UST projector, you better focus on theose include great onboard speakers.
Downsides of the UST projector
Cost more
In General, Ulra Short Throw projectors cost more than regular projectors. Due to that the laser technology is not honed yet, and still requires higher cost than the developed lamp technology.
Long input lag
Most UST projectors suffer from longer input lag than regular projectors, not to mention the gaming projector. Under most condition, longer input lag won't affect the movie viewing experience but is quite unfriendly for gamers. If you plan to play games on UST projectors very frequently and would mind the influence brought by long input lag, maybe UST projector is not your best choice.
Read more:
Top 6 Best Gaming Projectors for 2022
Top 6 Best Home Theater Projectors for 2022