If you are picky on projector images, then you may need a good projector screen. In this guide, I will introduce the types of projector screens, screen materials, projector screen brands, and common questions concerning projector screens, helping you to pick a good screen.
Projector Screen Buying Guide: Screen Types
There are 6 kinds of mainstream projector screens, including fixed frame screens, retractable screens, ceiling screens, floor rising screens, folding frame screens, and tripod screens.
Fixed Frame Screen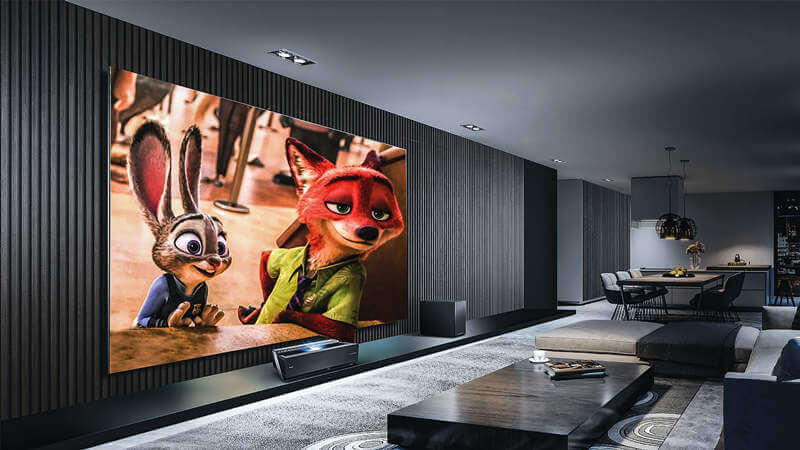 This kind of screen has a fixed form and a frame on the four sides. You cannot change the size and layout of the screen. A fixed frame screen is suitable for home projectors as it looks concise and neat.
Pros: Neat, wrinkle-free, smooth surface.
Cons: fixed screen size; take up space in storage.
Retractable Screen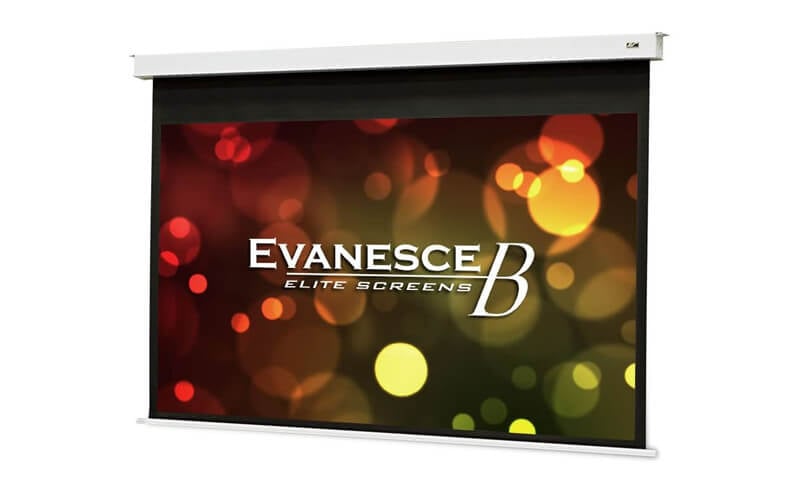 A retractable screen can roll up and roll down flexibly, meaning that you can change the screen size flexibly. This kind of screen can save more space, which is widely used for educational projectors and home projectors. When you roll up the screen, you can still use the blackboard in the classroom. According to the rolling methods, the retractable screens can be divided into powered retractable screens or manual retractable screens.
Pro: Save space, and flexible screen size.
Cons: not smooth and flat.
Ceiling Screen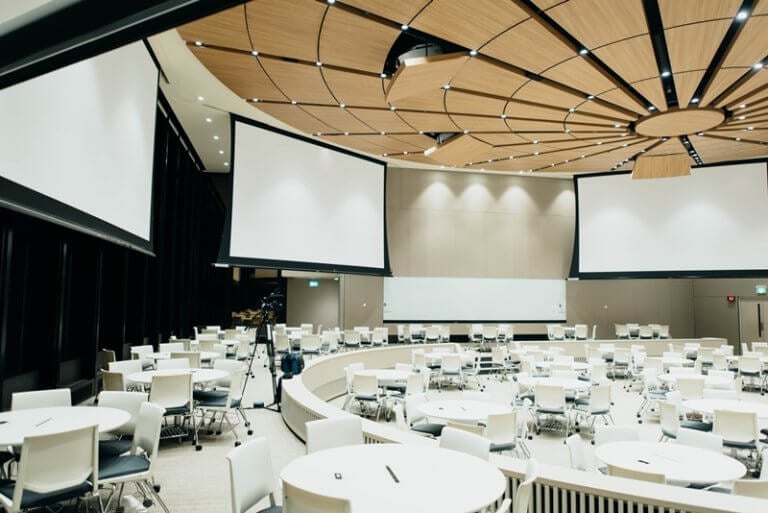 The ceiling screen is fixed on the ceiling, and you can pull it down only when you are going to use the projector screen. If you want both TV and projector in the same room, you can use this kind of projector screen because it can roll up to the ceiling when you are not using the projector. This screen is also widely seen in commercial venues.
Pros: Flexible size; save space.
Cons: Not smooth and flat enough; complex installation.
Floor Rising Screen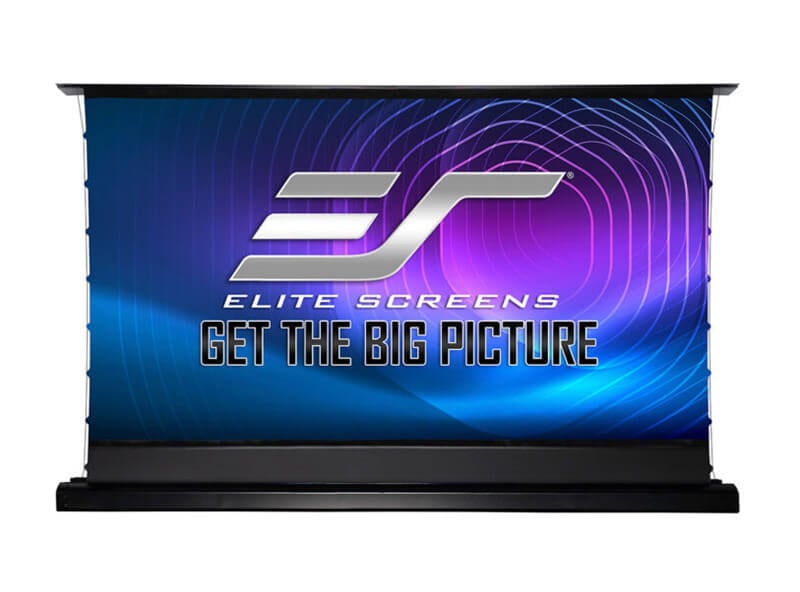 The floor rising screen has a solid basement so that you can pull the screen up when you want to expand the screen. When you are not using the screen, it can roll and retract into the basement.
Pros: flexible screen size and position.
Cons: take up the space on the floor.
Folding Frame Screen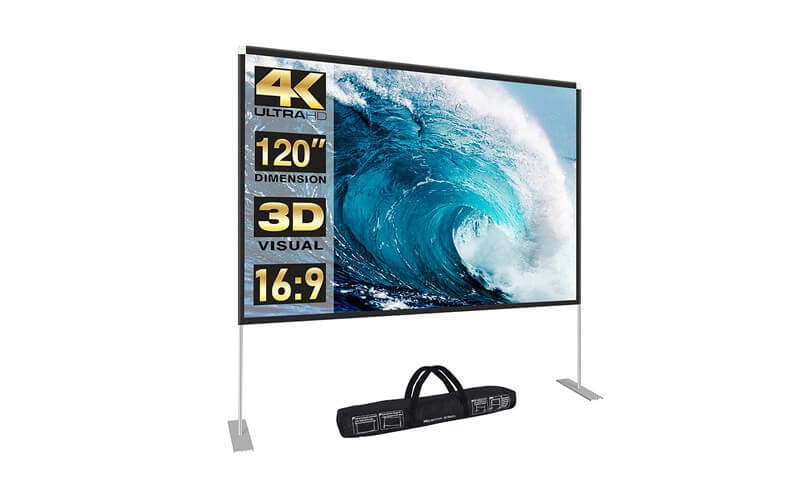 A folding frame screen usually has two legs on the left and right sides of the screen. It is usually used in offices or conference rooms.
Pros: Flexible position; good for storage.
Cons: fixed screen size; take up space; creases.
Tripod Screen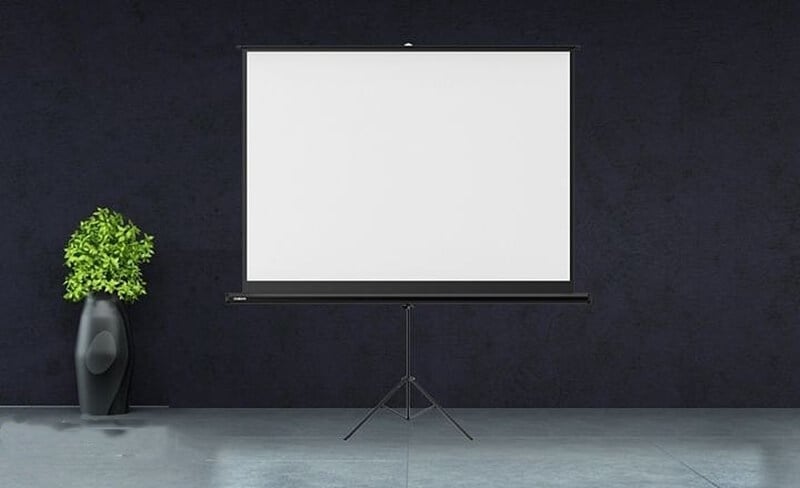 The tripod screen has a tripod in the basement, which is stable and portable. This kind of screen is suitable for commercial presentation or outdoor environments because of its solid and stable structure. The tripod screen is easy to set up and has a low cost.
Pros: Easy installation, flexible position, low cost.
Cons: fixed screen size.
Projector Screen Buying Guide: Screen Materials
There are 6 kinds of screen materials that are widely used in projectors, including plastic, glass fiber, glass bead, and metal screen.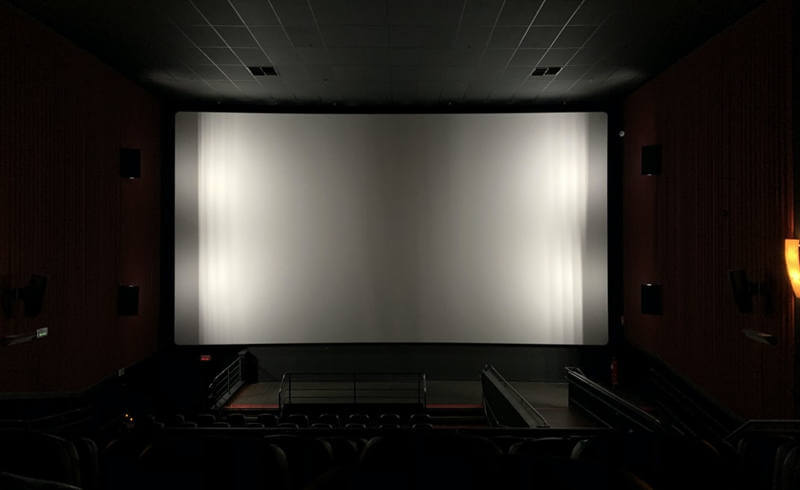 Plastic
Plastic is a common projector screen, which is made of PVC. It has rough workmanship and grains, whose visual effect is slightly better than a white wall.
Glass Fiber
Glass fiber can be classified into grey glass fiber and white glass fiber. It is composed of base cloth made of woven glass thread and PVC coating. This kind of screen material features a smooth surface, high gain, and high contrast.
Glass Bead
The glass bead has a coating of the optical crystal glass ball. When you touch its surface with your hand, you can feel the tiny beads fall off. This screen features a high gain but a small view angle.
Metal
The metal screen is hard, which is composed of resin board and fine metal particles. This kind of screen is flat and smooth with long life, high brightness, and high gain.
How to Choose a Good Projector Screen?
You should consider the following parameters when you choose a projector.
Gain: Most projector screen has a gain of 0.9-2.0. The higher the gain, the brighter the projection image. However, if you pay more attention to the black level, the gain should be moderate.
Viewing angle: the brightness of the projection image in the screen centerline is the highest, but when you move to other positions, the brightness will decrease accordingly. Generally, the higher the gain, the small the viewing angle.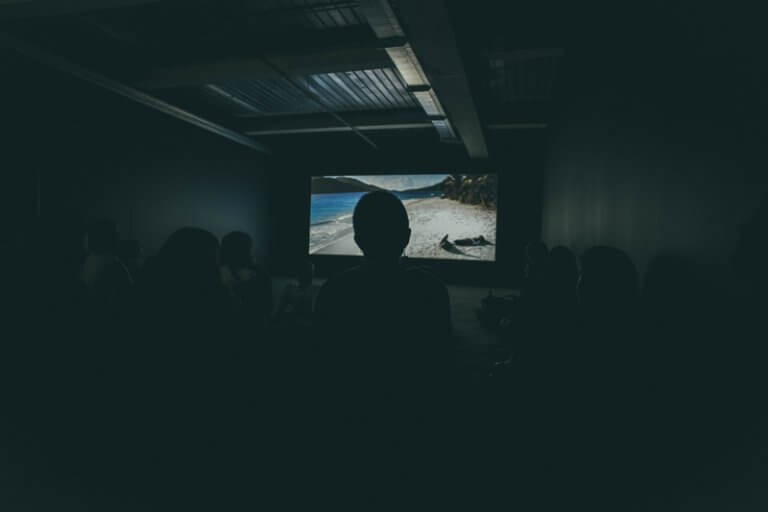 Screen Color: generally, a projector screen has three mainstream colors, including white, grey, and black. The white screen is suitable for a dark environment. The gray screen is suitable for daytime use, which has ambient light rejecting properties. A black screen can enhance the black details, bringing the darkest black.
Special Features: if you think highly of the sound of the projector, you can choose a sound transparent screen. If you want to improve the brightness of the projection image, you can choose ALR (Ambient Light Rejecting) screen.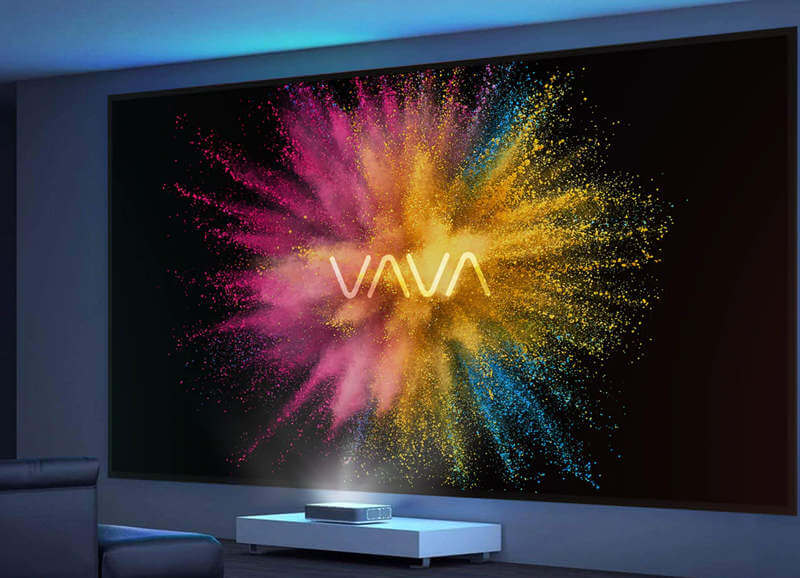 FAQs on Projector Screen
Can I use a projector without a screen?
Yes. But the image quality and viewing effect are not as good as projection image with a screen. A good projector screen helps to improve the brightness and contrast of the projection image.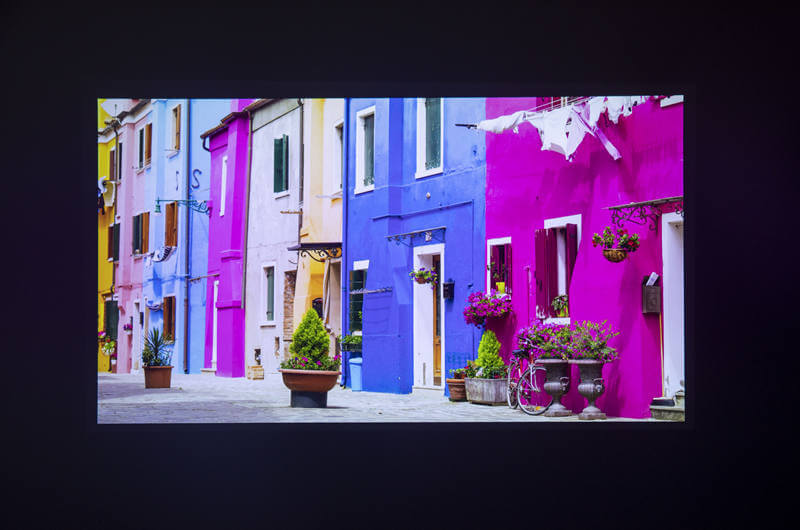 How much is a projector screen?
A common projector screen costs $20-$200. High-end projector screens cost about $500-$6,000 based on their size and features.
How to Determine the Screen Size?
It depends on the throw ratio and screen size range of your projector and the size of your room. For example, a projector with a 1.2 throw ratio can project a max screen of 200"; it requires 2.6 meters to project a 100" screen, but the width of your room is no more than 2.5 meters, meaning that you cannot use a 100" screen. Instead, you can choose a projector screen of 80".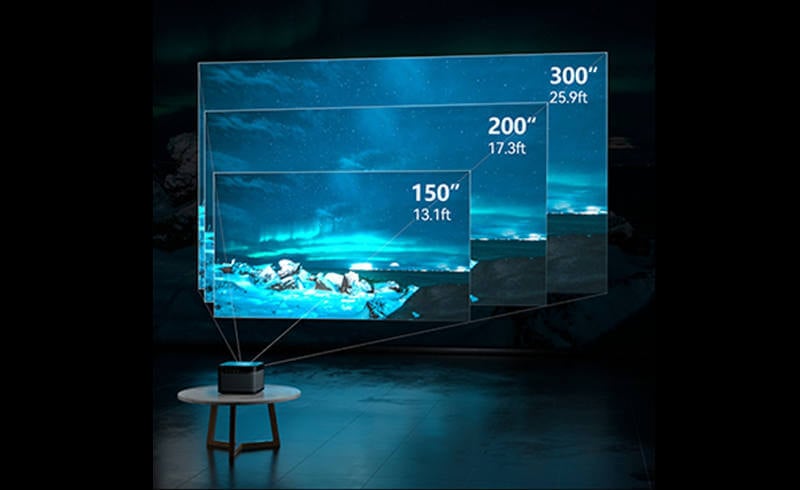 You can use the projector calculator to determine the screen size that is suitable for your room.
How Far Should The Projector be From The Screen?
The distance between the projector lens to the screen is called throw distance. It is determined by the throw ratio and screen size. Throw distance=Throw Ratio*Screen width. You can use the projector calculator to calculate the throw distance.
For example, you have bought a projector with a throw ratio of 1.25:1 and you want a 100" screen. After calculating via the online calculator, you can know that the throw distance is 277.69 cm.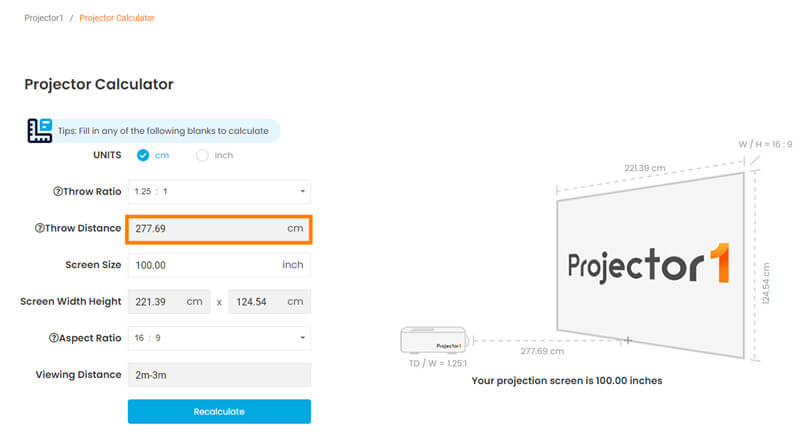 How to Make Projector Screen Smaller?
The closer the distance from the projector lens to the screen, the bigger the projection image. If you want to reduce the screen size, you can move the projector closer to the screen or wall.
Which Screen Brand is Popular?
There are many popular projector screen brands in the market, for example, Da-Lite, Elite Screens, Draper, EPV Screens, Goo Systems, Screen Excellence, Screen Innovations, Stewart Filmscreen, Grandview Screens, etc. You can choose one based on your budget and needs.
That's all for the projector screen buying guide. If you have any questions about the projector screen, you can leave a message in the comment zone.
Related Posts
Lamp vs LED vs Laser Projectors|Projector Light Source Comparison
Projector Throw Ratio: All Things You Should Know
Projector Buying Guide 2022|10 Factors to Choose A Good Projector
Active 3D vs Passive 3D: Pros and Cons Comparison