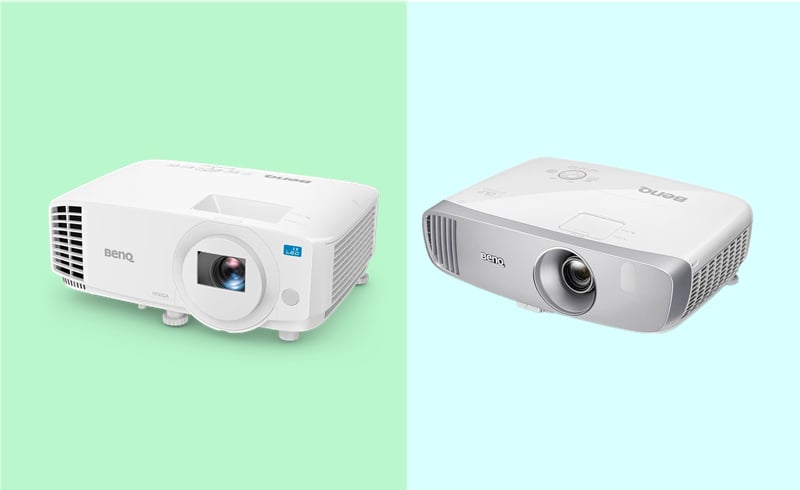 This guide will compare two hot projector models from the BenQ projector, BenQ LW500, and BenQ HT2050A. The two projectors are close in terms of pricing. Which is a better option? How to decide based on preferences?
BenQ LW500 vs BenQ HT2050A
By means of the side-by-side comparison table below, we can safely conclude that BenQ HT2050A is brighter and has shorter input lag but is slightly higher in pricing, while BenQ LW500 is less bright but has LED as the light source and longer lamp life.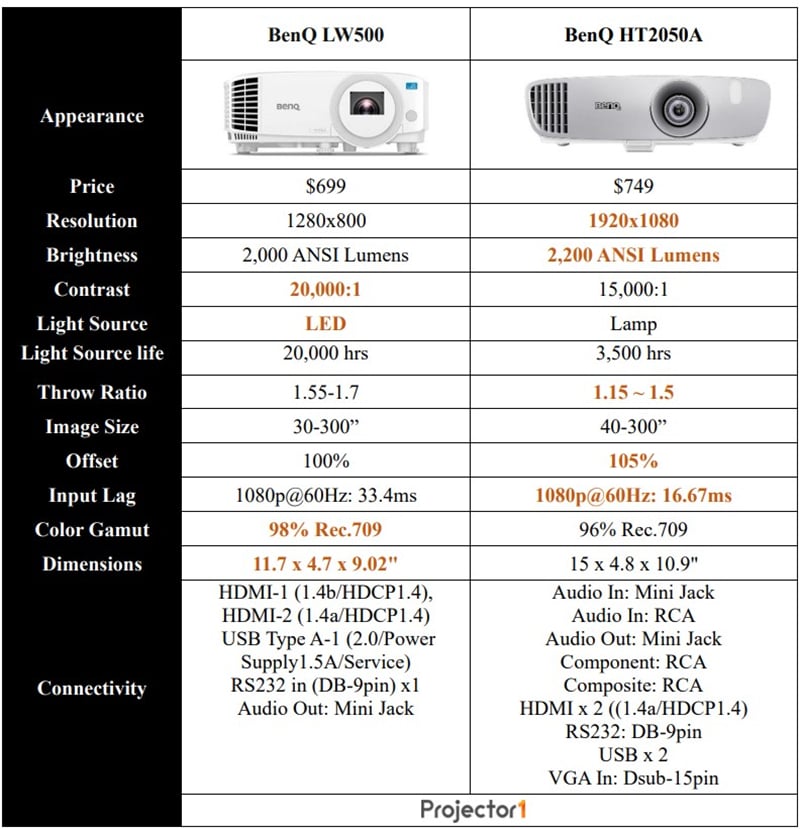 In the following parts, we will compare the two models from different perspectives.
Design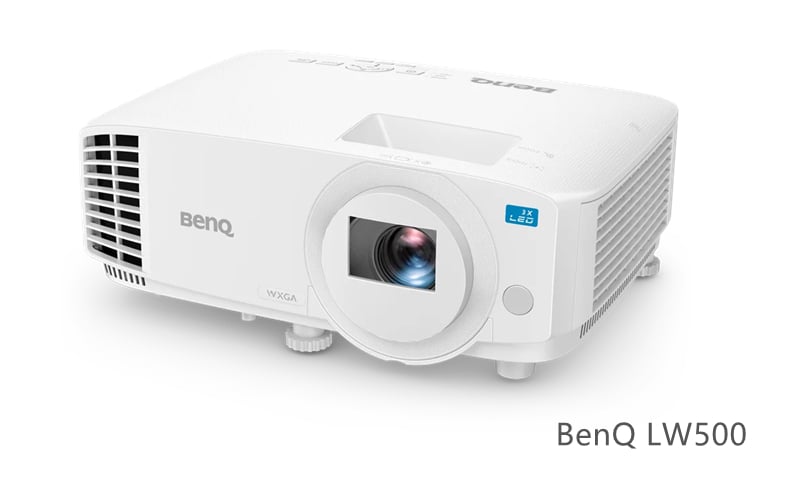 In terms of appearance, the two projectors are similar in shape, but there are some differences in the design and panels.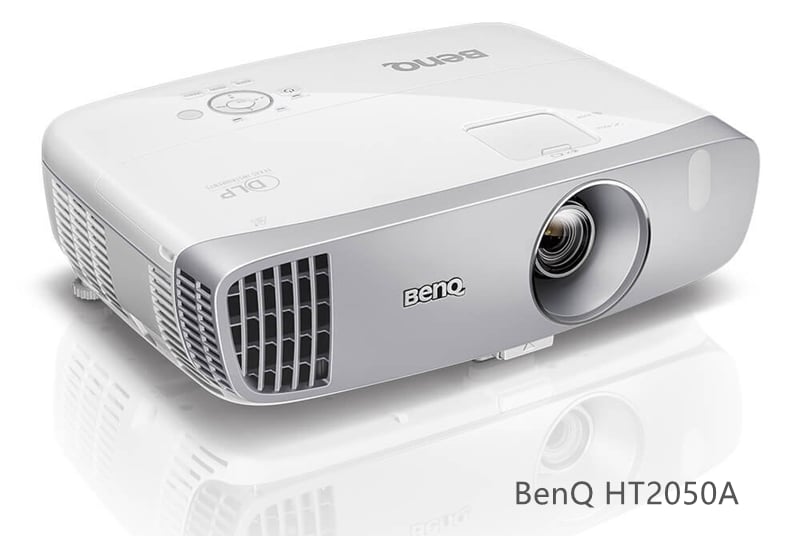 Looking from the front panel, we can see that BenQ LW500 has a ring as the decoration of the lens module and has a 3XLED mark and a WXGA mark on the front panel. BenQ HT2050A has only a BenQ logo mark.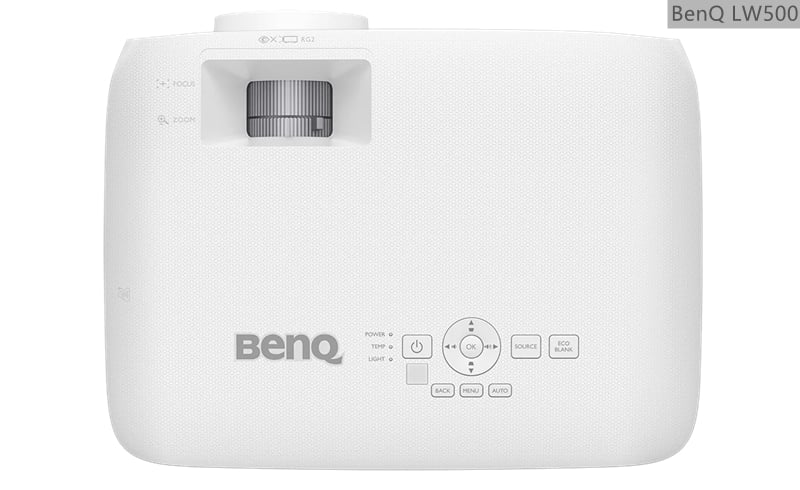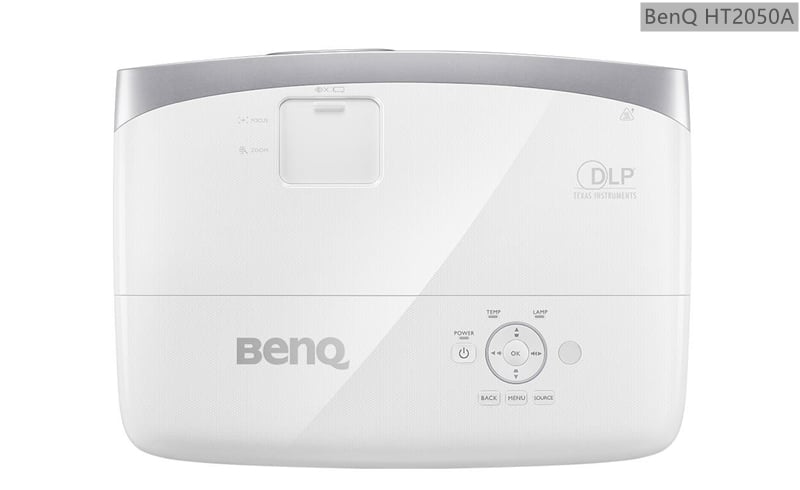 As for the top view, BenQ LW500 and BenQ HT2050A both have a group of shortcut buttons. The two projectors both have kickstands at the bottom to make it convenient to adjust image height.
Light Source
One of the major differences between the two projectors is the light source. BenQ LW500 has LED as a light source while BenQ HT2050A is a lamp-based projector.
Compared with LED projectors, projectors with lamps as the light source tend to be much brighter. However, lamp-based projectors have short lamp life and require frequent lamp replacement. A short lamp life means that you need to replace the lamp frequently every several years.
BenQ HT2050A has a light source life of 3,500 hrs under normal conditions. If you use the projector every 5 hours per day, then its light source can last 700 days, about no more than 2 years. In other words, you need to replace the projector every 2 years or so.
You may be interested in Lamp vs LED vs Laser Projectors.
Brightness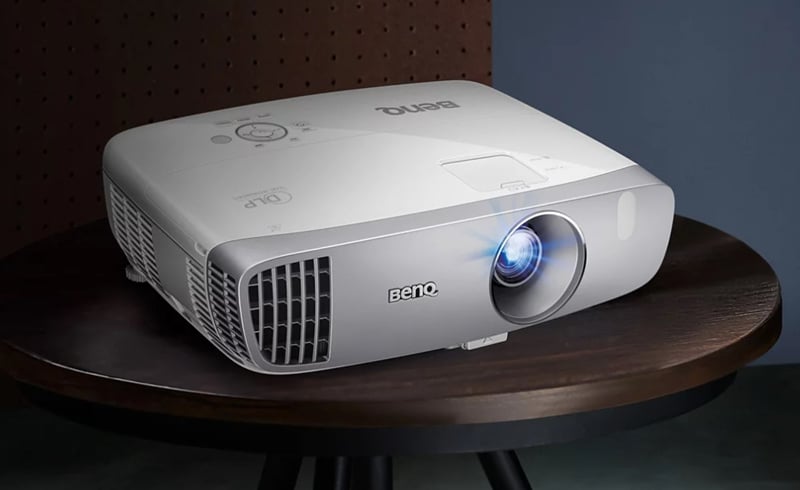 The brightness has always been one of the most important indicators to measure the performance of the projector. A projector with low brightness can only be used in a dark environment, while a projector with high brightness can be used even in the daytime.
BenQ LW500 has 2,000 ANSI Lumens while BenQ HT2050A has 2,200 ANSI Lumens. Put simply, BenQ HT2050A is slightly brighter than BenQ LW500 because the BenQ HT2050A uses a lamp as the light source.
Image
The other major difference between the two BenQ projectors is the resolution. BenQ LW500 has 1280×800 while BenQ HT2050A has 1080P (1920×1080). The higher the resolution, the more pixels in the images, and the clearer the images.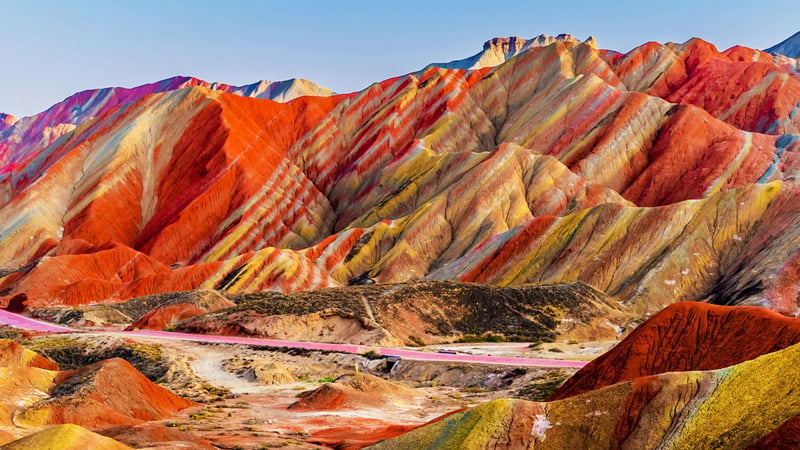 In terms of color performance, the BenQ LW500 has 98% coverage of the Rec.709 color gamut, slightly better than the BenQ HT2050A projector. Regarding contrast, BenQ LW500 has a contrast of 20,000:1 while BenQ HT2050A has 15,000:1. The higher the contrast, the more color gradation and the better the dark details.
That is to say, BenQ LW500 is better in terms of color gamut and color gradation.
As for image adjustment, BenQ HT2050A is slightly better as it supports 2D keystone while BenQ LW500 only supports vertical keystone.
Throw Ratio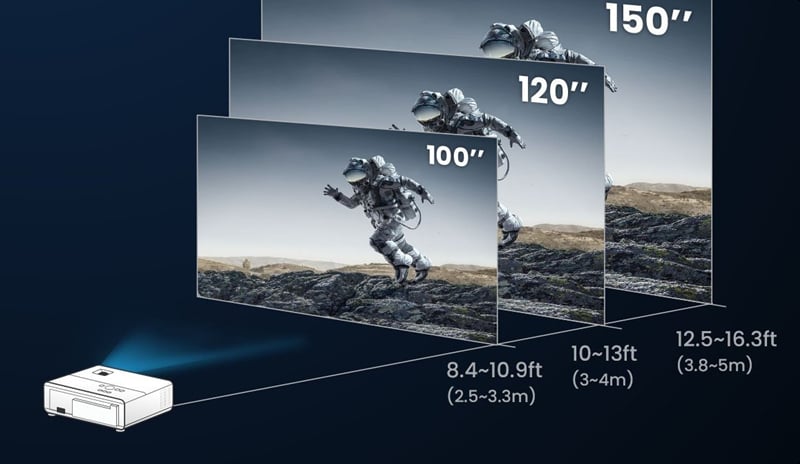 The throw ratio is also a key parameter for projectors. After comparing the throw ratio of the two models, we can find that BenQ HT2050A is relatively short in terms of throw ratio. That is to say, it requires a shorter distance for BenQ HT2050A than BenQ LW500 provided the projection image is fixed. Projector with a short throw can save more space and takes less space.
Compatibility
BenQ HT2050A has higher resolution and better resolution support. Besides, the BenQ HT2050A has a shorter input lag of 16ms ([email protected]), which is good for playing games. A projector with low input lag helps to bring a smooth and lag-free gaming experience.
Audio
In terms of speakers, BenQ LW500 has a 2W speaker while BenQ HT2050A has a 10W speaker. Though the two projectors have built-in speakers, BenQ HT2050A is more powerful and better in terms of audio effect.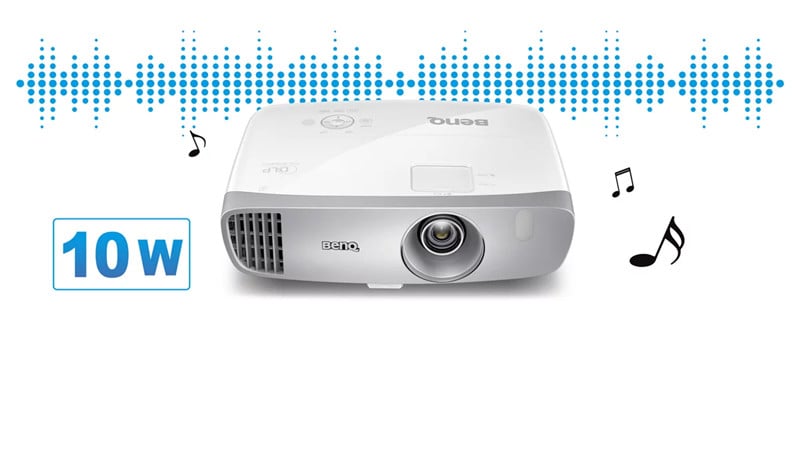 | | | |
| --- | --- | --- |
| | BenQ LW500 | BenQ HT2050A |
| Speaker | 2W | 10W |
Connectivity
The two projectors both have dual HDMI ports, which are compatible with 1.4b/HDCP1.4. However, BenQ HT2050A has more options, including a USB interface, audio input, and VGA port. That is to say, BenQ HT2050A is relatively better in connectivity compared with BenQ LW500.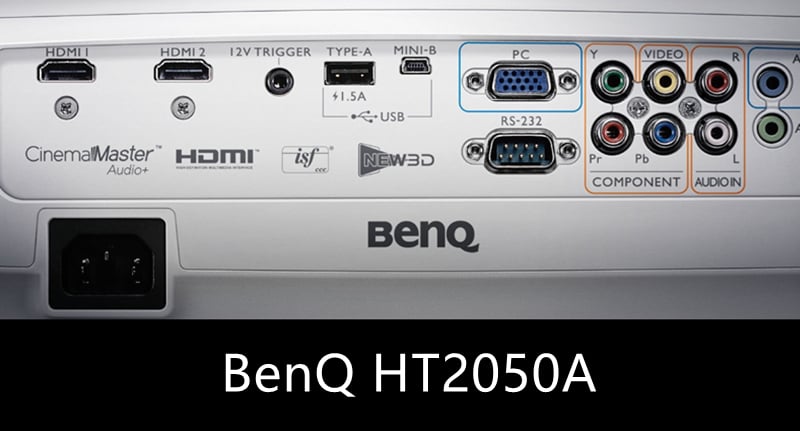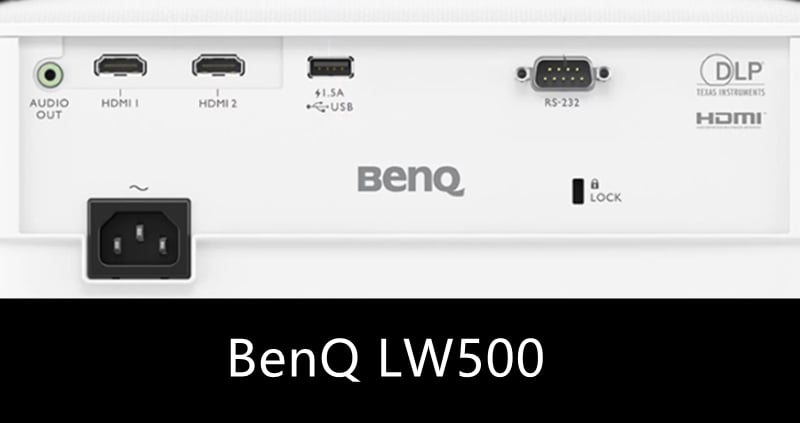 BenQ LW500
BenQ HT2050A
Connectivity
HDMI-1 (1.4b/HDCP1.4),
HDMI-2 (1.4a/HDCP1.4)
USB Type A-1 (2.0/Power Supply1.5A/Service)
RS232 in (DB-9pin) x1
Audio Out: Mini Jack
Audio In: Mini Jack
Audio In: RCA
Audio Out: Mini Jack
Component: RCA
Composite: RCA
HDMI x 2 (1.4a/HDCP1.4)
RS232: DB-9pin USB x 2
VGA In: Dsub-15pin
Pros and Cons
BenQ LW500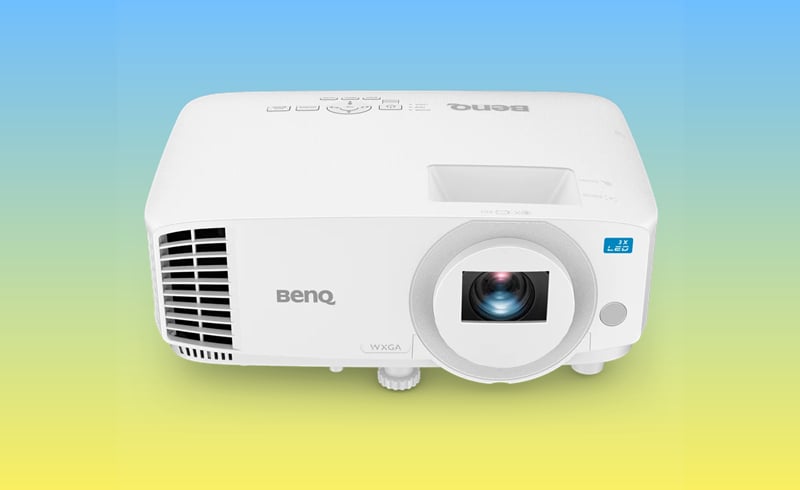 Pros
Higher Contrast
Better Colors
Longer Lamp Life
Smaller Body
Cons
Longer Throw
Lower Resolution
Longer Lag Time
BenQ HT2050A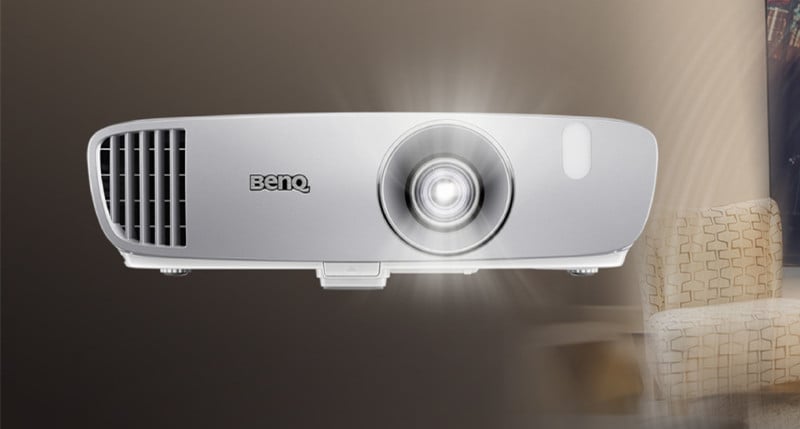 Pros
Native 1080P resolution
Higher Brightness
Shorter Throw
Shorter Input Lag
Versatile Connectivity
Cons
Shorter Lamp Life
Vertical Keystone Only
Conclusion
BenQ LW500 features longer lamp life and better image color and contrast, which is suitable for conference or meeting room use. BenQ HT2050A performs better in image resolution, brightness, low input lag, and connectivity, which is ideal for home theater or gaming.
Though the two projectors have close price tags, the lamp replacement cost (about $249) should also be taken into consideration.
Related Posts