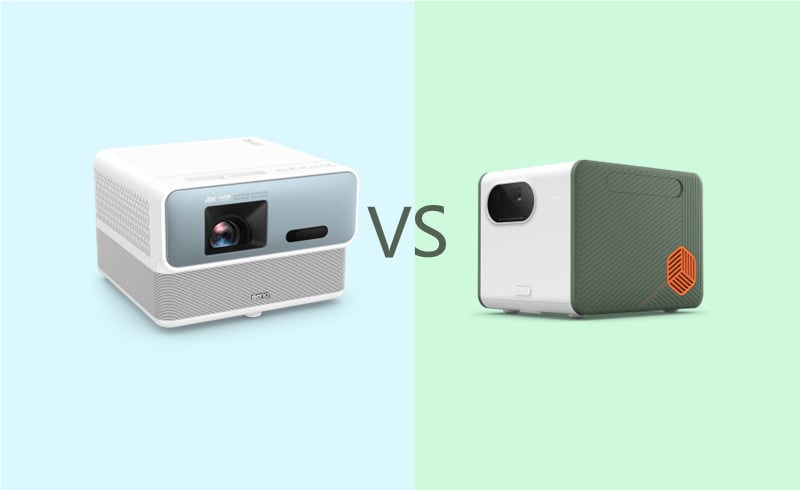 In this post, we will compare the new projector BenQ GP500 and the previous popular projector BenQ GS50 from different aspects, helping users to know their differences clearly.
BenQ GP500 vs BenQ GS50
The new projector BenQ GP500 is new projector announced in 2022 while the BenQ GS50 projector was released in 2021. For market positions, BenQ GP500 is positioned as a home theater projector while BenQ GS50 is oriented for portable projectors.
You can see the differences between BenQ GP500 and BenQ GS50 by means of the side-by-side comparison table. In the following paragraphs, we will compare the two projectors in design, image, system, audio, connectivity, audio, and portability.  
Projector Models
BenQ GP500
BenQ GS50
Retail Price
/
$799
Model Year
2022
2021
Brightness
1,500 ANSI Lumens
500 ANSI lumens
Native Resolution
4K UHD
1080P (1920×1080)
Contrast Ratio (FOFO)
100,000:1
100,000:1
Light Source
4LED
LED
Light Source Life
20,000 hrs
20,000 hrs
Throw Ratio
1.0-1.3
1.21
Max Image
200″
120″
Built-in OS
Android TV
Android TV
Bluetooth
Bluetooth 4.2
Bluetooth 4.2
Wi-Fi
2.4G/5G
2.4G/5G
Dimensions
260×266.5×182.5mm
186 x 154 x 146 mm
Net Weight (kg)
5.4 Kg
2.3kg
Noise
30dBA
29dB
Speaker
5Wx4
5W x2 & 10W woofer
Battery Capacity
/
6000.0mAh/2.5 hours
3D
Yes
No
Interface
HDMI 2.0 x3
USB x2
Audio Out
SPDIF x1
HDMI-1 (2.0b/HDCP2.2)
HDMI-Internal (2.0b/HDCP2.2)
USB Type A-1
USB Type C
Audio out (3.5mm Mini Jack) x1
BenQ GP500 vs BenQ GS50: Design
The two projectors have similar shapes, which look like a cube, but they have different color matching. The BenQ GP500 adopts white and green, while the BenQ GS50 uses blue and white colors. In terms of exterior design, BenQ GP500 has many perforated vents on the panels while BenQ GS50 has a 2.3ft drop-proof and IPX2 Splash Proof design, which are suitable for outdoor use.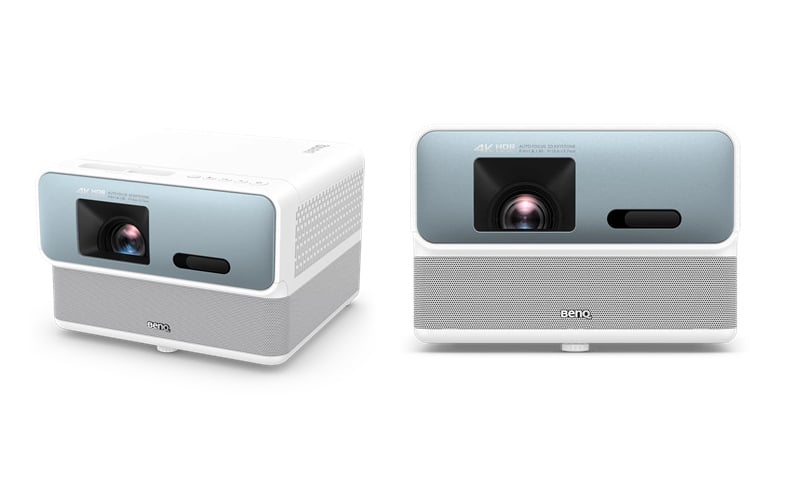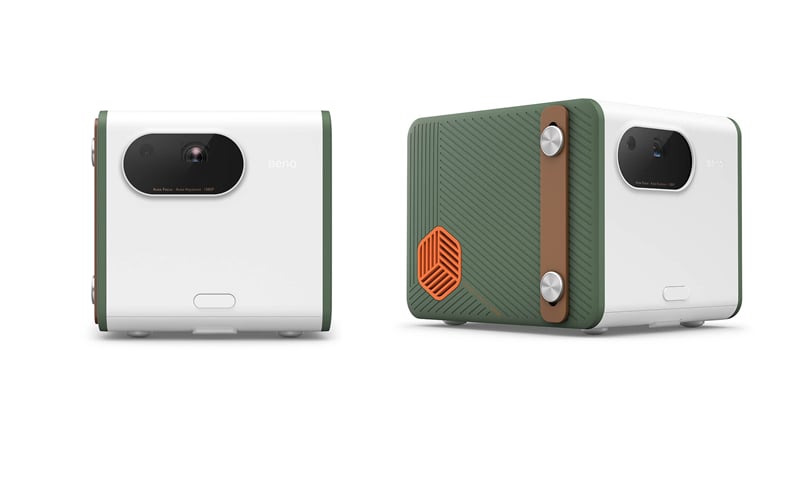 As for dimension and weight, BenQ GS50 is obviously smaller and lighter. BenQ GS50 weighs just 2.3 kg while BenQ GP500 weighs 5.4 KG.
BenQ GP500 vs BenQ GS50: Image
The two projectors are very different in terms of brightness, light source, resolution, and throw ratio.
BenQ GP500 has 1,500 ANSI lumens while BenQ GS50 has 500 ANSI lumens. In other words, BenQ GP500 is much brighter than the GS50 model. Only projectors with high brightness can be used under strong ambient light.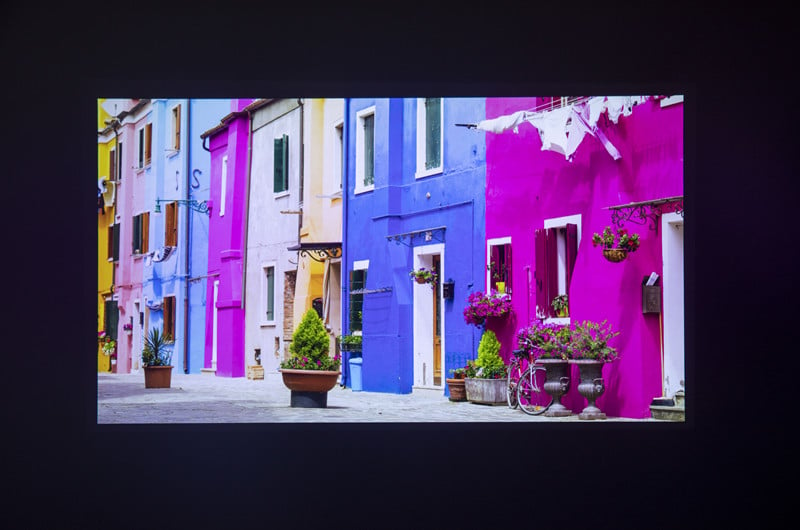 As for resolution, BenQ GP500 has a 4K resolution while BenQ GS50 has only a 1080P resolution. The higher the resolution, the crisper image because more pixels are in the image.
For throw ratio, BenQ GP500 has an adjustable throw ratio range of 1.0-1.3 while BenQ GS50 has a fixed throw ratio of 1.21:1.
Regarding color processing, BenQ GP500 has 10 bits, but BenQ GS50 has only 8 bits. That's because BenQ GP500 has a 4LED light source while BenQ GS50 has single LED light.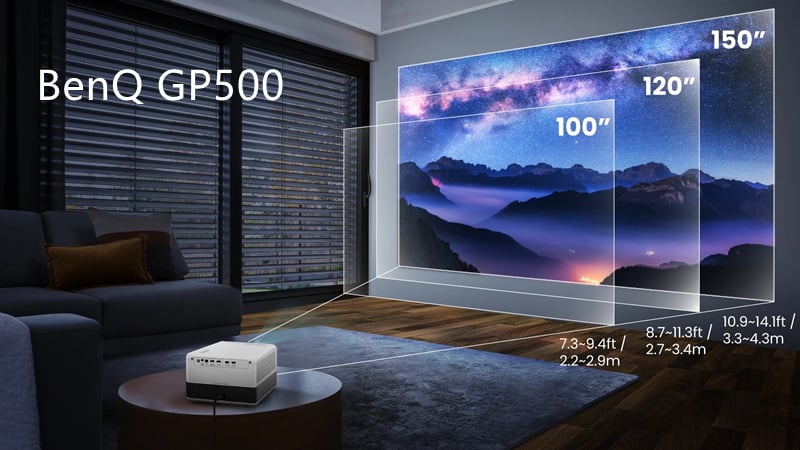 As for image size, BenQ GP500 can project a max image size of 200 inches while BenQ GS50 has a max image size of 120 inches.
BenQ GP500 vs BenQ GS50: System
The two projectors are both powered by Android TV, which has a built-in Google Play store, Google Assistant, Chromecast, and other google-related services.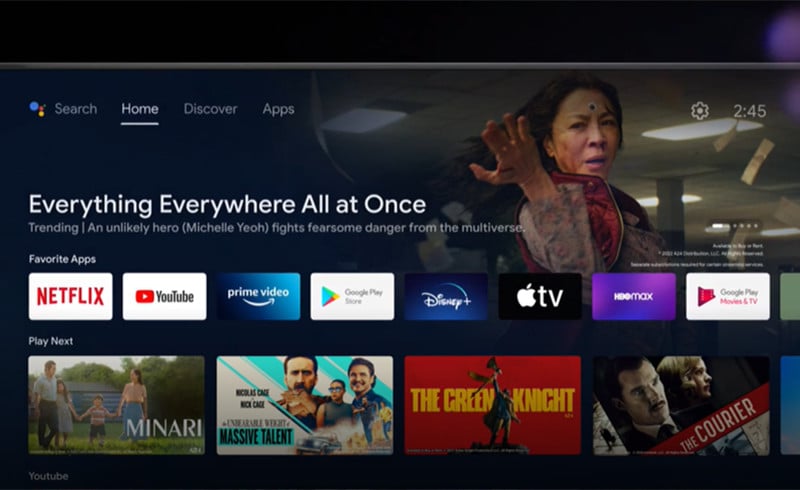 With the Google Play store, you can download hundreds of apps conveniently. As the projector has a built-in Chromecast, you can mirror your smartphone onto the projector quickly and simply.
BenQ GP500 vs BenQ GS50: Audio
A good projector should be equipped with built-in speakers. BenQ GP500 is equipped with two 5W speakers while BenQ GS50 has two 5W speakers and one 10W woofer. That means BenQ GS50 is better in many audio forms mo matter mids or highs.
BenQ GP500 vs BenQ GS50: Connectivity
As for connectivity, the two projectors both support Wi-Fi, Bluetooth, and wireless mirroring. In terms of a wired connection, they both have HDMI 2.0 connectivity, but BenQ GP500 has 1 more HDMI port and an audio port.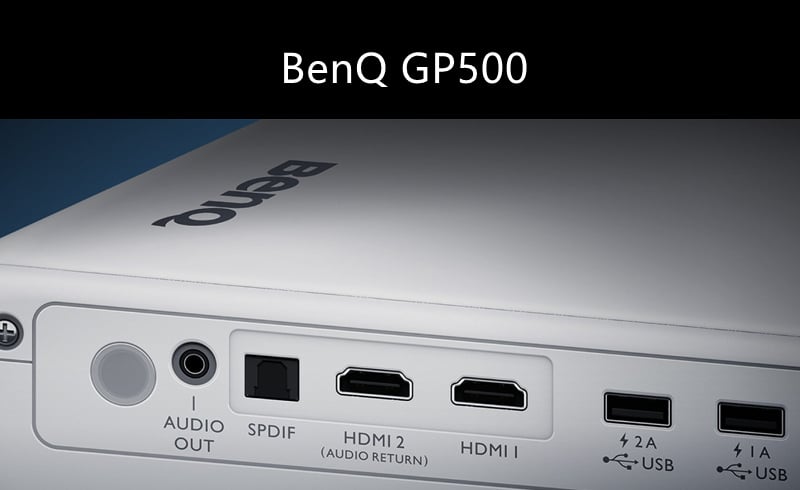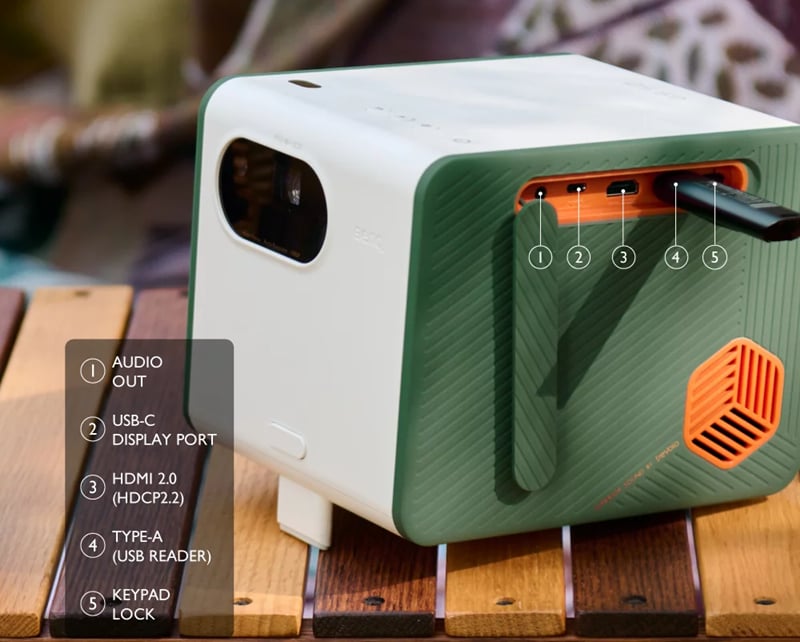 With HDMI 2.0 interface, you can connect the projector to various external devices, such as computers, game consoles, TV sticks, and more.
You may be interested in HDMI 2.0 vs HDMI 2.1.
BenQ GP500 vs BenQ GS50: Portability
A good portable projector should have a small size, weight, sturdy outer shell, and battery. In this sense, BenQ GS50 has better portability. As we have mentioned in the paragraph above, BenQ GS50 is relatively smaller and lighter; in addition, the GS50 model has a 2.3ft drop-proof and IPX2 Splash Proof design, which is more suitable for outdoor use. Besides, BenQ GS50 has a built-in battery with a battery life of 2.5 hours while BenQ GP500 doesn't.
Pros and Cons
BenQ GP500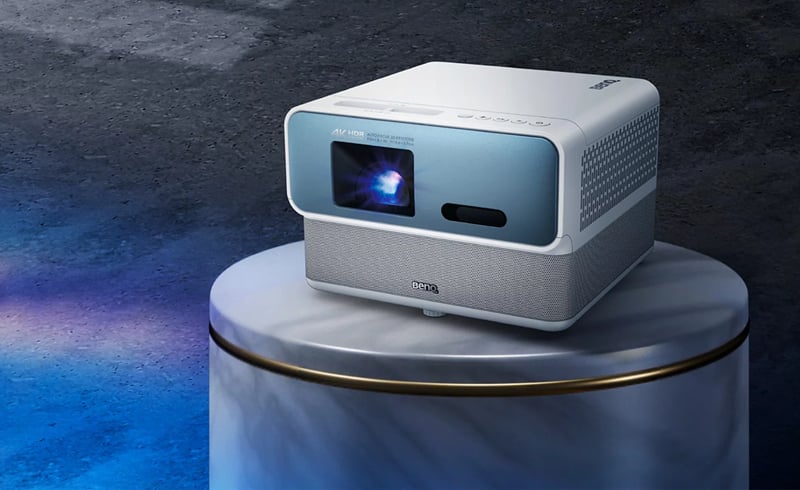 Pros
Higher Brightness
4K resolution
Android TV
3 HDMI Interfaces
10-bit Color Processing
3D
Cons
BenQ GS50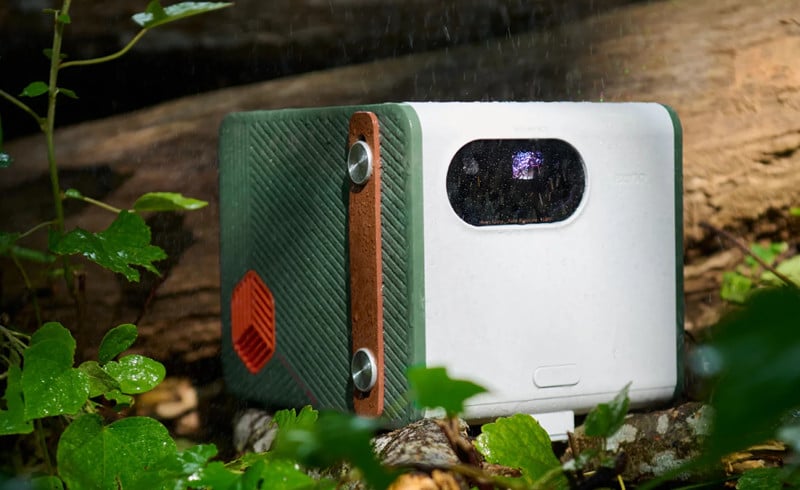 Pros
Android TV
Built-in Battery
IPX2 Splash Proof design
2.3ft Drop-Proof
Good Portability
Cons
Lower Brightness
No 3D Support
Conclusion
After comparing BenQ GP500 and BenQ GS50 from different perspectives, we can safely conclude that BenQ GP500 is better in projection images, including brightness, color, and resolution; BenQ GS50 is better for outdoor use as it has better portability.
Related Posts