For a conference or business presentation, a projector is a better option for TV. Because projector is more portable meanwhile offer a adjustable screen size to your varied needs. What's more, when it comes to big screen, it is cheaper than TV, and won't occupy too much space.
A business projector allows you carry it around, which is very convenient when you have to give your presentation in different places. When you want your PowerPoint to seen clearly by more attendees, just adjust the screen size as large as you need.
However, projectors come in diversified types and different prices, how to choose a proper and cost effective business projector? To save your time, we have picked the best projectors for business presentation for your reference. Check out the list below ranging from ordinary to top-end models.
Things Need to Know When Choosing the Best Business Projector
Choose a more advanced projection system and technology
More advanced projection technology means better and smoother performance of the business projector, which will dramatically optimize the user experience.
Pay attention to the lamp life
The lifespan of business projector mainly hinges on the lifespan of the projector lamp. And business projector's lamp life differs from thousands of hours to tens of thousands of hours.
Looking at the business projector's brightness
Some of the consumers may thinks that a business projector should be bright, the higher the lumen, the better. In fact it is not necessary to pursue the absolute high brightness of business projectors. It is enough for a business projector as long as it is able to cope with the conference room with lights on or curtain drawn up.
Quick start feature is important
Quick start is a feature can be easily overlooked. People attach importance to efficiency when in business scenarios. Choose a business projector featured with quick start will save a lot of trouble and time.
A portable business projector is great
When having a meeting or conference, you won't want to take great efforts in moving a heavy projector around. Therefore, choose the portable business projector will bring you great convenience.
Our Top Picks for Best Business Projectors
ViewSonic PA503
$323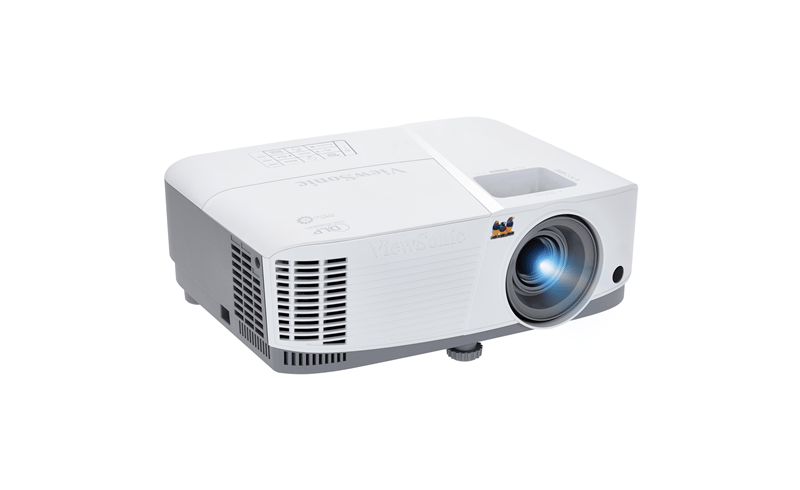 This model is released by ViewSonic that is designated for business presentation. With 3600 lumens, ViewSonic PA503S offers you a bright image output with all the graphics and texts. Its resolution is FHD 1080p and dynamic contrast ratio is up to 22000:1. As we all know, resolution and contrast ratio play a critical role in determining the clarity and sharpness of image that audience see on the screen. Plus, it adopts SuperColor technology, adding to the vividness of your presentation materials.
No matter in a small conference room or a large meeting room that you want to use ViewSonic PA503S projector, you will have a 30-300inch display size to cater to every scenario. Moreover, it provides users with multiple connection options including HDMI, VGA, composite RCA, Mini USB Type B, RS232, and audio-in. You can connect your device to the projector with all the various ports if you need.
Pros:
Great brightness
Long lamp life with 15,000 hours
Keystone correction feature
3 years warranty
Cons:
A little of noisy when working
Panasonic PT-VZ580U
$249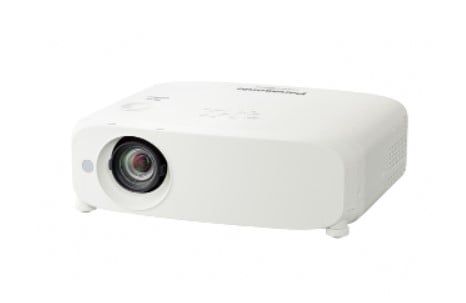 The Panasonic PT-VZ580U WUXGA 3LCD projector offers 5000 lumens of brightness and 16,000:1 dynamic contrast ratio. It can provide detailed image output especially the black areas of picture. And 5000 lumens of brightness means you will still get a razor-sharp image even if in relatively bright rooms.
Panasonic PT-VZ580U sports a 1920 x 1200 WUXGA native resolution and 3LCD display technology. The screen size is from 30-300 inch. Both Horizontal & Vertical Digital Keystone is provided by the unit. What's more, Panasonic PT-VZ580U got you covered with all sorts of connectivity such as audio in/out mini jacks, RCA, HDMI x 2, RJ-45, RS232: DB-9pin, USB, VGA.
Pros:
Multiple and rich connection interface
Incredible brightness and image output
RBE won't appear
Cons:
Poor lamp life with 5000 hours
Emotn H1
$289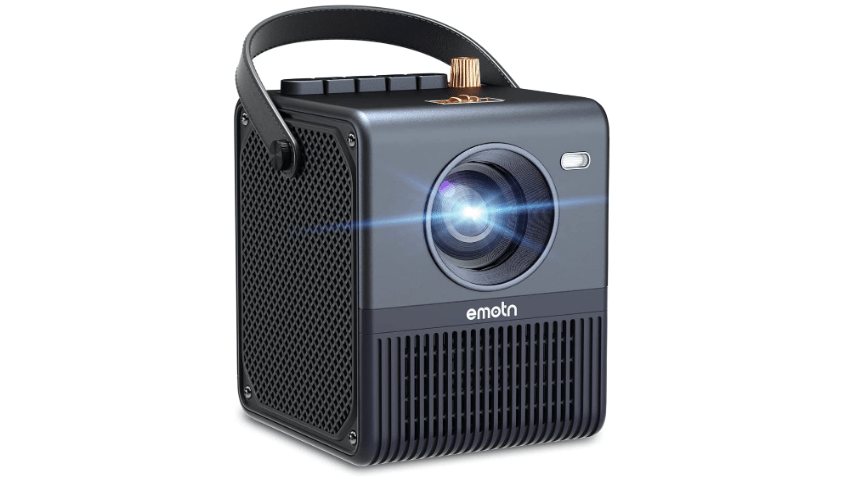 Emotn H1 houses native resolution of 1920×1080, but it is powerful to play a 4k video in H.265 encoding format through an external USB flash drive. Meanwhile, this projector is capable of delivering HDR images which can meet all of your home theatre needs. Emotn has built-in dual Hi-Fi stereo speakers which are powered by Emotn's professional DSP digital amplifier chip, can reproduce sound effects very well.
Moreover, Emotn H1 is equipped with rich and multiple connection interface, allowing user to connect various kinds of devices to the projector. Emotn H1 is very competitive in terms of smart features including WiFi, Bluetooth as well as auto keystone correction.
Pros:
Amazing sound with Hi-Fi stereo speakers
Powerful smart features
Mutiple connectivity
Excellent color display and image output
Cons:
Epson VS250
$569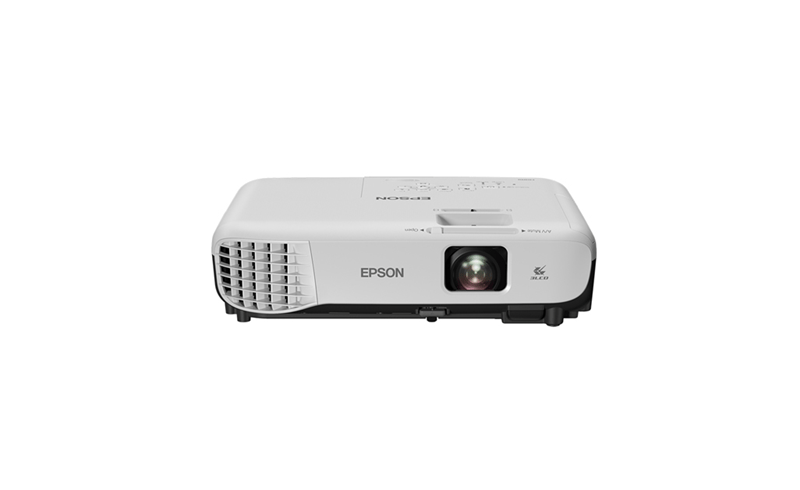 Epson is a trustworthy and popular manufacturer with long history. Its Epson VS250 is an amazing option for business presentation. With 800×600 native resolution, this projector offers great picture quality for daily office presentation. Speaking of contrast ratio, Epson VS250 is rated for incredible 15000:1. Delivering viewers with voluminous colors and deep blacks.
With brightness of 3200 Lumens, you may need to use it in a room with semi-lit light condition, Because brightness at this level is not powerful enough to cope with strong ambient light. Speaking of screen size, Epson VS250 is able to provide users with giant screen that is up to 350 inch. As for ports, you can find USB, HDMI, D-Sub, composite video, and audio-in for connectivity.
Pros:
RBE won't appear
Short throw ratio of 1.45:1
Bright and vivid image output
Nice build quality
Cons:
Short lamp life with 6000 hours
Relatively low resolution
Optoma ML750
$599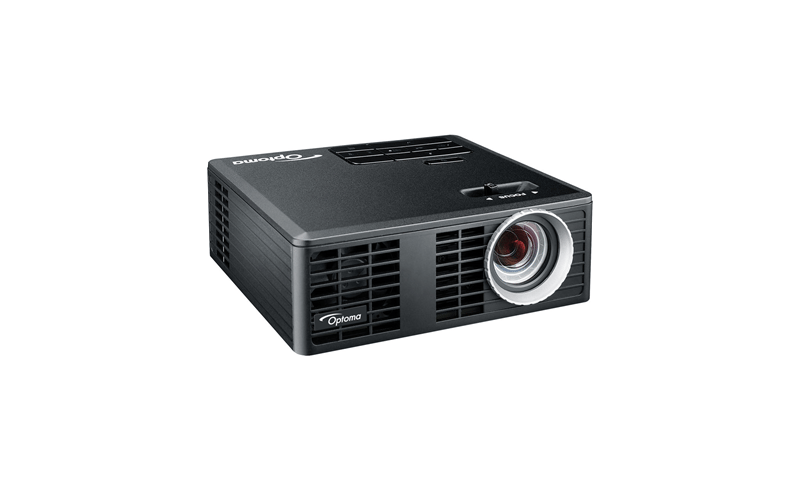 If portability is a key factor for you when choosing a business projector, Optoma ML750 will be the best choice. Because Optoma ML750 can be rated as palm-size projector, and only weighs under 1lbs. You can put it into your backpack easily and then carry it with you to business trip or to any other places you plan to give a presentation.
With resolution of 1280x800p and 10,000:1 contrast ratio, as well as LED light source via DLP display technology, you will get a sharp and clear image from Optoma ML750. However, it's relatively low brightness of 700 ANSI lumens means that you should kill the light as possible as you can to get a lively and crisper image. For connectivity, you will have HDMI, MHL, VGA, USB, audio-in, and MicroSD slot on Optoma ML750.
Pros:
Great lamp life with 20,000 hours
Mini sized and portable
Excellent image quality
Cons:
Poor sound
Low brightness
Maximum 100 inch screen size
Conclusion
When choosing the best business projector, there are many factors that need to be taken into account. Each business projector model that we review and put in the top pick list is excellent and powerful. Like the Emotn H1, compact design with the handle on the unit, easy for you to carry around. What's more, it offers various smart features as well as sharp and colorful image output.
Related post:
4 Best Laser Home Projectors to Buy in 2022
Top 4 Portable mini Projectors 2022
The top 3 projector screens of 2022