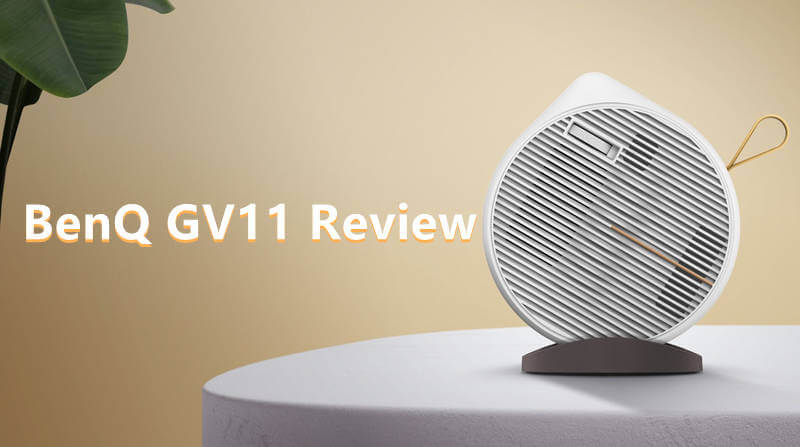 BenQ GV11 is a new portable projector released by the renowned DLP projector brand BenQ. In this post, we will review the projector from different perspectives, helping you to know its performance quickly.
BenQ GV11 Review
This section will introduce the appearance, image, light source, system, portability, connectivity, sound, package, and price of the BenQ GV11 projector.
BenQ GV11 Review: Appearance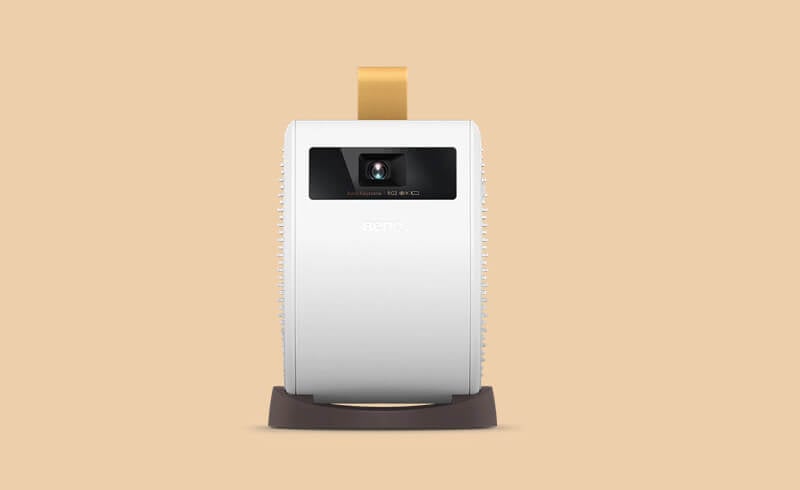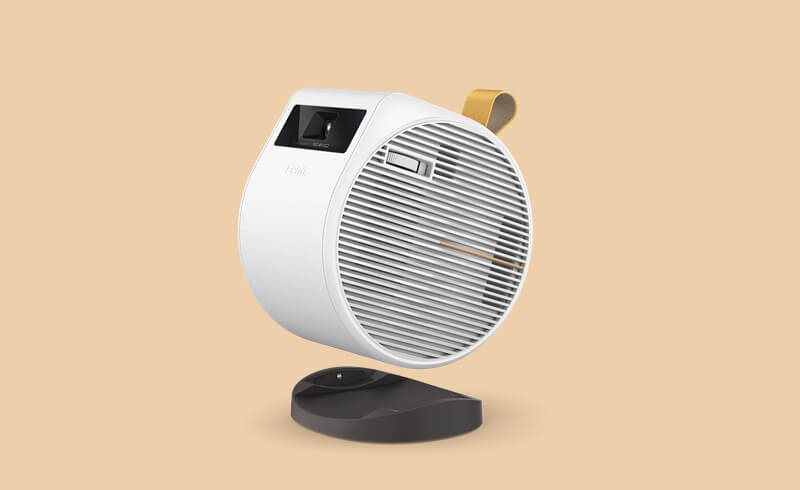 In terms of shape, the new projector is like a mini air blower. It has a base to adjust the projection angle and protect the body of the projector. The two side panels are full of linear vents to ensure heat dissipation and quiet operation. It has a short leather handle on the top end so that you can carry and move it conveniently. You can see the model name GV11 on the handle. On the top panel, there are four shortcut buttons, including a power switch, Bluetooth switch, and volume adjustment buttons. The interfaces are located at the side panel.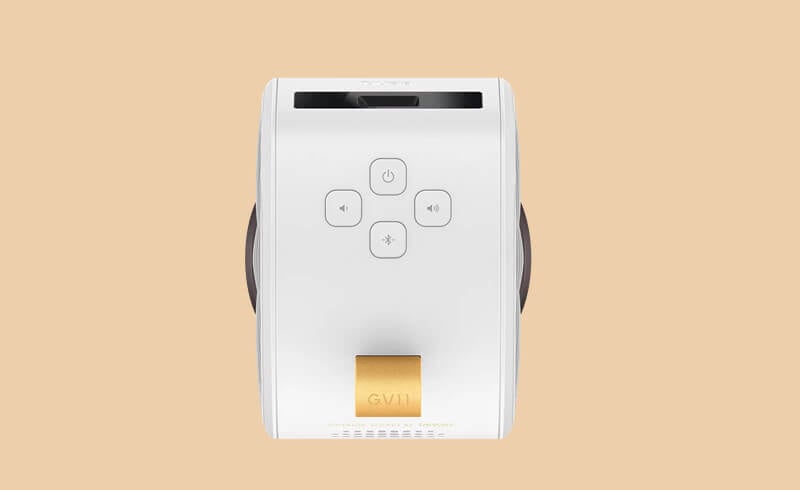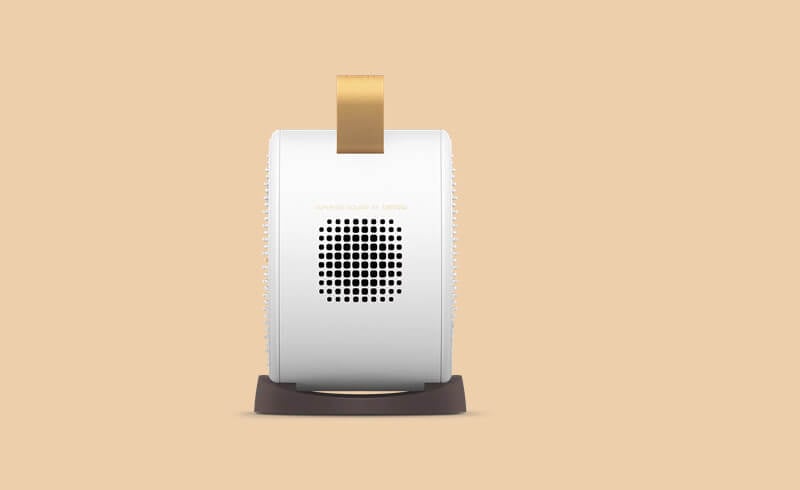 It adopts a whole white body and brown base, whose color matching is elegant and brief.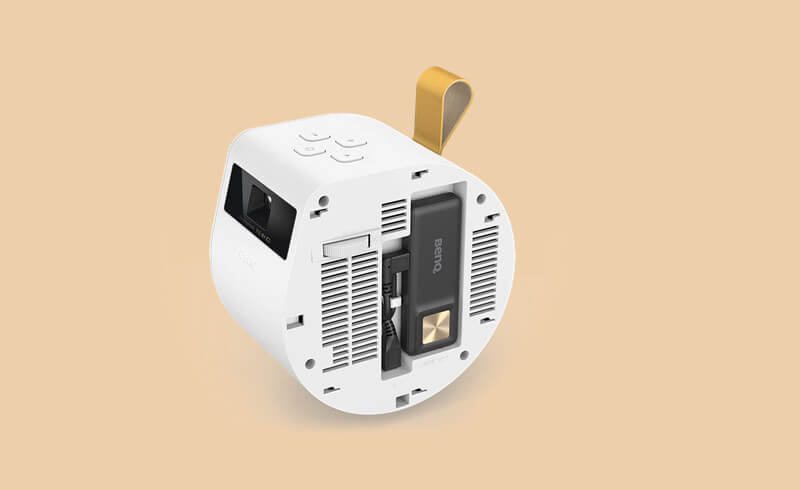 The appearance of BenQ GV11 is similar to its sibling BenQ GV30.
BenQ GV11 Review: Image
As a portable projector, BenQ GV11 has a native resolution of WVGA (854×480) and a compatible resolution of up to 1080P. The resolution is not so good compared with other portable projectors on the market. With LED as the light source, the projector has a brightness of 200 ANSI lumens, an accepted value for common portable projectors. The projector has 92% color coverage of Rec. 709 and delivers colorful images for users. Check Our previous post Projector Color Gamut to know more details.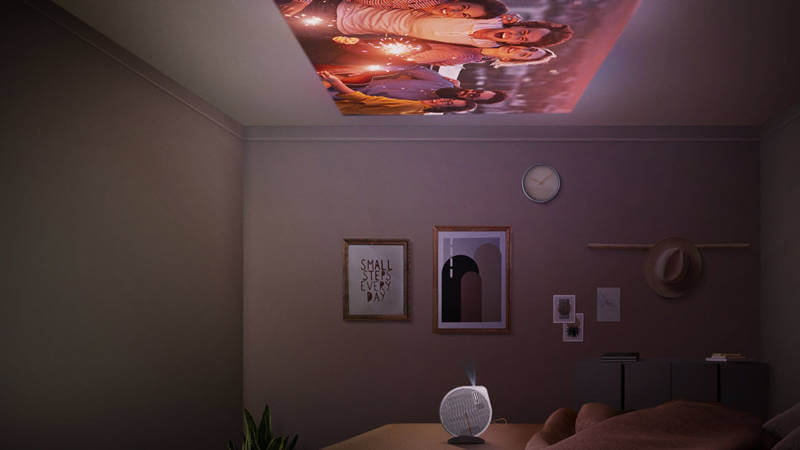 As for image size, it has a max recommended image size of 80 inches, slightly bigger than the common TV screen.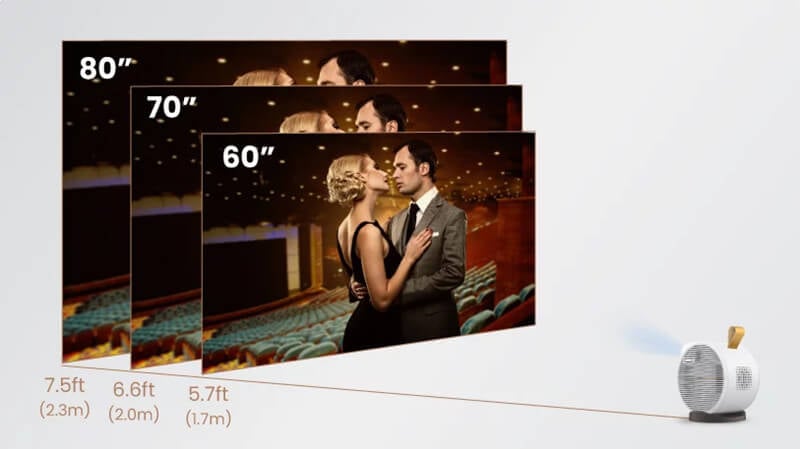 BenQ GV11 Review: System
BenQ GV11 has a built-in certified Android TV system so that you can watch streaming content anywhere with network access. You can download more than 5,000 apps including YouTube and Hulu in the Google Play store and use Google Assistant to free your hand.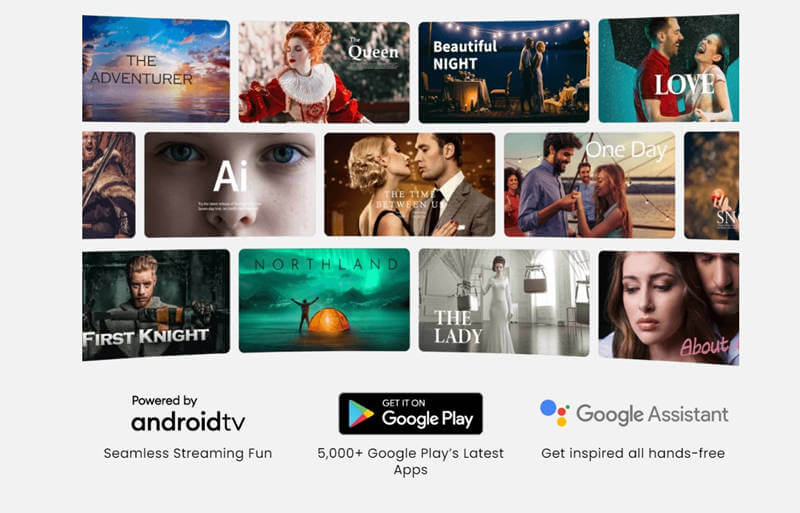 BenQ GV11 Review: Portability
Portability is the top consideration when picking a portable projector. For dimensions and weight, BenQ GV11 measures 113.5 x 153.3 x 140 mm and weighs just 0.97 kg; you can move it conveniently. For battery life, the projector has a built-in battery and lasts about 160 mins for video play, meaning that you can finish watching a common movie without plugging the projector into a power socket.
BenQ GV11 Review: Connectivity
BenQ GV11 is equipped with two HDMI interfaces (1.4b/HDCP1.4) and 1 USB type A, and you can connect it to most external devices, including computers, game consoles, TV sticks, etc. But the bandwidth and refresh rate are restricted due to the limitation of the HDMI version.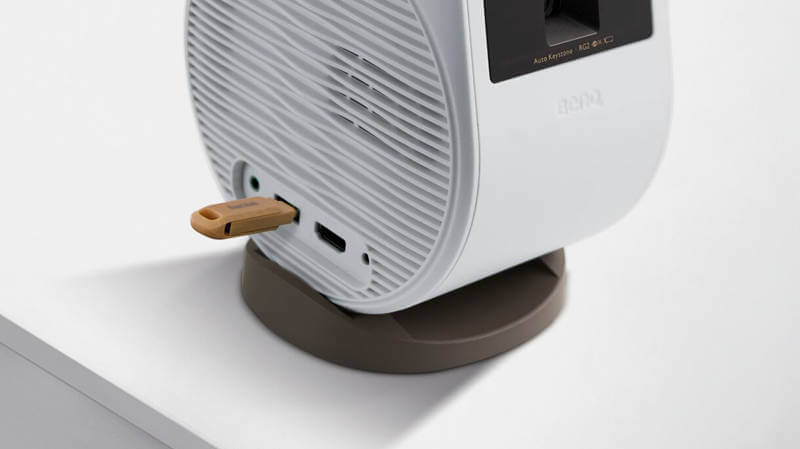 For wireless connectivity, it is equipped with Bluetooth and Wi-Fi. You can connect the projector to a Bluetooth speaker wirelessly. The projector supports AirPlay and Chromecast, and therefore you can connect the projector to your iPhone or Android phone wirelessly.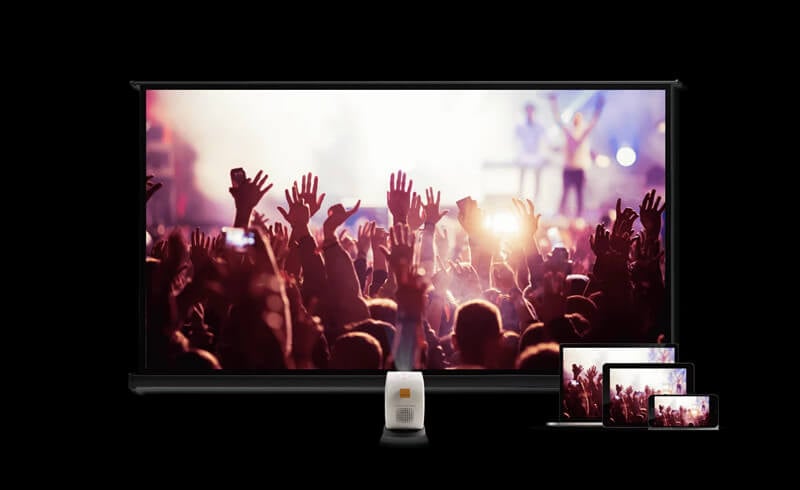 The projector is compatible with the BenQ Smart Control app, and you can install it on your smartphone and control the projector using your smartphone in case you lost your remote.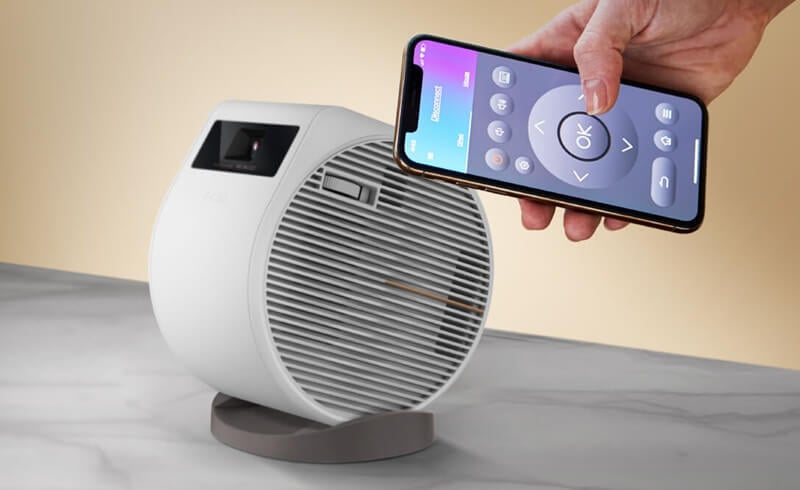 BenQ GV11 Review: Sound
The projector has a built-in 270-degree 5W speaker tuned by treVolo, delivering room-filling sound. But the sound is not powerful enough, and you can connect it to an external Bluetooth speaker to improve the sound.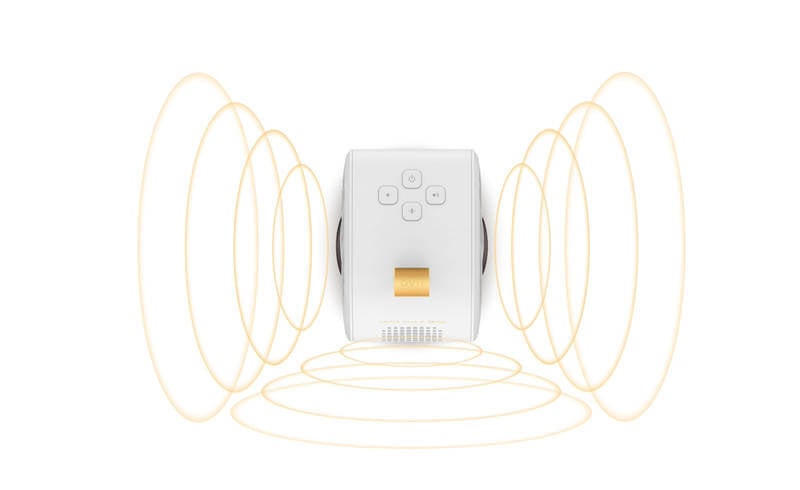 As for noise, the projector is acclaimed. It has a low noise of 23dB, which greatly reduces the annoying noise when using the projector.
BenQ GV11 Review: Package
In addition to common power adapters, remote, and user manual, BenQ GV11 is also equipped with a carry bag, base, and Android TV dongle we have mentioned above.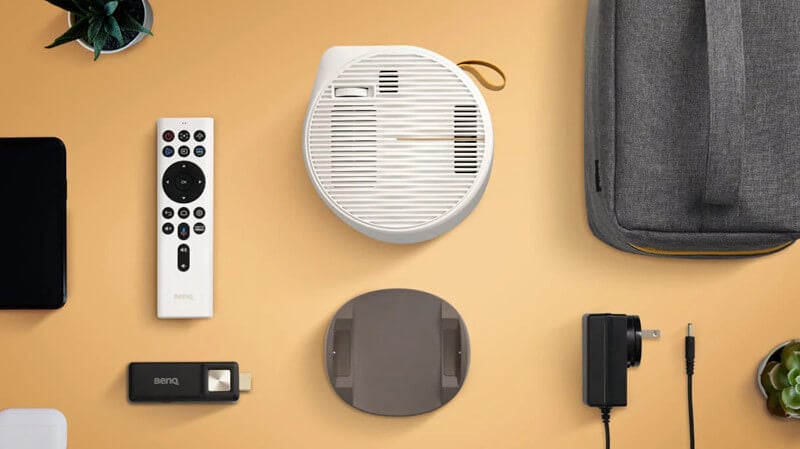 BenQ GV11 Review: Price
BenQ GV11 is priced at $379 and has a discount price of $279 due to a 30-day campaign. Compared with hot portable projectors on the market, we can see that the pricing of BenQ GV11 is reasonable.
| | | | | |
| --- | --- | --- | --- | --- |
| Model | BenQ GV11 | Emotn H1 | KODAK Luma 350 | Formovie Dice |
| Price | $379 | $289 | $299.99 | $750 |
| ANSI Lumens | 200 | 250 | 200 | 700 |
| Resolution | 480P | 1080P | 480P | 1080P |
| System | Android TV | Android | Android | Android TV |
BenQ GV11 Specs
Brightness (ANSI lumens)
200
Native Resolution
WVGA (854×480)
Native Aspect Ratio
16:9
Contrast Ratio (FOFO)
100,000:1
Display Color
24-bit (16.7 million colors)
Light Source
LED
Light Source Life
a. Normal 20000 hrs,b. ECO 30000 hrs
Throw Ratio
1.3 (35″@1M)
Zoom Ratio
Fixed
Lens
Fixed
Projection Offset (Full-Height)
100%
Keystone Adjustment
1D, (Auto) Vertical ± 40 degrees
Built-in OS
Yes, Android 10.0
Bluetooth
Yes, Bluetooth 4.2
Wi-Fi Standard
802.11 a/b/g/n/ac (2.4G/5G)
Wireless Projection
Google Cast
Preload Apps
Wireless Projection, FamiLand
Dimensions (WxHxD) (mm)
113.5 x 153.3 x 140 mm
Net Weight (kg)
0.97 kg
Dimensions (WxHxD) (inch)
4.5 x 6.0 x 5.5 in
Net Weight (lb)
2.14lb
Noise
23dBA
Speaker
(x1) ,5W Chamber
Interface
HDMI (x2),HDMI-1 (1.4b/HDCP1.4) ,HDMI-Internal (1.4b/HDCP1.4)
USB Type A-1 (2.0/Power Supply1.0A/Reader)
Audio out (3.5mm Mini Jack) (x1)
Conclusion
BenQ GV11 is not bad in view of its good portability and excellent wireless connectivity. However, the image is not clear and bright enough. You can only use the projector at night or in a dark room in view of its low brightness.
Related Posts
BenQ TH690ST Review – 1080P Home Theater Projector
BenQ HT2150ST vs BenQ TH690ST: Gaming Projector Comparison