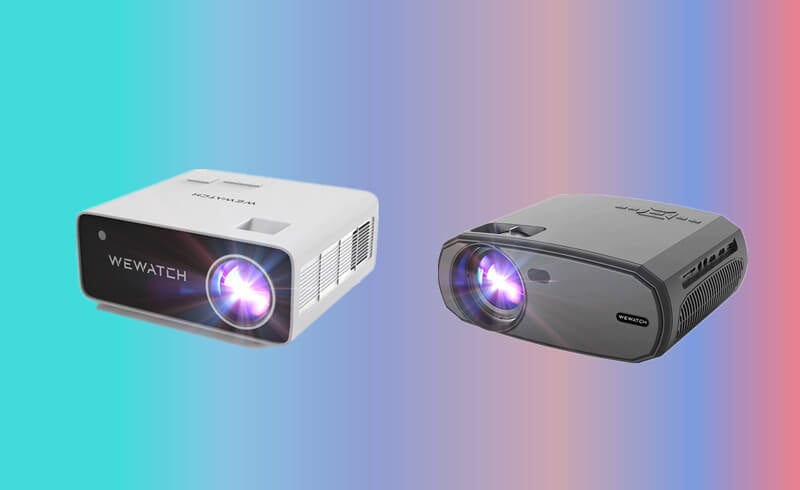 Recently, WEWATCH unveiled an upgraded projector named WEWATCH V51P or WEWATCH V51 Pro. In this guide, we will compare the new projector and the previous popular model WEWATCH V50, helping you to know their differences and make a wise decisions.
WEWATCH V51P vs WEWATCH V50
Overview
The two projectors are both budget mini projectors, and they have similar market positions. The new model WEWATCH V51P is better in brightness, image size, and audio. However, the WEWATCH V50 is cheaper and smaller.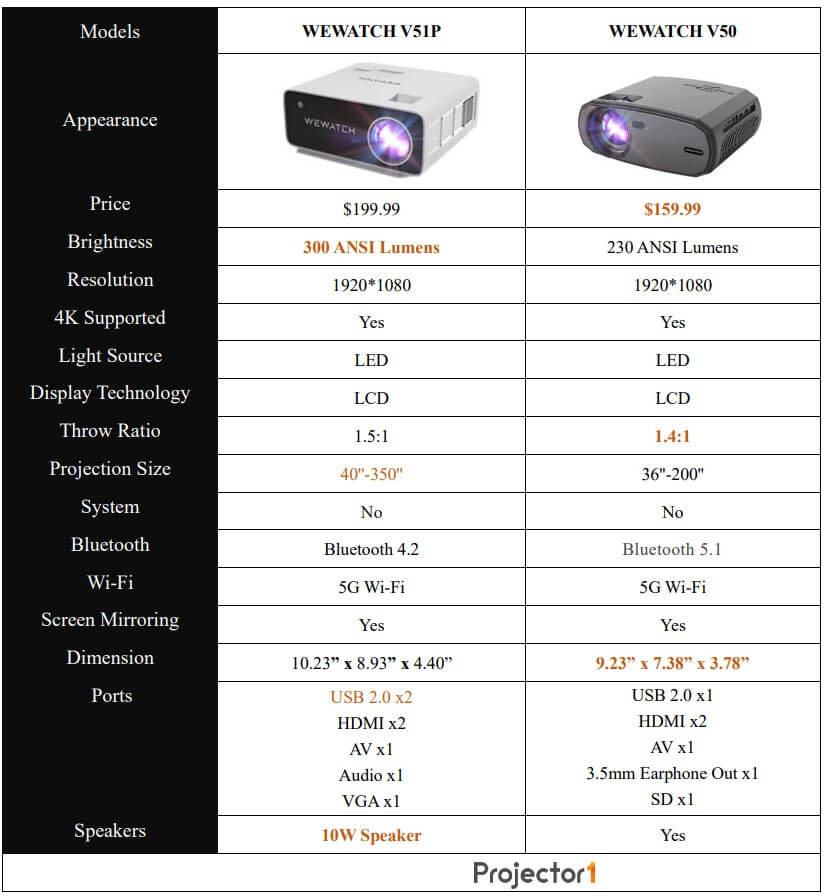 Brightness
Better one: WEWATCH V51P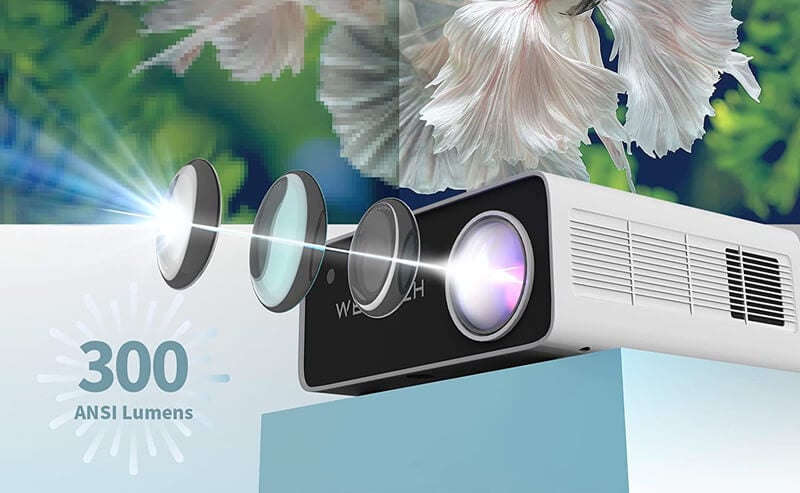 The two projectors are equipped with LED light sources, but they are different in terms of brightness. WEWATCH V51P has 300 ANSI lumens while WEWATCH V50 has 230 ANSI Lumens. That is to say, WEWATCH V51P is brighter in terms of image.
If the ambient light is very strong, the image of the projector will be affected and cannot be seen clearly. Therefore, you need to lower the light to improve the image quality. A projector with high brightness can better deliver clear images even during the daytime.
However, the two projectors are not bright enough for daytime use. You need to close the curtain or turn off lights to make a dark environment to improve the viewing effect.
Keystone Correction and Focus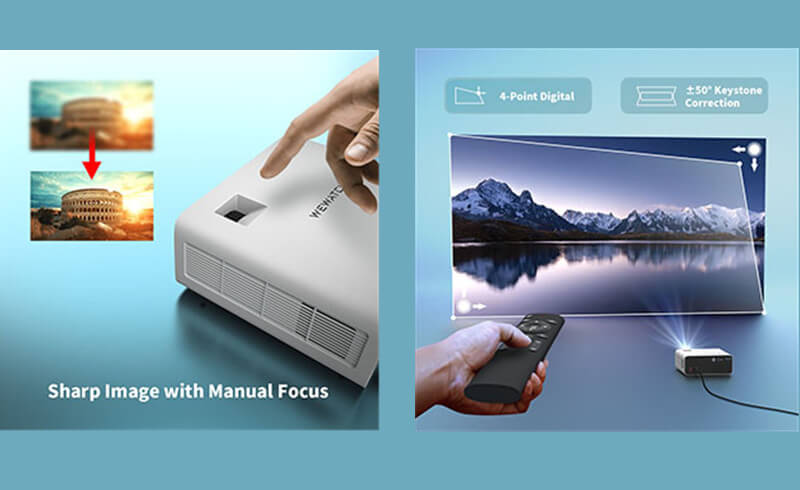 Better one: WEWATCH V51P
The keystone and focus are critical for a projector. WEWATCH V51P supports 4-Point Keystone Correction and digital ±50 °keystone correction while WEWATCH V50 has ±15° Keystone Correction in a vertical direction. Put simply, WEWATCH V51P enables users to adjust the four corners of the image while WEWATCH V50 only supports vertical adjustment.
Regarding focus, the two projectors only support manual focus. You need to roll the slider on the top panel near the projector to make the image clear.
Image
Better one: WEWATCH V51P
The two projectors have the same 1080P resolution and they both support 4K resolution. That means the two projectors have a standard resolution of 1080P and can play 4K videos by changing it to 1080P resolution. The image quality is good for home use.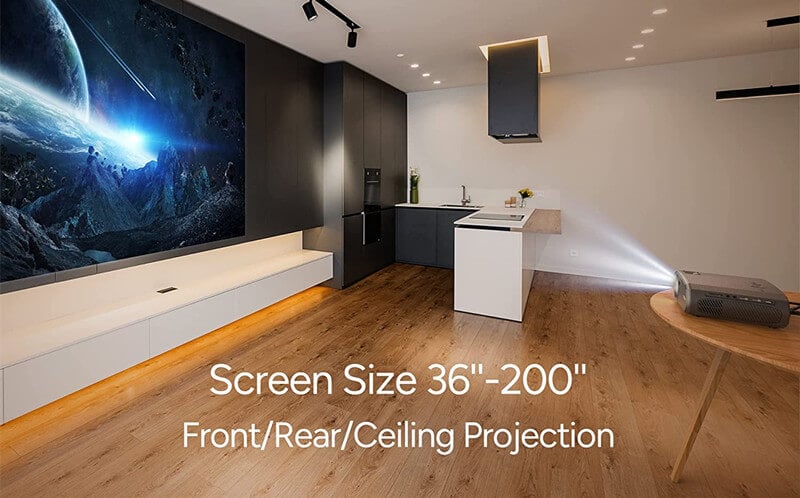 As for image size, WEWATCH V51P has a max image size of 350" while the other WEWATCH V50 can project an image of up to 200". The max image size is not equal to the best image quality. To ensure good image quality and viewing experience, the image size of less than 100" is recommended for the two projectors.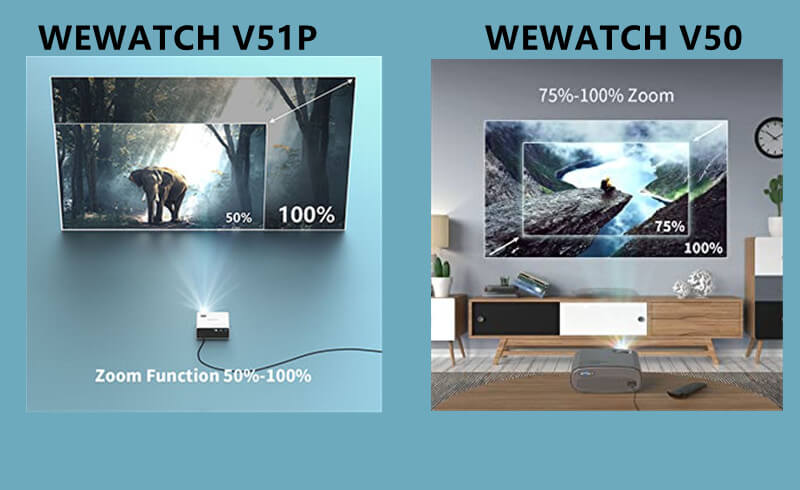 Regarding the zoom function, WEWATCH V51P's zoom range is 50%-100% while the V50 model has a zoom range of 75% – 100%. WEWATCH V51P has a wider zoom range and you have more choices.
Throw Ratio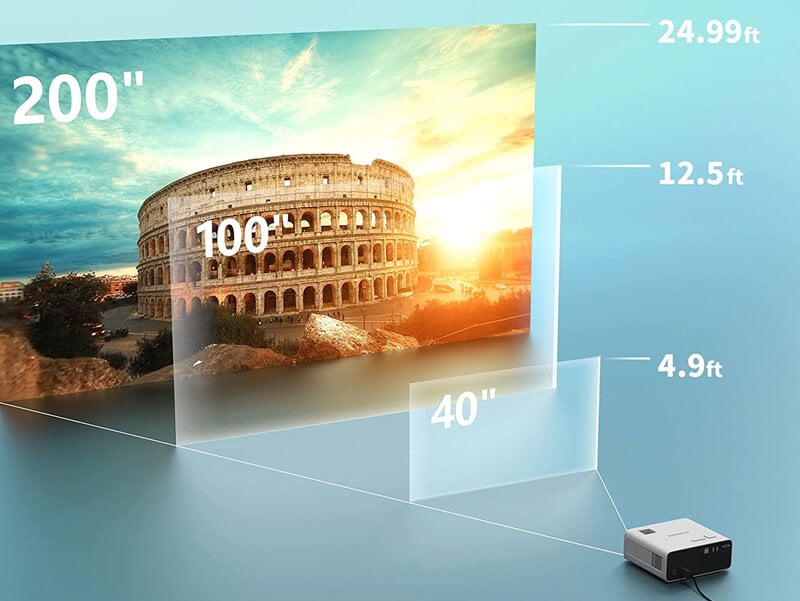 Better one: WEWATCH V50
If your room is not spacious, you need to choose a projector with a short throw. The shorter the throw ratio, the shorter distance for a projector to project a big image.
WEWATCH V51P has a throw ratio of 1.5:1, longer than WEWATCH V50's 1.4:1. For example, if the image size is fixed as 100 inches, then it takes a longer distance for WEWATCH V51P than the V50 model.
You may be interested in our previous post Projector Throw Ratio: All Things You Should Know.
Connectivity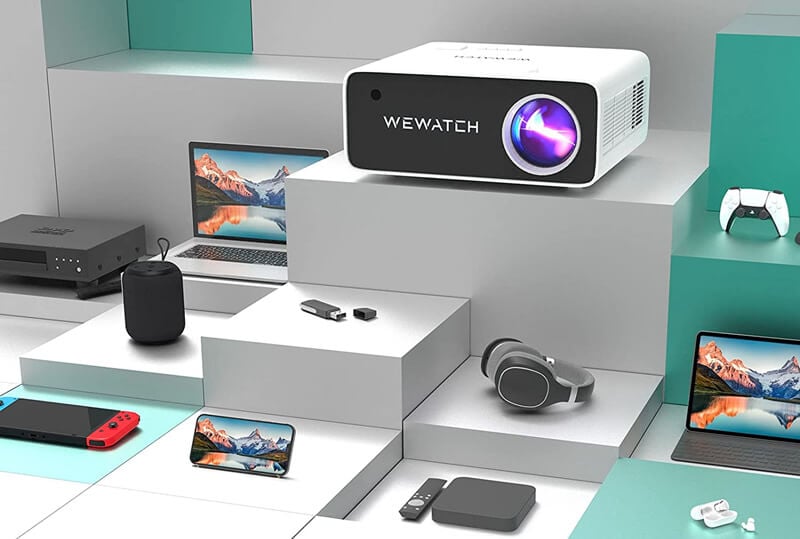 Better one: WEWATCH V51P
WEWATCH V51P and WEWATCH V50 both support 5G Wi-Fi and Bluetooth. They have convenient wireless mirroring for iPhone and Android phones, but they are different in interfaces.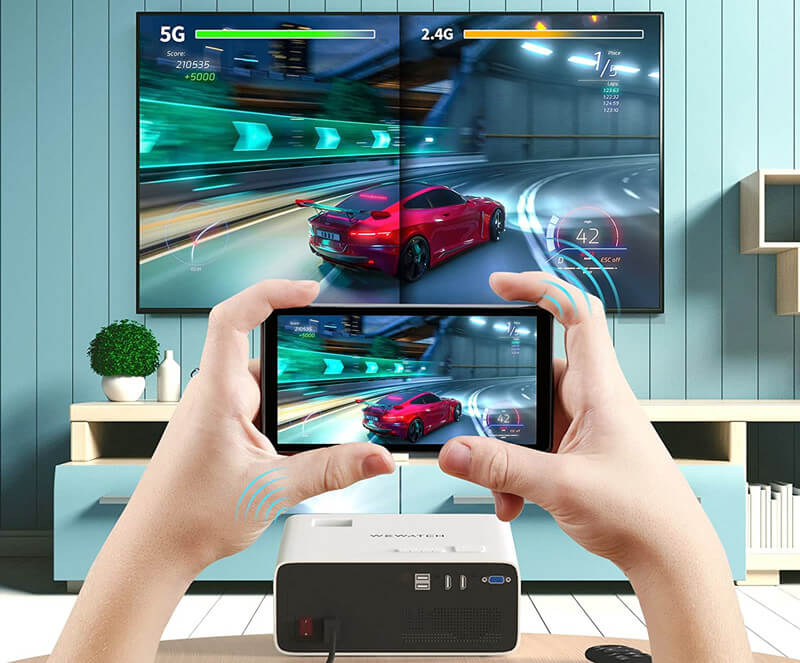 Regarding wired connection, WEWATCH V51P has one more USB 2.0 interface and 1 VGA interface, providing more options for users. As WEWATCH V50 has just one USB interface, it is inconvenient for users to connect two USB devices to the projector.
Audio
Better one: WEWATCH V51P
The two WEWATCH projectors both have built-in speakers, but the speakers are different. WEWATCH V51P has a 10W stereo speaker, much more sonorous and powerful than WEWATCH V50. They both support Bluetooth and you can also connect these projectors to a better Bluetooth speaker to get better sound.
Price
Cheaper One: WEWATCH V50
WEWATCH V51P is priced at $199.99 while WEWATCH V50 now costs $159.99. In view of the price and performance, WEWATCH V51P is a better option.
You may be interested in WEWATCH V50 Review.
Pros and Cons
WEWATCH V51P
Pros
Higher Brightness
350″ Image
1080P resolution
Versatile Connectivity
Wi-Fi and Bluetooth
10W speaker
Cons
WEWATCH V50
Pros
1080P resolution
Shorter Throw
Wi-Fi and Bluetooth
Lower Cost
Cons
Only 1 USB
Lower Brightness
Conclusion
The two projectors are both budget LCD projectors, and they both have 1080P resolution. WEWATCH V51P is a new model which has improved a lot in terms of brightness, interface, and speakers.
WEWATCH V50 has a lower price and small size, and more importantly, it has a shorter throw. but it has a poor audio configuration.
Related Posts