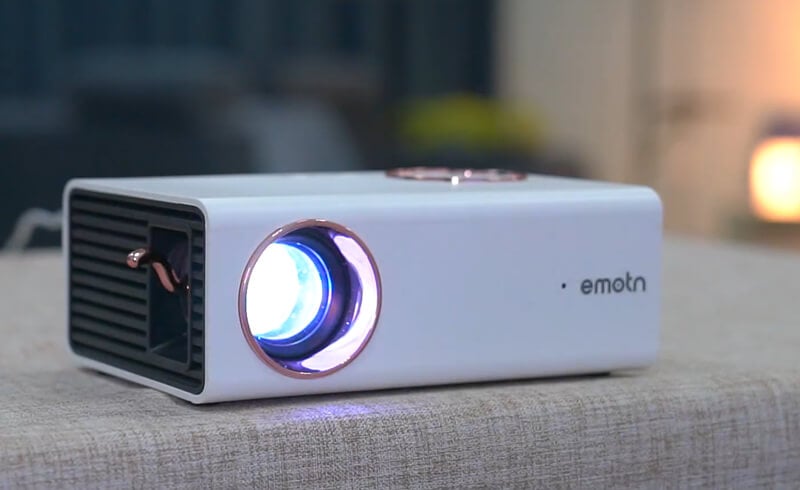 Emotn, an LCD projector brand, has released a new 720P LCD projector recently. How is it? What are the features of the projector? In this post, we will review it from design, image, User Interface, connectivity, and audio.
Emotn A1 Review
Design
Emotn A1 projector adopts glossy white as the main color and uses rose golden lines as the embellishment. We can see a clear Emotn logo on the top panel. On the top panel, we can see delicate arrow buttons for adjusting the projector conveniently.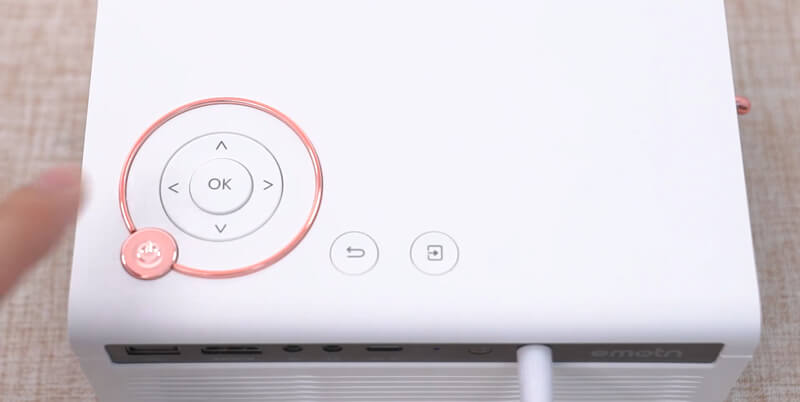 The slider on the left panel is used for keystone correction to make the image rectangular. The gear-like rotary button near the slider is the focus knob, enabling you to adjust the image clarity. The projector is light and small enough, and you can move its position easily.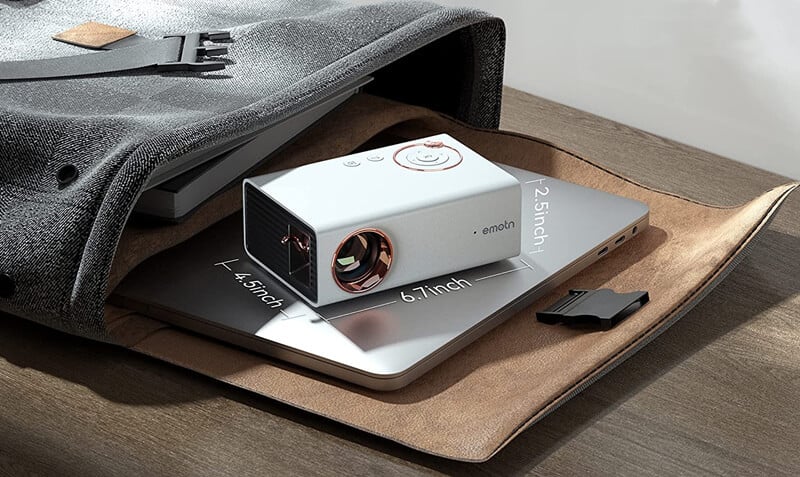 It is a pity that all interfaces of the projector are located at the back panel. You may need to move the position of the projector and readjust the image again when you need to connect it to external devices.
Image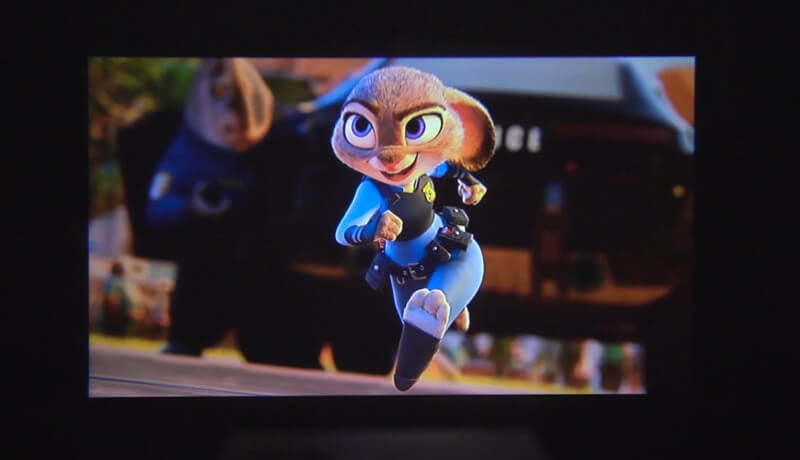 The image is the top factor for a projector. Emotn A1 has native 720P resolution and supports up to 1080P resolution. The resolution is clear enough for home use. The resolution configuration is common for most mini projectors on the market.
As for brightness, it has 150ANSI lumens. It is suitable for use in a dark environment instead of a well-lit room. To improve the image quality, it is recommended to turn off the lights or close the curtain to lower the ambient light. When using the projector in dark environments, we can see the image is clear enough.
It can project a max image size of 200 inches, but a 100-inch screen has the best image quality and viewing effect. The image may get blurry when the image size gets bigger and bigger.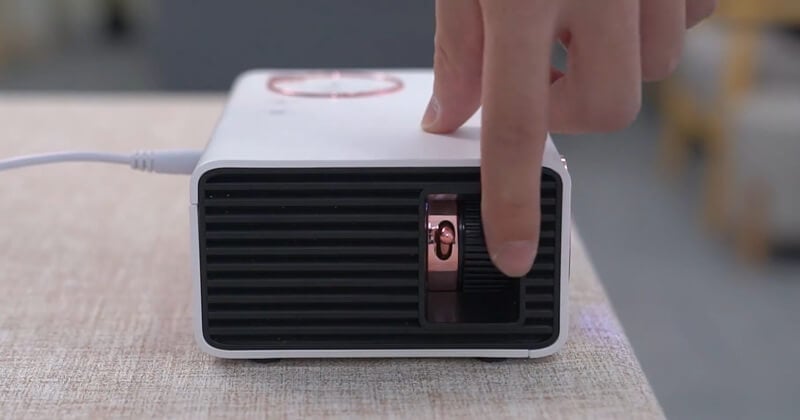 Regarding the image adjustment, it has both keystone and focus. It is worth noting that it only supports vertical keystones, a common failing for most budget mini projectors. It has no zoom function, if you want to adjust the image size, you have to move the projector farther or closer.
User Interface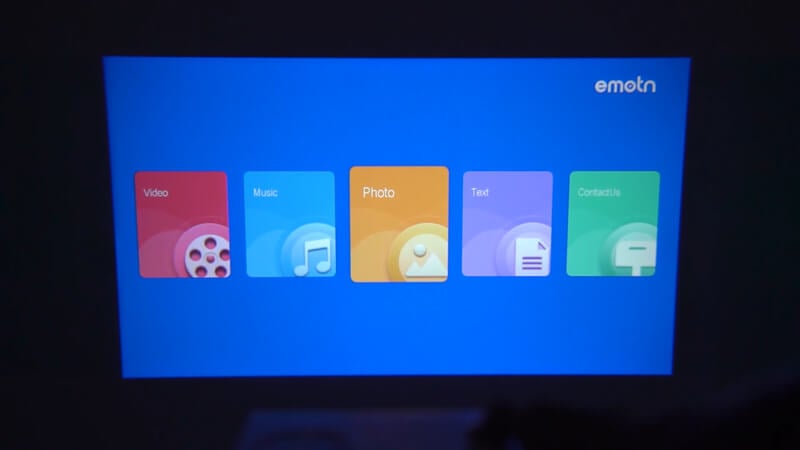 As a multimedia projector, it has no smart system. The layout and color matching are brief and elegant, but it has limited options on the homepage UI, including video, music, photo, text, and contact.
You can connect it to streaming devices or other external devices to get more content.
Connectivity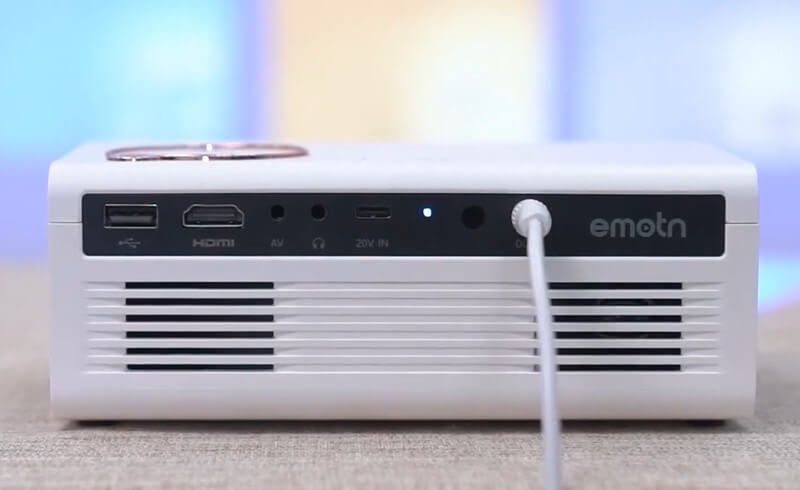 As the projector has no smart system, connectivity is critical. If you want to connect the projector to your iPhone or Android phone, you need to use an HDMI adapter.
With an HDMI interface, you can connect this projector to a TV Stick or laptop. Using a USB interface, the projector can be connected to a USB flash drive easily.
It has a type-C interface and you can charge the projector with a 20V 45W power bank. This function is useful for outdoor use, especially on a camping trip.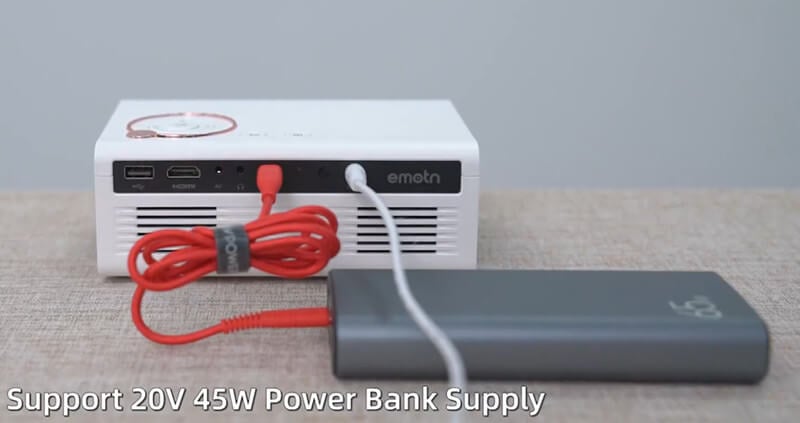 Audio
Emotn A1 has a built-in 5W speaker with a Hi-Fi effect. As the projector has rich heat dissipation vents, and the noise is lower than 28 dB, which is acceptable for home use. If you want to improve the audio quality, you can connect it to an external speaker to make it more powerful.
Emotn A1 Specs
Name
Emotn A1
Release Year
2022
Brightness
150 ANSI Lumens
Display Technology
LCD
Resolution
720P
Compatible Resolution
1080P
Light Source
LED
Lamp Life
50,000h
Keystone
±15°Keystone
Focus
Manual
Max Image Size
200 In
Speaker
5W
Dimensions
6.7*4.5*2.5 In
Weight
0.21lb
Noise
<28dB
Power Bank Supply
Yes
Ports
AV
AUDIO OUT
HDMI USB2.0
TYPE-C (20V IN) DC
Emotn A1 Package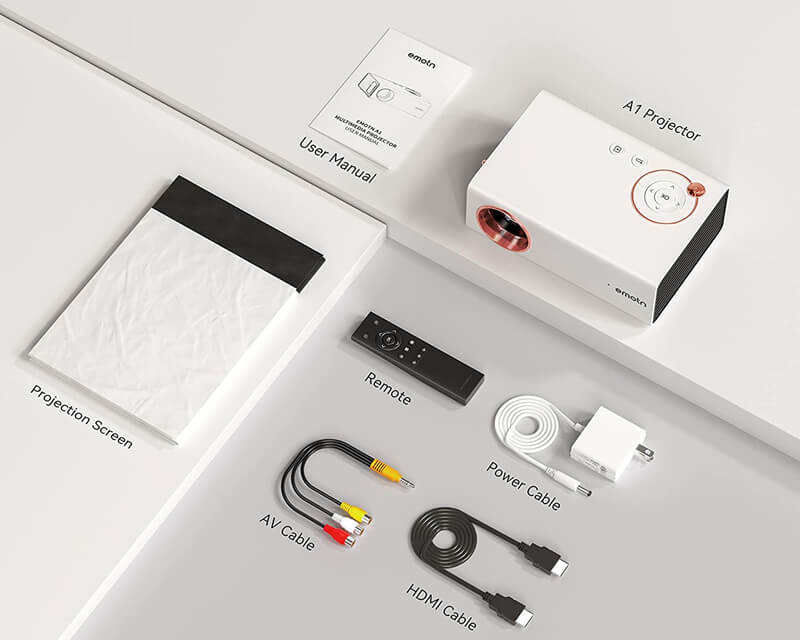 You can see the following items in the package:
The Emotn A1 projector
User Manual
Projection Screen
Remote
AV Cable
Power Cable
HDMI Cable
Pros and Cons
Emotn A1
Pros
720P Resolution
Fine Workmanship
Versatile Interface
Low Cost
Power Bank Supply
Small Size
Cons
Emotn A1 vs Emotn O1
Compared with Emoth O1, the A1 projector is much cheaper but it is less bright. Emotn O1 is much brighter, clearer, and smarter.
Emotn A1
Emotn O1
Price
$89.99
$279.99
Brightness
150ANSI Lumens
400 ANSI Lumens
Resolution
Native 720P
Native 1080P
Light Source
LED
LED
Lamp Life
50,000 hours
50,000 hours
Display Technology
LCD
LCD
Wi-Fi
No
Yes
Screen Mirroring
No
Yes
Bluetooth
No
Yes
Power Bank Supply
Yes
No
Interfaces
AV
VGA
USB*2
HDMI*2
3.5mm earphone
AV
AUDIO OUT
HDMI
USB2.0
TYPE-C (20V IN)
DC
You may be interested in Emotn O1 Projector.
Conclusion
Emotn A1 projector is a cost-effective projector in view of its low cost of $89.99. There are some projectors with similar pricing are 480P projectors. More importantly, it has a complimentary screen in the package.
Related Posts