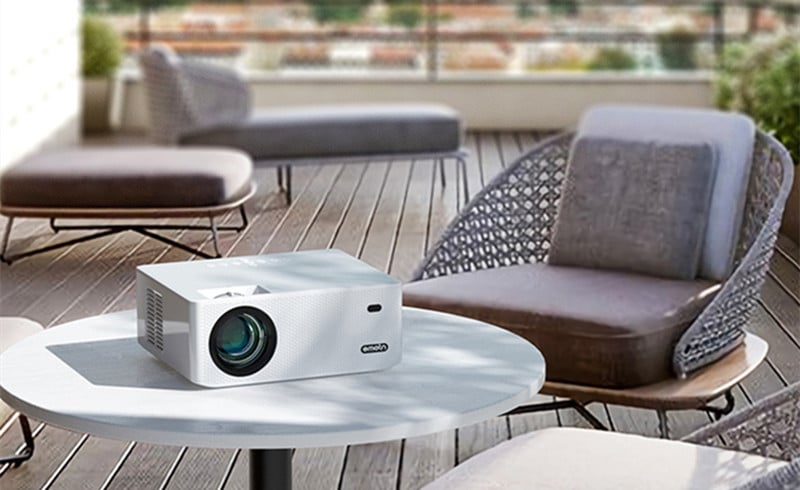 Emotn has released a new 1080P projector Emotn O1 recently. The projector has improved a lot compared with its previous sibling Emotn H1.
Design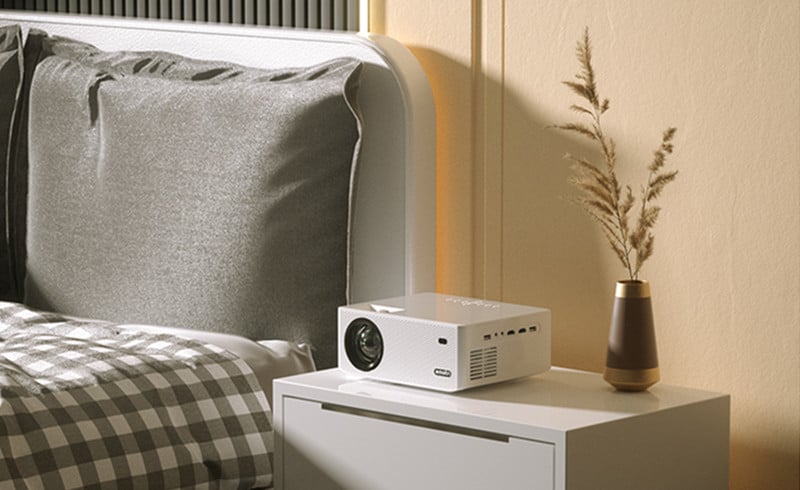 Emotn O1 is wholly white and has a clean and elegant style. At the front panel, you can see a granular panel with the logo of Emotn on the right side.
On the top of the projector, you can see two ring-like buttons for keystone and focus correspondingly. You can just roll the bar on the ring gently with your fingers to adjust the image shape and clarity.
The HDMI and USB interfaces are located at the right panel so that you can plug the cable into the interfaces conveniently. The VGA interface is located at the back panel to hide the wiring, which makes it neat and tidy.
As for dimensions and weight, Emotn O1 measures 22.3*18.1*9.1cm and weighs just 1.4kg. You can move its position and carry it out conveniently.
Image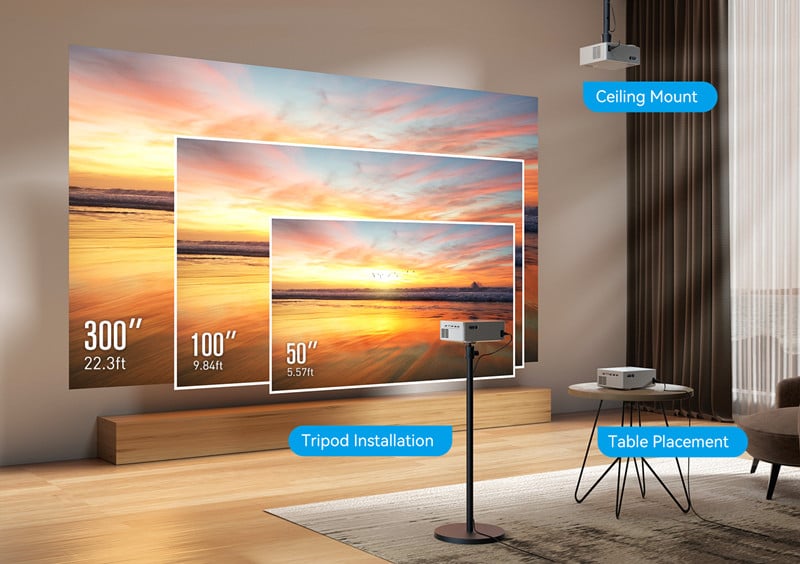 Emotn O1 adopts LCD display technology and has a native 1080P resolution, producing clear images with rich details and vivid colors. Regarding brightness, the projector has 400 ANSI lumens, which is suitable for bedroom use and other scenarios.
The color performance of a projector can never be neglected as it determines the image effect. Emotn O1 has 16.7 million colors and delivers colorful images that are close to the real color of the object.
Regarding image size, Emotn O1 has a max image size of 300 inches. To ensure the best viewing effect, the recommended image size is no more than 200 inches.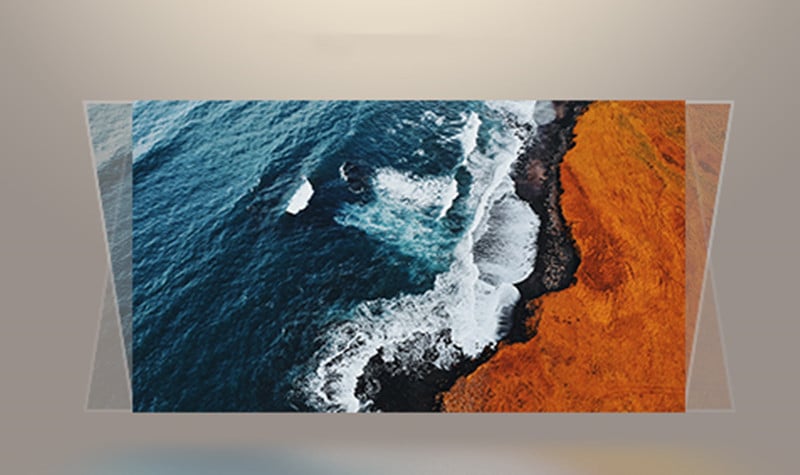 Emotn O1 supports manual focus to adjust the image clarity and keystone correction to correct the keystone effect. If you want to change the image size, you can use the zoom function to adjust the image size without changing the position of the projector. Emotn O1 can zoom from 100% to 50%.
Light Source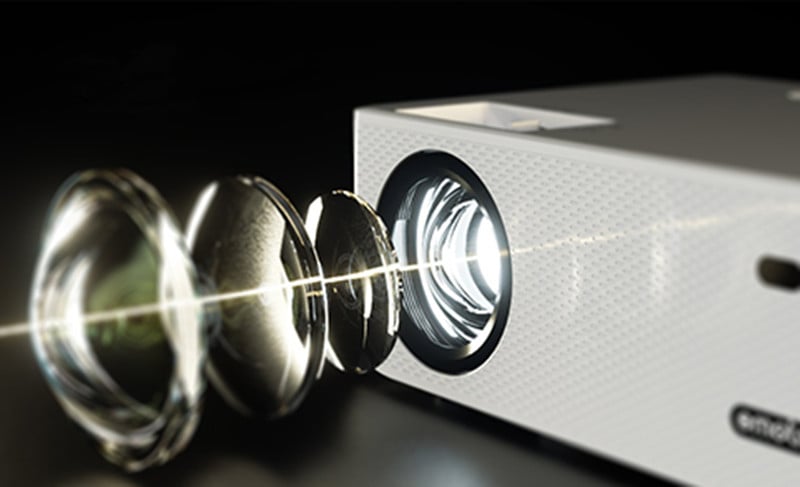 The projector adopts LED as the light source, which has a long lamp life of 50,000 hours. If you use Emotn O1 for 5 hours per day, then you can use it for 35 years.
Compared with other projectors with lamps as the light source, LED projectors have a longer lamp life and you have no trouble with frequent lamp replacement.
Screen Mirroring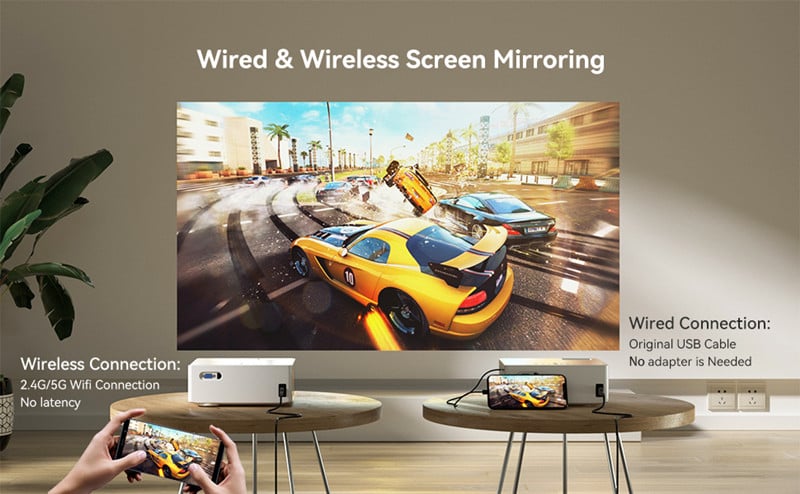 Just like other budget mini projectors on the market, Emotn O1 has no built-in smart TV system. Then, screen mirroring is useful and necessary.
Emotn O1 supports both wired and wireless screen mirroring. Before using screen mirroring for the first time, remember to enter the Screen Mirroring interface on the projector menu.
For wired connection, you can just use your original USB charging cable to connect your iPhone or Android phone to the projector by plugging the USB end into the projector's USB interface.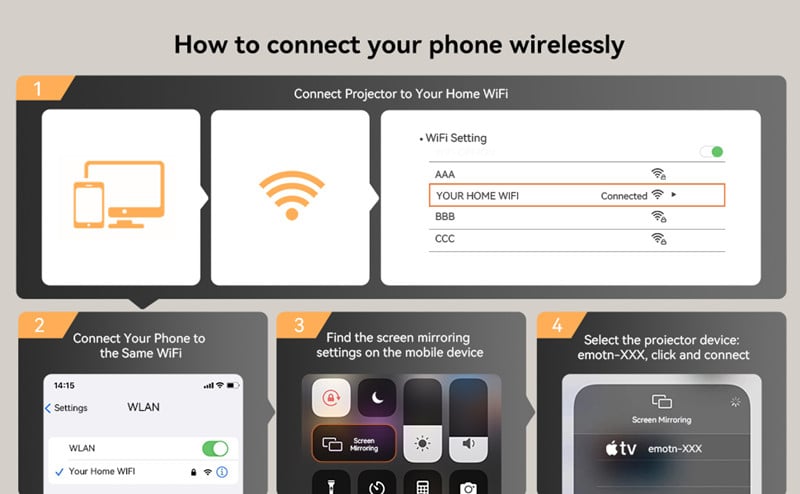 For wireless mirroring, you need to connect the projector to your Wi-Fi network and connect your smartphone to the same Wi-Fi network as the projector; then turn on the Cast/screen mirroring function on your smartphone and pick the signal of the projector to connect the two devices.
Connectivity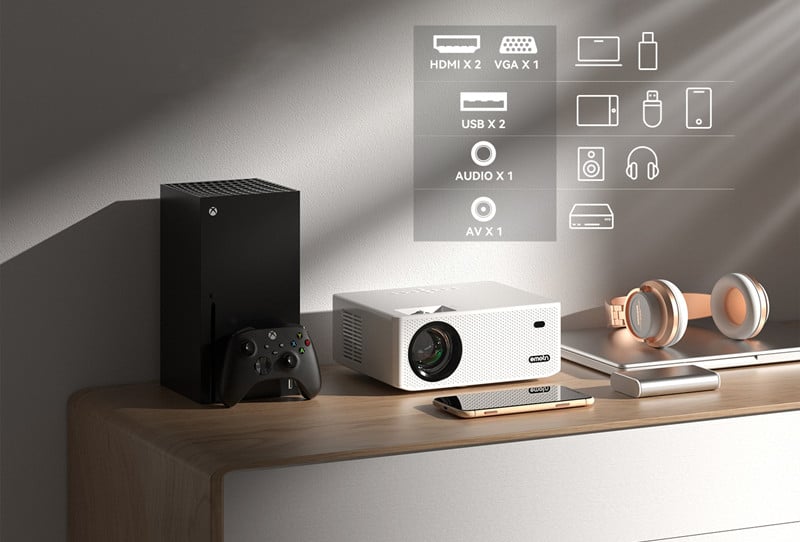 Emotn O1 has versatile interfaces, including 2 HDMI ports, VGA, Audio input and output, AV, and 2 USB ports. For wireless connectivity, it supports Bluetooth 5.0 and dual-band Wi-Fi.
With the HDMI interface, you can connect the projector to streaming devices such as Amazon Fire TV sticks, Roku, Apple TVs, game consoles, and computers.
By means of a USB interface, the projector can be connected to a flash drive, hard drive, fire TV, and smartphones.
You can also connect the projector to speakers, keyboard, mouse, gamepad, and earphones via Bluetooth.
Audio
Emotn O1 has built-in Dual Hi-Fi stereo speakers and delivers pleasant vibrant and powerful sound for an all-around immersive experience, which is suitable for watching movies or enjoying music.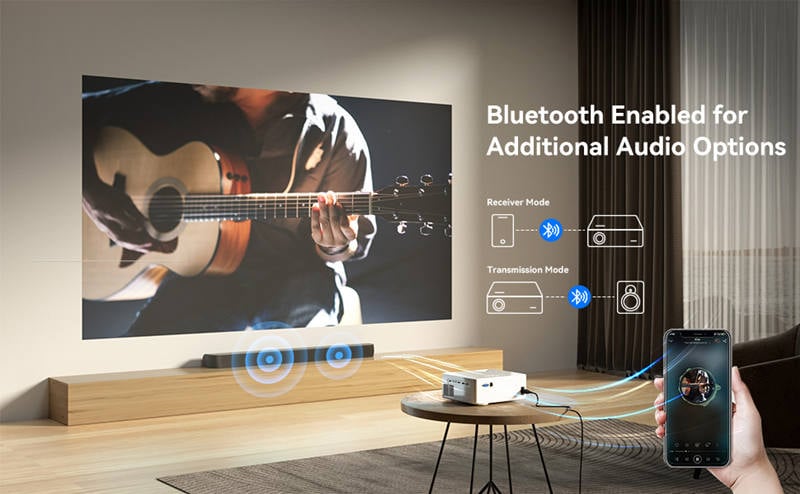 As the projector supports Bluetooth, it can work as a Bluetooth soundbar to build a relaxing environment.
Package
Emotn O1 has versatile accessories, whose package includes a projector, remote controller, user manual, cleaning kit, power cable, HDMI cable, AV cable, and a 100-inch screen.
Compared with other multimedia projectors on the market, the package is versatile and full. What you need is just a TV stick if you want to stream content via the projector.
Emotn O1 Specs
| | |
| --- | --- |
| Projector Model | Emotn O1 |
| Price | $279.99 |
| Brightness | 400 ANSI Lumens |
| Resolution | Native 1920*1080P |
| Contrast Ratio | 12,000:1 |
| Light Source | LED |
| Lamp Life | 50,000 hours |
| Display Technology | LCD |
| Zoom | 50%-100% Zoom |
| Focus | Manual |
| Keystone | ±15° Manual |
| Colors | 16.7M |
| Projection Size | 40 to 300 inches |
| Bluetooth | Bluetooth 5.0 |
| Wi-Fi | 2.4G+5G |
| Screen Mirroring | Wired and Wireless |
| Dimension | 223.8*181*91.9MM |
| Weight | 1.4KG |
| Ports | AV\VGA\USB*2\HDMI*2\3.5mm earphone |
You may be interested in Emotn H1 Review.
Emotn O1 Pros and Cons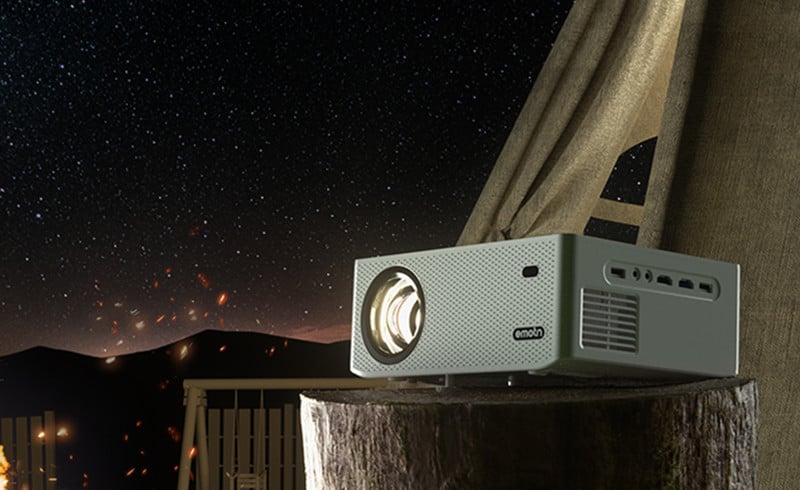 Pros
Native 1080P resolution
300" Image Size
Convenient Screen Mirroring
Long Lamp Life
Bluetooth 5.0
2.4G+5G Wi-Fi
Comes with Screen
Cons
Emotn O1 is cost-effective compared with other similar products on the US market in view of its native 1080P resolution, giant image size, super long lamp life, convenient screen mirroring, and versatile connectivity.
Related Posts