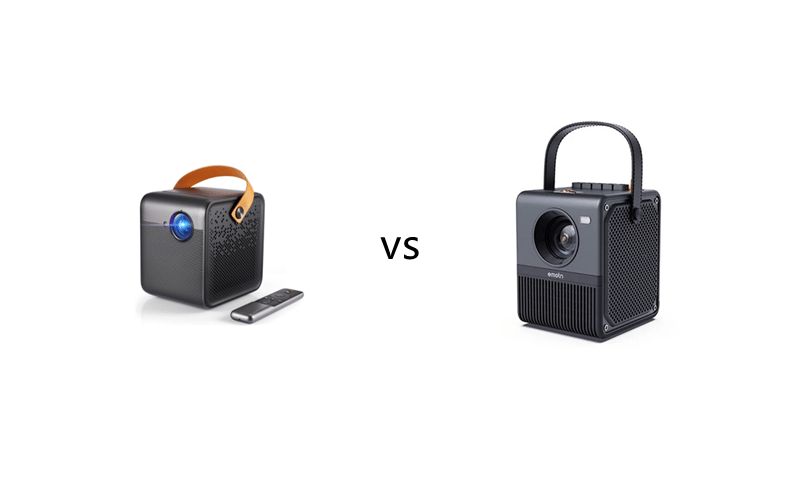 As a portable mini projector, WEMAX Dice and Emotn H1 all offer high resolution with 1080P FHD. But they differ in many other aspects, this projector comparison will review both of them from the following perspectives:
Picture quality
With an FHD 1080p resolution, coupled with HDR, WEMAX Dice and Emotn H1 are able to offer sharp images. The contrast ratio of WEMAX Dice is 350:1, while Emotn H1's contrast ratio is up to 3000:1. Therefore, Emotn H1 performs better than WEMAX Dice in the detail presentation of black field.
Connectivity
WEMAX Dice projector has built-in Chromecast offers a seamless connection to all Android devices. Besides, it supports Bluetooth and WiFi features, as well as HDMI, USB2.0, and the 3.5mm audio port. Emotn H1 is equipped with multiple ports, including Micro SD, Aux 3.5mm, AV, USB 2.0, HDMI, LAN (100Mbps), and SPDIF.
Brightness
Speaking of brightness, Emotn H1 has 250 ANSI Lumens, while WEMAX Dice projector has 700 ANSI Lumens. WEMAX Dice is much brighter than Emotn H1.
Battery
WEMAX Dice projector is equipped with a powerful 16000mAh rechargeable battery. While Emotn H1 has a 7800mAh rechargeable battery.
Portability & Appearance design
Both WEMAX Dice Projector and Emotn H1 are shaped in a grey-black cube with a handle attached to the top. WEMAX Dice projector weighs 2.17kg and Emotn H1 weighs 1.26kg. Emotn H1 is more light in weight than WEMAX Dice. but they are all rated for portable projectors, small enough to be carried around with you.
Screen size
WEMAX Dice projector provides screen size from 40 to 120 inch, while Emotn H1 provides screen size from 60-160 inch. With that said, Emotn H1 is able to produce a larger screen size than WEMAX Dice. Big screen fancier can choose Emotn H1.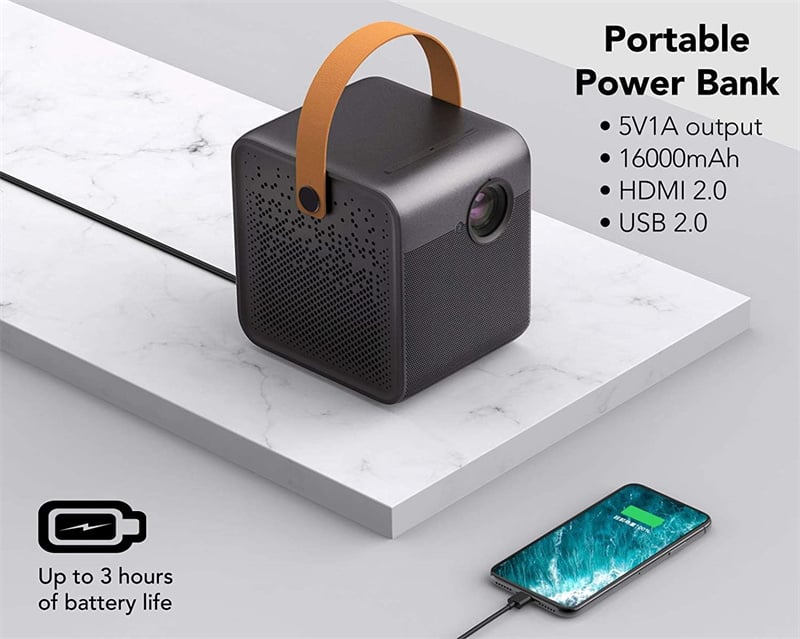 Conclusion:
Emotn H1 is less bright than WEMAX Dice, and has a smaller battery capacity. But Emotn H1 has higher contrast ratio than WEMAX Dice, and offers bigger screen size as well as richer ports. Plus, it has Intelligent fan speed control and kickstand on the bottom, most importantly, Emotn H1 is much cheaper than WEMAX Dice.

Related post:
Emotn H1 vs Xming Q1: Which is Better?
Emotn H1 vs OBE V2:What are the differences?
WEMAX Dice Projector Full Review – Portable & Powerful