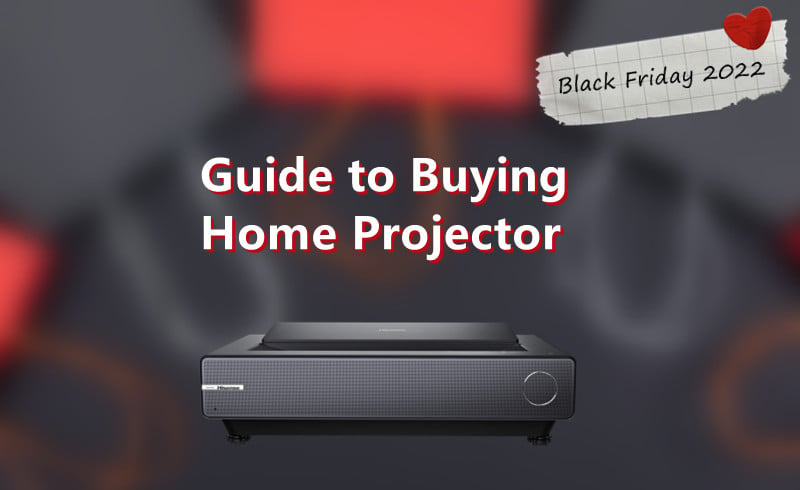 As Black Friday is drawing near, have you decided on your projector? In this guide, we will give a guide to buying home projectors.
Guide to Buying Home Projector
Here is a projector beginner's guide on projectors, to help you to know about projectors quickly.
Display: LCD vs DLP vs LCoS
There are three mainstream types of display technology, including LCD, DLP, and LCoS.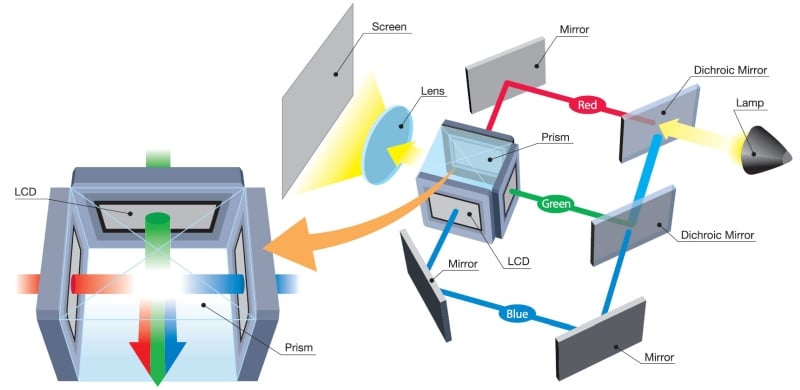 LCD is short for liquid crystal panels and it uses 3 liquid crystal panels to create three primary colors (RGB: Red, Green, and Blue). The LCD display technology can be further classified by single LCD and 3LCD. Single LCD display technology is widely seen in some low-end budget projectors while 3LCD is widely seen in middle-end and high-end projectors. 3LCD display technology is widely seen in Epson's projectors.
DLP refers to digital light processing, and it uses tiny mirrors to reflect light. DLP projector is widely used in middle-end or high-end projectors. BenQ, Optoma, Mitsubishi, Dangbei, and XGIMI projectors are known for their DLP projectors.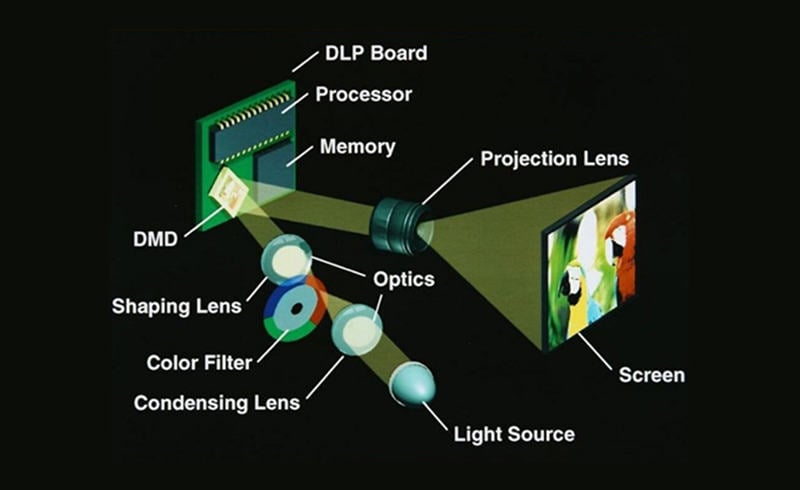 LCoS stands for liquid crystal on silicon, and it adopts liquid crystal chips with a mirrored backing. Compared with the other two technologies, LCoS has a high cost and therefore it is relatively rarely seen in home theater projector areas. Sony and JVC are the main LCoS projector producers.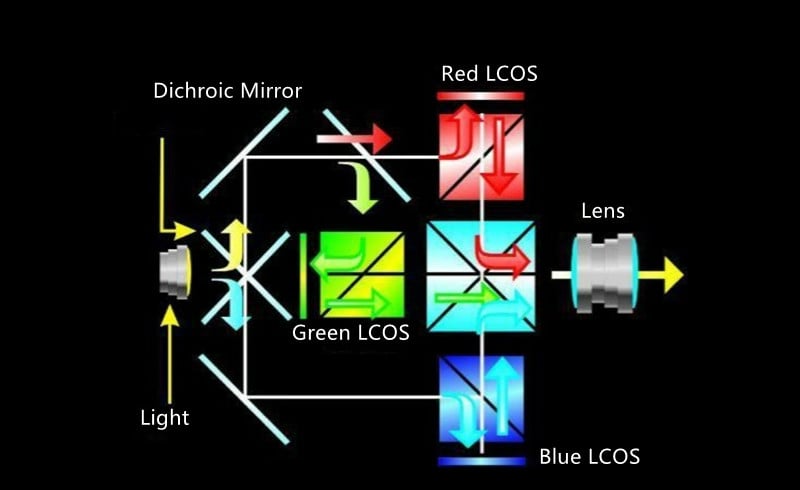 Pros
Cons
Single LCD
Cheap
Poor Colors
3LCD
Better colors
bright and natural image
Visual Trails
DLP
Vivid Color
High Brightness
Rainbow Effect
LCoS
High Contrast
Small Size
High light Efficiency
High Cost
Throw Ratio: Long Throw vs Short Throw
The throw ratio is the ratio of Throw distance and Projection Image Width. The shorter the throw, the shorter distance a projector requires to project an image.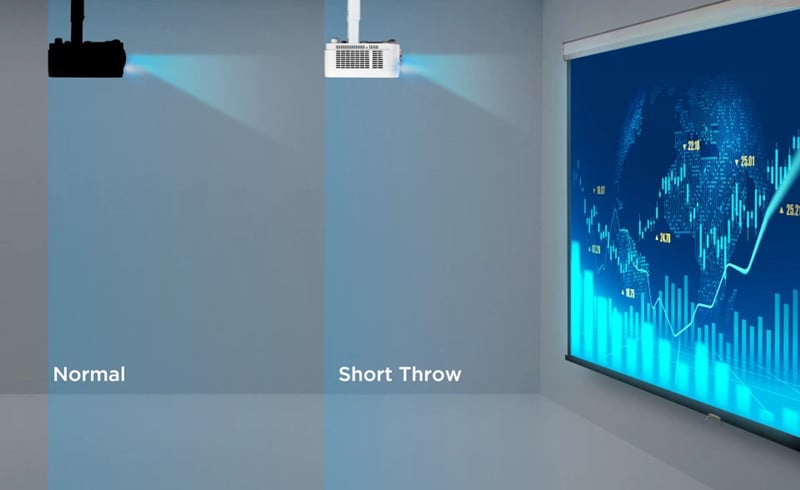 Put simply, provided the image size is 100", projector A has a long throw ratio while Projector has a shorter throw ratio, then it takes a longer distance for projector A to project the same image size as projector B.
You can use the projector calculator to calculate the accurate throw distance and image size.
Brightness: ANSI Lumens vs ISO lumens
In the projector area, the brightness can be described by lumens. The bigger the lumens figure, the higher the brightness. the ANSI lumen and ISO lumen are the widely recognized lumen units. Some projector will label their projector with light source lumens as the figure is appealing and competitive. You can use the ANSI to lumens converter to calculate different lumens units.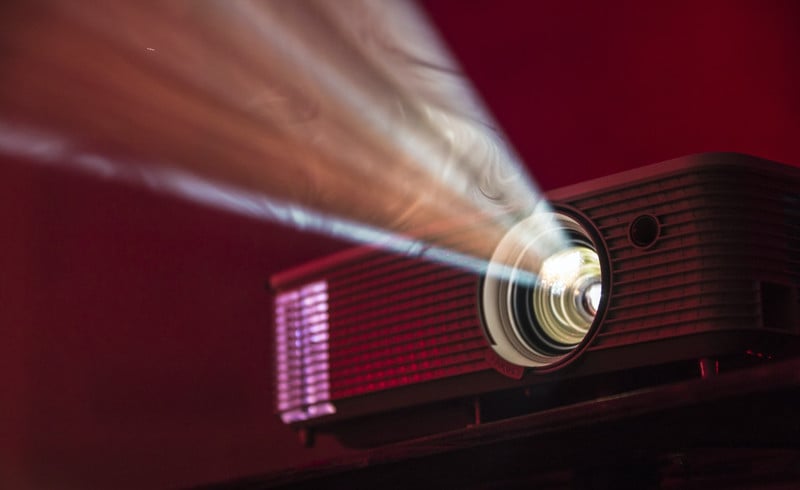 So, what are the differences between ANSI Lumens and ISO lumens?
You can see their differences by means of the table below. The conversion rate between the two standards is 1:0.8. That is to say, 1 ANSI lumen equals 0.8ISO lumen.
| | | |
| --- | --- | --- |
| | ANSI Lumens | ISO lumens |
| Standards | ANSI IT7.228-1997 | ISO 21118 |
| Scope | US | International |
| Release Date | 1990 | 2005 |
| Update Date | 1996 | 2020 |
See more information about lumens in our previous post: ANSI lumens vs ISO lumens.
Contrast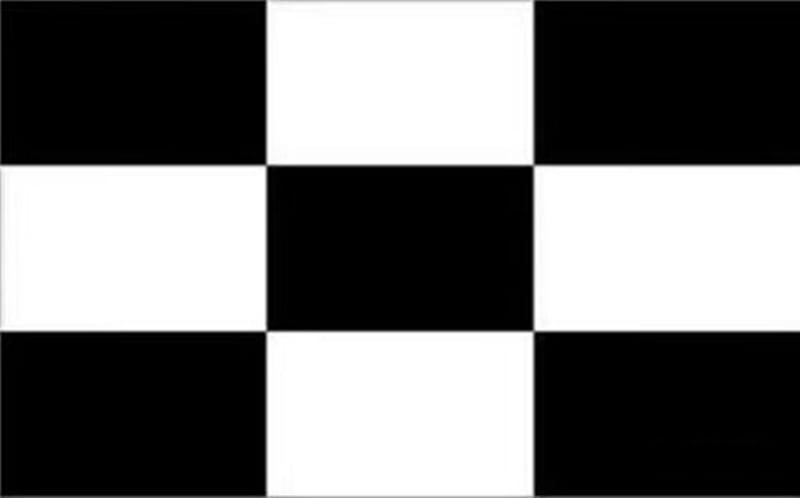 The contrast ratio is the ratio of the brightest and darkest output in an image. From the perspective of the viewing experience, the higher the contrast ratio, the more obvious the light and dark performance, and the more brilliant the colors.
Contrast has 2 measurement methods, one is the FOFO contrast ratio, and the other is the ANSI contrast ratio. The two measurement methods yield a huge difference in the value of contrast, generally speaking, FOFO contrast is more than 10 times the ANSI contrast. So, do not be perplexed by the dynamic contrast.
Resolution: 1080P vs 4K
The size of the display chip directly determines the output resolution of the projector (true resolution). We have to check the standard resolution and display chip size jointly when picking a projector as some manufacturers may cheat on resolution. If the display chip is very small, but the image resolution is high. The projector may use pixel-shifting technology instead of native resolution. That is to say, it increases the resolution technically.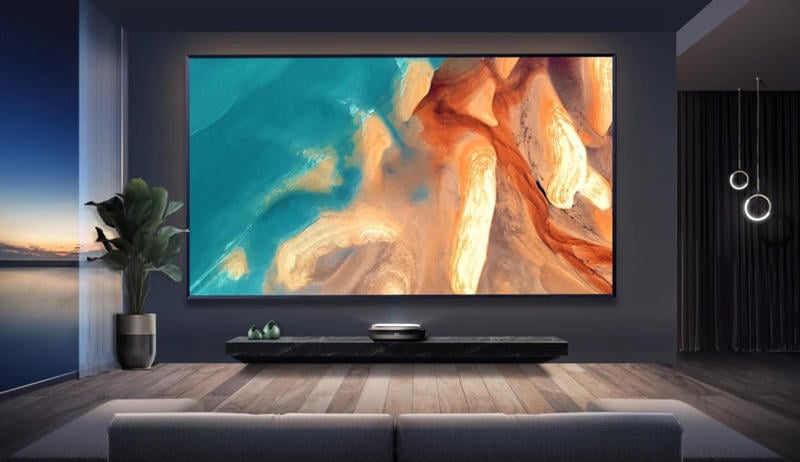 Nowadays, home theater projectors usually have 1080P or 4K resolution. 1080P is also called FHD while 4K is also called UHD. See their pixels below.
| | | |
| --- | --- | --- |
| | 1080P | 4K |
| Pixels | 1920×1080 | 3840×2160 |
| Nickname | FHD | UHD |
Focus: Manual vs Auto Focus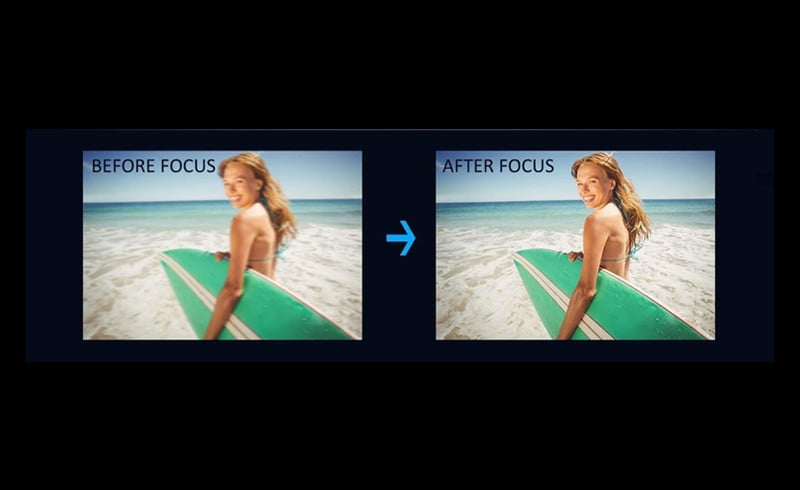 As the projector has a lens module, you have to adjust focus when you use the projector. Nowadays, some smart projectors support autofocus. That means the projector can focus automatically as soon as it powers on. If the projector has manual focus, then you have to roll the focus button manually.
There are some other projectors that adopt electric focus, which enables users to adjust the focus using the remote instead of manual operation.
Keystone Correction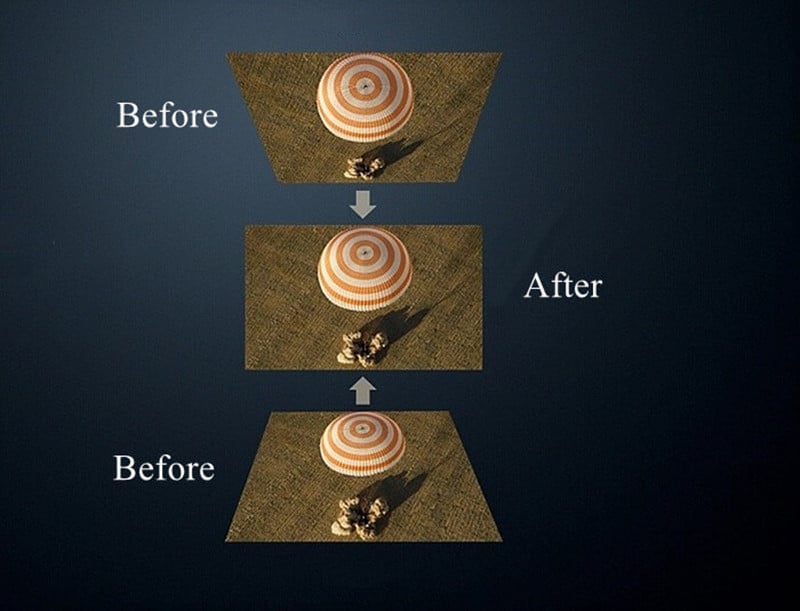 Unlike TV sets, projectors will be affected by the keystone effect, which makes the projection images irregular. To make the projection image regular and rectangular, then you need to pick a projector with keystone correction.
The projector's keystone correction can be classified as vertical keystone correction, horizontal keystone correction, four-direction keystone, and 8-point keystone correction.
The 8-point correction refers to the vertical, horizontal, and mid-vertical, and mid-horizontal as shown in the image below.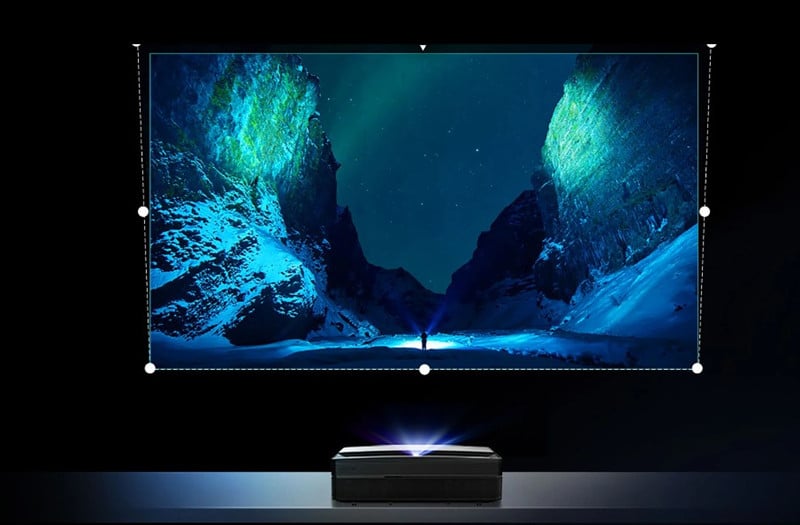 Memory
Some smart projector has built-in memory. Memory can be divided into RAM and ROM. The RAM for projectors usually includes 2G, 3G, and 4G; the ROM usually includes 8G, 16G, 32G, 64G, and 128G. The bigger the ROM the projector has, the more apps it can run without lagging. The more storage memory you have, the more files you can store.
Screen Mirroring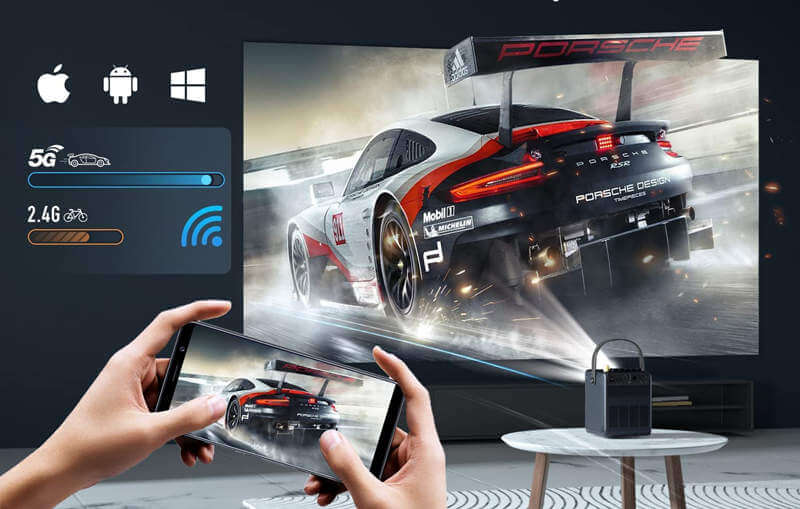 As some projector has no smart system, then you need screen mirroring technology. Generally, a projector should support either a wired connection or wireless mirroring.
To ensure a successful connection for both iPhone and Android devices, the projector needs to support Airplay, Miracast, and DLNA. For wired connections, a projector supports a USB direct connection is preferred.
Smart System
Projectors without a smart system are called multimedia projectors. Most budget LCD projectors have no smart system and they are called multi-media projectors. These projectors have to connect to external devices to access content or stream content.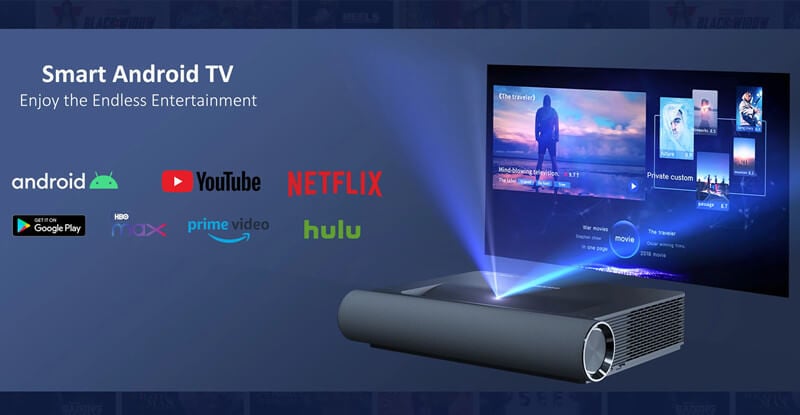 Some smart projectors have an AOSP Android system, while some high-end projectors have Android TV, which has a built-in Android system and enables users to download apps from the Google Play store.
HDMI 2.1 vs HDMI 2.0
HDMI is an important interface to connect the projector to external devices, such as TV boxes, Roku, computers, game consoles, etc. For projectors on the market, HDMI 2.1 and HDMI 2,0 are common. So, what are the differences?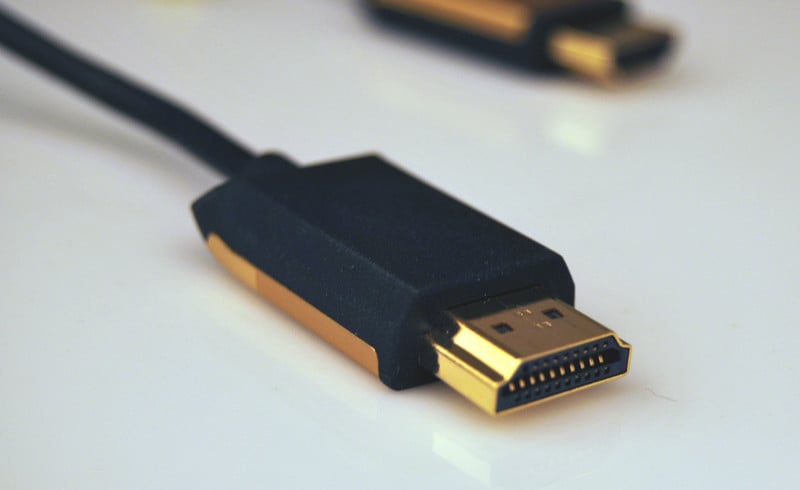 Maximum Bandwidth Capacity: HDMI 2.0 has a maximum bandwidth capacity of 18Gbps, while HDMI 2.1 can operate at a maximum rate of 48Gbps. Therefore, HDMI 2.1 is able to transmit more information and the transmitted picture has a higher resolution and higher frame rate.
Resolution and frame rate: HDMI 2.1 standard now supports 7680 x 4320 @ 60Hz and 4K @ 120hz. 4K includes 4096 x 2160 pixels and 3840 x 2160 pixels for true 4K, while in the HDMI 2.0 specification, the maximum support is only 4K @ 60Hz.
Playback Smoothness: when playing a 4K video, the frame rate of HDMI 2.0 is higher than HDMI 2.1.
Refresh Rate: HDMI 2.1 features a variable refresh rate and fast frame rate transmission, which reduce latency and potentially eliminate input latency altogether.
Dolby Vision vs Dolby Atmos
Dolby Vision is an imaging technique introduced by Dolby laboratories, which can add greater depth, incredible contrast, and more colors for the projection of images from movies, TV shows, and games. To get the Dolby Vision effect, the projector should support Dolby Vision and the content should be graded in Dolby Vision.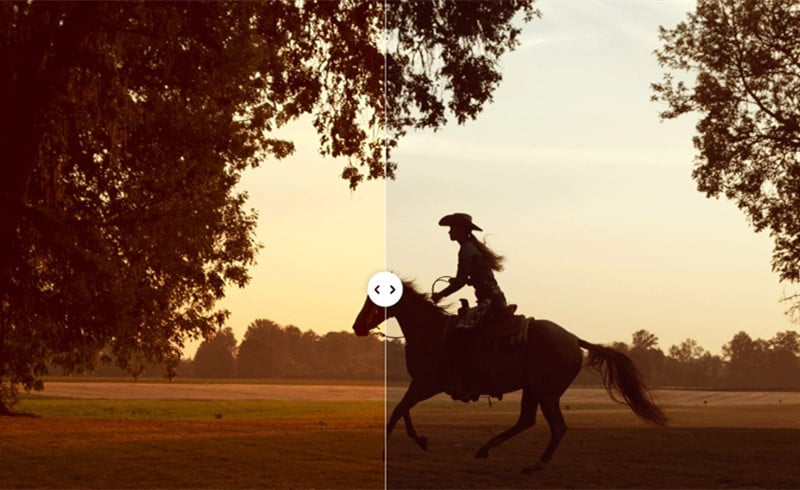 Dolby Atmos is a 3D surround sound technology developed by Dolby Laboratories, which can bring a more realistic and immersive audio experience. It breaks the traditional 5.1 channels and 7.1 channels and brings dynamic sound effects based on the movie or content.
You may be interested in Dolby Vision vs HDR10 vs HLG.
That's all for the guide to buying home projector. In the next sections, we will introduce how to compare projector prices and how to find projector deals.
How to Compare Projector Prices?
If the projector has been released and has been on market, then you can search the projector model name on Google directly.
Specifically, Google the projector model; you can see the price lists in the right column of the search results. For example, We input Epson LS500 in the search box.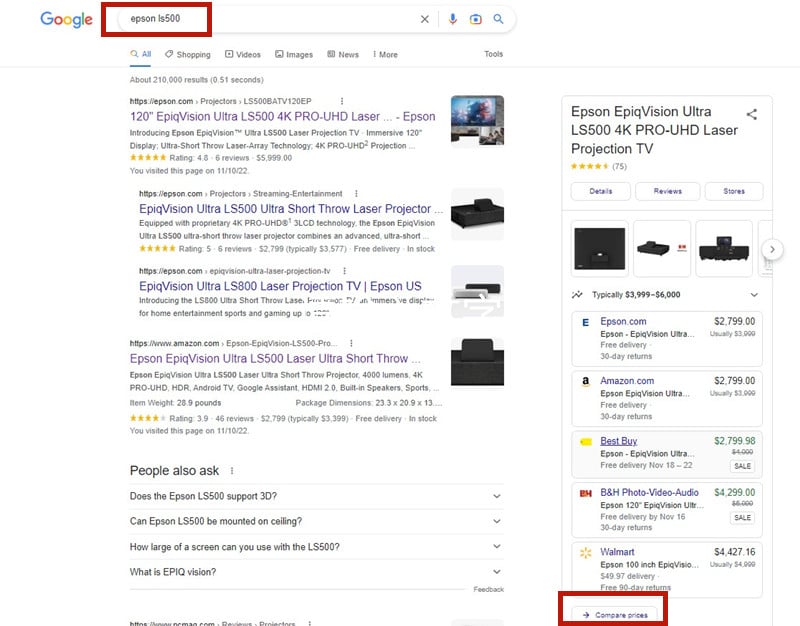 Click Compare Prices at the bottom of the right column.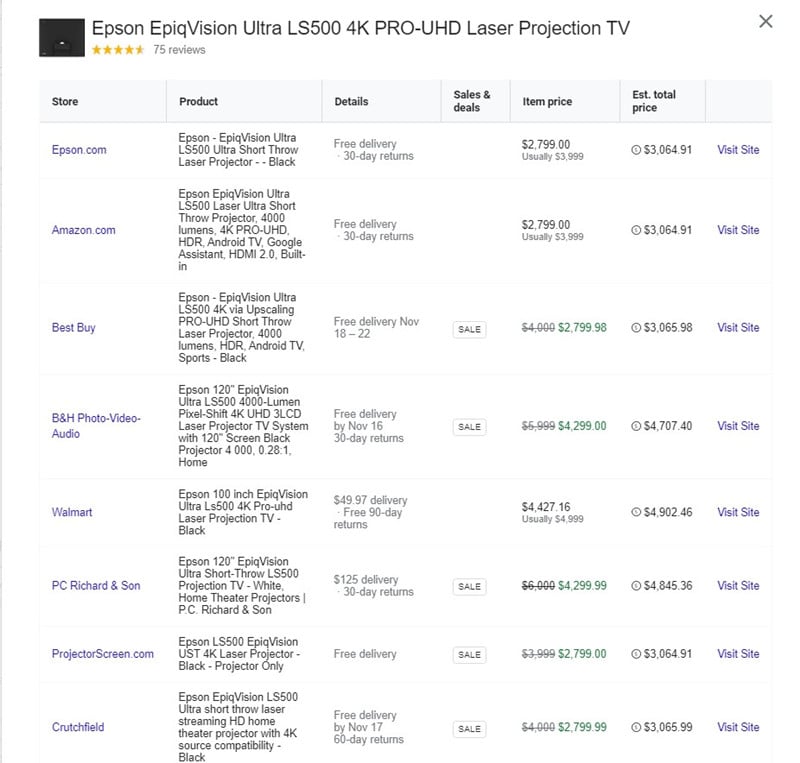 Then, you can see a table listing the prices of the projector model from various websites. You can visit the sites that have lower prices.
How to Find the Projector Deals?
Online shop. Generally, you can go to online shops, such as Amazon, Best Buy, Walmart, Projector Screen, eBay, Crutchfield, and other trusted websites to find the best deals for your potential projector.
Official websites. Some projector brands have their own shopping entrance on their official website. For example, Epson, Anker Nebula, BenQ.
Crowdfunding website. There are two mainstream crowdfunding platforms, including Kickstarter, and Indiegogo. You can get some extra discounts on these platforms.
Related Posts
Best Home Theater Projector Deals for Black Friday 2022