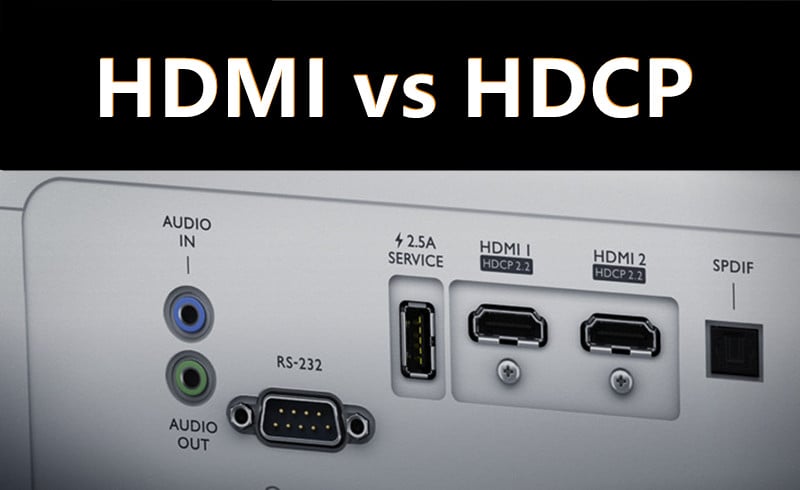 HDMI and HDCP are common terms for projectors and other electric devices, such as computers, TVs, and game consoles. In this post, we will share some plain tips on HDMI and HDCP, helping you to know their differences and functions.
What is HDMI?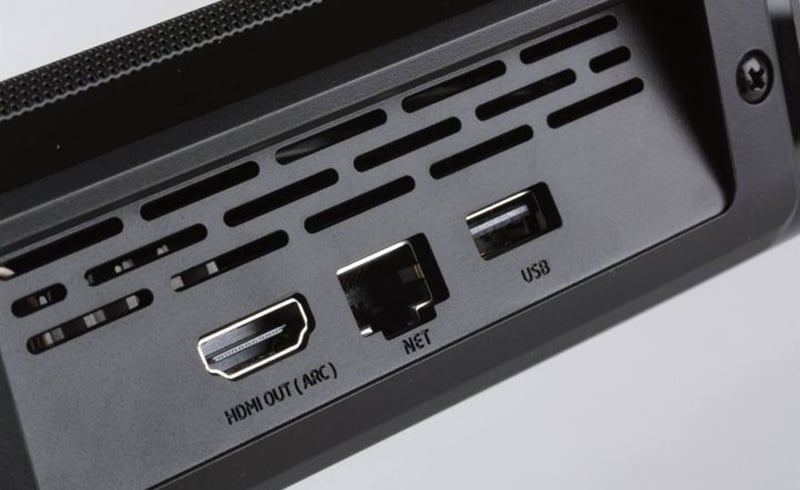 HDMI stands for High-Definition Multimedia Interface. It is a proprietary audio and video interface used to transmit uncompressed video or audio from one HDMI-compliant device to the other device.
There are many versions of HDMI interfaces, including HDMI 1.0, HDMI 1.2, HDMI 1.4, HDMI 2.0, and HDMI 2.1, which have different compatibility. HDMI 1.4 and HDMI 2.0 are widely seen in the projector category.
What Is HDCP?
HDCP refers to High-bandwidth Digital Content Protection. It is a digital copy protection technology developed by Intel to avoid content (audio or video) copying during the connection process. Specifically, it can prevent non-licensed devices from receiving content. Therefore, some copyrighted content requires HDCP.
It supports various connections via hardware interfaces, including DisplayPort (DP), Digital Visual Interface (DVI), and HDMI.
HDMI vs HDCP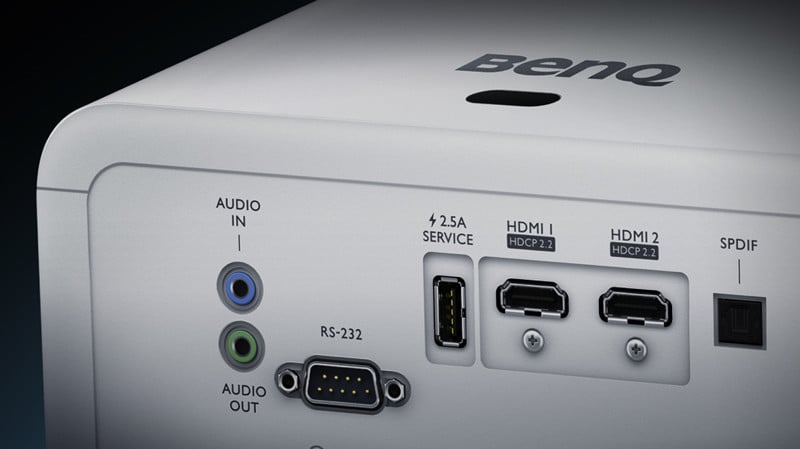 As we have introduced above, we can conclude that HDMI is a hardware interface while HDCP is a technological protocol. HDCP depends on hardware to work. As for the common points, they both have many versions that have different compatibility.
Different HDMI interfaces support different HDCP protocols. Check the table below.
| | |
| --- | --- |
| HDMI Version | Corresponding HDCP Version |
| HDMI 2.1 | HDCP 2.2/HDCP 2.3 |
| HDMI 2.0 | HDCP 2.2 |
| HDMI 1.4 | HDCP 1.4 |
| HDMI 1.3 | HDCP 1.2 |
Differences Between HDMI Versions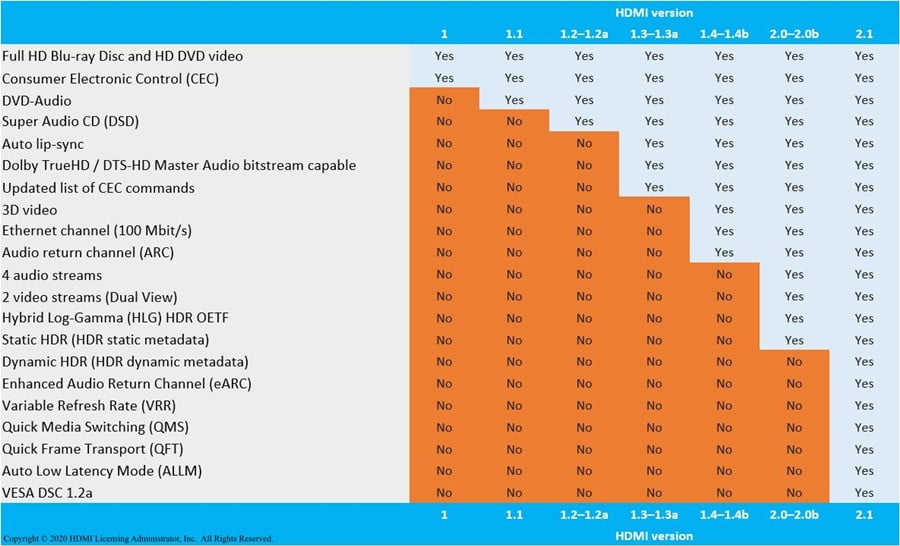 HDMI has improved a lot based on HDMI 1.0 and the max resolution can be 10K for HDMI 2.1 version. The HDMI interface began to support 3D after the introduction of the HDMI 1.4 version.
| | | | | |
| --- | --- | --- | --- | --- |
| | Release Date | Max Bandwidth | Max Resolution | New Features |
| HDMI 1.0 | 2002 | 4.95 Gbps | 1920 x 1080 @ 60 Hz | / |
| HDMI 1.1 | 2004 | 4.95 Gbps | 1920 x 1080 @ 60 Hz | DVD Audio |
| HDMI 1.2 | 2005 | 5.00 Gbps | 1920 x 1080 @ 60 Hz | HBR2, MST |
| HDMI 1.3 | 2006 | 10.20 Gbps | 3840 x 2160 @ 30 Hz | Mini Connector, Deep Color |
| HDMI 1.4 | 2009 | 10.20 Gbps | 3840 x 2160 @ 30 Hz | 3D, Ethernet |
| HDMI 2.0 | 2013 | 18.00 Gbps | 5120 x 2880 @ 30 Hz | HDR |
| HDMI 2.1 | 2017 | 48.00 Gbps | 10240 x 4320 @ 30 Hz | 4K @120Hz |
The higher the resolution, the clearer the image and the more details in the image. You can see the differences between different resolutions for the same scene.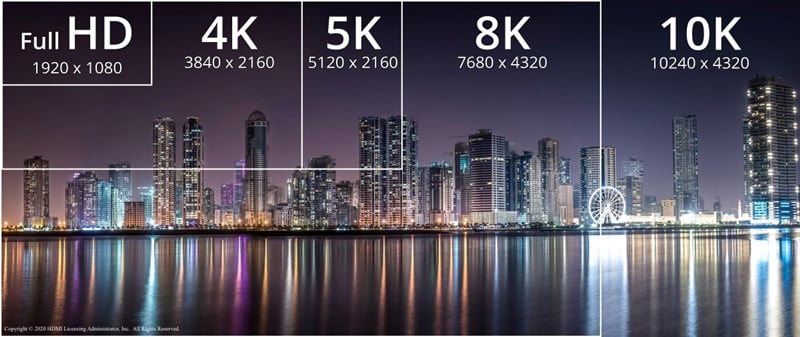 HDMI 2.1 vs HDMI 2.0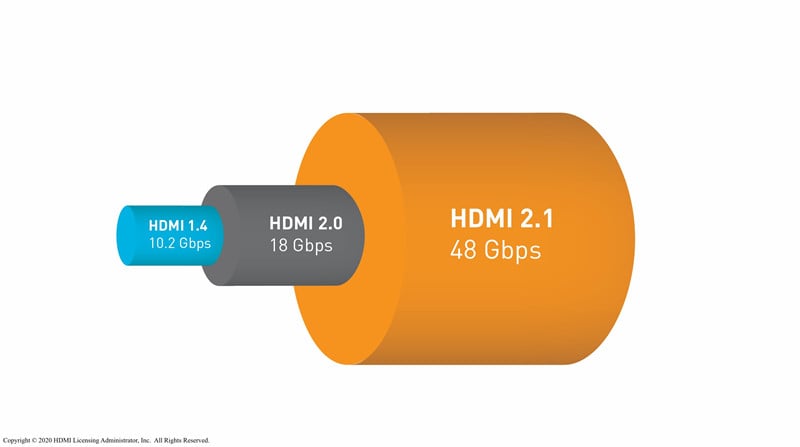 The major difference between HDMI 2.1 and HDMI 2.0 is the bandwidth. HDMI 2.1 has a capacity of 48 Gbps while HDMI 2.0 has a max bandwidth of 18 Gbps. As HDMI 2.1 has improved bandwidth, then it has no need to compress too much data and can provide better image quality and sound.
HDMI 2.1 supports a max resolution of 10K (10240 x 4320) and it is compatible with many trendy features, such as HDR, HLG, and ALLM (Auto Low Latency Mode). The HDMI 2.0b has improved a lot and supports HDR and HLG.
If you want a better gaming experience, HDMI 2.1 version is necessary as it is compatible with 4K@120 Hz.
To conclude, HDMI 2.1 has improved a lot in terms of bandwidth, resolution, and refresh rate.
HDMI eARC vs HDMI ARC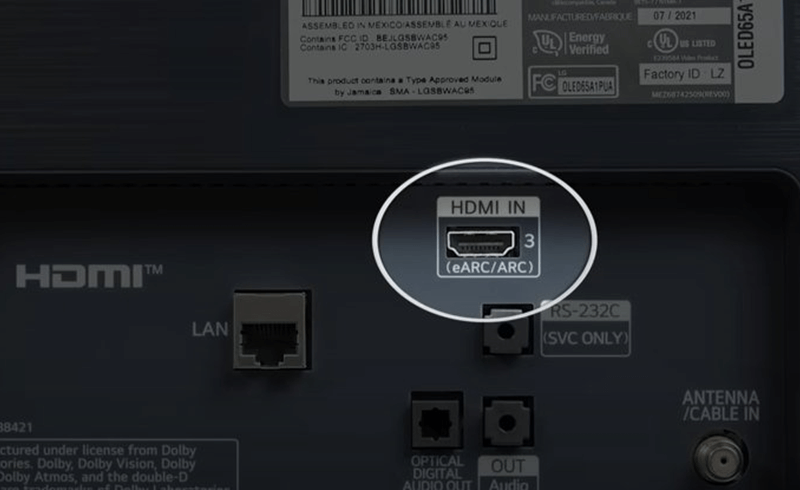 ARC stands for Audio Return Channel. HDMI ARC was introduced in 2009, and it enables HDMI connectivity to be used as an input and audio output. There are many home theater devices that support ARC to improve the audio effect.
HDMI eARC has improved a lot based on HDMI ARC.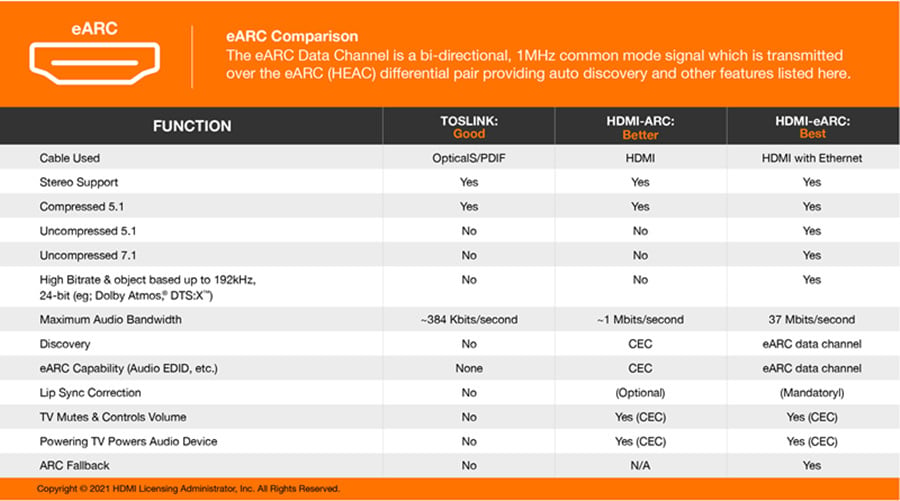 The HDMI eARC has simplified connectivity and provided ease of use for multiple components discovery and audio optimization. It supports the latest high-bitrate audio formats up to192kHz, 24-bit, uncompressed 5.1 and 7.1, and 32-channel uncompressed audio. It also supports DTS-HD Master Audio, DTS:X, Dolby TrueHD, and Dolby Atmos.
HDCP 1.4 vs HDCP 2.2 vs HDCP 2.3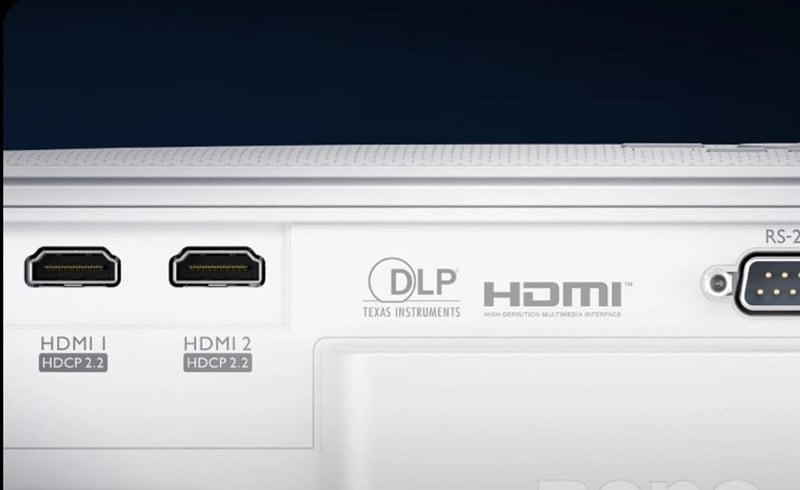 HDCP is an encryption technology and it keeps improving with technology improvement.
HDCP 1.4 can be used to protect full HD 1080P content while HDCP 2.2 can protect 4K resolution content.
HDCP 2.3 is the latest version of HDCP, which is better in terms of data security and compatibility. HDCP 2.3 provides uncompressed 4K content with high color depth, color gamut, and high frame rates. It is worth noting that HDCP 2.3 has better backward compatibility and it works with devices with HDCP 2.2.
HDCP 1.4
HDCP 2.2
HDCP 2.3
HDMI Version
HDMI 1.3/1.4
HDMI 2.0/1.4
HDMI
Display Port
USB Type-C
FAQs
How do Connect the Computer to Projector with HDMI?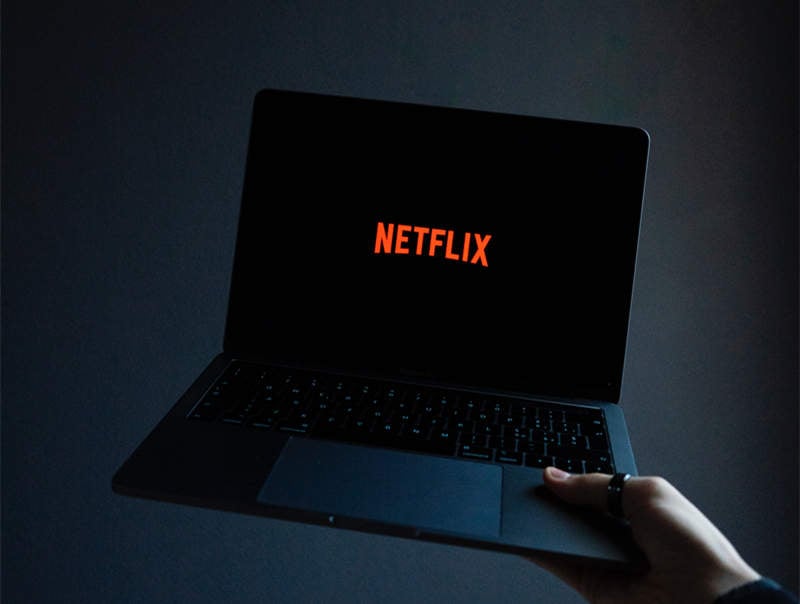 Firstly, make sure that your projector and your projector both have an HDMI interface. If your computer doesn't have an HDMI interface, then you can use an HDMI adapter.
Secondly, connect your computer and projector using the HDMI cable.
Thirdly, press the Windows and P keys simultaneously to access the display mode. Select Duplicate, Extend, or other modes based on your needs.
Then, the projector and your computer can be connected successfully with HDMI.
If it doesn't work, remember to switch the input source on the projector's menu.
Does Any HDMI Cable Support 4K?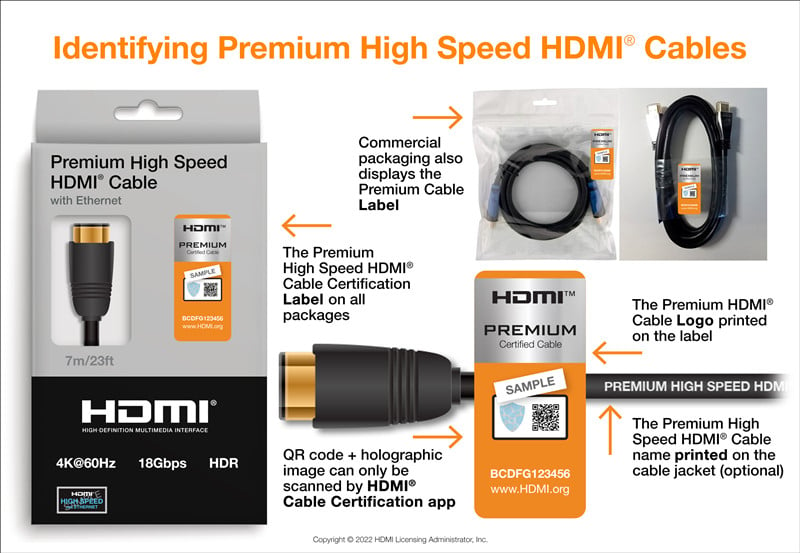 Most HDMI cables on the market support 4K, but if you want to get better transmission speed and compatibility, then you need to buy high-speed HDMI cable that has high bandwidth, 4K@60Hz, BT.2020, and HDR.
Related Posts