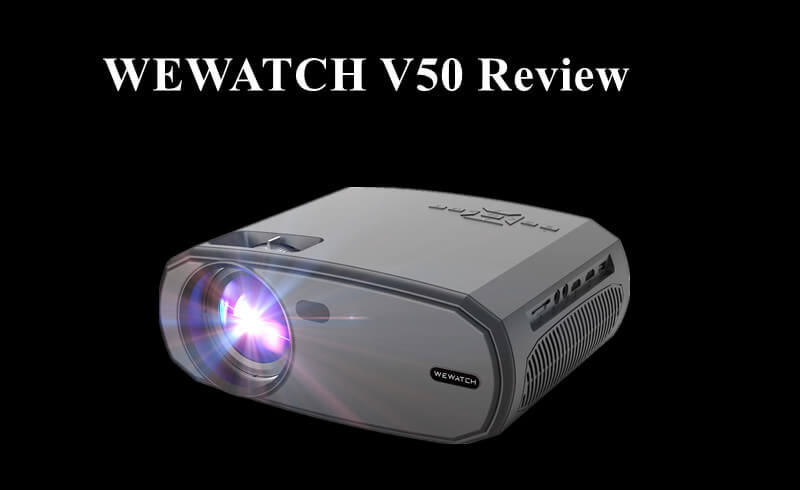 WEWATCH V50 is a popular 1080P video projector on Amazon. In this post, we will review the projector from different perspectives and analyze its pros and cons.
WEWATCH V50 Review
Appearance
WEWATCH V50 is the whole black and has a simple and elegant style. You can see the logo of WEWATCH on the front panel.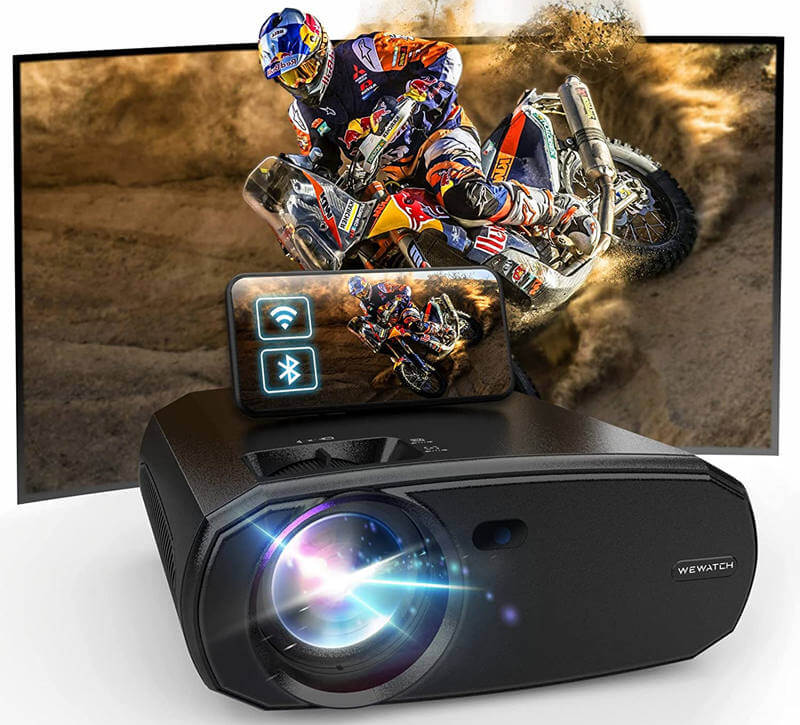 On the top panel, there are two rings for manual focus and manual keystone correspondingly.
You can connect the projector to external devices via the interfaces on the side panels. The overall workmanship of the projector is acceptable.
Light Source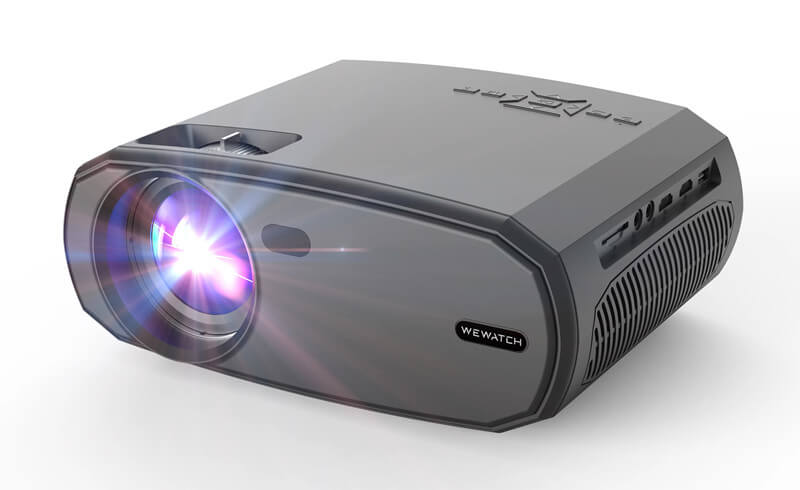 The video projector adopts LED as the light source and has a long lamp life of 40,000 hours. If you use the projector for 5 hours per day, then the light source can last more than 8,000 days. Compared with some lamp-based projectors, it has no trouble with frequent lamp replacement.
Throw Ratio
WEWATCH V50 has a throw ratio of 1.4:1 and a throw distance range of 3.8 ft to 19 ft. The throw ratio is relatively long compared with other video projectors on the market, and you need to place it in a spacious room to get a giant screen.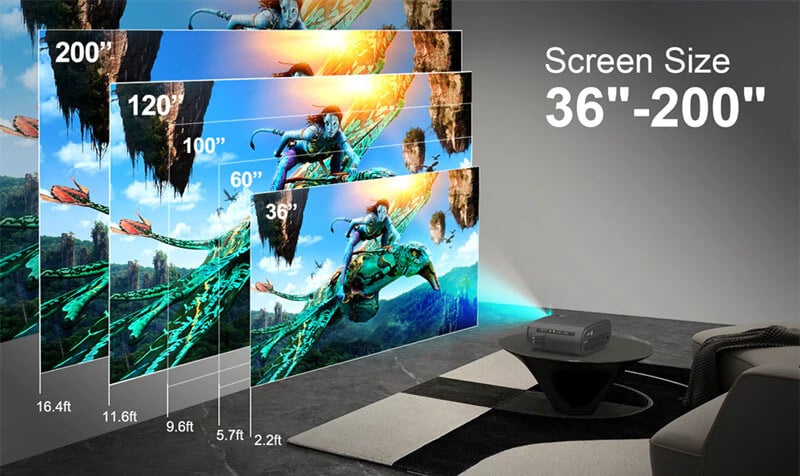 You can use the projector calculator to calculate different distances and corresponding image sizes.
Image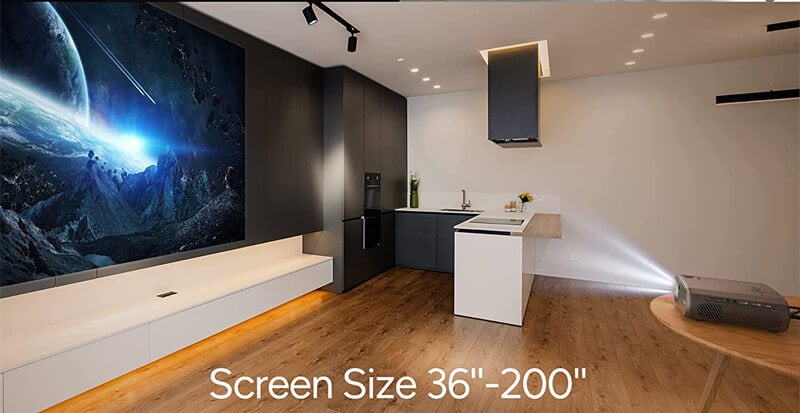 The projector has a native resolution of 1080P and brings crisp images with rich details. As for brightness, WEWATCH V50 has 230 ANSI lumens and produces clear images in dark environments. You have to close the curtain to make the image bright if the ambient light is strong. With a contrast of 1500: 1, the projector delivers good images with gradations and rich details.
It supports both manual keystone and manual focus functions, which makes it convenient to adjust the image. You can use the keystone correction when the image is trapezoidal and roll the focus ring when the image is not clear.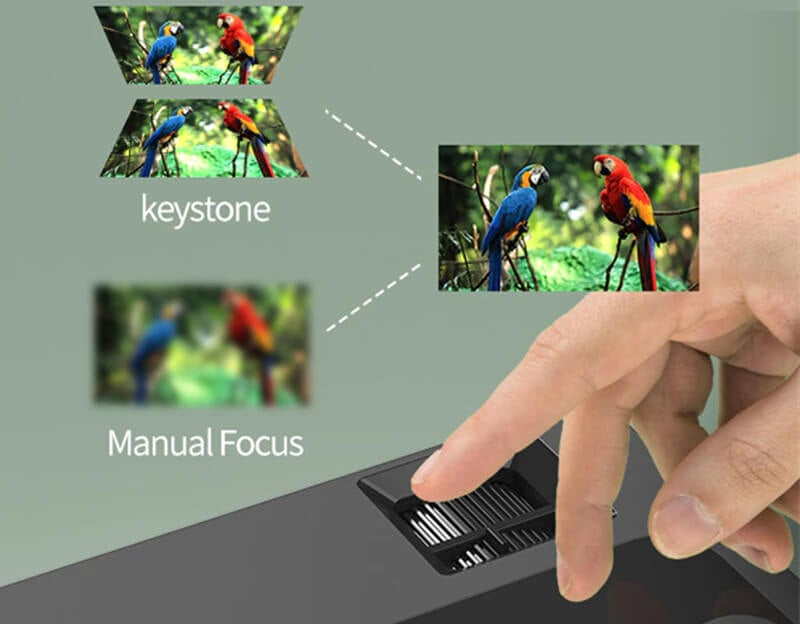 Regarding image size, WEWATCH V50 can project at most 200 inches, which can satisfy various needs, no matter commercial presentation or home theater scenarios.
Connectivity
WEWATCH V50 projector is equipped with dual HDMI, TF, AV, Earphone Out, and USB interfaces, enabling you to conveniently connect the projector to TV Box, Fire Stick TV, Chromecast, PC, laptop, tablet, external speakers, Xbox, DVD player, PS3, PS4, USB stick, media players, Android smartphone, etc.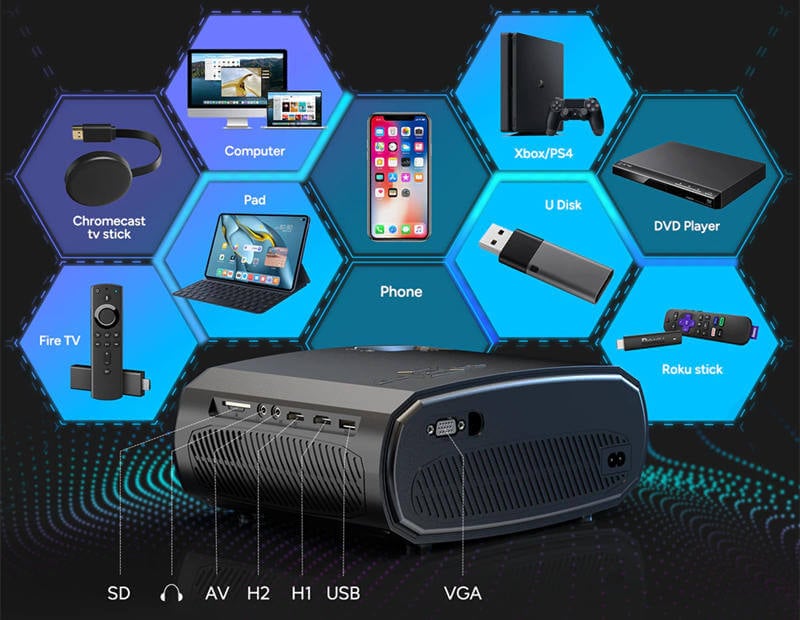 As for wireless connectivity, the projector supports 2.4G / 5G Wi-Fi and Bluetooth 5.1, bringing smooth and quick connection.
Screen Mirroring
As the projector supports mainstream wireless mirroring technologies including AirPlay, DLNA, and Miracast, you can connect your smartphone wirelessly by connecting the projector and your smartphone to the same Wi-Fi network.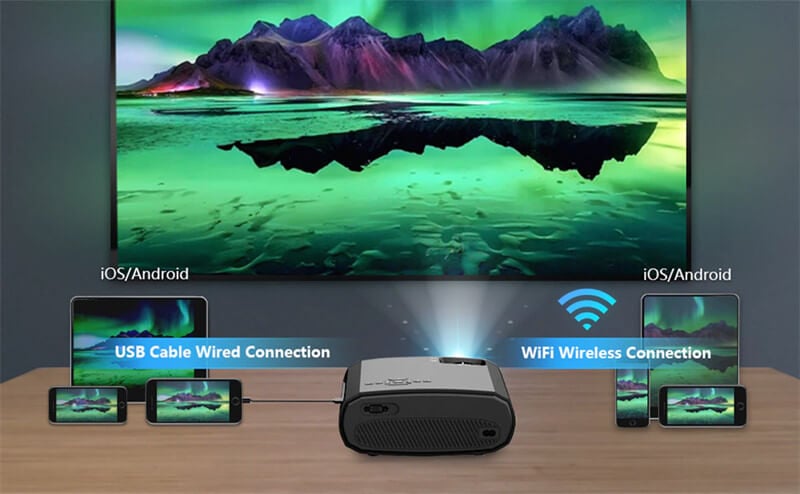 If you want to connect your phone to the device in a wired way, you can also use an HDMI adapter to connect the two devices. Compared with a wireless connection, the wired connection is stable and quick.
Audio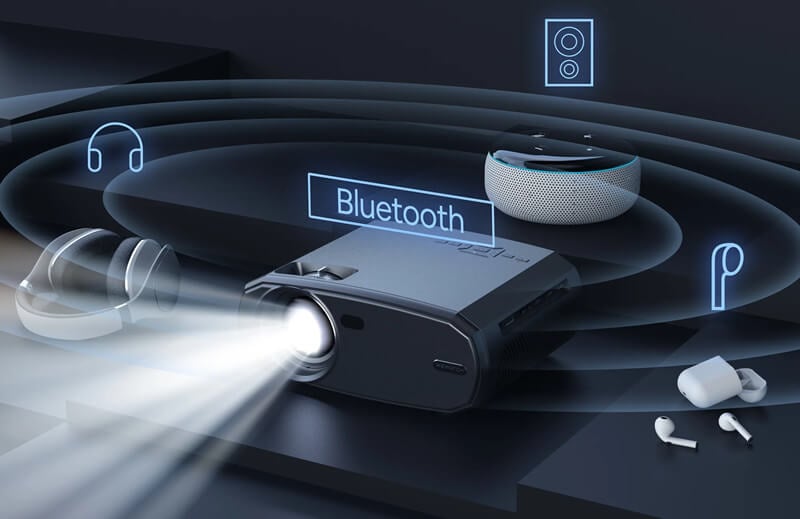 WEWATCH V50 has a built-in speaker, but the speaker is not powerful and sonorous enough. The projector supports Bluetooth and you can connect the projector to an external speaker via Bluetooth.
Remote
The projector is equipped with an IR-based remote, and you need to point the remote to the IR receiver on the projector directly to ensure the response. In addition, the distance from the WEWATCH projector to the remote is also important. The IR remote is common for budget video projectors or some traditional projectors.
WEWATCH V50 Package
The package of the WEWATCH V50 projector in the official aliexpress store includes the WEWATCH projector, a power cable, an HDMI cable, an AV cable, a remote control, and a user manual. If you usually use the projector to watch online movies, you may need to buy a TV stick to access more content resources.
If you just want to connect the projector to a laptop, then you can connect the two devices via HDMI cable and have no need to buy other things.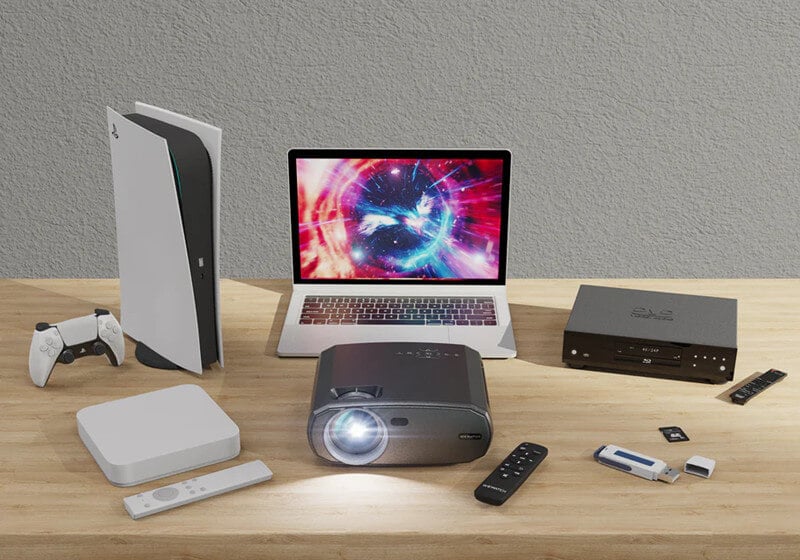 WEWATCH V50 Specs
Projector Model
WEWATCH V50
Sale Price
$159.99
Display Technology
LCD
Brightness
230 ANSI Lumens
Standard Resolution
1920*1080
Compatible Resolution
4K
Contrast
1,500: 1
Projection Ratio
1:4
Projection Size
36"-200"
Projection Distance
3.8 ft to 19 ft
Projection Method
Front/Rear
Focus
Manual Focus
Keystone Correction
±15° manual correction
Screen Mirroring
AirPlay / DLNA / Miracast
Wi-Fi
2.4G / 5G Wi-Fi
Bluetooth
Bluetooth 5.1
Built-in Speaker
Yes
Dimensions
9.23*7.38*3.78 inches
Weight
1.36KG
Interface
1 x USB 2.0
2 x HDMI
1 x AV
1 x 3.5mm Earphone Out
1 x SD
1 x VGA
Pros and Cons
Through the analysis above, we can find summarize the following pros and cons concerning the projector.
Pros
1080P resolution
Compatible with 4K
Good Wireless Connectivity
Lower Cost
Convenient Screen Mirroring
Cons
Conclusion
In a nutshell, the WEWATCH V50 projector is a cost-efficient projector that features a 1080P resolution and a 200" giant screen. The projector is recommendable in view of its cost and performance.
Related Posts
VANKYO Leisure 470 Projector Review