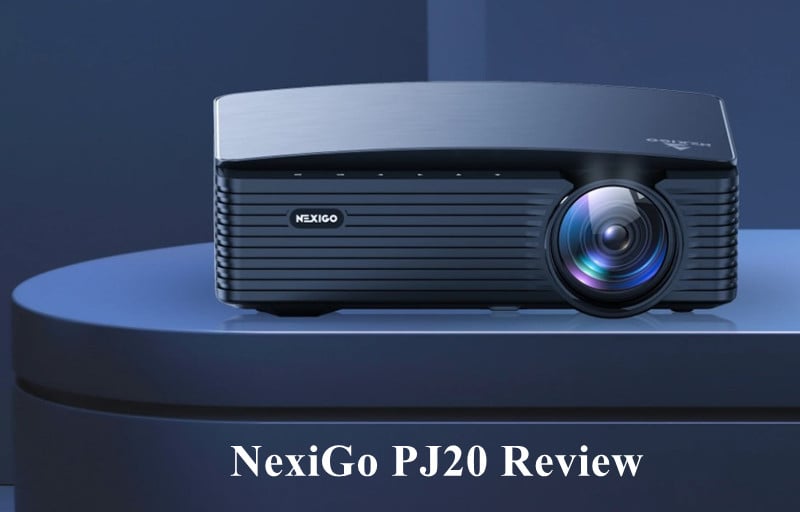 NexiGo PJ20 is a popular projector in the US market, which once ranked the top 1 best seller for video projectors on Amazon. In this guide, we will review the projector from different perspectives.
NexiGo PJ20 Review
In this section, we will review the NexiGo PJ20 projector from the following aspects, appearance, brightness, image, audio, screen mirroring, and connectivity.
NexiGo PJ20 Review: Appearance
The projector has a whole black color and you can see the white logo of NexiGo on the left side of the front panel. Just like many other multi-media video projectors, NexiGo PJ20 is equipped with keystone and focus buttons on the projector. There are heat dissipation vents on the side panels to allow heat dissipation and reduce the noise caused by fan operation. The interfaces and the keystone knob are located at the back panel to make the projector's appearance brief and elegant.
NexiGo PJ20 measure 12.59 x 9.05 x 4.25 inches, which is common for most multi-media projectors on the market.
NexiGo PJ20 Review: Brightness
NexiGo PJ20 is equipped with an LED light source with a long lamp life of 30,000 hours and produces 350 ANSI lumens. The brightness is higher than most smart projectors on the market though it is still not bright enough under strong ambient light or outdoor environments.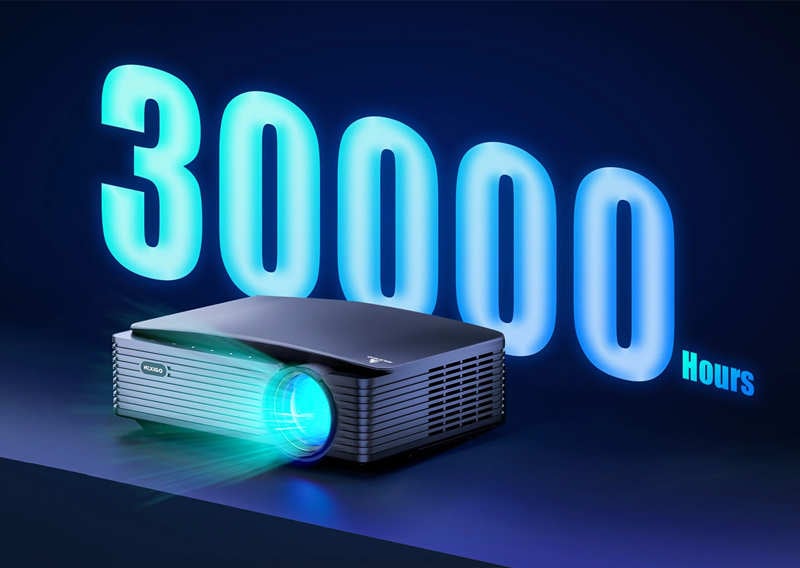 | | | | | |
| --- | --- | --- | --- | --- |
| Model | NexiGo PJ20 | BenQ GV11 | KODAK Luma 350 | Anker Nebula Capsule |
| Price | $249 | $379 | $299.99 | $299.99 |
| ANSI Lumens | 350 | 200 | 200 | 100 |
NexiGo PJ20 Review: Image
NexiGo PJ20 adopts LCD display technology, which is widely adopted in multi-media projectors, and has a resolution of 1080P, delivering clear and crisp images for users.
Regarding image size, it can project a max image size of 200 inches and delivers an immersive viewing experience. The projector has a throw ratio of 1.56:1, a little bit longer than common budget projectors.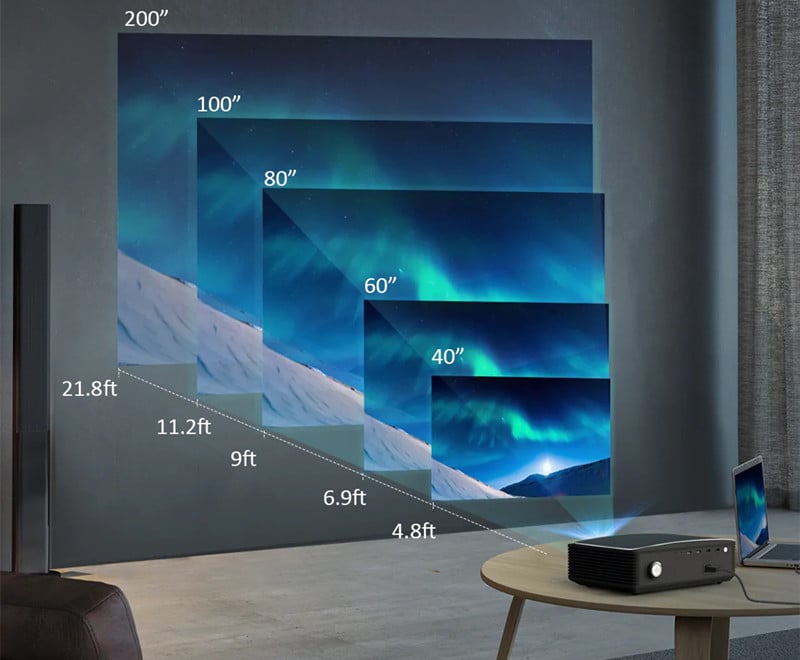 It supports manual keystone and manual focus, making it convenient to adjust the image. To improve the image, you may need to lower the ambient light or add an ALR screen.
You can also refer to our previous post How to Improve Projector Image to improve the viewing effect.
NexiGo PJ20 Review: Audio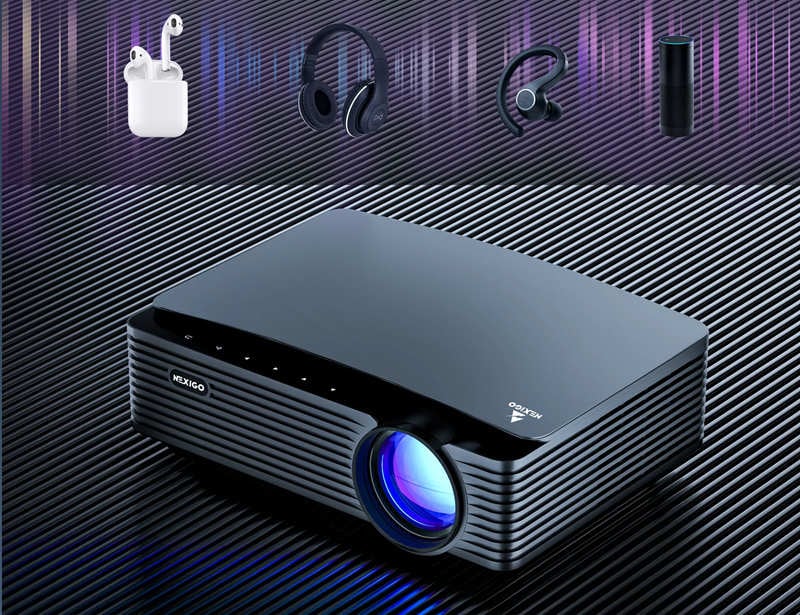 NexiGo PJ20 has a built-in 5W speaker and supports Dolby Audio and Dolby Plus. The configuration of the speaker is common but not every multi-media projector under $200 is equipped with Dolby Audio. Therefore, Dolby Audio is one of the major selling points of the projector.
As the projector has Bluetooth and you can connect the projector to a Bluetooth speaker to improve the sound.
NexiGo PJ20 Review: Screen Mirroring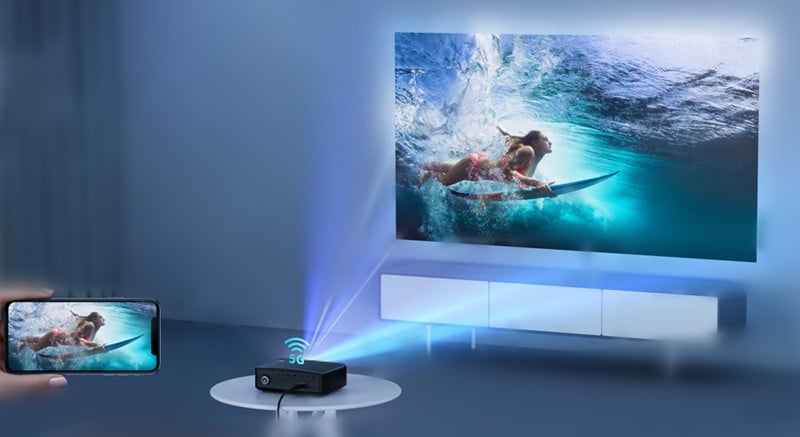 The projector supports 5G Wi-Fi and wireless screen mirroring. You can mirror your computer, Android phones, iPhones, and other devices wirelessly. You can connect the projector and your device to the same Wi-Fi network.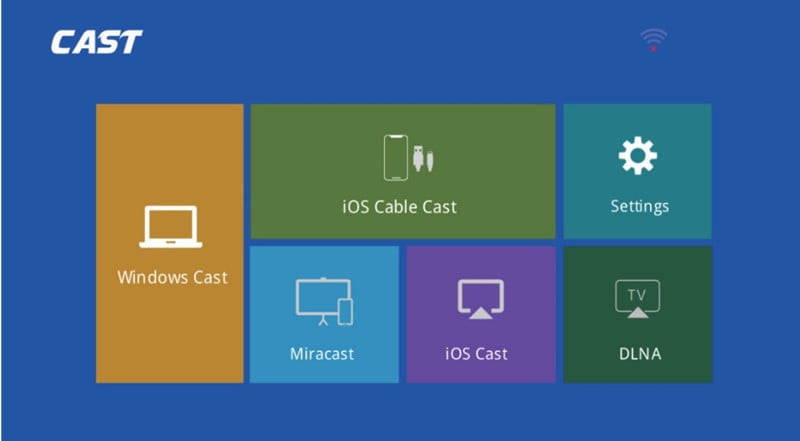 NexiGo PJ20 also supports a wired connection if you want a stable connection. When you connect your smartphone to the projector, remember to click Trust to allow the projector access to your phone.
NexiGo PJ20 Review: Connectivity
In terms of wireless connectivity, the projector supports Wi-Fi, Bluetooth, and screen mirroring, and you can connect your projector to external devices wirelessly and conveniently. For example, if you want to improve the sound, then you can connect it to a speaker wirelessly.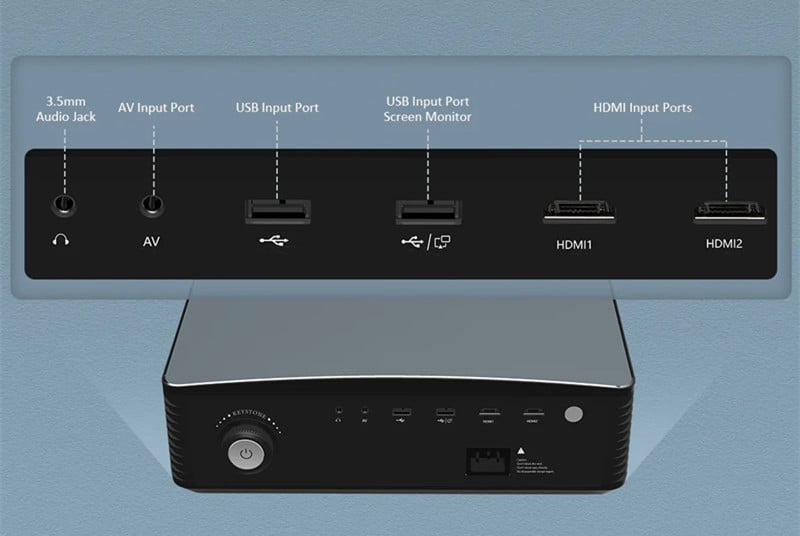 Regarding wired connectivity, the projector is equipped with two HDMI interfaces and two USB interfaces. You can connect it to TV sticks, TV Boxes, game consoles, computers, iPad, and DVD players conveniently.
NexiGo PJ20 Review: Price
NexiGo PJ20 is priced at $249, which is an acceptable price compared with other similar projectors on the market.
| | | | | |
| --- | --- | --- | --- | --- |
| Model | NexiGo PJ20 | VANKYO Leisure 495W | AAXA P400 | YABER Y31 |
| Price | $249 | $299 | $269 | $279 |
| Resolution | 1080P FHD | 1080P FHD | 1080P FHD | 1080P FHD |
| Dolby Audio | Yes | Yes | No | No |
NexiGo PJ20 Specs
You can check the table below to know more details and specifications of NexiGo PJ20 projectors.
Imaging Technology
TFT LCD
Native Resolution
1920×1080
Maximum Compatible Resolution
1920×1080
Light Source
LED
Focusing Mode
Manual operation
Projection Distance
4.8-21.8 ft
Projection Size
40-200 inches
Aspect Ratio
16:9/4:3
Projection Ratio
1.56:1
Keystone
Manual correction ±15°
Bluetooth
Yes
Wi-Fi
Yes
Power Input
100V-240V @ 50/60Hz
Integrated Watt Use
140W
Input Input
HDMIx2,
USBx2,
AVx1
Output
3.5mm audio jackx1 (speakers/headphones)
Speaker
5Wx1
You may be interested in VANKYO V700W vs VANKYO 495W.
Conclusion
Compared with other multi-media projectors on the market, NexiGo PJ20 has better brightness and audio. More importantly, it has reasonable pricing. In addition, it has good wireless and wired connectivity. To conclude, NexiGo PJ20 is recommended to buy.
Related Posts
VANKYO Announces Performance V700W – 1080P Dolby Audio Projector