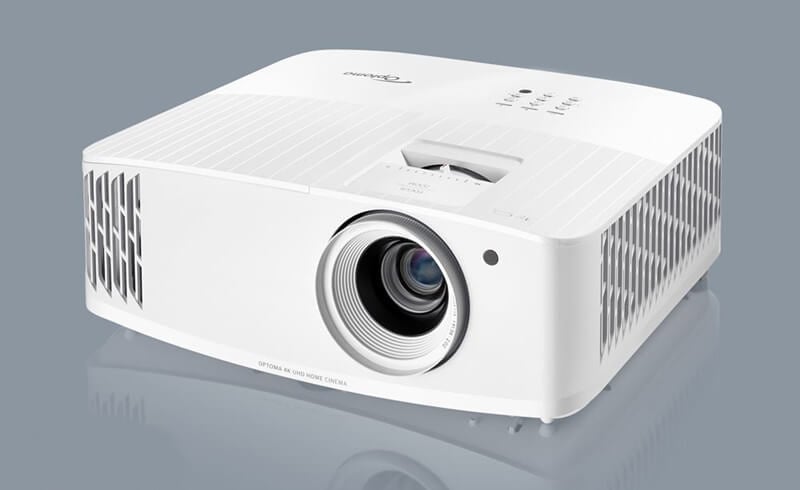 The Optoma UHD35X is a new projector released in December 2022. In this guide, we will review the projector from different perspectives.
Optoma UHD35x Review
Design
This projector is typical of Optoma home projectors' outer design, whose color rendering and style are simple and elegant. Optoma UHD35x is wholly white and has several grey marks. Looking from the front view, we can see a lens module on the right side and a vent on the left side. There are a focus/zoom slider and shortcut buttons on the top panel. The side panels are surrounded by vents to dissipate the heat and lower the noise. All the ports are equipped on the back panel of the projector to make the wiring tidy.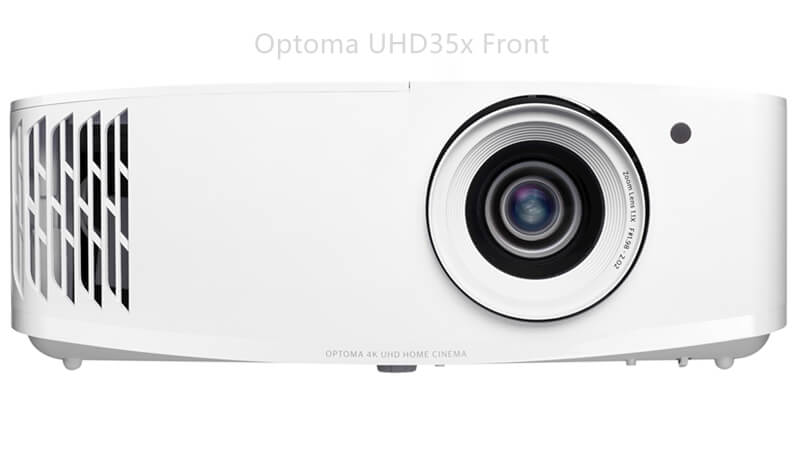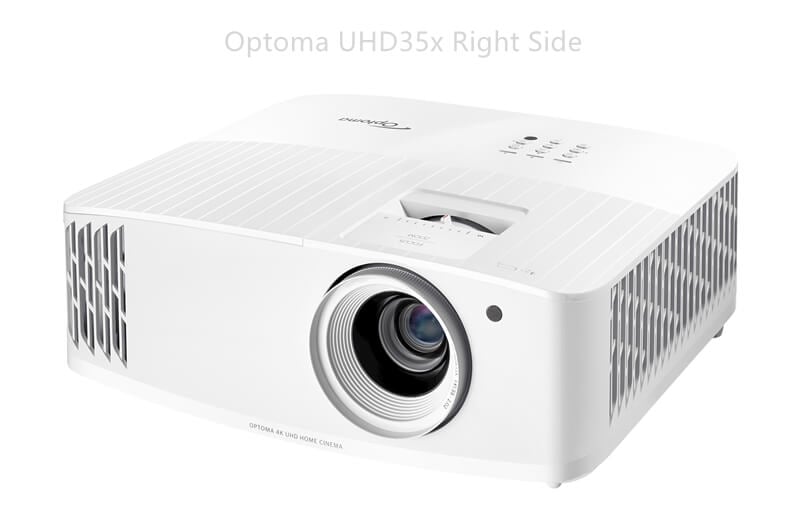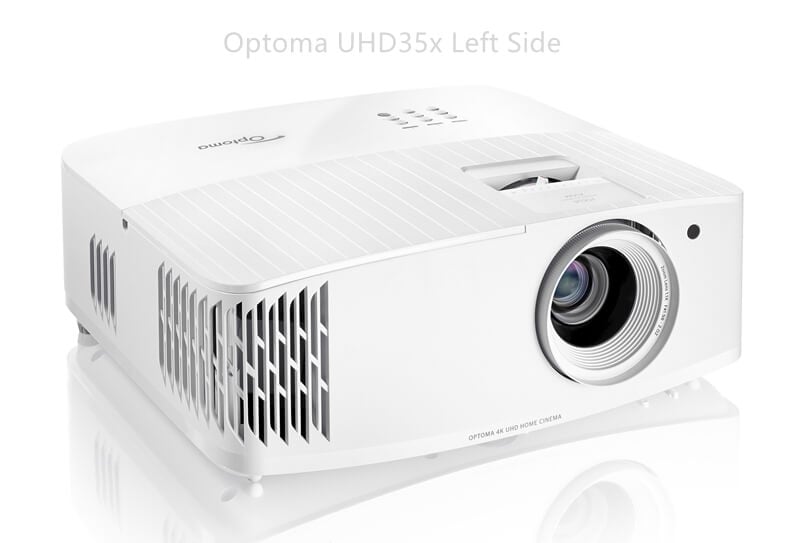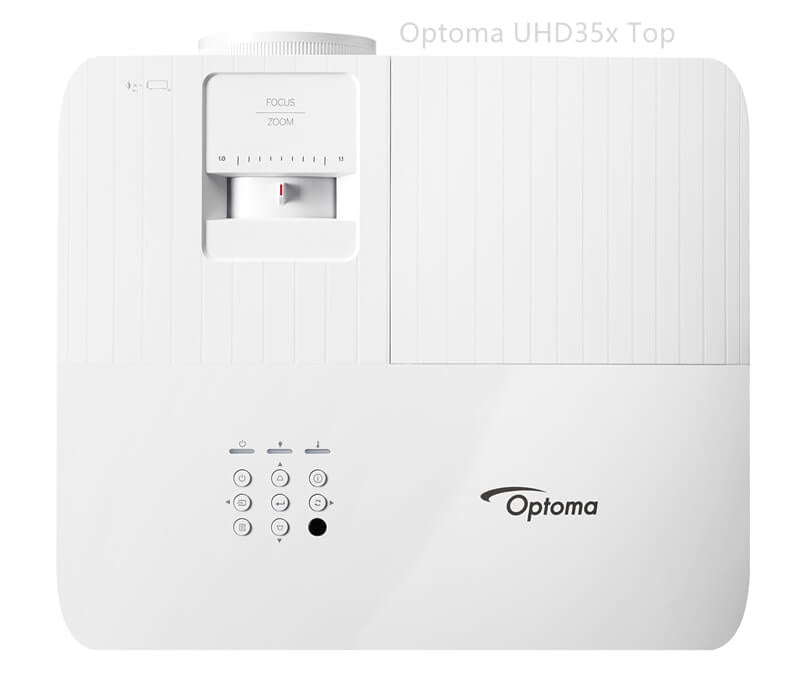 Optoma UHD35x has a backlit remote designed using subtle white LEDs to light up the buttons, which is careful and convenient in dark environments.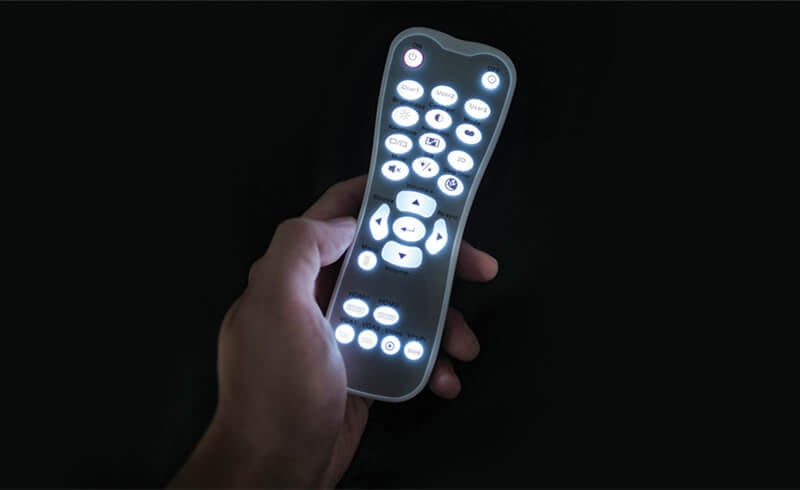 Light Source
Optoma UHD35x adopts a lamp as the light source, which can produce a high brightness of 3,600 lumens. Like many other lamp-based projectors on the market, Optoma UHD35x is bright enough for daytime use but has a shorter lamp life compared with LED projectors and laser projectors.
The projector can last 4,000 hours under brightness mode, which means that it can last about 800 days if you use the projector every 5 hours per day. In other words, you need to replace the lamp for the Optoma UHD35x projector every 2 years or so.
Image
As mentioned above, the projector is bright enough for daytime use. As for resolution, the projector outputs 4K resolution and has a big dynamic contrast of 1,000,000:1 with good dark details.
Image size is also a key consideration when choosing a home projector. This projector can project an image size of 33″ ~ 300″, satisfying various usage scenarios.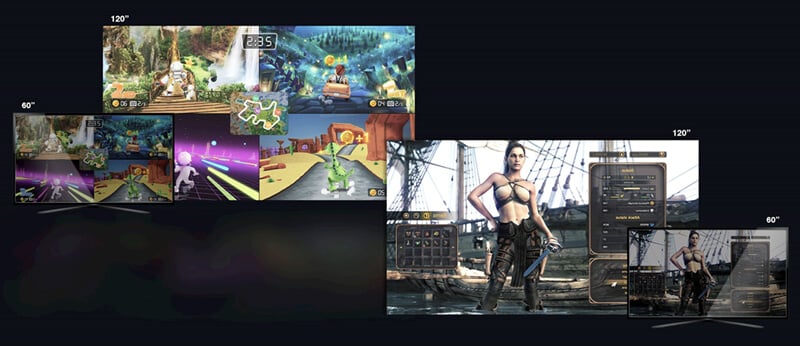 It has a throw ratio range of 1.5:1 ~ 1.66:1 and has an adjustable throw distance of 47.64″ – 389.76″. Compared with other smart projectors available on the market, the projector has a slightly longer throw ratio and requires a longer distance to project a big image size.
In terms of HDR, Optoma UHD35x is compatible with HDR10 and HLG, delivering sharp images with more details and color gradation.
You may be interested in Dolby Vision vs HDR10 vs HLG.
Gaming Performance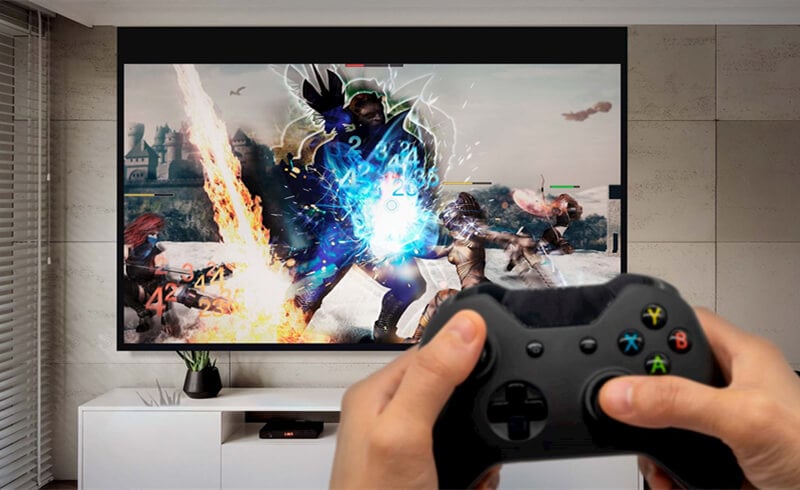 The 4K projector has an input lag of as low as 4.20ms, producing a lag-free viewing experience with quick response. It supports 1080P 240Hz or 4K UHD 60Hz refresh rate and enables users to play exciting games smoothly. Optoma UHD35x has an enhanced game mode to reduce tedious setup.
Connectivity
Optoma UHD35x is equipped with versatile interfaces, including dual HDMI 2.0 interfaces, 3.5mm audio output, S/PDIF, USB, and RS232, which are compatible with various external audio or video devices.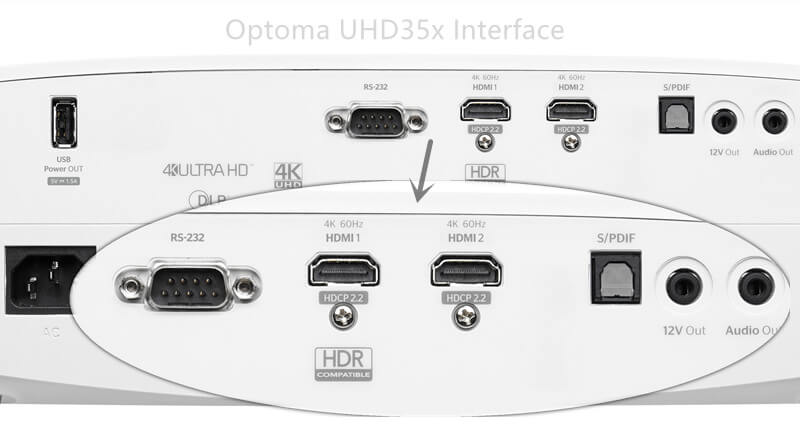 You may be interested in HDMI vs HDCP.
Audio
The projector has a 10W built-in speaker, which can produce decent sound but is not powerful enough. You can connect it to an external speaker to get better sound. In terms of noise, it has 26dB under normal conditions, which is acceptable for a video projector.
Pros and Cons of Optoma UHD35x
Pros
High brightness
4K resolution
3D
Versatile Ports
Low Input Lag
Game Mode
240Hz Refresh Rate
ISF modes
Cons
Short Lamp Life
Only 1 USB
Poor Wireless Connectivity
Conclusion
Optoma UHD35x features high brightness, large contrast, and low input lag, which is a good choice for gaming. The downsides of the projector are mainly about shorter lamp life, long throw, and poor wireless connectivity.
Related Posts
Optoma UHD35STx vs Optoma UHD35