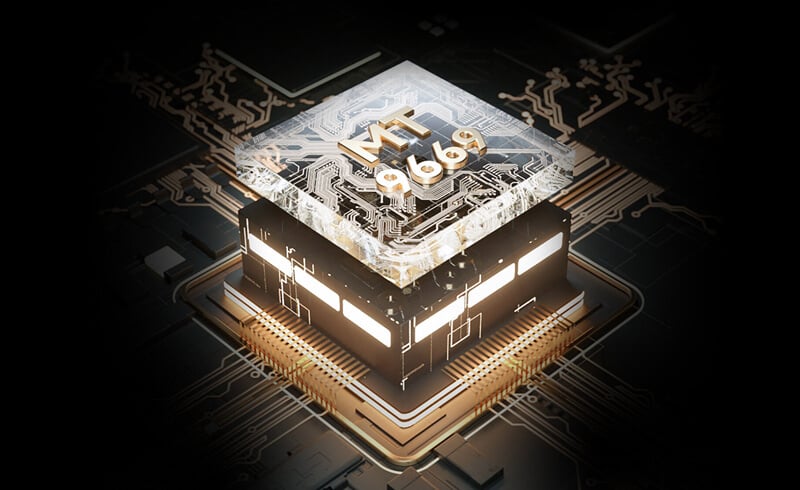 As smart projectors have captured living rooms, the projector's chip is increasingly important. Chip provider MediaTek is going to release its new chip, MT9679. This guide will compare the new chip with the previous flagship model MT9669, helping you to find out their differences.
MT9679 VS MT9669
Specs Comparison
Firstly, you can check the chart below to have an overall understanding of MT9679 and MT9669.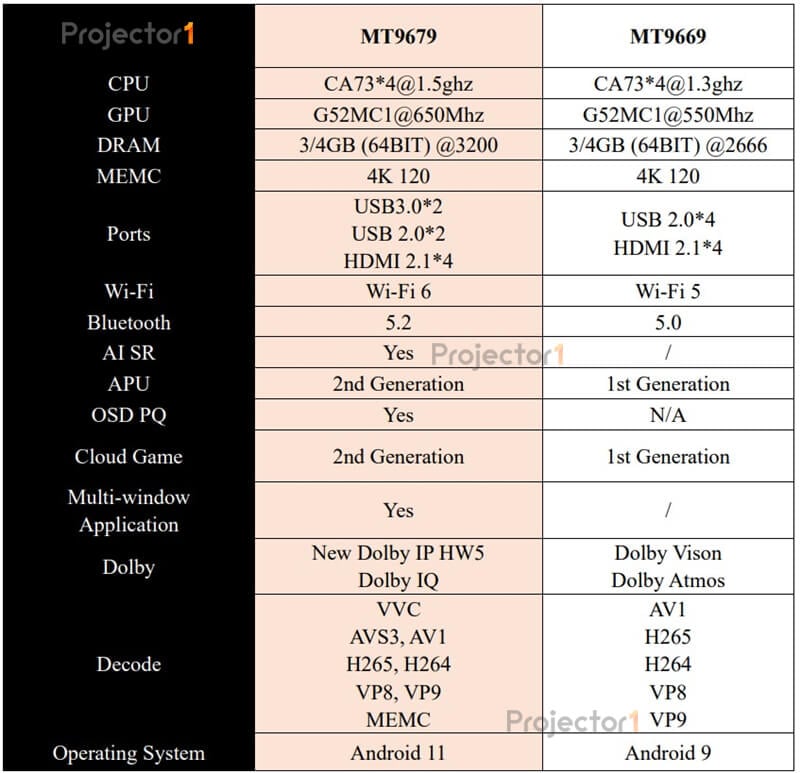 In the following paragraphs, we will compare the two chips from different perspectives.
CPU
The two chips both adopt the quad-core Cortex-A73 processor, which is the most efficient and powerful processor from ARM for the time being. Architecturally, the Cortex-A73 decoder is capable of decoding the vast majority of instructions in a single cycle.
However, the peak performance of the MT9679's Cortex-A73 can be boosted to 8uops per pipeline, exceeding its predecessor, the MTK9669, by up to 1.5GHz, which has an edge on system fluency.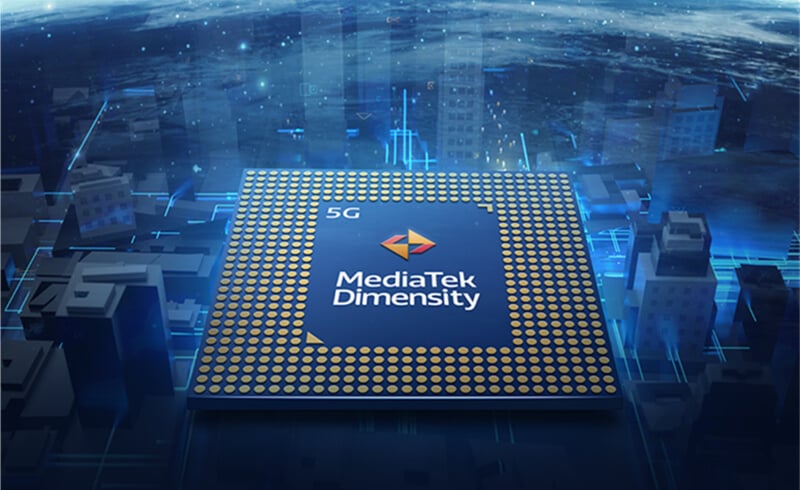 GPU
The MTK9679 uses the G52 graphics processor of Mali's third-generation G series, which is not very different from the previous generation MTK9669. However, in terms of GPU frequency, the MTK9679 has improved from the 550MHz of the MTK9669 to 650MHz, further increasing the computing speed.
Ports
One of the major improvements of the MTK9679 is that it supports USB 3.0 interfaces. USB 3.0 allows for full-duplex data transfer, while USB 2.0 does not support full-duplex; USB 3.0 offers a higher 5.0Gbit/s super speed transfer rate and is backward compatible with the transfer rate of USB 2.0, which is only 480Mbps.
| | |
| --- | --- |
| USB Version | Data Speed |
| USB1.0 | 1.5Mbps (0.18MB/s) |
| USB1.1 | 2Mbps (1.5MB/s) |
| USB2.0 | 480Mbps (60MB/s) |
| USB3.0 | 5Gbps (625MB/s) |
From the table above, we can conclude that USB 3.0 has the quickest speed, which is more smooth when playing video and effectively avoids lagging. USB 3.0 adds a new power management function, which is better in terms of energy-saving.
You may be interested in HDMI vs HDCP.
Wi-Fi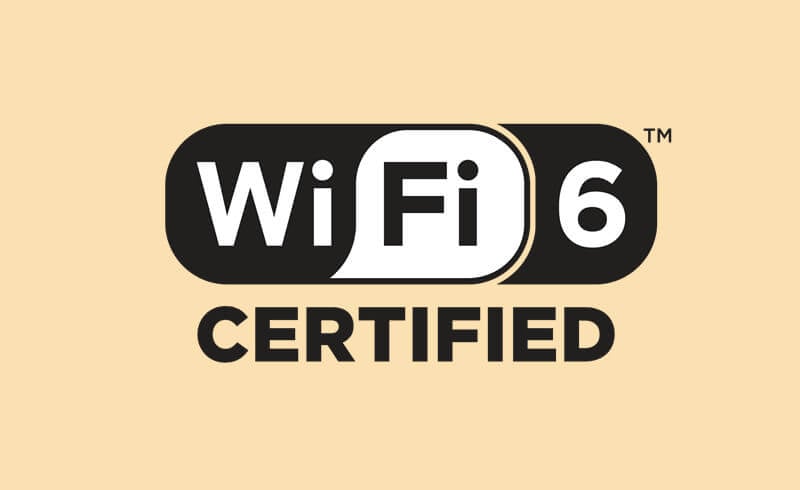 Another difference between the two chips is Wi-Fi compatibility. The MTK9679 supports Wi-Fi 6 and the MTK9669 supports Wi-Fi 5.
Wi-Fi 6 refers to the sixth generation of wireless networking technology created by the Wi-Fi Alliance based on the IEEE 802.11 standard. Compared to Wi-Fi 5, Wi-Fi 6 features quicker transmission, lower power consumption, and lower latency. The major improvement is to reduce congestion and allow more devices to connect to the network.
We can compare the scenario of router-to-device transmission to a fleet of cars on a highway. Wi-Fi 5 needs to be lined up in order to drive in a single lane, with a single more crowded exit; while Wi-Fi 6 is equivalent to driving in multiple lanes at the same time, allowing multiple devices to be used at the same time without congestion. That's why Wi-Fi 6 is faster than Wi-Fi 5.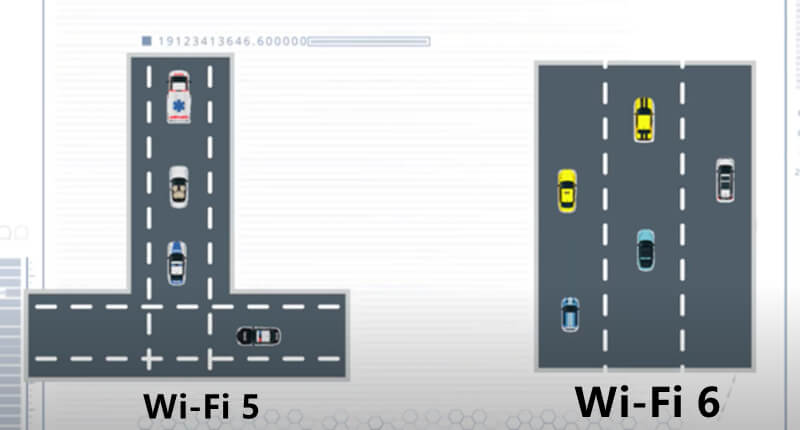 Please note that the network bandwidth and router should also support Wi-Fi6 before enjoying the high speed of Wi-Fi 6.
Bluetooth
MTK9679 supports Bluetooth 5.2, while MTK9669 only supports Bluetooth 5.0. There are 3 main differences between Bluetooth 5.2 and 5.0, including data transmission capacity and speed, the distance of transmission, and different power consumption.
Specifically, Bluetooth 5.2 has faster data transmission speed, wider bandwidth (improved from 1Mbps to 2Mbps), larger capacity (800%), longer transmission distance (300m), and lower power consumption.
AI SR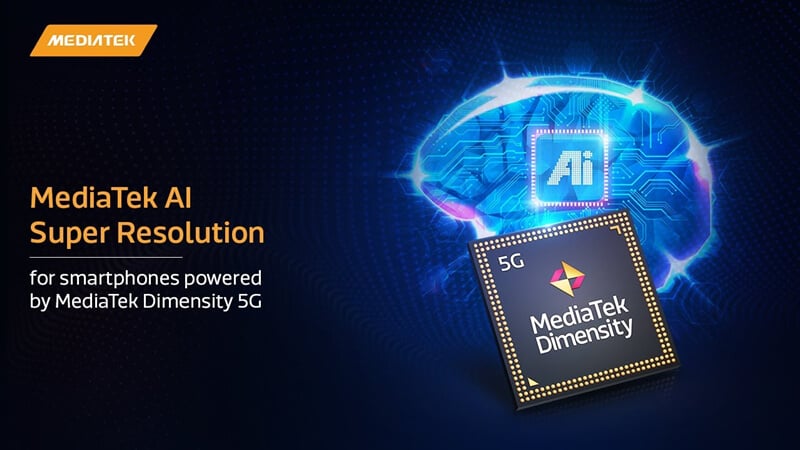 MTK9679 features AI SR, which can improve the original resolution by means of multi-frame fusion, making the picture clearer, and also combining with MEMC dynamic compensation to provide users with a more exciting 4K viewing experience. If you want to watch classic old dramas with low definition and low color movies and dramas, the AI SR feature can automatically enhance the picture clarity and color further through the AI algorithm to improve the viewing experience.
Dolby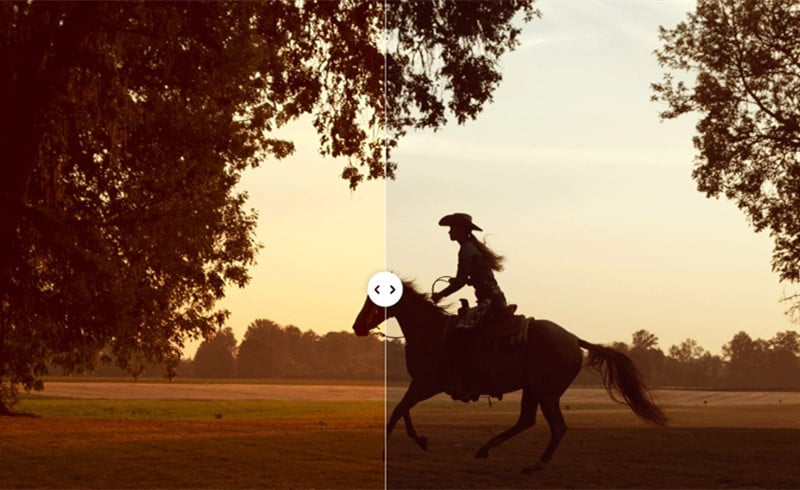 The MTK9669 supports Dolby Vision and Dolby Atmos, bringing enhanced picture quality as well as sound; while the MTK9679 is upgraded with a completely new version of Dolby. Dolby IQ can automatically adjust the picture according to the difference in ambient light, bringing a more powerful and perfect sound and picture quality, allowing projector users to experience an excellent audio-visual experience.
You may be interested in Dolby Vision vs HDR10 vs HLG.
Conclusion
Through the comparison above, we can conclude that The MTK9669 has obviously improved a lot in terms of GPU, Wi-Fi transmission, port compatibility, Bluetooth, and audio.
Related Posts
What Is RAM or ROM of a Projector?