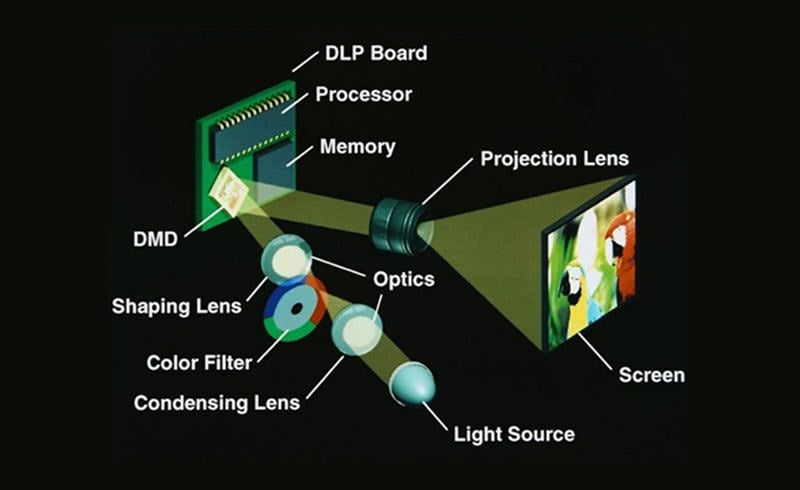 The DMD chips are the display chips of a DLP projector, whose size determines the projector's resolution. This guide will introduce the differences between 0.23″,0.33″, and 0.47″ chips.
The DMD chips currently used in home projectors are provided by TI (Texas Instruments), and they have different sizes. For 1080P projectors, their display chips may be 0.23″ DMD, 0.33″ DMD, and 0.47″ DMD.
0.23″ vs 0.33″ vs 0.47″ DMD Chip
Provided the projector's resolution is the same, the larger the size of the DMD chip, the better its imaging quality, and the higher light utilization.
| | | | |
| --- | --- | --- | --- |
| Chip Type | 0.23″ DMD Chip | 0.33″ DMD Chip | 0.47″ DMD Chip |
| Physical Pixels | 960 x 540 | 1280 x 720 | 1920 x 1080 |
| Maximum Resolution vis XPR | 1080p | 1080p | 4K |
You may be interested in What is XPR Technology.
By means of the table above, we can see that only a 0.47″ DMD Chip has a physical resolution of 1080P resolution. The 0.23″ DMD Chip produces 960 x 540 pixels; a 0.33″ DMD Chip has physical pixels of 1280 x 720; the 0.47″ DMD Chip produces 1920 x 1080 pixels. In other words, only projectors with 0.47″ DMD Chips are native 1080P projectors.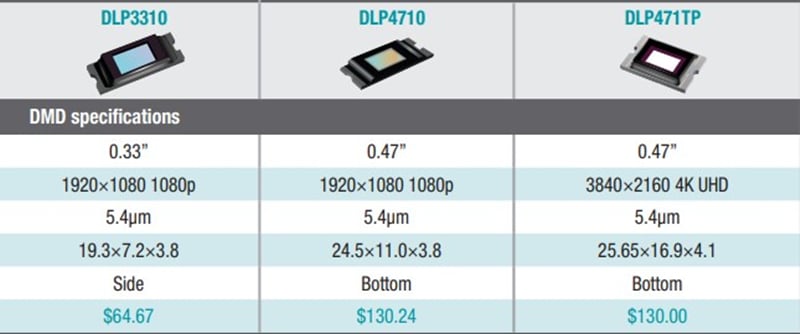 That is to say, 1080P projectors with 0.23″ DMD Chips or 0.33″ DMD Chips are given by means of XPR dithering technology to save cost.
These projectors make use of high-speed dithering micro-mirror so that a micro-mirror forms two pixels because of the human eyes' lag effect to achieve a virtual superposition of two pixels to double the visual resolution.
In the same way, there are also many 4K projectors carrying 0.47″ DMD chips on the market to lower the cost.
Related Posts
0.47 inch Chip VS 0.66 inch Chip