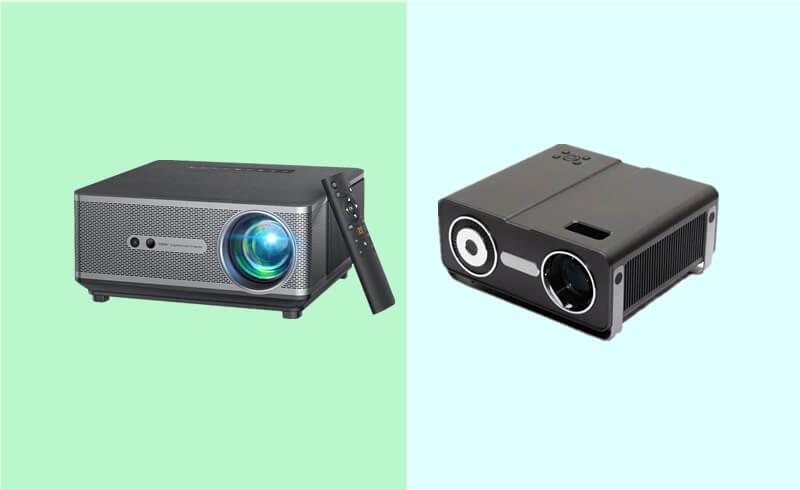 Yaber Ace K1 is a new projector released in the last quarter of 2022. How does this projector compare with its sibling? In this guide, we will compare the two projectors side by side and help you find their differences.
YABER ACE K1 vs YABER V10
As a newcomer, YABER ACE K1 has improved a lot in terms of brightness, image technique, and audio. However, YABER V10 has a lower cost, smaller size, and shorter throw.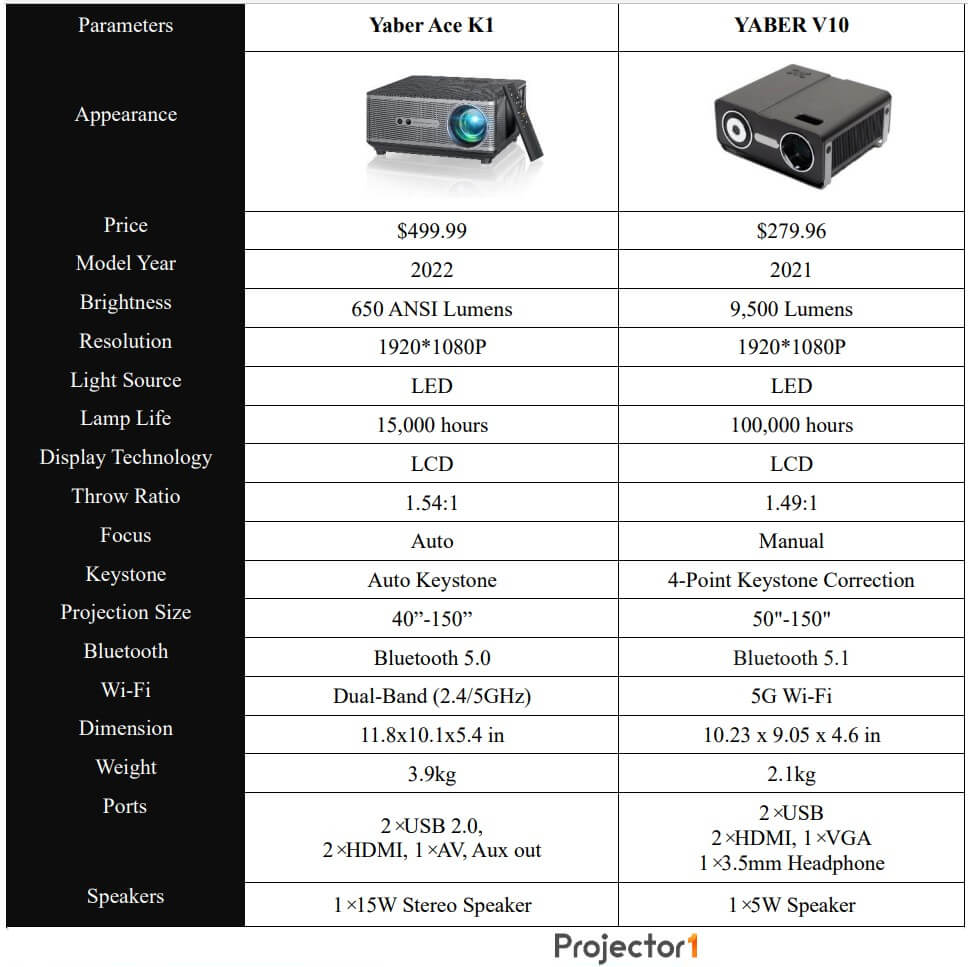 YABER ACE K1 vs YABER V10: Design
In terms of design, YABER ACE K1 is grand and brief while YABER V10 has many delicate and unique designs. The two projectors both adopt perforated metal shells so that they can cool down quickly.
YABER ACE K1 has no redundant accessories and the overall design is sleek and brief. It has a fully sealed optical machine to protect the optical system from dust pollution.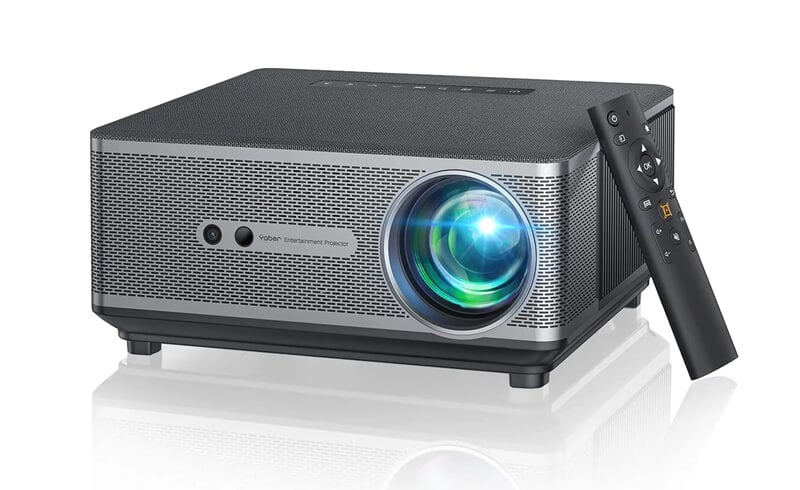 YABER V10 has two sturdy anti-oxidation bimetallic brackets, which add the projection height and make ceiling projection easier. The projector adopts a tri-side cooling system, and the design helps to promote heat dissipation and reduce noise.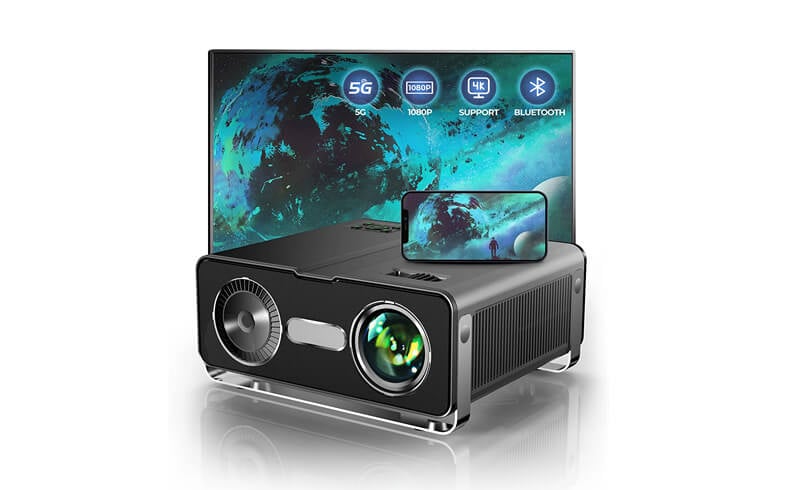 Regarding dimensions and weight, YABER V10 is relatively smaller and lighter.
YABER ACE K1 vs YABER V10: Brightness
The two YABER projectors both adopt LED light sources, but they have different lamp life and brightness. YABER ACE K1 has a lamp life of 15,000 hours while YABER V10 last 100,000 hours.

As for brightness, Yaber Ace K1 is rated at 650 ANSI Lumens. YABER V10 is labeled as 9,500 Lumens, but the brightness is measured from the light source instead of a projection image. Generally, the brightness of the projection image is less bright than the brightness of the light source. Therefore, many budget projectors are labeled as light source lumens to make them appealing.
The standard brightness unit of the projector is ANSI lumen in the US. You can know the difference between lumens and ANSI lumens in our previous post: Lumens vs ANSI Lumens.
YABER ACE K1 vs YABER V10: Image
The two projectors have the same 1080P resolution, but they still have slight differences in terms of image adjustment techniques. YABER ACE K1 is smarter than the YABER V10 projector.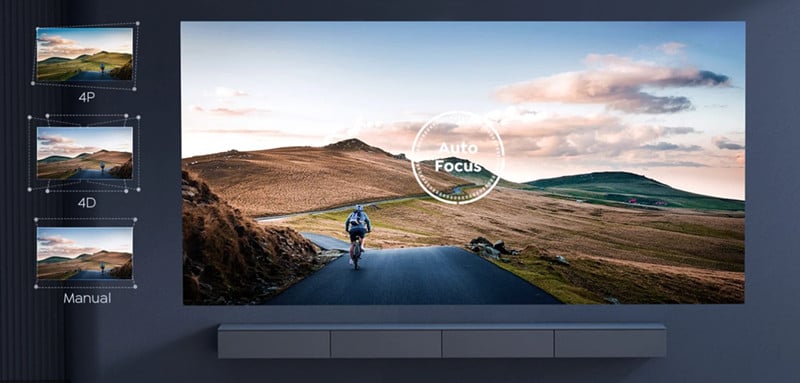 YABER ACE K1 supports auto keystone and autofocus, meaning that the projector can adjust the focus and keystone without manual operation. Instead, YABER V10 only supports manual keystone and manual focus.
YABER ACE K1 vs YABER V10: Throw Ratio
The throw ratio is the ratio of Throw Distance to Image Width. The bigger the throw ratio, the longer the projection distance when the image size is the same.
YABER ACE K1 has a throw ratio of 1.54:1 while YABER V10 has a throw ratio of 1.49:1. That is to say, it requires a shorter distance for YABER V10 projector than the YABER ACE K1 projector provided the projection image size is the same.
YABER ACE K1 vs YABER V10: Connectivity
The connectivity is also crucial as it determines the external possibility of the projector. The two projectors are both versatile in terms of wireless connectivity. They both support Wi-Fi, Bluetooth, and wireless mirroring.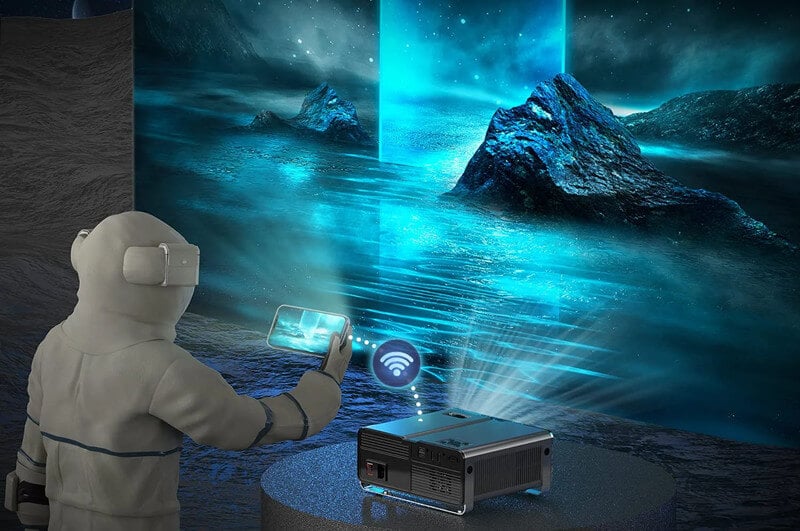 As for the interface, the two projectors are both equipped with 2 HDMI interfaces and 2 USB interfaces. YABER V10 has a VGA interface while the YABER ACE K1 doesn't.
YABER ACE K1 vs YABER V10: Audio
A good projector also should be equipped with excellent audio. The two YABER projectors both have a built-in speaker. YABER ACE K1 has a built-in 15W stereo speaker, which is more powerful than YABER V10's 5W speaker.
The two projectors both support Bluetooth, which can be connected to external speakers to get a better sound effect. Regarding noise, YABER ACE K1 is less noisy under normal conditions.
Pros and Cons
YABER ACE K1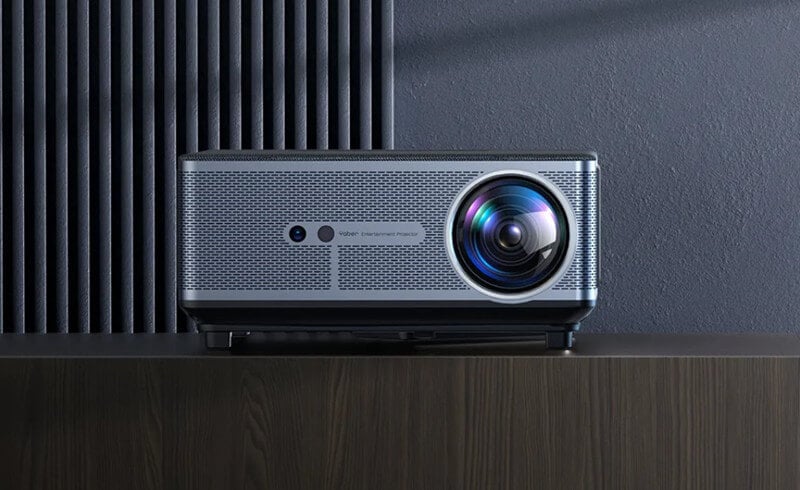 Pros
1080P Resolution
Crisp Image
Autofocus and Keystone
Wi-Fi and Bluetooth
Built-in 15W Speaker
Versatile Connectivity
Cons
YABER V10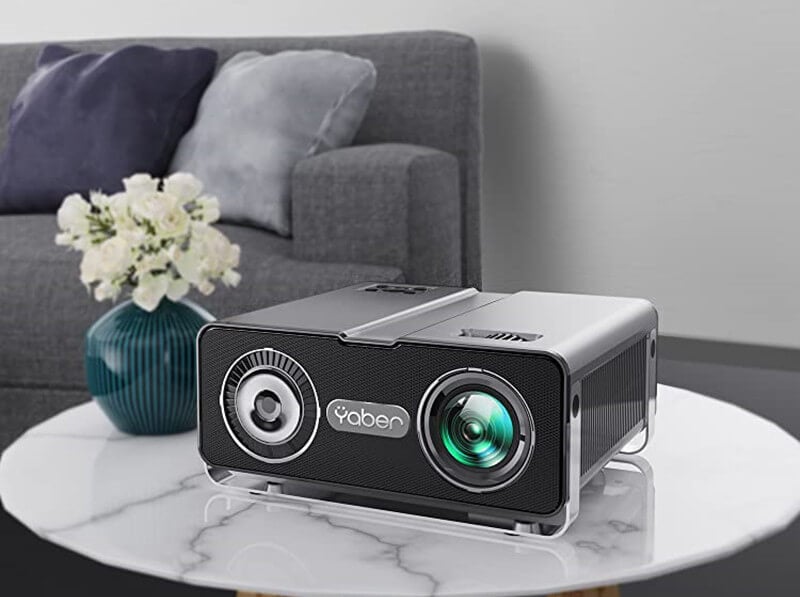 Pros
1080P resolution
Crisp Image
Unique Design
Smaller Size
Relatively Shorter Throw
Cons
A Little Noisy
 Laggy Bluetooth Audio Output
Conclusion
After the comparison above, we can conclude that YABER ACE K1 is better in terms of brightness and audio but it is comparatively expensive. YABER V10 is cost-efficient, but has lower brightness and is a little noisy during operation.
Related Posts