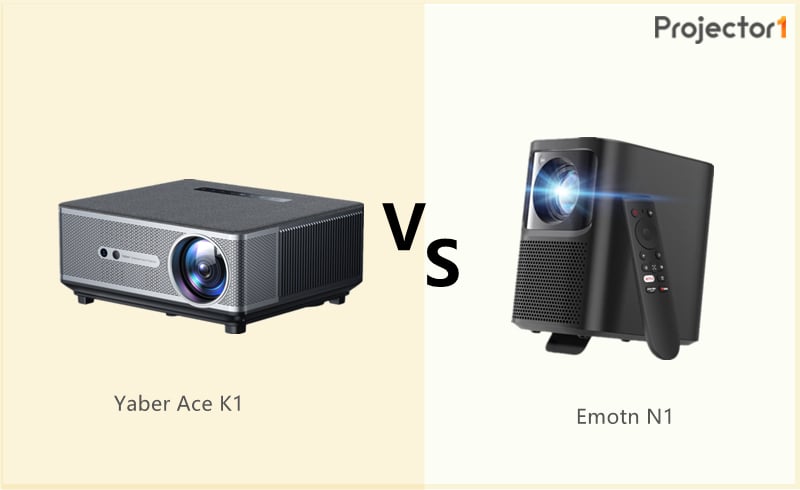 Yaber Ace K1 and Emotn N1 are both popular 1080P projectors with LCD display technology. In this guide, we will compare the two projectors from different perspectives and help you to know their pros and cons.
Yaber Ace K1 vs Emotn N1
Specs Comparison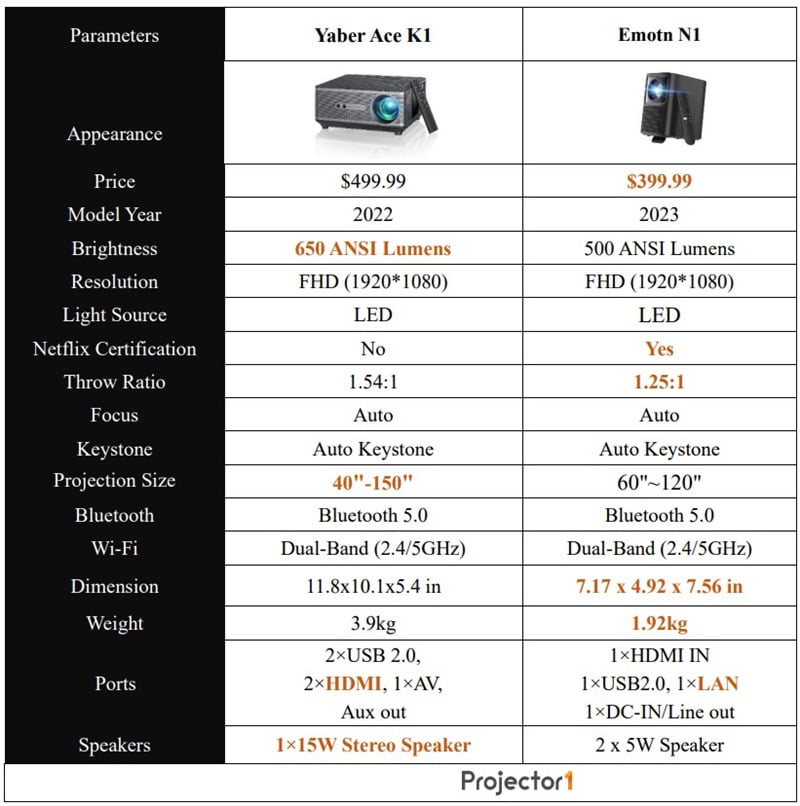 Yaber Ace K1 was released in 2022 while Emotn N1 is a 2023 model. Regarding price, the Emotn model is relatively cheap. See more specs comparison by means of the chart below.
Design Comparison
In terms of size, the Yaber projector is more of a common big video projector, while Emotn N1 is more of a portable projector. Yaber Ace K1 is wider and bigger than Emotn N1 in dimensions.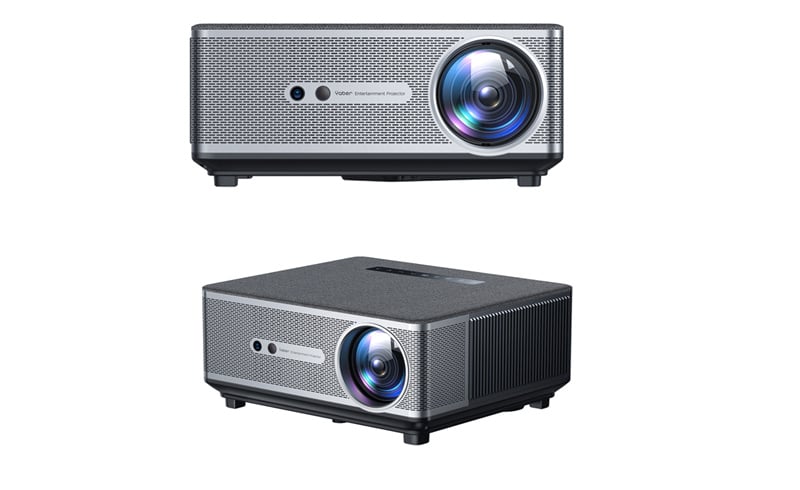 Regarding design, the two projectors both adopt perforated panels to promote heat dissipation. Yaber Ace K1 has a metal frame with fabric coverage on the top, while Emotn N1 has consistent panels, whose design style is simple and elegant.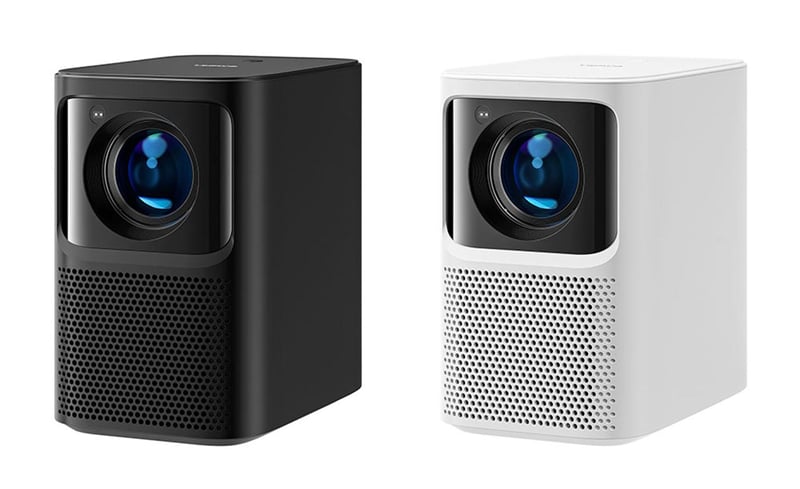 Yaber Ace K1 projector has four feet pads on the bottom to raise the height, while Emotn N1 has a kickstand to adjust the projection height and angles.
Image Comparison
Brightness
The two projectors adopt LED as a light source, but they have different brightness. Yaber Ace K1 has 650 ANSI Lumens, and Emotn N1 has 500 ANSI lumens. That's to say, Yaber Ace K1 is slightly brighter than Emotn N1. But the two projectors are not suitable for use in well-lit rooms during the daytime. To improve the viewing effect, you'd better turn off the lights and create a dim environment.
Resolution
They have the same 1080P resolution, which is a common and acceptable configuration for the price tag.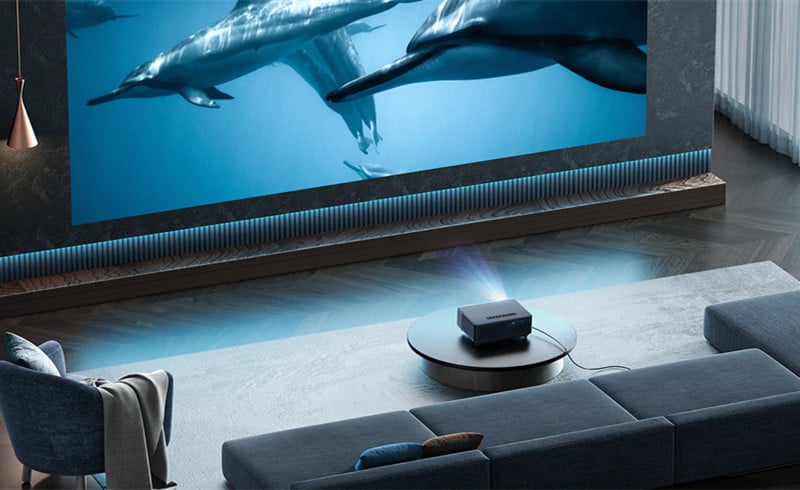 HDR
HDR is an imaging technique that is widely seen in home theater, and it can enhance image brightness and dark details greatly. Emotn N1 supports HDR10 while the Yaber projector has no HDR support.
Throw Ratio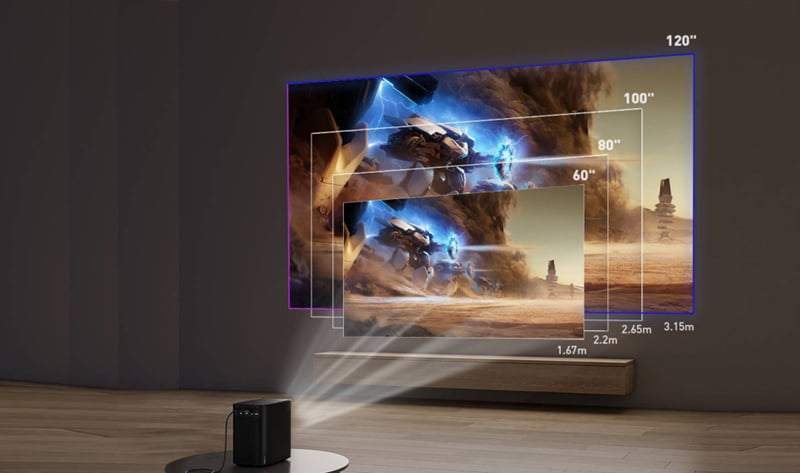 The projector throw ratio determines the throw distance that the projector requires when the image size is fixed. A shorter throw requires a short distance and vice versa. Yaber Ace K1 has a throw ratio of 1.54:1 while Emotn N1 has 1.25:1. For example, it requires a longer distance for the Yaber projector than the Emotn counterpart when the image is the same 100 inches.
Image Adjustment
The two projectors both support autofocus and auto keystone, which can adjust the image automatically. These features relieve users of troublesome adjustments.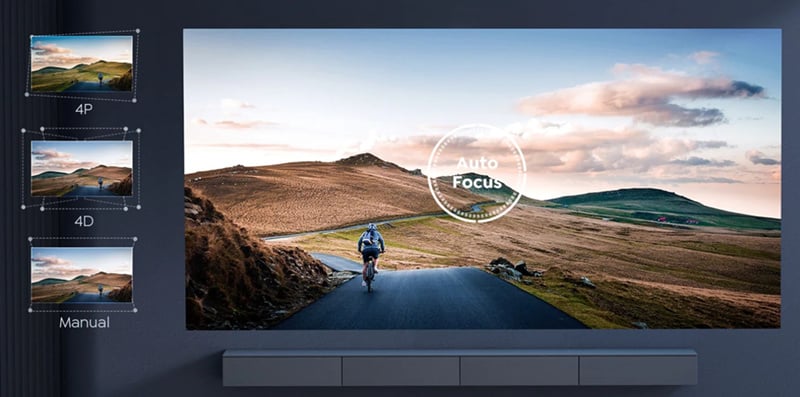 Content
If you want to watch movies or TV series via the projector directly, then you need to pick a projector with built-in streaming apps.
Yaber Ace K1 has no built-in streaming apps and you need to connect it to an external device (for example, Roku, TV stick) to access online movies or broadcasting.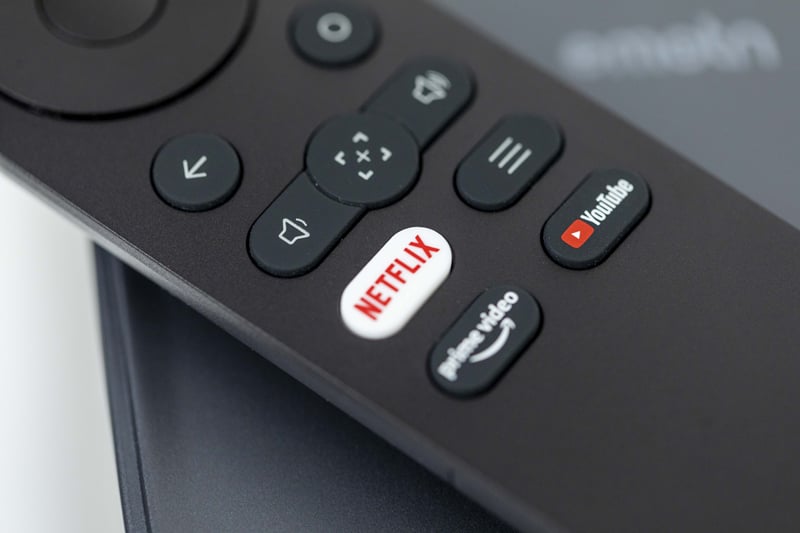 Emotn N1 is officially licensed by Netflix, and you can enjoy a variety of movies or TV series via the projector directly. Besides, it has built-in YouTube and Prime Videos. By pressing the buttons on the remote, you can access the streaming app quickly.
User Interface
Yaber Ace K1's UI is simple and clear. The common features have a dedicated tab on the homepage so that users can access the corresponding function quickly and conveniently.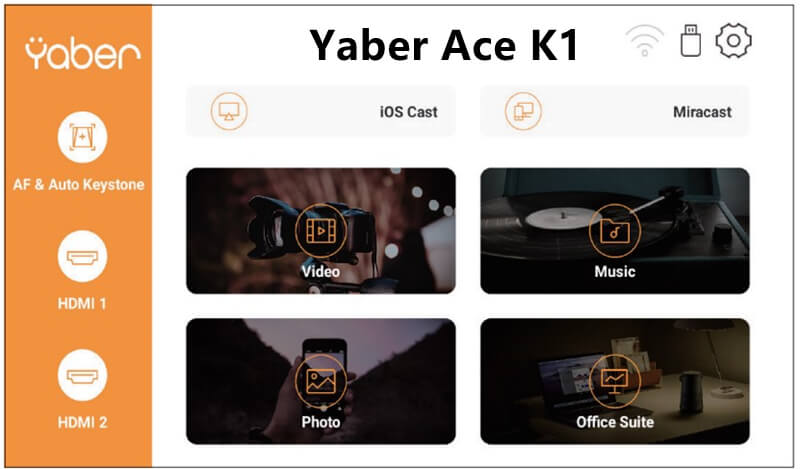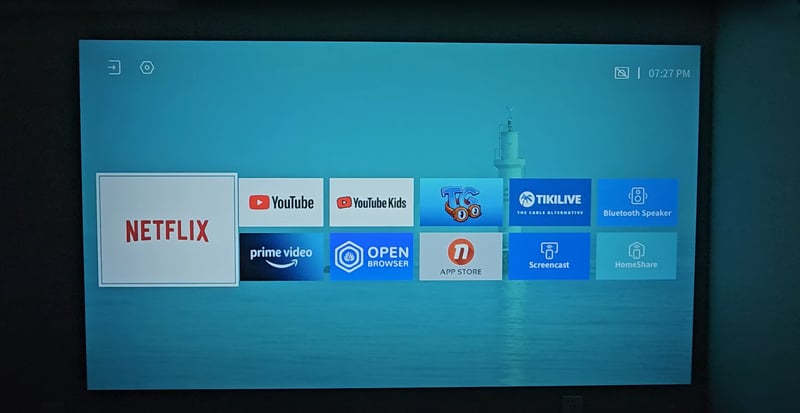 Emotn N1 has many built-in streaming apps, and users can access them on the homepage. You can find screencast, HomeShare, and other useful features on the first row on the homepage.
Connectivity
The two projectors both have Wi-Fi and Bluetooth functions. They both support screen mirroring from smartphones and other devices.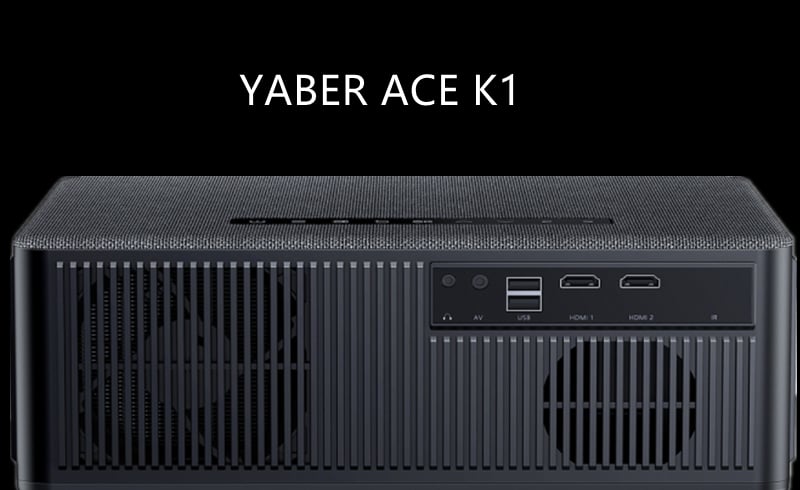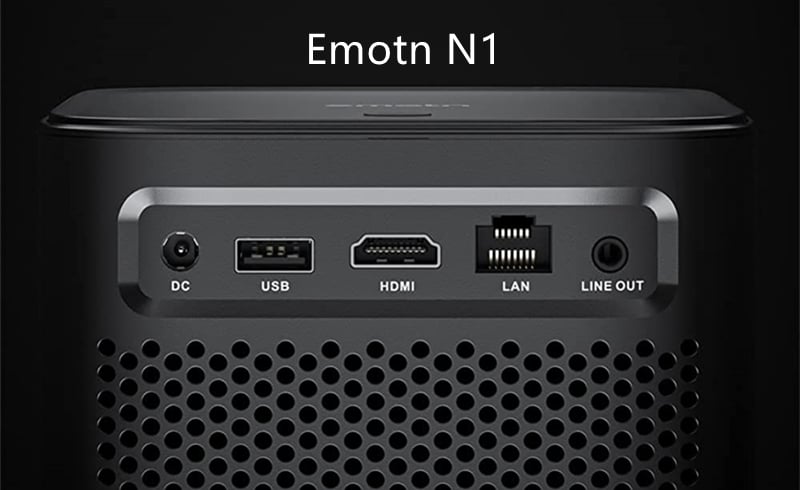 As for the ports, the two projectors both have HDMI and USB interfaces, but the Yaber Ace K1 has one more HDMI interface.
Audio
The two 1080P projectors both have built-in speakers. Yaber Ace K1 has a 15W speaker while Emotn N1 has dual 5W speakers. On the whole, the Yaber projector's audio is more powerful.
The two projectors can be connected to external speakers via Bluetooth or via the audio port.
Pros and Cons
Yaber Ace K1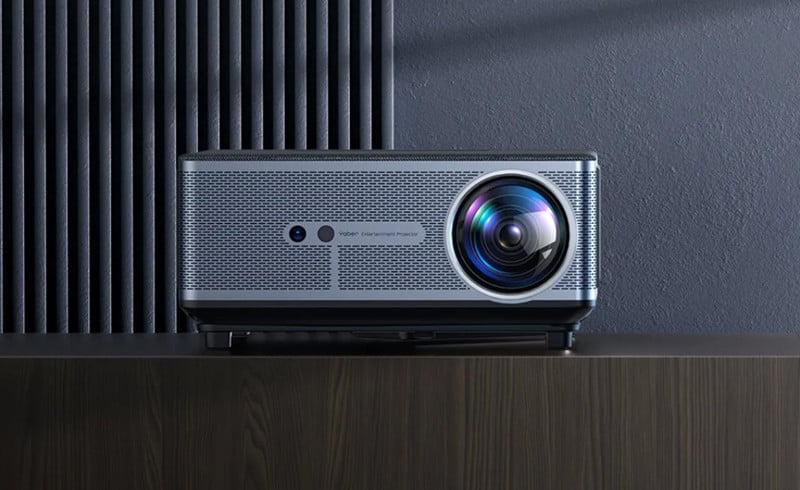 Pros
Relatively Brighter
Bigger Image
Dual HDMI Ports
Cons
Longer Throw
Relatively Bulky
No Content
No HDR
Emotn N1
Pros
Lower Cost
Built-in Netflix
Shorter Throw
Portable Design
HDR10
Cons
Conclusion
The two projectors both have their pros and cons.
Yaber Ace K1 is slightly brighter and produces a relatively bigger image, but it has no HDR compatibility and no built-in content resources. Besides, it has a relatively more powerful speaker.
Emotn N1 has an edge on lower cost, shorter throw, HDR compatibility, built-in content resources (Netflix, YouTube, and Amazon Prime video), and portable design.
Related Posts