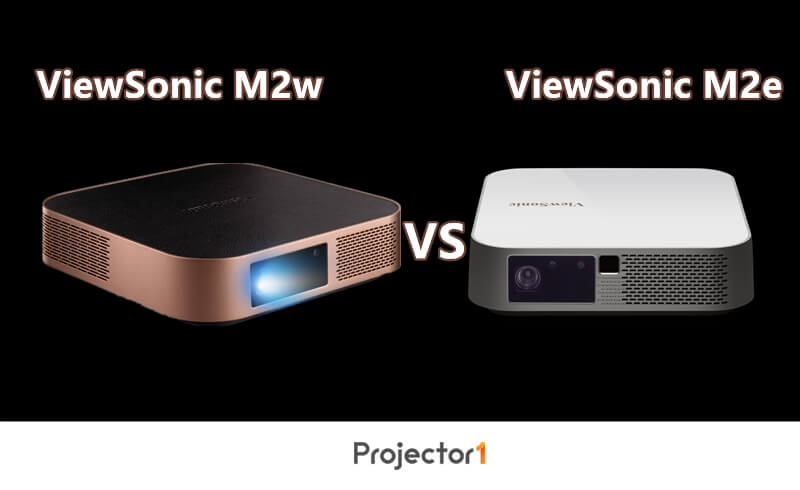 ViewSonic M2w and ViewSonic M2e are both portable projectors from the ViewSonic M series. This guide will introduce and compare the two projectors from different perspectives to help you to compare the two projectors.
ViewSonic M2w vs ViewSonic M2e
The two projectors have similar shapes and designs, but they are different in terms of image resolution, light source, image size, and more.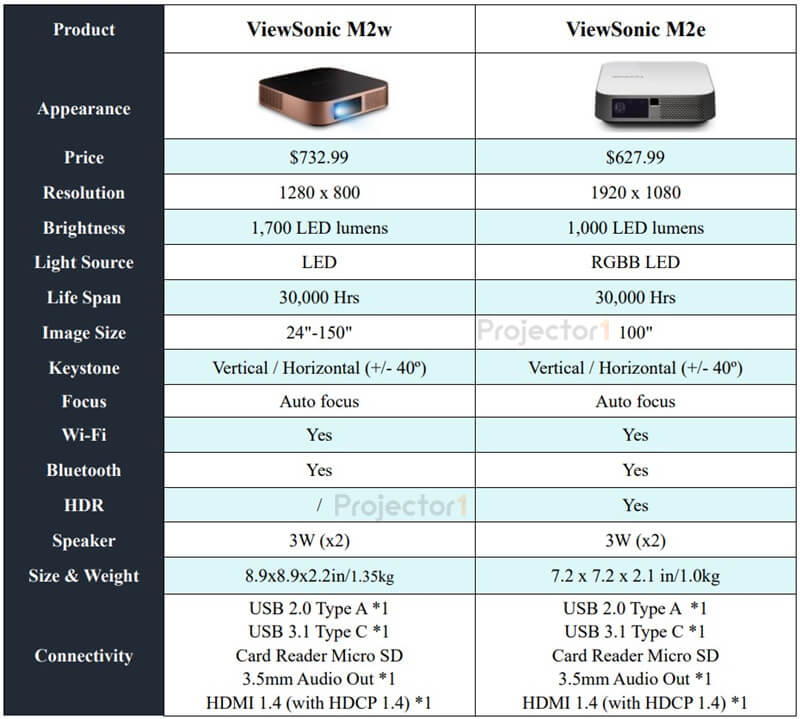 In the following section, we will compare the two projectors in detail.
Design Comparison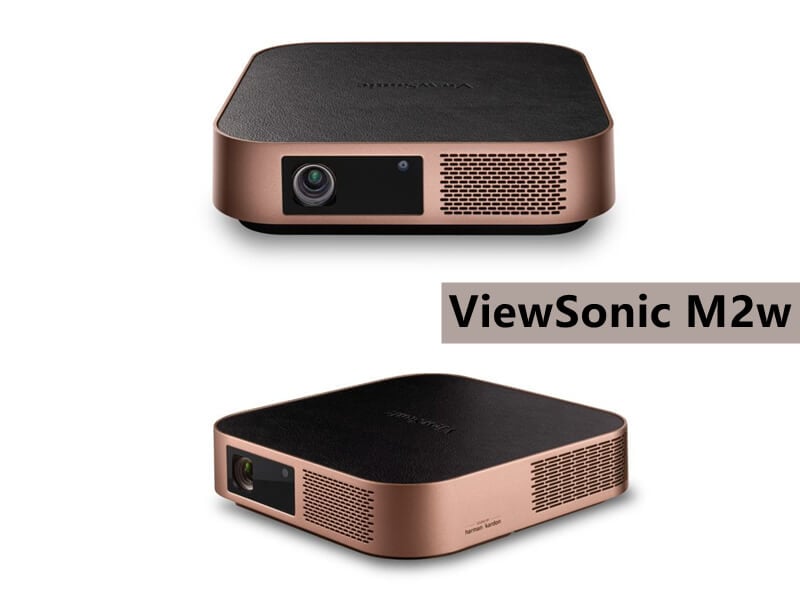 The two projectors have similar shapes, which are thin and square. There are several perforated vents on the side panels to allow heat dissipation and clear sound. They are both equipped with a stand on the bottom to adjust the height and projection angle. In terms of color rendering, The M2W has contrasting colors of black and rose gold while the M2e projector is wholly grey or black.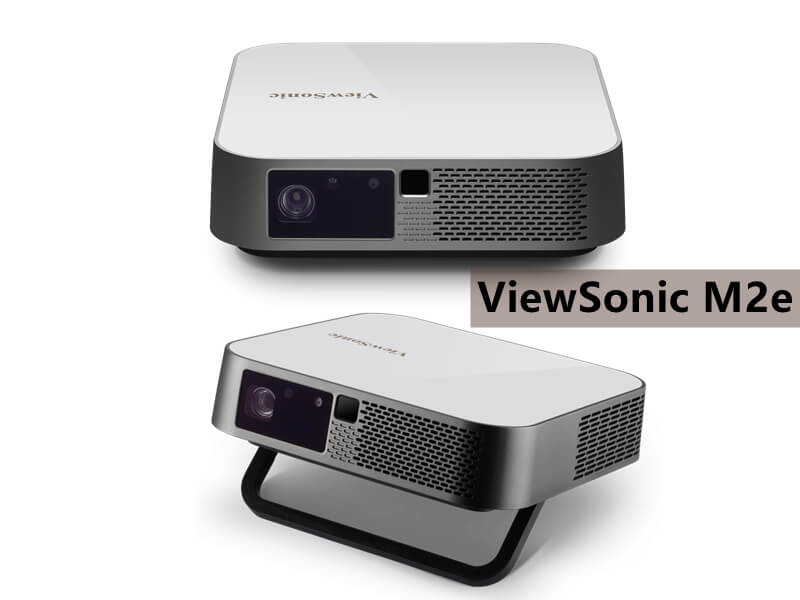 Regarding dimensions and weight, ViewSonic M2w measures 8.9×8.9×2.2 inches and weighs 1.36 kg, slightly bigger and heavier than the M2e projector.
Light Source
In terms of the light source, ViewSonic M2w adopts an LED light source while ViewSonic M2e has RGBB LED light engine. Compared with common LED, the RGBB LED light engine performs better in terms of color performance. As for light sources, the two projectors have the same light source life of 30,000 hours.
The light source life is long enough that can last more than 16 years if used 5 hours per day.
Image Comparison
ViewSonic M2w and M2e have big differences in terms of image quality. Regarding resolution, ViewSonic M2w has a display resolution of 1280 x 800 while the M2e model has 1920 x 1080 FHD resolution.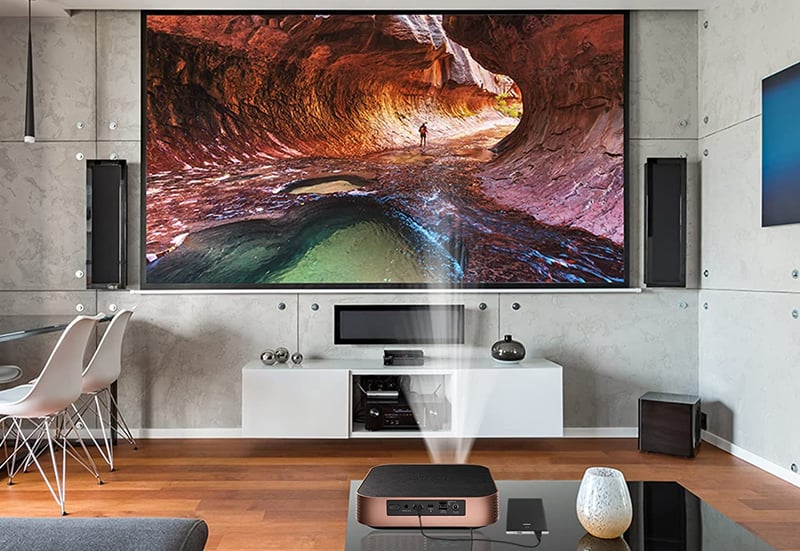 The other factor that determines the image quality is brightness. ViewSonic M2w has 1,700 LED lumens, while the M2e projector has 1,000 LED lumens. In other words, ViewSonic M2w is slightly brighter. LED lumens are not universal and standard brightness units and you can use the lumens to ANSI lumens converter to convert different brightness units.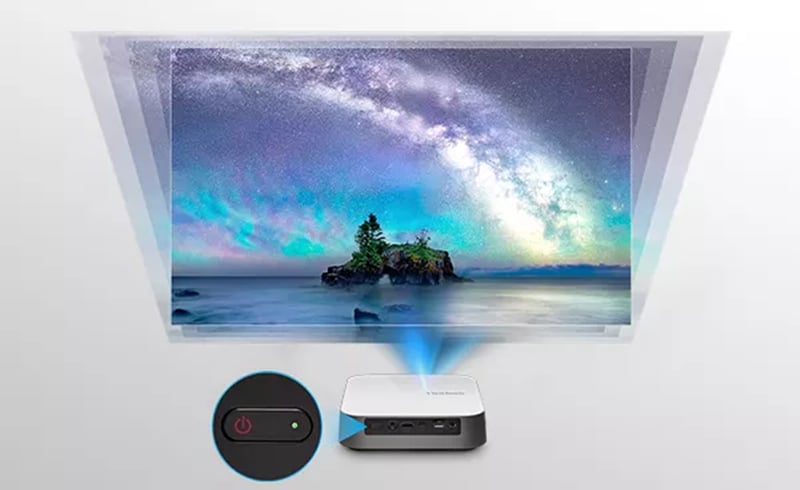 For keystone, the two projectors both support vertical and horizontal keystone, but only ViewSonic M2w supports auto keystone. The two projectors both support Autofocus, a useful feature that can adjust focus automatically without manual operation.
Regarding size, ViewSonic M2w has a max image size of 150 inches, bigger than the ViewSonic M2e projector's max image size of 100 inches. As for the throw ratio, the two projectors have the same throw ratio of 1.2:1.
Connectivity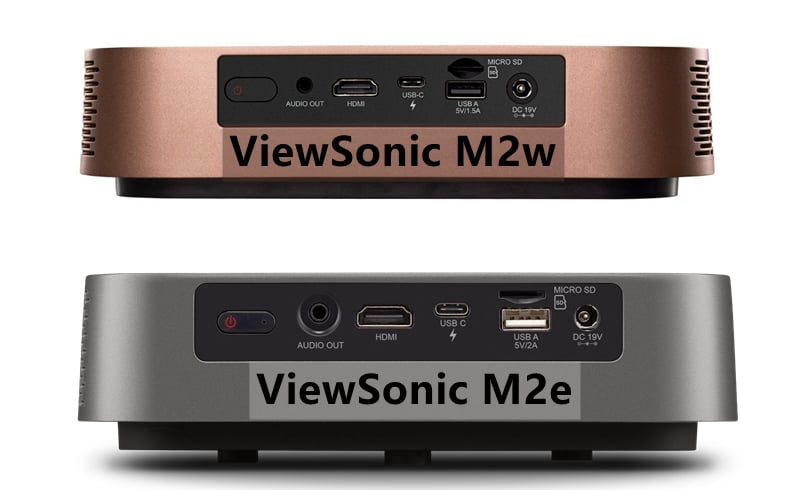 The two projectors both support Wi-Fi and Bluetooth, making wireless connection convenient and quick. Besides, they are both equipped with HDMI, USB C, USB A, and Micro SD, which can be connected to various external devices, such as ROKU, Chrome Cast, Fire TV Stick, etc.
As for the HDMI interface, the two projectors only have only 1 HDMI 1.4, which is not smart enough compared with HDMI 2.0.
You may be interested in HDMI vs HDCP.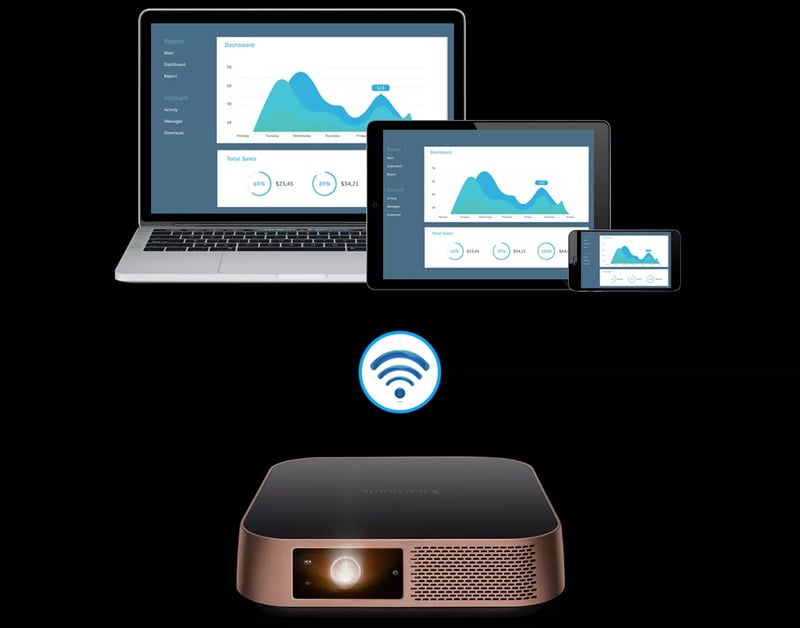 The two projectors both support screen mirroring, and you can mirror your screen from iPhone or tablet onto a projector screen.
Audio
ViewSonic M2w and M2e both have built-in speakers. The two projectors are both equipped with dual 3W speakers from Harman Kardon. The internal speakers are not powerful enough, and you can connect the projector to external speakers to get better sound.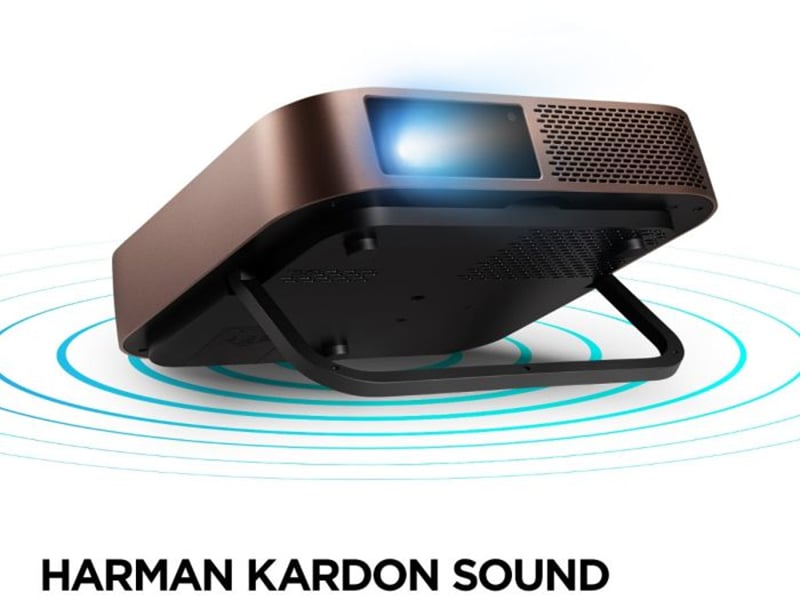 Pros and Cons
The pros and cons are given based on a comparison of the two projector models.
ViewSonic M2w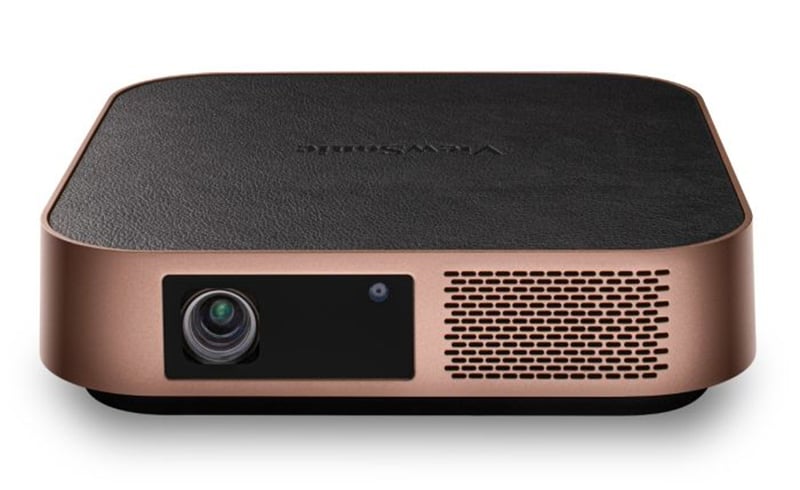 Pros
Higher Brightness
Bigger Image Size
Cons
1 HDMI 1.4 Only
No HDR Support
Lower Resolution
ViewSonic M2e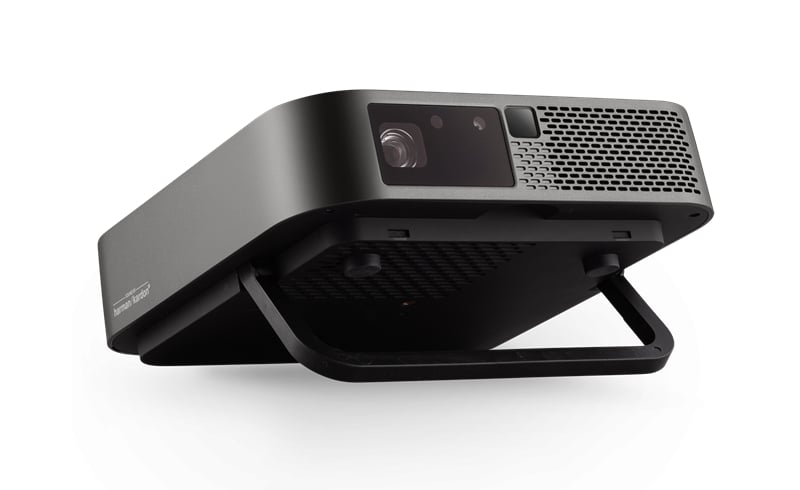 Pros
FHD 1080P Resolution
Auto Keystone
HDR Support
Lower Cost
Cons
1 HDMI 1.4 Only
Not Bright Enough
Smaller Size
Conclusion
Through the comparison above, we can find that the major differences between the two projectors are mainly appearance, image quality, and brightness. ViewSonic M2w has an edge on brightness and image size, while ViewSonic M2e is better in image resolution. If you want to use the projector in well-lit rooms, then you can choose ViewSonic M2w. However, if you use the projector at night for most instances, then you can choose ViewSonic M2e.
Related Posts