This is a review of new released Panasonic PT-WZ4301 Projector, to see what' good about this business projector.
One of the major advantages of Panasonic PT-WZ4301 is that it has a wide variety of interfaces, including two HDMI ports, VGA input/output, Video, Audio, USB, network ports, etc., which can perfectly meet the connection requirements of various scenarios, and win user reputation and reputation at a deeper level. satisfaction.
In terms of wireless connection, the Panasonic PT-WZ4301 has also been upgraded to support Miracast screen casting. Both Android mobile phones, tablets and Win10 computers can directly cast screens. The one-click operation can achieve low-latency and high-precision screen casting demonstrations like mobile phones, the wireless screen projection function not only makes sharing images more convenient, but also saves the trouble of complicated wiring, and the convenient operation improves user comfort.
Compared with the previous generation model, the brightness of Panasonic PT-WZ4301 has been greatly improved, and 4300 lumens can ensure excellent display clarity even in bright spaces. In addition, the contrast ratio has also been increased to 16000:1, and the color performance is even better when playing videos or pictures. It can be seen in the experience that the text display is very clear on the 100-inch screen. The resolution of Panasonic PT-WZ4301 is 1920×1200, and the detailed information can be clearly read out in the presentation of the content of the chart. In addition, the excellent color brightness brought by 3LCD technology also makes the color of the chart quite distinct.
When playing videos, the details are also displayed vividly and naturally. Panasonic PT-WZ4301 presents users with exquisite and smooth movie and game pictures, bringing a pleasant experience of large-screen swimming. Not only that, its built-in 16W high-power audio is loud and clear, which brings better sound quality than the 10W audio of the previous model.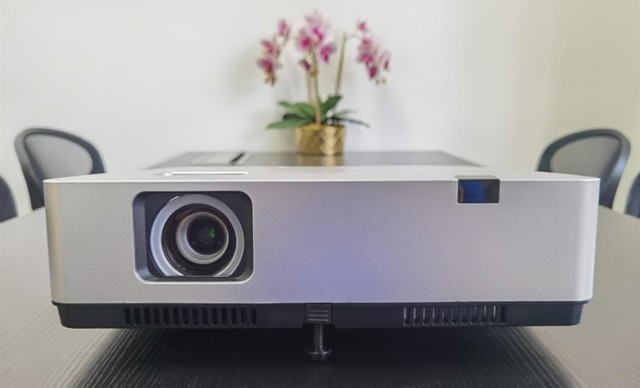 As an exclusive model for e-commerce platforms, Panasonic PT-WZ4301 is excellent in both appearance and performance. It has been optimized and perfected in image correction, wireless projection, built-in audio, etc., and continues its professional brand image and product tonality. The comprehensive strength is leading, the cost performance is high, and it is worth buying.
Read more:
JMGO O1 Projector Companion Mode Review
LG BU50NST Projector Review: UHD 4K Resolution & 5000 Lumens
LG CineBeam HU915QE Projector – High-end Tri-Laser Projector Review