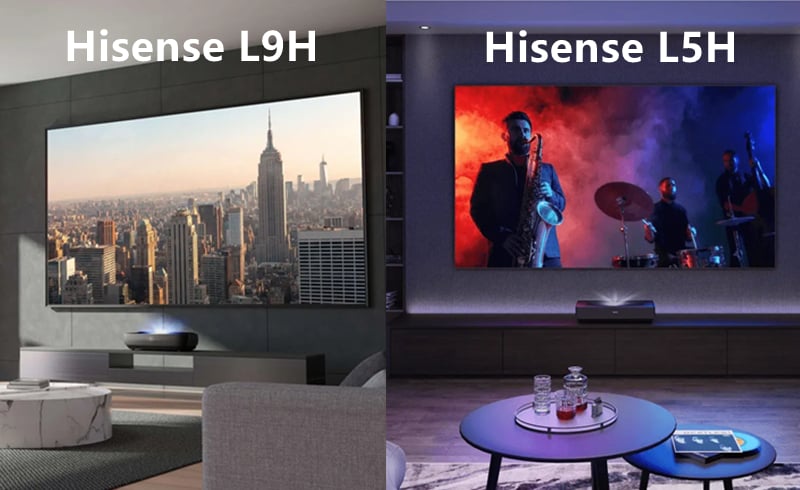 Hisense L9H and Hisense L5H are both new projectors released at CES 2023. The two projectors are both new UST projectors. In this guide, we will compare the two projectors, helping you to know their differences clearly.
Hisense L9H vs L5H
You can know their differences clearly by means of the table below.
| | | |
| --- | --- | --- |
| Projector Model | Hisense L9H | Hisense L5H |
| Shipping Date | Summer 2023 | Summer 2023 |
| Light Source | Triple-Laser | X-Fusion Laser Light Source |
| Resolution | 4K Resolution | 4K Resolution |
| Brightness | 3000 ANSI lumens | 2700 ANSI lumens |
| Color Gamut | 107% of BT.2020 | / |
| Contrast | 2,000,000:1 (Dynamic) | 3000:1 Static |
| Dolby Vision | Yes | Yes |
| Lamp Life | 25,000 H | 25,000 H |
| Image Size | 100" and 120" | 100" and 120" |
| Image Tech | Smooth Motion and MEMC | Smooth Motion and MEMC |
| Wi-Fi | Wi-Fi 6e | Wi-Fi 6e |
| Audio | Dolby Atmos | Dolby Atmos |
| Speaker | 40W | 40W |
| System | Google TV | Google TV |
| ATSC 3.0 | Yes | Yes |
Similarity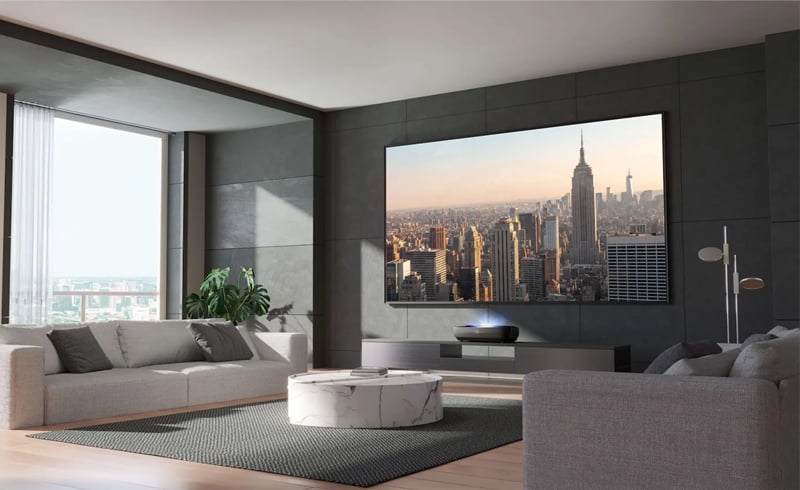 After comparing the two projectors, we can see that the Hisense L9H and Hisense L5H have the same 4K resolution, Dolby Vision, and image size. In terms of system, they have the same Google TV and ATSC 3.0 (Advanced Television Standards Committee) broadcast standards.
The Smooth Motion and MEMC features of the two projectors ensure a smooth viewing experience without lag, image trailing, or jitter when you play games or watch game shows.
Hisense L9H and Hisense L5H are the same in terms of projection size, including 100" and 120".
For connectivity, the two Hisense projectors have the same Wi-Fi 6e standard and 3 HDMI (2 x [email protected],1 x eARC) interfaces.
You may be interested in HDMI vs HDCP.
Differences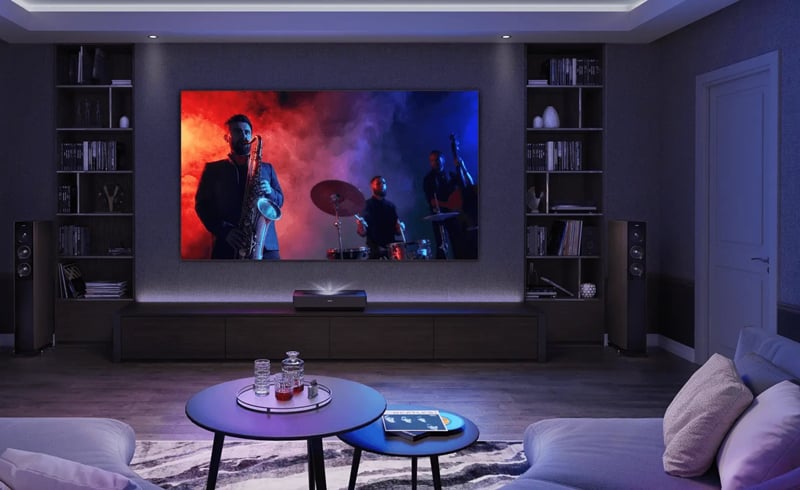 The major differences between the two projectors lie in the outer design, brightness, light engine, and game mode.
In terms of outer design, the two projectors are typical of most UST laser projectors on the market. Hisense L9H projector is relatively roundish while Hisense L5H has sleek lines and square frames. As for size, Hisense L9H is slightly bigger and taller than its sibling.
Regarding brightness, Hisense L9H has 3000 ANSI lumens while Hisense L5H has 2700 ANSI lumens. In other words, Hisense L9H is brighter than the L5H model. Projectors with higher brightness can produce bright and clear images during the daytime or under ambient light.
For light engines, Hisense L9H adopts Trichroma Triple-Laser Light Engine while the L5H projector is equipped with X-Fusion™ Laser Light Source and Blue Laser + Phosphor Color Filter Laser Engine.
The game mode is a useful mode for gamers. Hisense L9H has Game Mode, while the L5H projector has Game Mode Pro. For the time being, Hisense has not disclosed the retail price and exact market date. Hisense L9H and Hisense L5H will be available in the Summer of 2023.
Related Posts
Samsung 8K Projector vs Samsung Premiere 4K Projector