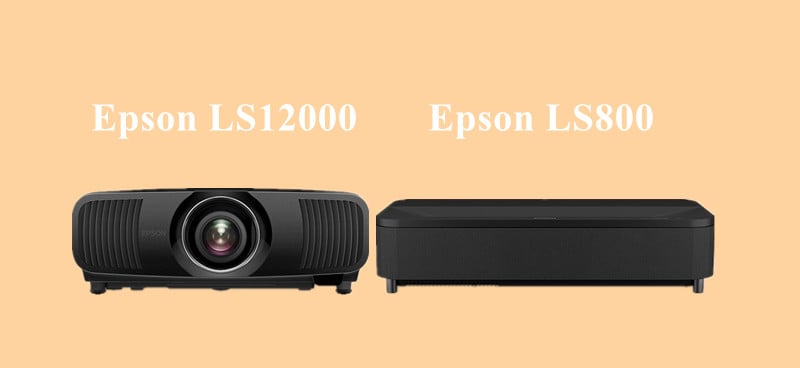 Epson LS12000 and Epson LS800 are both home theater projectors released in 2022. Which projector is better for home use? In this guide, we will compare the two projectors side by side and find out the pros and cons of each projector.
Epson LS12000 vs Epson LS800
Overview
The two projectors are both 4K laser projectors for home use, but they have obvious differences in terms of function and market position. Epson LS12000 is a projector without Android TV, which means that users need to connect the projector to external devices to access content and live shows. Epson LS800 is a UST (Ultra Short Throw) projector with smart Android TV.
Design
Epson LS12000 is black while Epson LS800 has two optional colors, including black and white.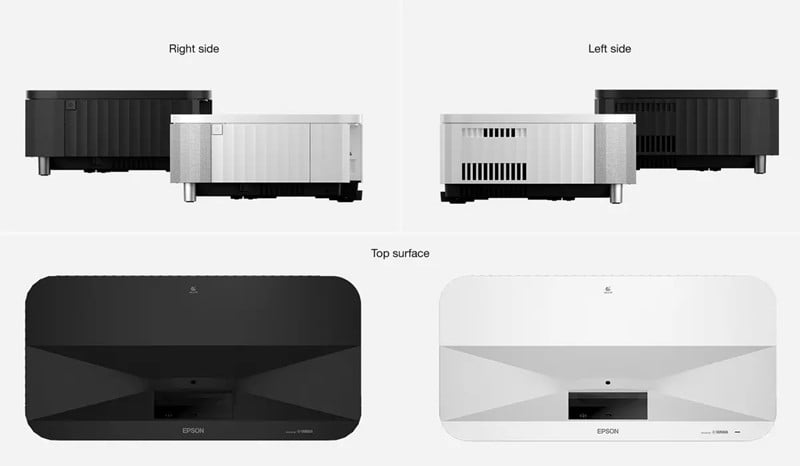 From the front view, we can see the lens module of the Epson LS12000 is located at the center of the front panel while Epson LS800 has nothing on the front panel. That's because the lens of the Epson LS800 is located at the groove in the upper side.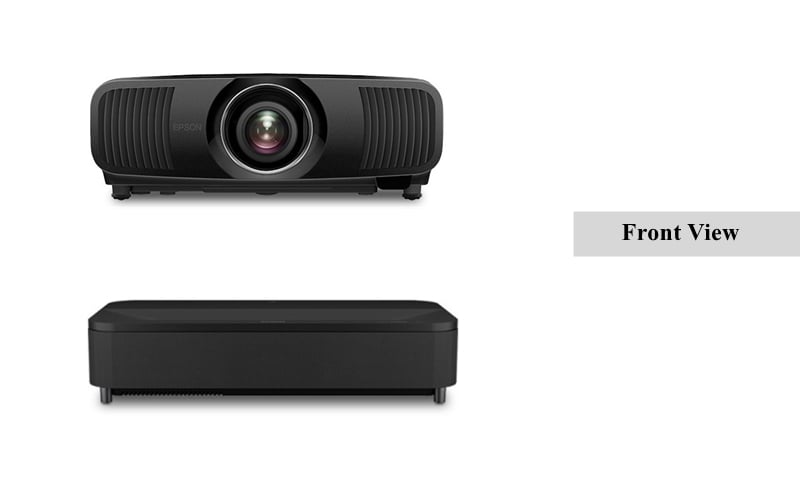 Looking from the top, we can see that the Epson LS12000 is flat and has a big Epson logo on the center, while Epson LS800 has a deep groove on the top panel to nestle the lens module.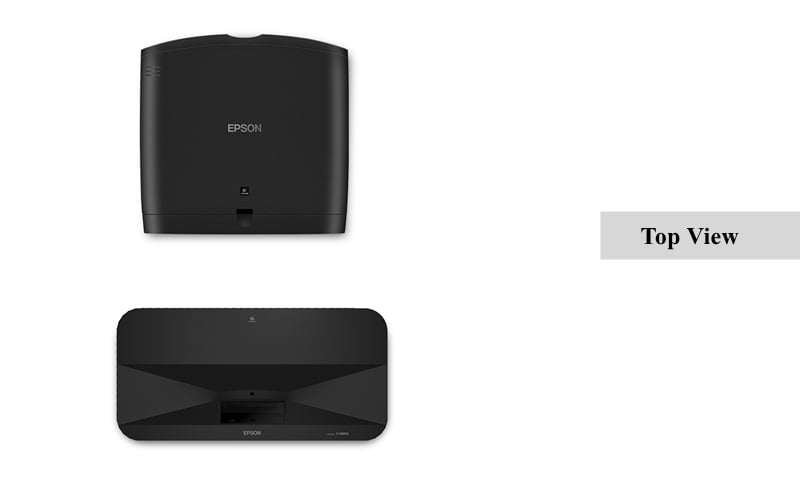 Observed from the side, we can see that Epson LS12000 has more vents than the Epson LS800, and the lines of the LS800 projector are sleeker.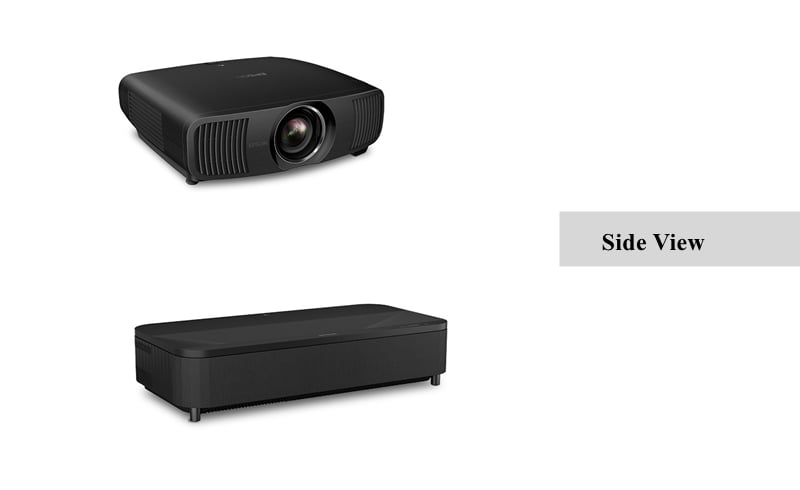 As for dimensions, the LS12000 model measures 20.5″ x 7.6″ x 17.6″ while the LS800 measures 27.4″ x 6.2″ x 13.4". That is to say, the LS12000 model is smaller than the LS800 model but the Epson LS12000 is higher in height.
Throw Ratio
The throw ratio determines the throw distance when the image size is fixed. Epson LS12000 has a throw ratio range of 1.35-2.84 while Epson LS800 has a throw ratio range of 0.16-0.40:1. In other words, it requires a longer distance for Epson LS12000 to project the same image size as Epson LS800.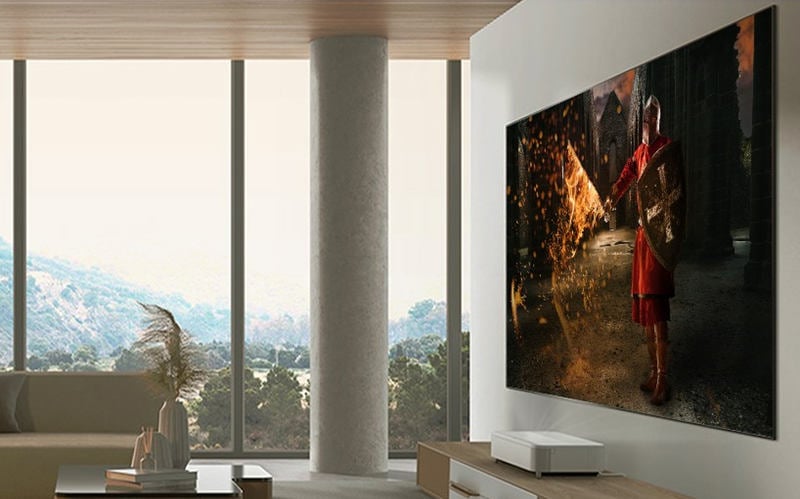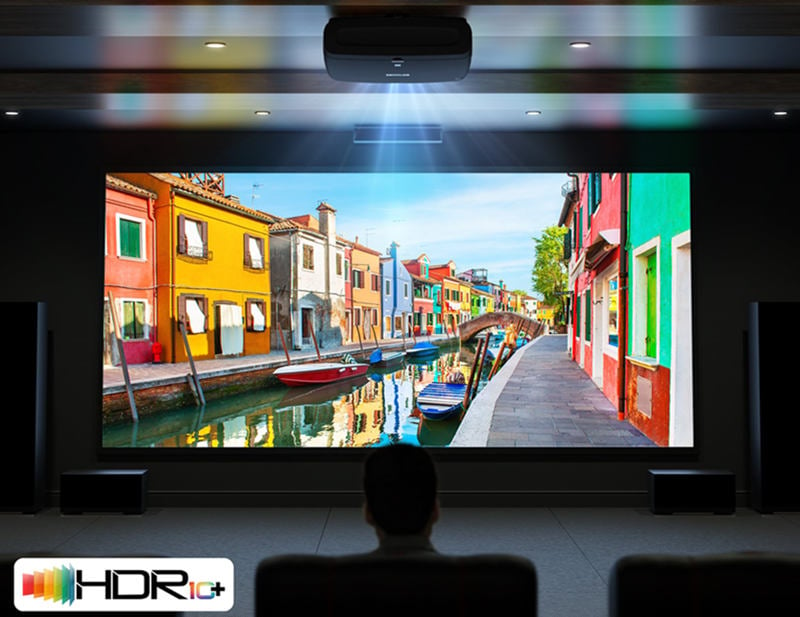 The setup methods of the Epson LS12000 and Epson LS800 are also different. You can place Epson LS800 near the wall or screen on the cabinet just like a TV, while the Epson LS12000 should be placed far from the screen or wall if you want to get a bigger image size.
Image
The two projectors use the same 3LCD display technology and have the same 4K resolution and high contrast of 2,500,000:1, but they are different in terms of image brightness and image size.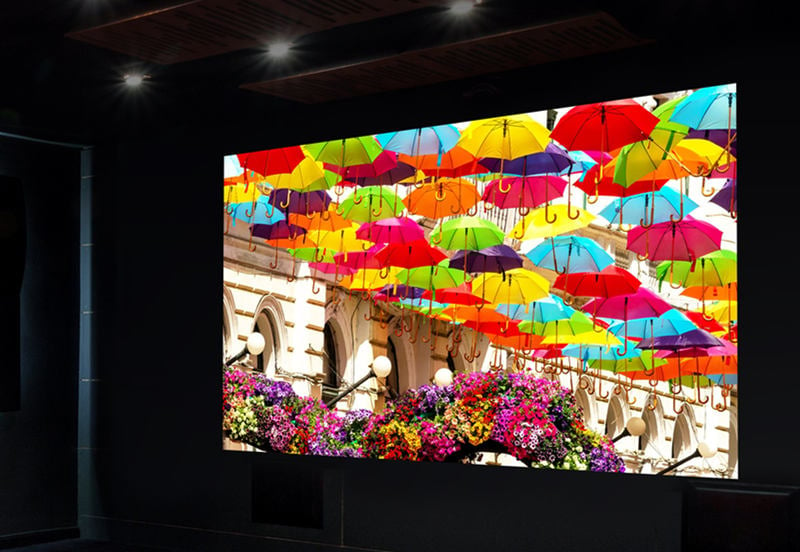 As for image brightness, Epson LS12000 has 2,700 lumens while the Epson LS800 has 4,000 lumens. If you want to use the projector during the daytime, a projector with high brightness is recommended.
Regarding image size, Epson LS12000 has an image size range of 50″-300″ while Epson LS800 can project at most 150″. A bigger image can better deliver the image and bring an immersive viewing experience. But if your room is not spacious, a 150" image is big enough.
HDR is also critical for image experience. Epson LS12000 and Epson LS800 are both compatible with HDR10 and HLG.
Check our previous post Dolby Vision vs HDR10 vs HLG to know more about HDR.
System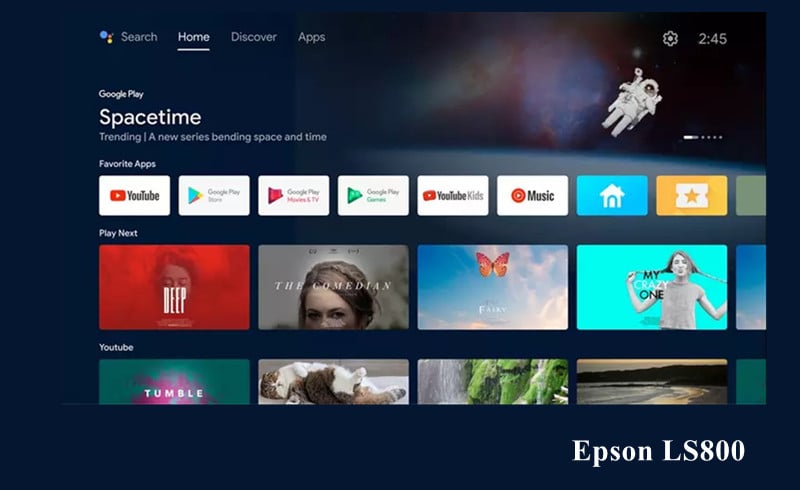 Epson LS12000 has no built-in smart system while Epson LS800 is powered by an Android TV system. Compared with projectors without a smart system, projectors with built-in Android TV enable users to download and install streaming apps from the Google Play store and get more smart features, such as voice control.
Connectivity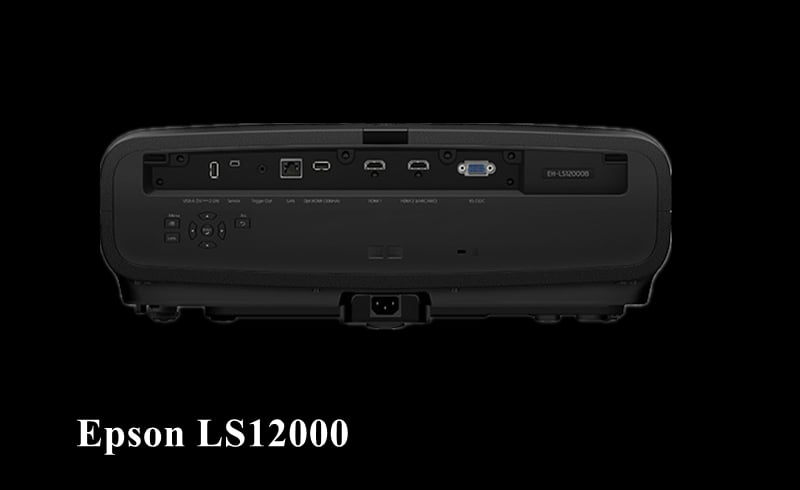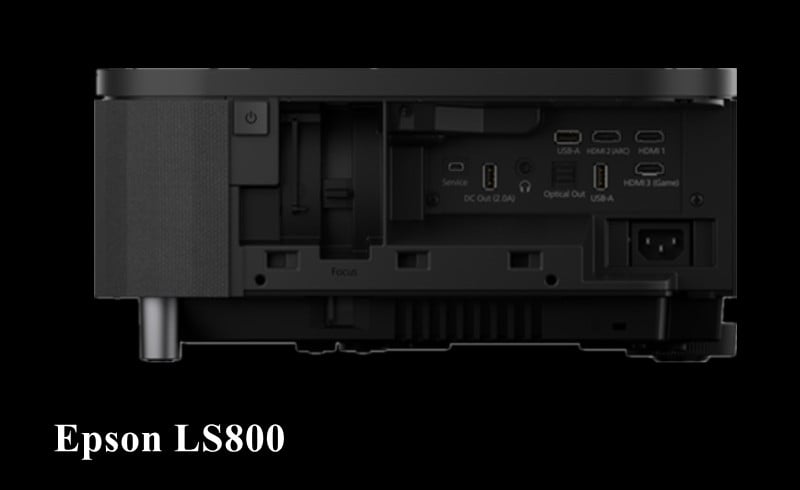 The connectivity of projectors can enhance and amplify their original features. After comparing the two projectors, we can find that Epson LS12000 is poor in terms of wireless connectivity (no Wi-Fi or Bluetooth) but it is better in ports.
Put simply, the Epson LS12000 has HDMI 2.1 while Epson LS800 has HDMI 2.0 interface. In addition, Epson LS12000 has a LAN port to connect the projector to the network while Epson LS800 has both Wi-Fi and Bluetooth.
Models
Epson LS12000
Epson LS800
Interfaces
2x HDMI 2.1 (HDCP 2.3)
1x USB Type-A
1x USB Type-A 5 V,
1x Mini USB (service only)
1x LAN RJ45
1x RS-232c
1x Trigger out
3x HDMI 2.0
3x USB 2.0-A
1x USB 2.0 Type B
1x Jack Plug out
HDMI ARC
1x S/PDIF Optical Out
1x Mini Stereo Out
Wi-Fi
No
Yes
Bluetooth
No
Yes
Gaming Performance
The refresh rate and input lag are both key parameters for gaming performance. Through the comparison table below, we can know that Epson LS12000 has a max refresh rate of 4K at 120 Hz while Epson LS800 has up to 1080P 120 Hz. Their Input lag is approximated.
On the whole, Epson LS12000 has better gaming performance.
| | | |
| --- | --- | --- |
| Models | Epson LS12000 | Epson LS800 |
| Refresh rate | 4K at 120 Hz | Up to 1080P 120 Hz |
| Input Lag | below 20ms | 16.7ms |
Audio
Regarding audio, Epson LS12000 has no built-in speaker while Epson LS800 has built-in 20W speakers, including two full-range 5 W speakers and one 10 W subwoofer. As Epson LS12000 has no built-in speaker, you need to connect it to an external speaker first.
The noise produced by the fan is also critical for sound effects. As for noise, Epson LS12000 produces 22–30 dB during normal operation while Epson LS800 produces 22–32 dB.
Pros and Cons
Epson LS12000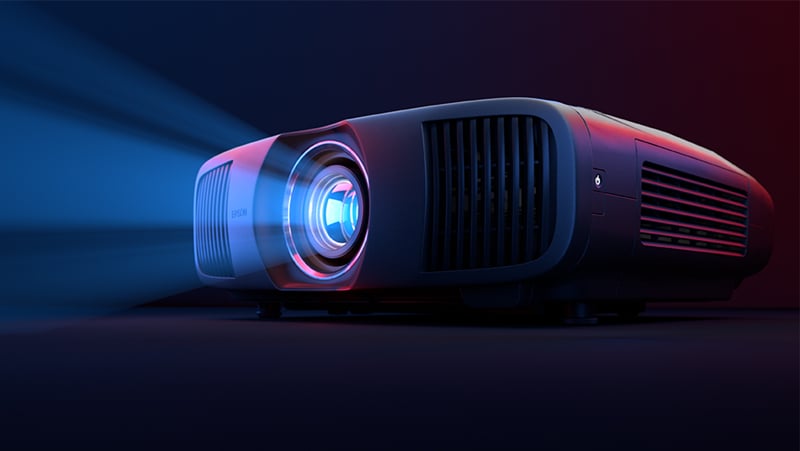 Pros
4K Resolution
4K at 120 Hz
HDR10 and HLG
HDMI 2.1
Cons
No 3D
No Wi-Fi
No Built-in Speakers
Long Throw
Epson LS800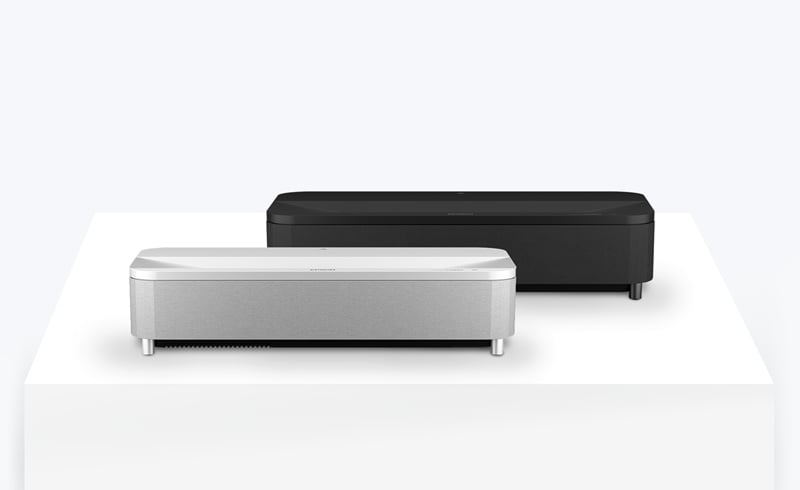 Pros
4K Resolution
Android TV
4,000 lumens
Ultra Short Throw
HDR 10 & HLG
Wi-Fi & Bluetooth
Cons
Conclusion
Epson LS12000 is a laser projector with a relatively long throw and it has no smart system. The projector has good wired connectivity and a high refresh rate of 120Hz. Epson LS800 is a UST laser projector with built-in Android TV and good wireless connectivity.
If you want to use a projector like a smart TV, then Epson LS800 is recommended. However, if you want a projector with a giant screen and a 120 Hz high refresh rate, then you can choose Epson LS12000.
Related Posts