Zebronics has unveiled its latest offering in the Indian market: the PixaPlay 22 smart portable LED projector. With its distinctive cylindrical design and striking moss green color scheme, this projector aims to provide a delightful visual experience at an affordable price point of 12,999 INR.
Impressive Audio-Visual Performance
The Zebronics PixaPlay 22 projector boasts a brightness of 3200 lumens, ensuring vibrant and clear visuals even in well-lit environments. Supporting a maximum resolution of 1080P, it delivers crisp and detailed images. With the ability to project a diagonal screen size of up to 406cm, you can enjoy an immersive viewing experience right in your living room. The projector utilizes an LED lamp with a lifespan of approximately 30,000 hours, guaranteeing long-lasting performance. Additionally, it features a built-in high-power speaker to enhance your audio experience.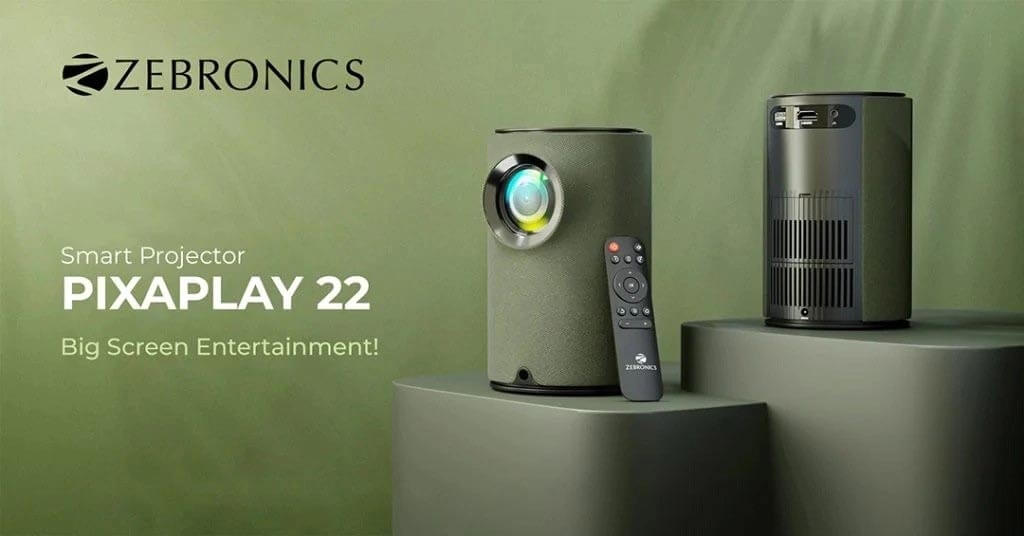 Advanced Features and Connectivity
Equipped with a quad-core processor, 1GB of RAM, and 8GB of internal storage, the Zebronics PixaPlay 22 projector ensures smooth and efficient performance. It offers a range of convenient features including electronic focus adjustment, intelligent screen mirroring, dual-band Wi-Fi, Bluetooth connectivity, HDMI input, and USB ports. These connectivity options allow you to effortlessly connect your devices, stream content, and enjoy a variety of multimedia.
Portability and User-Friendly Design
Designed with portability in mind, the Zebronics PixaPlay 22 projector is compact and easy to carry. Its cylindrical shape adds a touch of uniqueness, making it a stylish addition to any space. Whether you want to set up a backyard movie night or take it on the go, this projector is versatile enough to meet your needs.
Conclusion
The Zebronics PixaPlay 22 projector offers a smart and portable projection solution tailored to the Indian market. With its impressive audio-visual performance, advanced features, and user-friendly design, it provides a delightful entertainment experience at an affordable price. Whether you're enjoying movies, streaming content, or giving presentations, this projector is designed to deliver immersive visuals and crystal-clear sound. Experience the convenience and versatility of the Zebronics PixaPlay 22 projector and elevate your entertainment to new heights.