You can select or control a device (mobile, external device, etc.) connected to the LG HU915QE Projector.
• Press the home button on the remote control and select [Home Dashboard].
• You can also press and hold the power button on the remote control.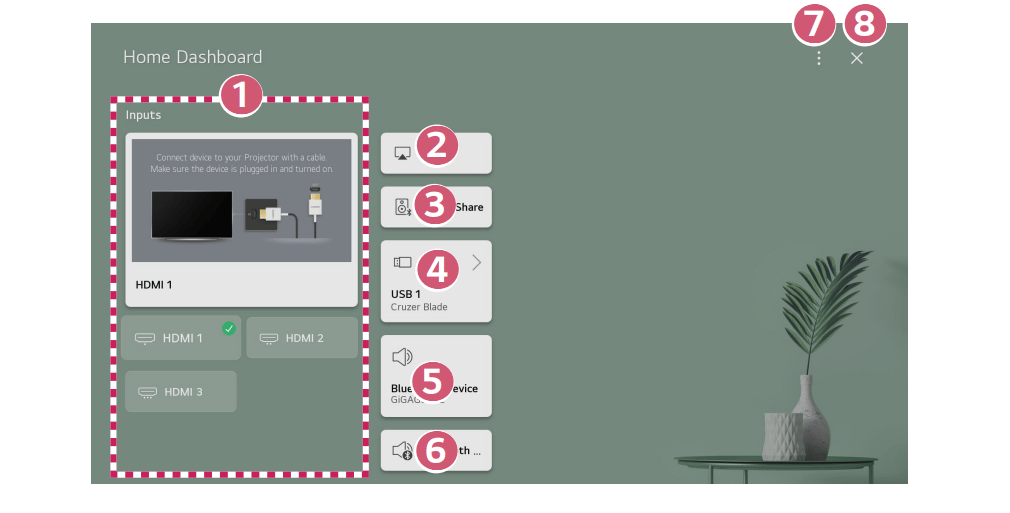 1. You can check and select the external device connected through the external input port or network.
2. Use AirPlay/HomeKit to control your projector and watch content from your iPad or Mac on the projector screen.
• The availability of and access to Contents and Services in LGE Device are subject to change at any time without prior notice.
3. You can play sound from a smart device connected via Bluetooth.
4. It can only be selected if you have connected a USB storage device or a media server.
5. The currently selected output speaker is displayed, and you can navigate to the output speaker settings screen.
6. You can view the list of connected Bluetooth devices and select one.
7. [Edit]: You can edit the name of the device connected to [Edit Inputs] or configure the related settings. [Universal Control Settings]: Move to the [Universal Control Settings] app.
8. Exit the [Home Dashboard].
Exercise caution when in used by children. Children may have access to inappropriate online content through this product. You can block inappropriate online content by restricting access to some apps.
Menu operation: Configure the settings in (Q. Settings) → [More Options] → [General] → [System] → [Safety] → [Application Locks].
Read more:
Tip for Connecting Mouse or Keyboard to LG Projector
What Can I Do with SIMPLINK Function of LG Projector?
LG HU915QE Projector SIMPLINK Using Guide