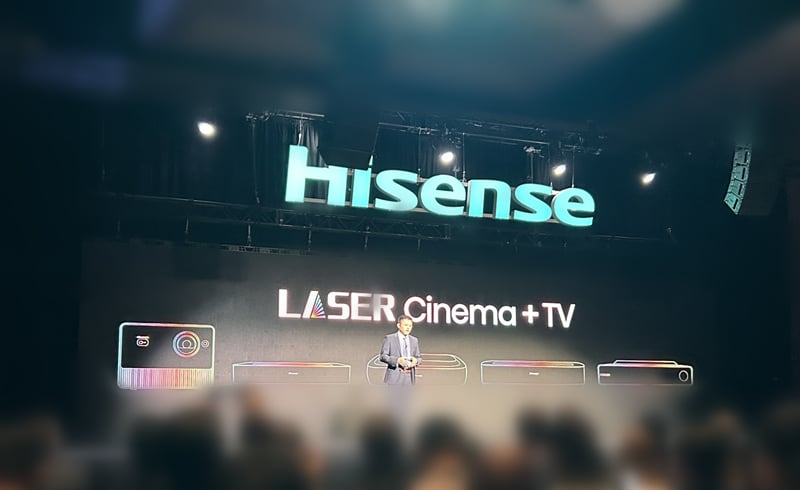 Recently, Hisense showcased a stream of laser projectors at CES 2023, including 4 UST projectors and a mini projector.
Hisense Smart Mini Projector
Design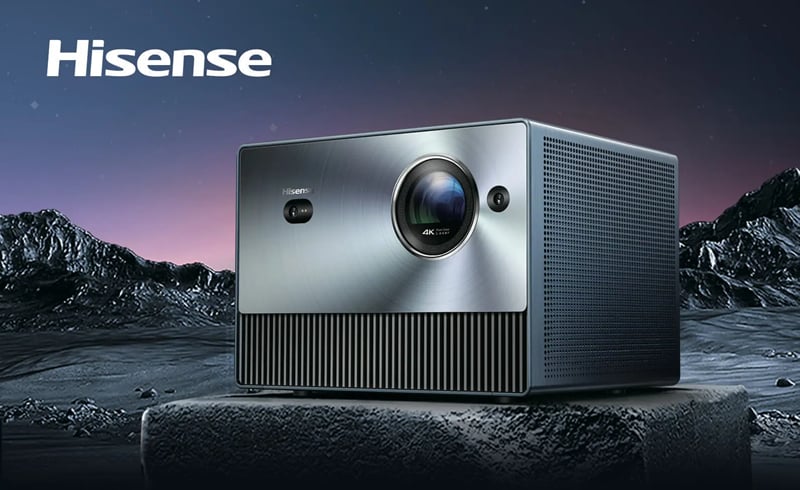 In terms of appearance, the projector has sleek lines and a futuristic design. Looking from the front panel, we can see the Hisense logo nearing the camera and a 4K mark near the lens module. The grid-like panel at the bottom and the glossy panel at the upper side make the projector delicate and fashionable.
The side panels of the projector are perforated so that the projector can cool down quickly and produce lower noise.
Image
The mini projector is a 4K projector, which adopts TriChroma triple laser as a light source and has 107% coverage of BT:2020. With 1,000:1 contrast, you can see more dark details and color gradations. In terms of HDR, it supports Dolby Vision and HDR10, enhancing the dark details and brightness greatly.
You may be interested in Dolby Vision vs HDR10 vs HLG.
The projector supports MEMC and brings smooth and clear images when playing games.
As for brightness, the projector is rated at 1600 ANSI Lumens, which can produce bright images under ambient light. However, if you want to use the projector during the daytime, you need to lower the ambient light by closing the curtains.
Though the projector has a small size, it can project at most 150 inches, bringing an immersive and cinematic viewing experience.
System
Hisense Smart Mini Projector is powered by VIDAA OS and enables users to download streaming apps directly via the projector. You can download various apps in the app store and access more content.
Hisense Smart Mini Projector Specs
| | |
| --- | --- |
| Projector Model | Hisense Smart Mini Projector |
| Light Source | TriChroma™ Triple Laser Light Engine |
| Color Gamut | 107% BT:2020 Color Space |
| Resolution | 4K UHD Picture Quality |
| Brightness | 1600 ANSI Lumens |
| MEMC | Yes |
| Connectivity | Wi-Fi 6e & Bluetooth 5.0 |
| Audio | Dolby Atmos Audio |
| Lamp Life | 25,000H |
| Image Size | 65"-150" |
| Image Tech | Auto-Focus & Keystone |
| HDR | Dolby Vision & HDR10 |
| Contrast | 1,000:1 Contrast Ratio |
| Speaker | 20W JBL Speakers |
| System | VIDAA OS |
The Hisense Smart Mini Projector will be available in Summer 2023 and the price of the mini projector is not disclosed.
Related Posts
Hisense Announces 5 New Laser Projectors for CES 2023