Skyworth Coocaa P9 projector has recently made its debut online, targeting young users who seek affordable entertainment options. With claims of enhanced brightness and an upgraded experience, let's dive into the detailed specifications of the Skyworth Coocaa P9 projector.
Picture and Sound Quality
The Skyworth Coocaa P9 projector features an XLCD high-brightness engine with a 400CVIA lumen brightness rating. It offers a physical resolution of 1080P and is compatible with 2K and 4K resolutions. The projector is equipped with the SKYVISION image processing engine, supporting features like color protection, HDR10 decoding, and dynamic noise reduction. On the audio front, it supports a 500ml large sound chamber and features a rare metal full-range speaker, delivering immersive surround sound.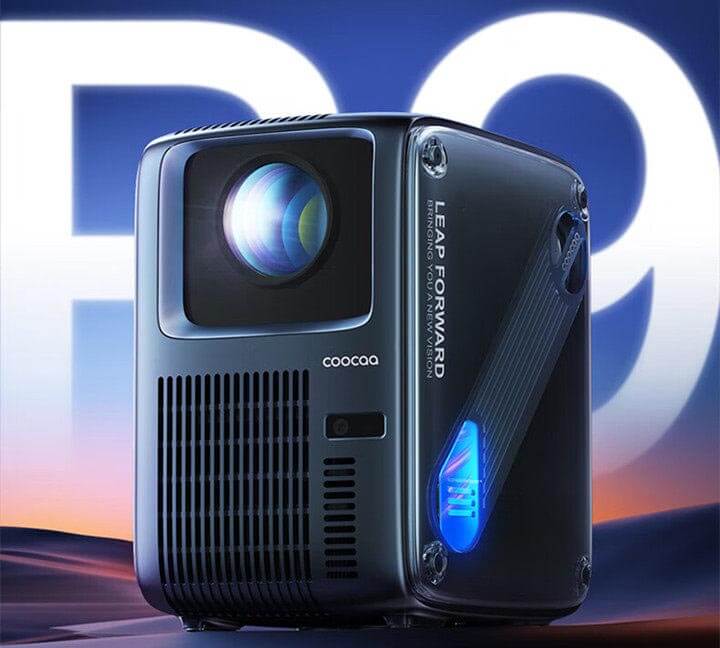 Configuration
The Skyworth Coocaa P9 projector is powered by the MT9269 chip and offers a 1GB+16GB storage combination. It includes two HDMI 2.0 and one USB 2.0 interfaces, supports Bluetooth 5.0, and comes with built-in dual-band Wi-Fi (2.4G+5G) for faster transmission speeds and wider coverage.
Additional Features
The Skyworth Coocaa P9 projector boasts AI perception algorithm technology, offering functions like automatic focus, automatic keystone correction, automatic curtain closing, and obstacle avoidance. It is equipped with TriCooling cooling technology, providing intelligent temperature control and keeping the noise level below 28dB.
Operating System
The Skyworth Coocaa P9 projector runs on the proprietary Projection OS 9.1. It supports multiple screen mirroring options, cloud playback, a large-screen atmosphere mode, and modes for kids and karaoke. It comes with built-in video resources from various platforms and allows users to install third-party software applications through the Dangbei Market.
Price and Alternatives
The official price of the Skyworth Coocaa P9 projector is 1499 yuan, making it a suitable choice for entry-level users. There are several other popular projectors available in the same price range, such as the Haqi K1 Pro, which offers a minimalist and versatile design. The Haqi K1 Pro provides a more comprehensive set of features, including desktop customization, cloud gaming on a big screen, and magic screen mirroring. It also offers larger RAM capacity for smoother performance, making it another viable option for users.
Conclusion
The Skyworth Coocaa P9 projector presents an affordable and feature-rich option for young users. With its XLCD high-brightness engine, compatibility with higher resolutions, and AI perception algorithm technology, it promises an enjoyable viewing experience. However, it's essential to consider alternatives like the Haqi K1 Pro, which offers additional features and customization options. Make an informed choice based on your specific requirements and budget, and enjoy the world of projection entertainment.