VAVA 4K Ultra Short throw projector, Dangbei Mars Pro 4K laser projector, Optoma CinemaX P2 Ultra Short Throw 4K projector. These projectors are all rated for UHD 4K(3840×2160) resolution, adopt DLP display technology. Let's look at XGIMI Horizon Pro, Dangbei Mars Pro, and Anker Nebula Cosmos Max side by side, see what's the difference between them.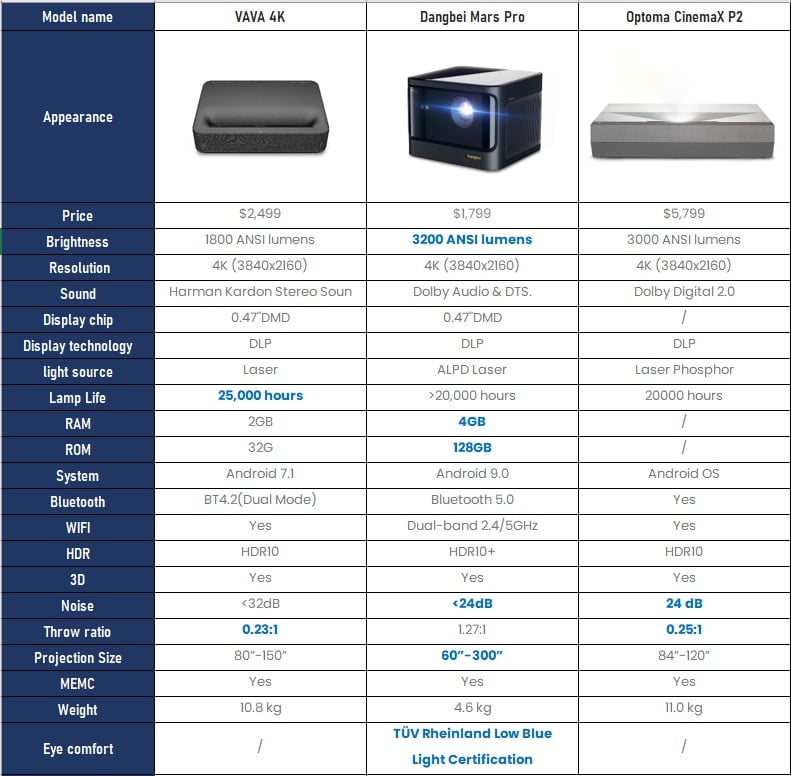 Dangbei Mars Pro offers an incredible 3,200 ANSI lumens, Optoma CinemaX P2 has similar ANSI lumens of 3,200. While VAVA 4K offers only 1,800 ANSI lumens. Dangbei Mars Pro and Optoma CinemaX P2 can be rated as exceptionally bright, owns the necessary power to compete with ambient light. However, with its 1,800 ANSI lumens, VAVA 4K falls short dealing with external light sources. You may need to kill the light in your room to ensure a clear and sharp image display when using VAVA 4K projector.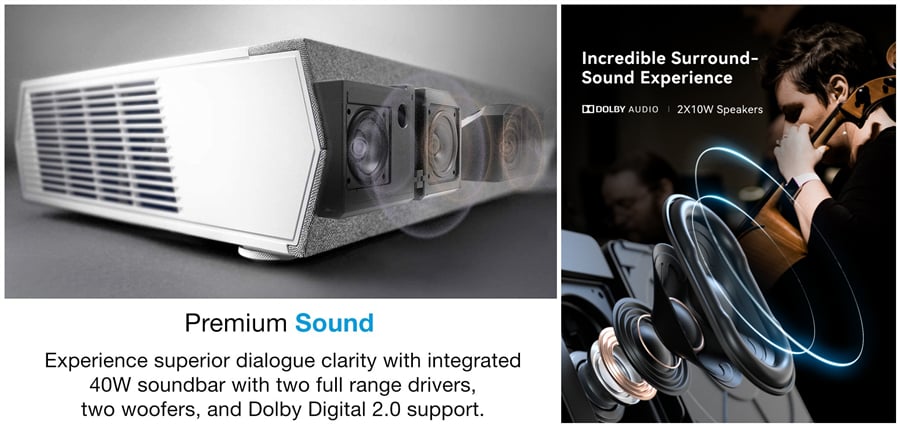 VAVA 4K and Dangbei Mars Pro and Optoma CinemaX P2, all adopt laser light source which has many merits including lesser maintenance and longer life span. Plus, projectors equipped with laser technology are able to deliver more efficiently for finer details across a broader color gamut.

VAVA 4K has a throw ratio of 0.23:1 and Optoma CinemaX P2 has a throw ratio of 0.25:1, both of them are short throw projectors while Dangbei Mars Pro, with a throw ratio of 1.27:1, is a long throw projector. Throw refers to the distance between the projector and the screen which is where the choice of short and long throw projectors comes in to play. Short throw projectors suit small living rooms or bedrooms better, or for users who plans to place the projector close to the screen, apparently VAVA 4K and Optoma CinemaX P2 are perfect choices.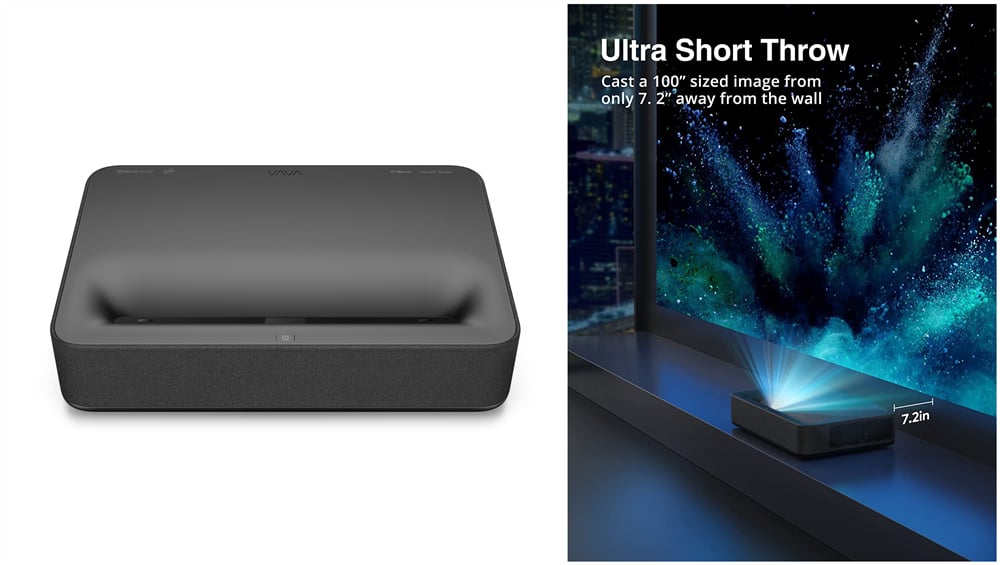 VAVA 4K provides image size from 80" to 150" and Optoma CinemaX P2 provides image size from 84" to 120". While Dangbei Mars Pro can offer from 60″ up to 300″ giant screen display without image degradation. For big screen viewing experience fanciers, Dangbei Mars Pro should be the option for it can offer breathtaking pictures with large screens.
VAVA 4K vs Dangbei Mars Pro vs Optoma CinemaX P2: Which is Better?

These three excellent projectors with 4K UHD resolution, HDR10 compatibility, a laser light source, and premium sound come together in a sleek form factor to produce accurate, razor-sharp, and high-quality images. Moreover, users can enjoy smooth action-packed movements with MEMC technology. From the perspective of costs, Dangbei Mars Pro is the most budget-friendly one among these 4k laser projectors. But it is no joke about the critical specifications, which really makes Dangbei Mars Pro stand out in this projector comparison.