Value Electronics, a leading independent Audio/Video retailer in Westchester County, NY, successfully hosted its 2022 Projector Shootout Evaluation event on December 10-11, 2022 in NYC. This shootout was cohosted by the famous B2B Tech publication Dealerscope.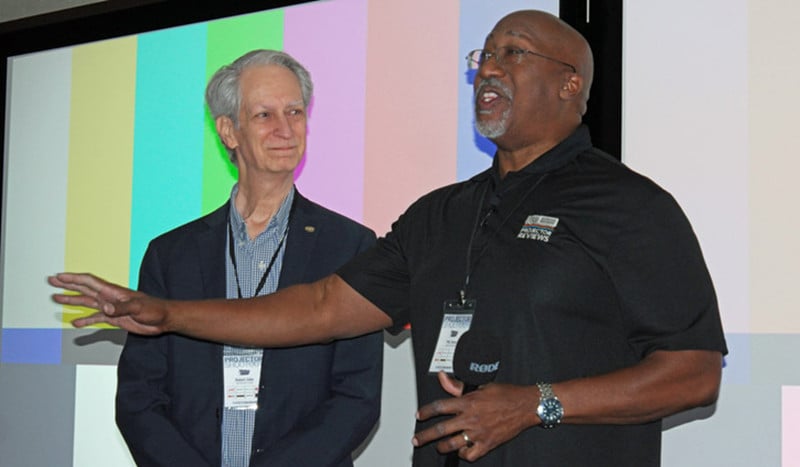 In this evaluation event, Robert Zohn of Value Electronics was the host of the shootout, and famous industry expert Philip Jones of Projector Reviews was the master of the ceremonies. Jason Dustal, Engineer with Murideo and ISF Instructor, led the calibration and testing operations during the Shootout event.
A panel of professional Hollywood video colorists, film finishers, TV reviewers, and video experts also played important roles in judging, evaluating, and voting on all picture quality attributes to determine the king of UST projectors and the king of home theater projectors (long throw projectors).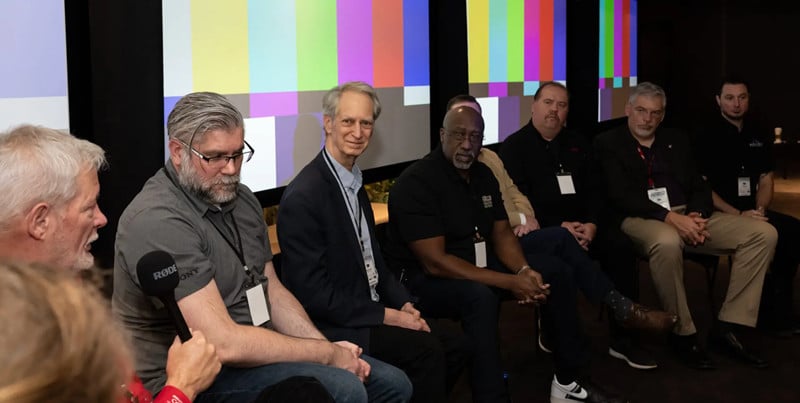 This evaluation tested and evaluated the flagship models from premium manufacturers available in the U.S. market. The projectors models to be evaluated are divided into two major groups, including 5 UST Projectors and 9 long throw projectors (divided into three categories based on the price range).

The same evaluation equipment for all projectors is necessary to ensure a fair result. AVProStore was responsible for all switching, distribution, and test equipment. The HDMI cables (48Gbs/HDMI 2.1-compliant) are from MetraAV. All projectors are equipped with identical 120-inch screens made by Seymour Screen Excellence using their "Radiant White" screen material with unity gain (1.0).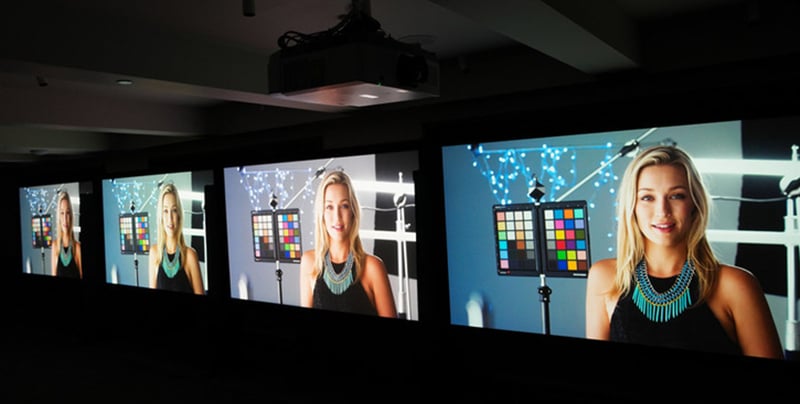 The expert panel evaluated these projectors in terms of bright content, Near Black (Black level/Shadow detail), color accuracy/Skin Tones, upscaling, uniformity, motion resolution, detail/sharpness, and other parameters in both HDR and SDR.
Each projector was rated from 1 to 10 on these attributes by means of the panel discussion. To evaluate these projectors effectively, there is an overall score given by average for each model.
Here are the detailed results of the Value Electronics 2022 Projector Shootout for long throw projectors.
Winner: JVC DLA-NZ9 Overall Points: 9.0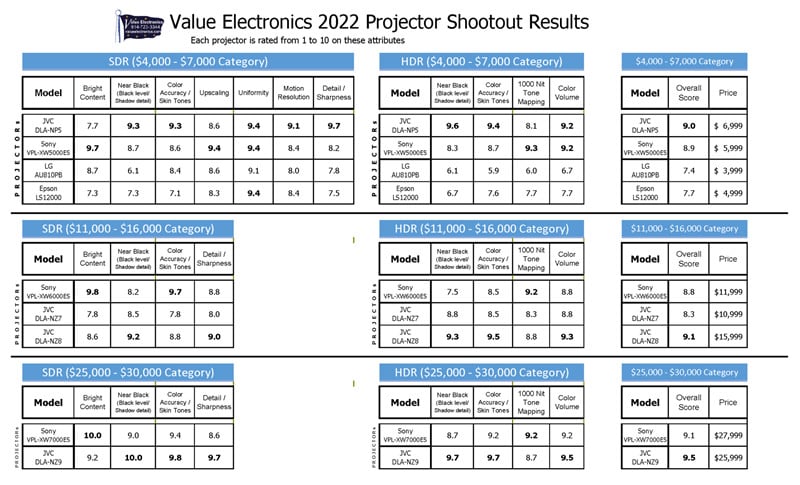 Here are the results of the Value Electronics 2022 Projector Shootout for UST projectors.
Winner: LG HU915QB Overall Points: 8.6
After careful evaluation, JVC DLA-NZ9 was crowned as the "King of Home Theater Projectors" and LG HU915QB is crowned as the "King of UST Projectors".
Related Posts
Sony Will Showcase World's Smallest WUXGA 3LCD Laser Projectors at ISE 2023