With the development of technology, smart projectors have greatly changed home entertainment. Compared with TVs, projectors provide a bigger screen with an immersive viewing experience for users. This article will gather the top 10 best projector brands in the world for 2022, helping you to pick a good projector.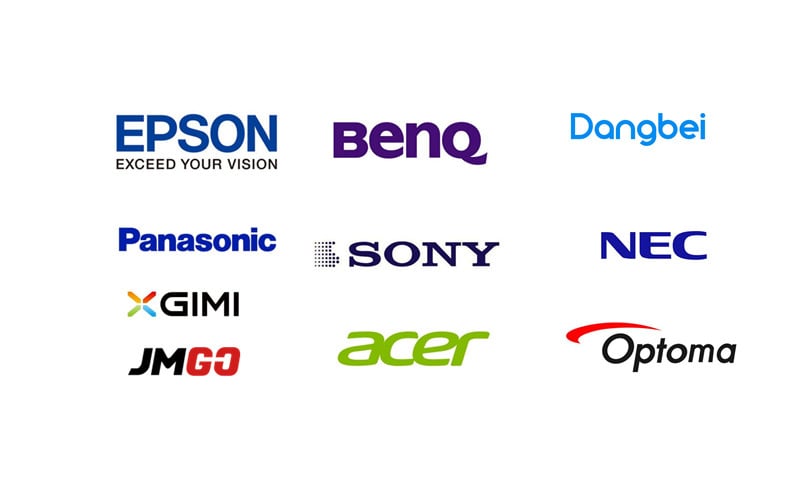 Top 10 Best Projector Brands — Epson

Epson launched the world's first LCD projector in 1989, creating a new era of LCD technology.
As an established enterprise, Epson is influential in projectors, printers, digital cameras, and other fields. Epson projectors are famous for their 3LCD commercial projectors without smart systems. With the continuous upgrading of smart projectors, Epson projectors are also moving towards home projectors. In recent years, Epson has released many famous smart home projectors, for example, EF-10, and EF-12.
Top 10 Best Projector Brands — BenQ

BenQ projectors also have a considerable market share in the world. BenQ stands for the company slogan Bringing Enjoyment N Quality to life. BenQ was founded in 1984, and its headquarter is located in Taipei.
BenQ is one of the best sellers in terms of DLP projectors. Nowadays, BenQ has smart home projectors, gaming projectors, commercial projectors, etc.
Top 10 Best Projector Brands — Dangbei

Compared with Epson and BenQ, Dangbei is a young brand. However, Dangbei has developed rapidly and captured market share in the smart projector area in the past years.
Dangbei projectors are famous for the laser projectors, for example, Dangbei X3, and Dangbei Mars Pro. In addition, it has developed its own smart system and software, featuring "light, fast and free". Their customized wallpapers, FindMe (a technology helping users to find remote control instantly), and smart remote home monitoring have set the trend in the smart projector industry.
Top 10 Best Projector Brands — SONY


SONY has always been a leader in the electronics industry, no matter camera, TV, or digital entertainment. With strict control of technology, Sony projectors are also excellent.
As SONY is serious about the quality and user experience for the whole series of projectors, the price of Sony projectors is relatively high. In April 2021, SONY introduced two native 4K home theater projectors — VFL-VW898 and VFL-VW298. Both projections are powered by SONY'S X1 graphics processor.
Top 10 Best Projector Brands — Panasonic


Panasonic adheres to product innovation and strict quality control, which has been a leading electrical appliances supplier for years. Panasonic projectors feature excellent quality, whose projectors are widely used for commercial use and educational use. There are few products for home use.
Panasonic PT-FRZ680C series adopt a laser light source and DLP imaging technology, featuring a brightness of more than 6,000 lumens and a 2.0x zoom lens.
Top 10 Best Projector Brands — XGIMI


XGIMI is famous for proposing the concept of screenless super TV. The highlight of XGIMI projectors is Harman Carden Audio, whose intelligent system and voice interaction provide users with one-stop home entertainment solutions. The quality and comprehensive performance of XGIMI projectors is commendable. XGIMI's portfolio includes home intelligent projectors, portable projectors, laser TV, and so on.
Top 10 Best Projector Brands — Acer

Acer projectors have been leading in the global commercial projector market. But it has a small share in the home projectors, which pursue high image quality. To adapt to the constant improvement of the technology market, Acer also introduced Acer PREDATOR GM712, a projector with 4K resolution and 4000ANSI lumens.
Top 10 Best Projector Brands — NEC


NEC is the world's only commercial projector manufacturer with a digital cinema license. NEC began to produce projectors in 1979. Most of the products are commercial non-intelligent projectors, intelligent household products are few, and even fewer smart projector products with a built-in Android system. On the whole, NEC projectors' basic configuration is not mainstream.
Top 10 Best Projector Brands — JMGO


Before producing projectors, JMGO is known as a producer of laser TV. JMGO took the lead to introduce the LED projector into the Internet industry. It mainly works for an integrated smart home theater ecosystem of "terminal + content + platform + software". JMGO's projector products can cover a wide price range and meet the needs of different user groups.
Top 10 Best Projector Brands — Optoma


Optoma is derived from the world's largest projector manufacturer Coretronic Group. Since its establishment, Optoma has been focusing on the R&D and sales of the projector systems, which has accumulated a reputation and a high market share in the world. Optoma projector line includes high-quality home theater projectors, video game/TV entertainment projectors, portable projector series, and so on.
Related Posts
Top 5 Best 4K Projectors in Market
Top 6 Best Gaming Projectors for 2022
Top 7 Best Mini Projectors for 2022