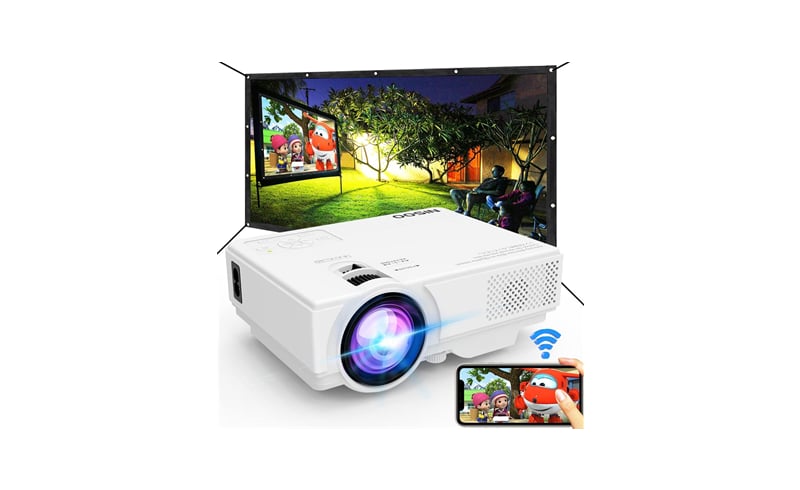 NISOO projector offers 7500L as well as native resolution of 1280 x 720P, with 1920x1080P supported. This NISOO Projector is packed with 100 inch Portable projector screen for Daily home theater use.
It would be ideal to use NISOO projector in low-light environments. It's the innovation of traditional projector, built-in stereo speakers, adjust keystone and focus to get 32'' 176'' projection size with 1.5m-5m projection distance, bring excellent spectating experience. Perfect projector for outdoor movies and movie projector for indoor use.

Its Convenient WiFi & USB Connection allows users to connect deivces with this NISOO projector through wifi or usb cable directly.
Equipped with HDMI, VGA, AV, USB interfaces, the projector is compatible with TV Box, TV Stick, PCs, Laptops, Tablets, USB Flash Drive, players. It's supposed to apply many environment—Home Theater, Video Game, Party, Outdoor activities. You can use it for small meeting in dark room, but it is not a professional office projector for PPT or text.
NISOO projector has a 3-YEAR After sales service promise, you can use it to watch movies, take online classes, or keep the kids entertained with hours of cartoons and educational videos.

NISOO projector specs
Contrast Ratio: 2000:1
Native Resolution: HD 720P
Speaker: Built-in speaker
Max. Supported Resolution: 1080P FHD
LED Light Source: 55,000 Hours
Projection Size: 32 – 176 Inch
Keystone Correction: Manual ± 15 °
Advanced dual cooling fan: Lower noise
Wide Compatibility: VGA, AV Port, USB, HDMI
Read more:
WEMAX Go Advanced Review – Best Thinnest Projector?
LG New UST Laser BU53PST Projector Review
Formovie THEATER Laser UST Projector Review
Epson EB-PU1008W 3LCD Laser Projector Review