Without a good sound quality, you can't expect a wonderful viewing experience. But due to the limit device size of projectors, it is reasonable to know that projectors don't get powerful speakers. Therefore, to create a both audio and visual enjoyable experience, the speaker is necessarily required.
Say we have a speaker at hand, then how to connect the projector with speaker? How to get the sound from projector to speaker? You can connect these two devices either through cable or wirelessly.
Connect speaker to projector wirelessly
Most of the modern projectors and speakers are featured with wireless facilities, allowing users to easily connect them without any extra component.
How to connect speaker to projector wirelessly? At first, put your speaker's Bluetooth facility in the discoverable mode so that you can connect it to the projector. Next, resort to the projector's discoverable mode to make a connection with the speaker. If you failed to find your speaker while searching for the devices nearby, make sure that you have set both of them on Bluetooth discoverable mode and try to keep then within an ideal distance.

In this case, you should have paired the speaker and projector properly. Now you are free to play any sort of sound through speaker, together with projection, you've built yourself a home theater of dream.
like I said, most projectors come with Bluetooth connectivity. What if you own one of the few projectors that don't? No worry, investing on another Bluetooth audio transmitter would solve the problem. Also, what if your speaker is without the Bluetooth facility as well? Similarly, just get another cheap Bluetooth audio adapter.
The following step for you is to insert the transmitter into the projector audio out port. Now you have a newborn projector with Bluetooth features. The transmitter will send the audio signal to speaker through Bluetooth. Then you can follow the steps that I mentioned above to connect the speaker and projector seamlessly.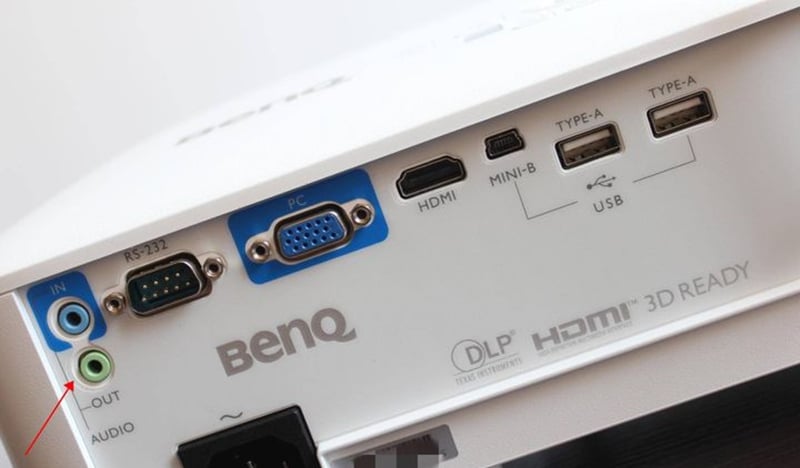 Connect the speaker and projector with cables
If you don't want to invest any component like Bluetooth audio transmitter or adapter, there in another more straightforward way to connect the projector with speaker by using cables. Find the appropriate audio jack on both devices then hook the cables, you now may hear the sound coming out from your speaker.
Here is one more thing, maybe you cannot find an audio jack on the back of your projector, then try to locate HMDI(arc) jack. Because a part of manufacturers chooses to use one single jack of HMDI(arc) to transmit both image and sound.