Panasonic PT-TMZ400 short-throw LCD laser projector, using SOLID SHINE laser light source technology, can achieve a long life of 20,000 hours, which greatly reduces operating costs compared with bulb light sources. Combined with an advanced LCD optical engine to achieve a high brightness of 4,000 lumens, it can still present bright, vivid and clear images with 1920 x 1200 pixels even in bright environments.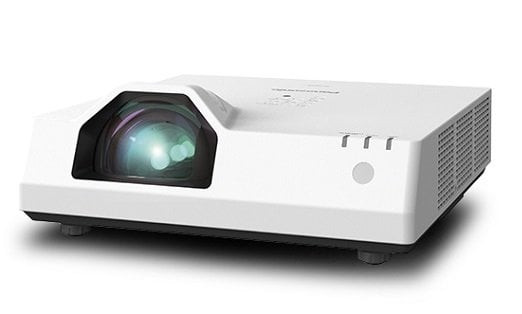 The high-precision digital laser power output modulation achieves a dynamic contrast ratio of 3,000,000:1, which increases the color expression and presence of the image. Even if the sensitive scenes are frequently alternated, it can present realistic image details.
Short distance big screen
The Panasonic PT-TMZ400 is equipped with a 0.230.47–0.59:1 short-focus lens, which can be installed on the wall, which truly realizes zero shadow, short distance, and large-screen projection. The projected screen surrounds the viewer and improves the sense of visual immersion and interaction.
Rich correction functions
The four-corner correction and six-point correction functions can individually adjust each corner of the projected image, supplemented by horizontal and vertical keystone correction, so that even if the angle is tricky, an ideal symmetrical image can be obtained.
The rich port design supports a wide range of system applications, including 2 HDMI input ports and 2 USB ports. The USB A port supports projection without a computer, and the USB B port can realize the function of a USB monitor. No need to install any software, just connect the USB cable to the corresponding port of the projector, and the image and audio in the computer can be recognized.
Read more:
BenQ HT2050A VS BenQ TH585P VS BenQ TK700: Which is Better?