JMGO O1 can be described in three words: small, light and beautiful. As an ultra-short-throw projector, the product size is only 308x235x97mm (length, width and height), and the net weight is only 2.3kg.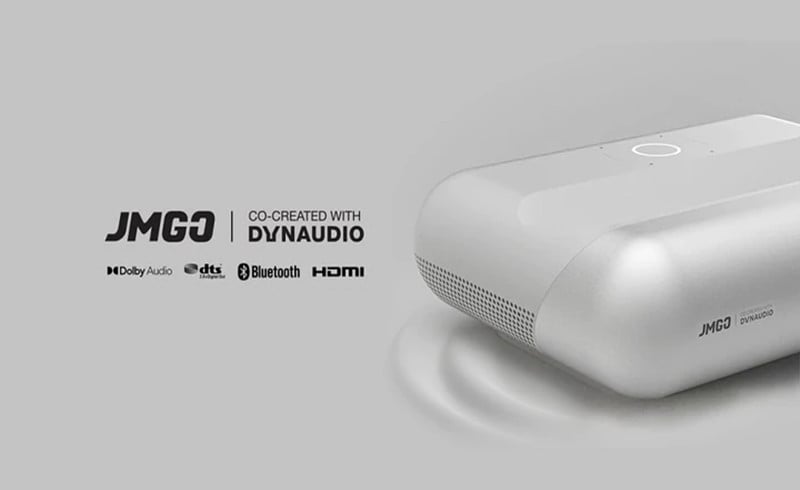 According to the official introduction, the JMGO O1 adopts the round shape design of the runway, with rounded corners at all corners, which is actually very similar to the charging compartment of Apple Airpods Pro. The color of the fuselage is mainly silver and white, which is officially called the moonlight silver color.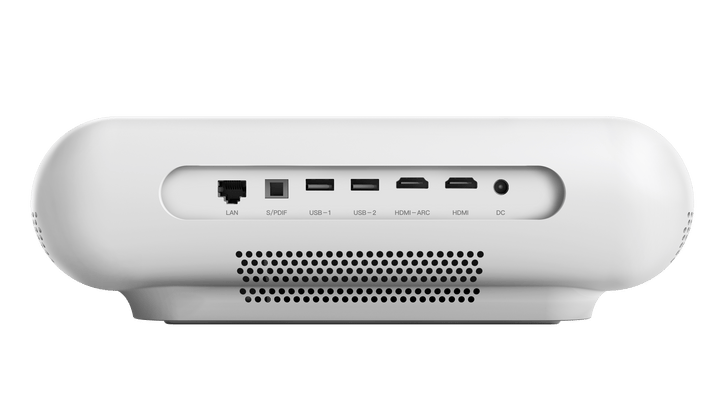 The back can be mainly divided into two parts, the interface and the heat dissipation port. The interface types are relatively common, but the 3.5mm audio interface is missing; it is equipped with LAN, S/PDIF, USB2, HDMI2 (arc) and power interface. The interface is designed on the side against the wall. If you want to connect an external U disk or HDMI, you need to block the light. Below the interface is the heat dissipation port, which is also a honeycomb design. For ultra-short-throw projectors, the projection lens is designed on the top of the fuselage, and the JMGO O1 is of course no exception. In the top groove is the lens module of the JMGO O1, where the human body sensor, color temperature sensor and focus are designed. At the same time, there is a far-field voice mic pickup array on the top, which supports far-field voice in the range of 5m.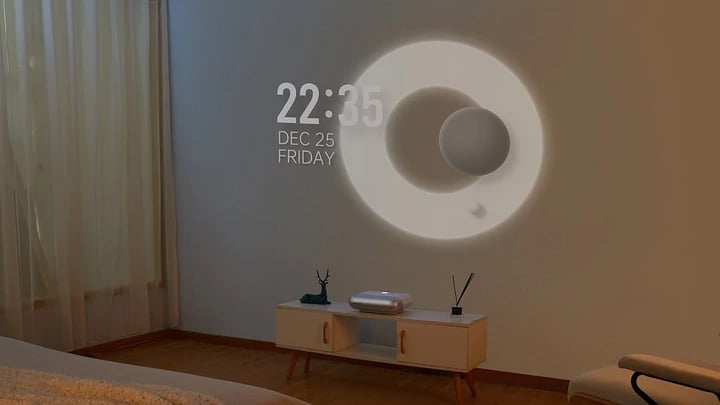 In terms of parameters, the brightness of the JMGO O1 is only 800ANSI lumens, which is indeed very low nowadays; the resolution is 1080P, the TI Texas 0.23DMD display chip, and the 1080p achieved by pixel shift technology, there are still heavier pixel particles when viewed close to the naked eye. sense. The picture supports HDR10 and HLG, MEMC motion compensation; it is equipped with AI picture quality improvement algorithm to realize intelligent picture optimization. Let's take a look at the image quality effect of the JMGO O1. The JMGO O1 is equipped with two 7W speakers, which are adjusted by professional Dynaudio acoustic engineers and support Dolby and DTS; in the audio mode, it can also be adjusted to HiFi,subwoofer and pure vocals.
Read more:
JMGO O1 Projector Review: Best Budget UST Projector