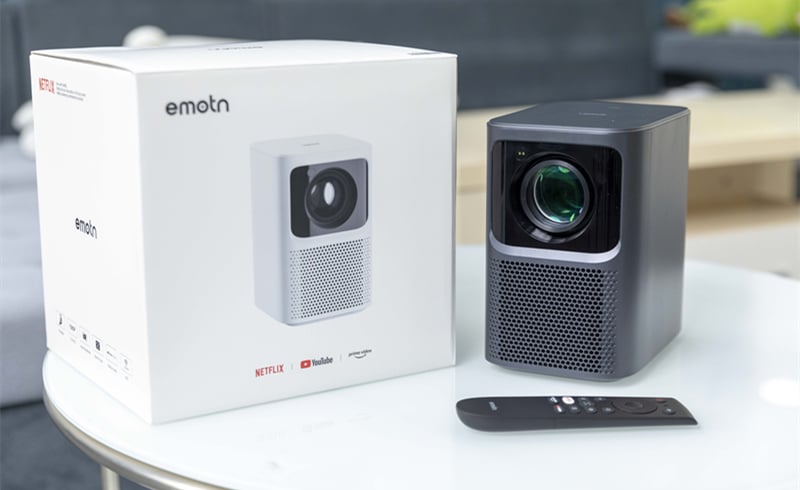 Emotn N1 is a new projector released in Feb 2023. This guide will review the projector from different perspectives and conclude its pros and cons.
Emotn N1 Projector Review
Unboxing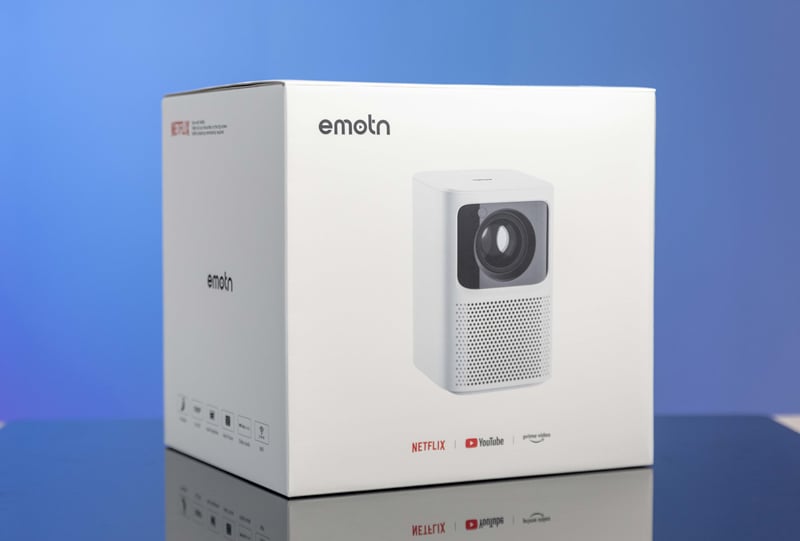 The projector is packed in a white cardboard box. There are markers of common streaming apps, including Netflix, YouTube, and Prime Video.
After unboxing the package, you will get a projector, a power adapter, a power cable, remote control, user manual.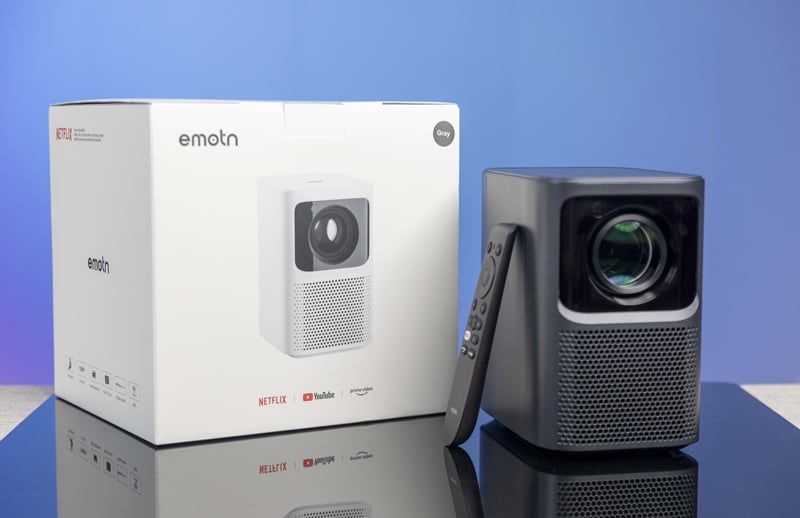 Design
The projector has two optional colors, dark grey and white. The color renderings are a good match for most home decoration styles.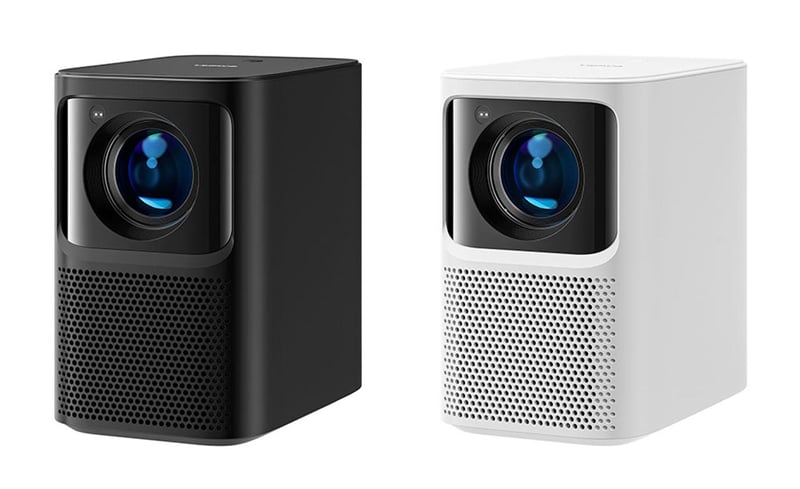 It is tall and cubic, which occupies a few spaces in your room, and has a tall projection angle. As the projector measures 7.17*4.92*7.56 inches and weighs just 4.24 lbs. You can just place the projector on your bookshelf or cabinet.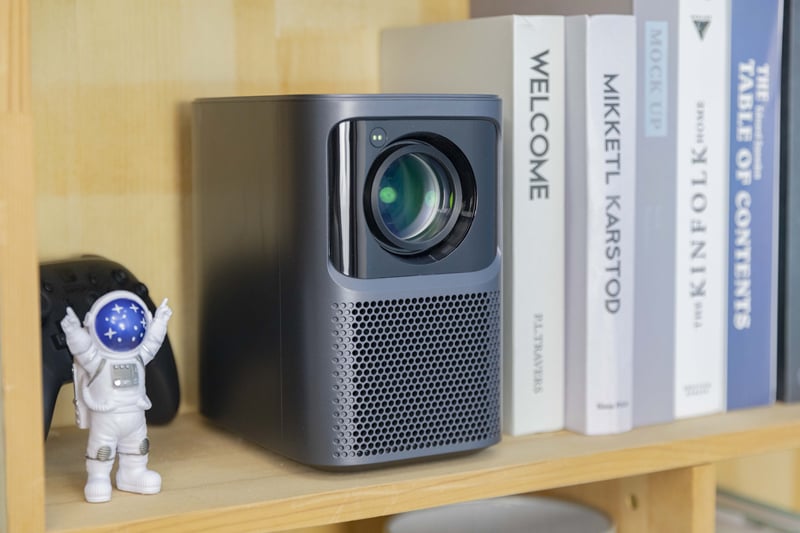 There are perforated vents on the surrounding panels to ensure good ventilation. Looking from the top, the brand logo is arresting.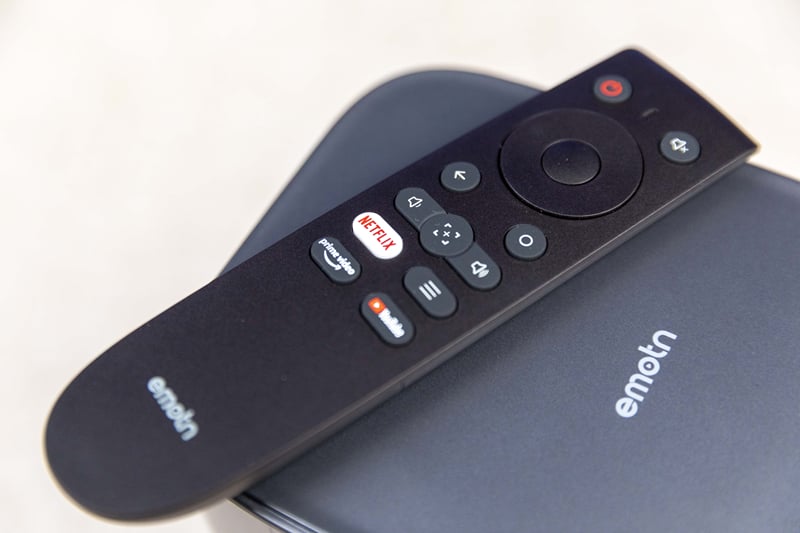 As for the remote, there are shortcut buttons for Netflix, Prime Videos, and YouTube, enabling users to enjoy the content or switch apps quickly.
Image
Emotn N1 adopts LED as the light source and has a long light source life of 30,000 hours, producing 500 ANSI lumens. This projector has 1080P resolution and produces clear and bright images, especially in dim environments. It is not recommended to watch under strong light, and its projection image is decent for overcast or after-dark. On the whole, its brightness is good enough compared with its peers.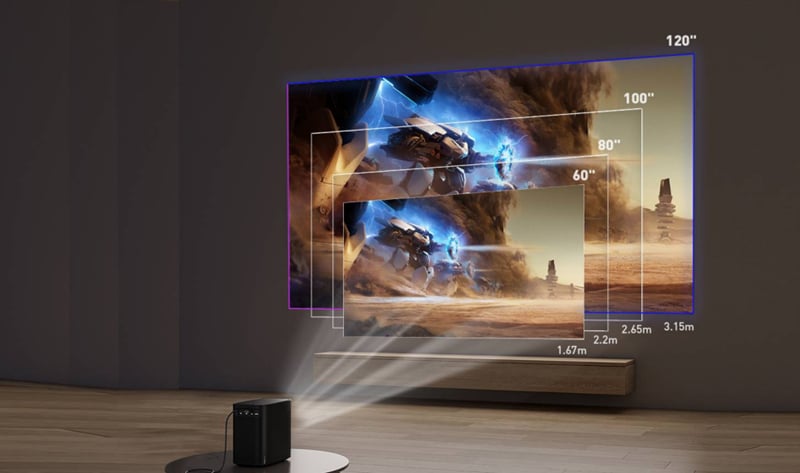 As for image size, it has a max image size of 120 inches, providing giant and immersive images. Compared with TVs, the projector has an edge on the adjustable image size of 60-120 inches.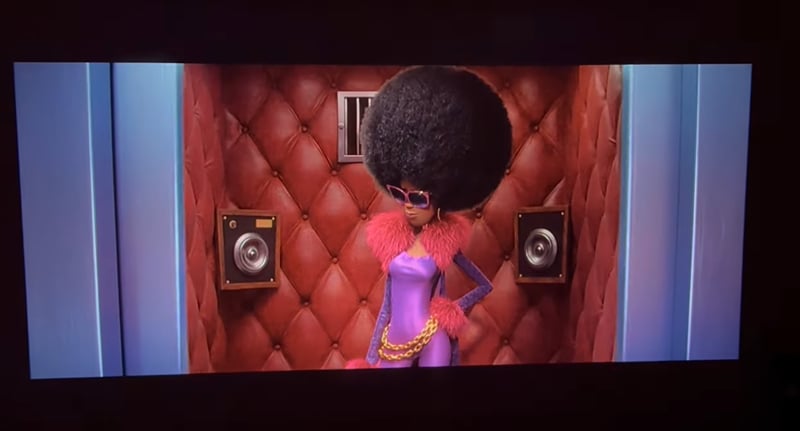 This projector has auto focus and auto keystone. Therefore, the image adjustment process is easy and convenient.
HDR is an imaging technique that enhances image contrast and dark details. Emotn N1 is compatible with HDR10 and delivers sharp images.
You may be interested in Dolby Vision vs HDR10 vs HLG.
System and Content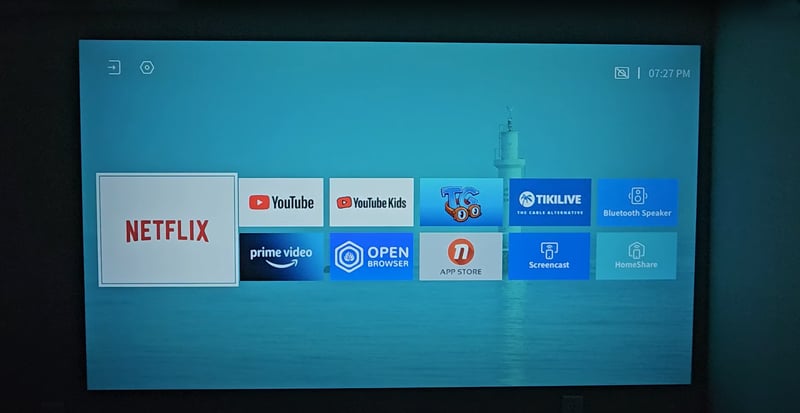 The projector is powered by a Linux system, which features stability and reliability. Compared with the Android system, the system is safer and smoother, but it also has some limitations on compatibility.
Emotn N1 has built-in 1G RAM and 8G ROM, which can be used to store important files.
It has built-in certified Netflix, YouTube, Prime videos, and more. You can access these apps as soon as you power on the projector.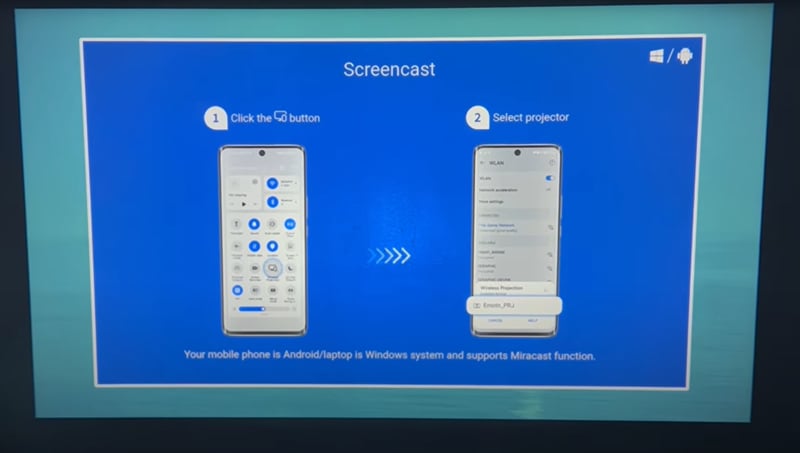 It supports screen mirroring from external mobile devices and it has a Screencast button on the homepage. When clicking on the buttons, you can see the detailed steps of screen mirroring. Generally, the projector and your external mobile devices should be connected to the same Wi-Fi network.
Connectivity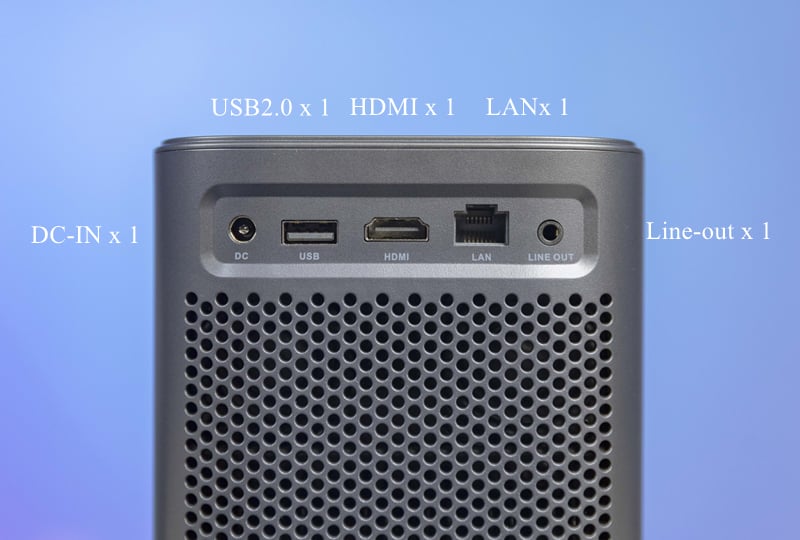 Emotn N1 has 1 USB 2.0, 1 HDMI interface, 1 LAN port, and 1 line out jack. With a USB interface, you can connect the projector to a flash drive, smartphone, and more. By means of the HDMI interface, the projector can be connected to TV sticks, TV boxes, game consoles, computers, and more. The Line-out port enables users to connect the projector to external audio devices. The LAN interface can be used to connect to the network in a stable way.
For wireless connectivity, Emotn N1 has Wi-Fi and Bluetooth, which is convenient to connect to outer resources.
Audio
Emotn N1 has two built-in 5W speakers, which can produce decent sound. In addition, the projector supports Dolby audio, enhancing your audio experience when watching movies or playing music. Dolby audio is a common audio mode for streaming platforms, and if a projector has no Dolby audio support, then it may have no sound if not turning off Dolby audio.
Emotn N1 Specs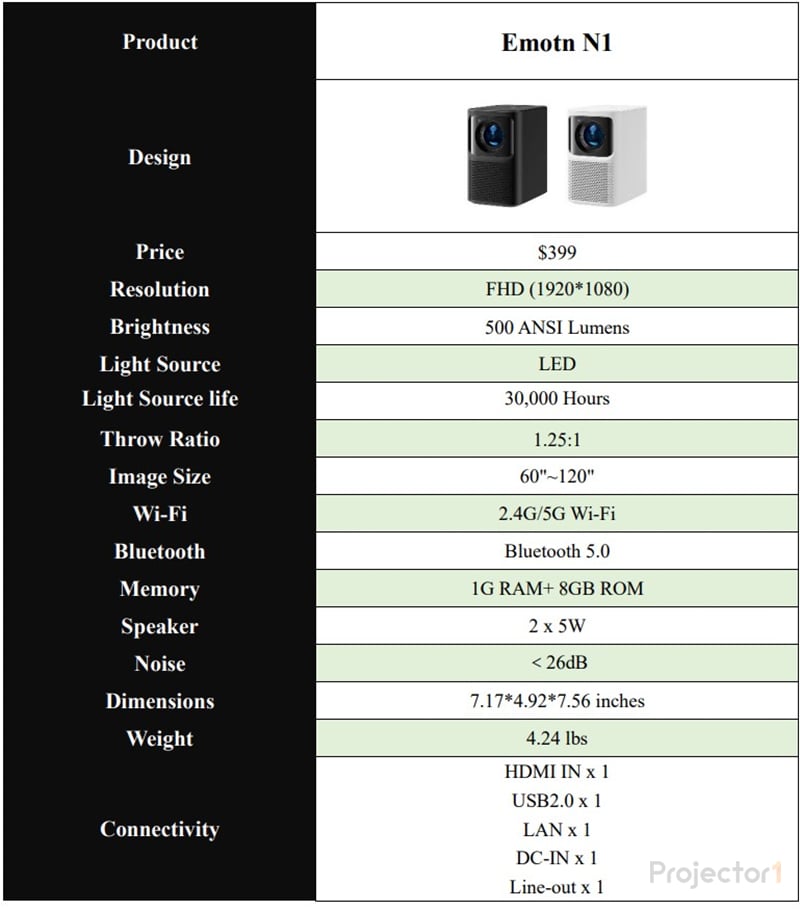 Emotn N1 Pros and Cons
Pros
Compact Design
1080P resolution
Higher Brightness for the Price
Built-in Netflix
Long light source Life
Dolby Audio Support
Cons
Conclusion
On the whole, Emotn N1 is a cost-efficient projector in view of its outer design, content, and image performance. It is small in size and can be packed in bags easily. It is slightly brighter than most portable projectors on the market and produces a sharp and bright image in dim environments. As it has certified Netflix, YouTube, and Prime Videos, the content resource is abundant.
Related Posts
Emotn N1, New Netflix-Certified 1080P Projector