CASIRIS A6 is the first 4K laser projector of the CASIRIS brand that is oriented to the US market. This projector features Ultra Short Throw, a triple laser light source, theater-like sound, Android TV, and a 120" screen.
CASIRIS A6 Review
In this section, let's see its performance from appearance, image, light source, sound, system, interfaces, and connectivity.
CASIRIS A6 Review: Appearance
The package of the CASIRIS A6 includes a power cable, TV dongle, user manual, and remote control. Regarding color, it adopts silver and black as the main color, delivering an elegant style. The shape is typical of Ultra Short Throw projectors on the market, which are thin and flat with a deep groove in the middle of the projector.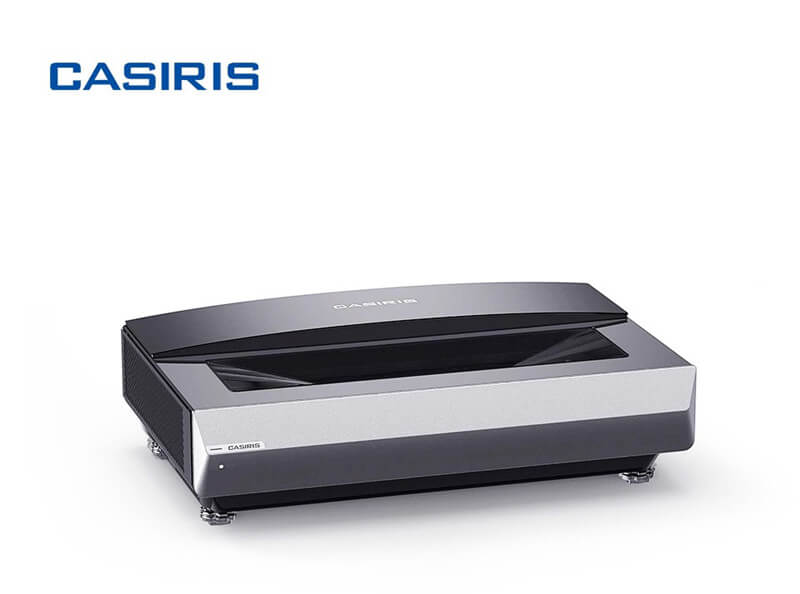 In front of the projector, you can the logo of CASIRIS on the left side. Looking at the top panel, then you can see the light source module in the middle and the marked logo. There are slanting grid-like vents on both side panels to ventilate and protect the projector from overheating and reduce noise.
There are foot pads on the bottom of the projector, and you can slightly adjust the height of the projector to fit the screen.
CASIRIS A6 measures 20.5" x 13.0" x 6.0" (in length, width, and height) and weighs 20.3 lbs (About 9.2 KG). Compared with common projectors, it is slightly heavier, but it is acceptable in view of the positioning of the laser TV.
CASIRIS A6 Review: Image
The UST laser projector has an ultra-short throw of 0.233:1 and can project a max screen of 120". The ultra-short throw projector can project 120" within 4.3 inches, which greatly saves space.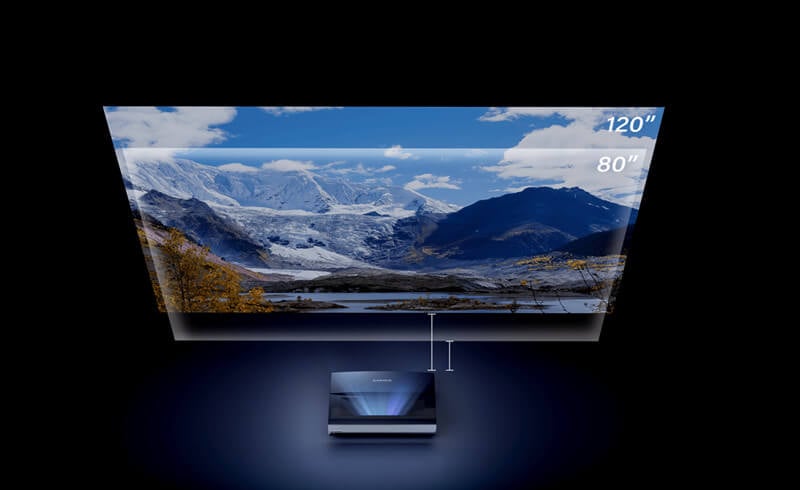 The max screen size is not big as common projectors with a longer throw but is acceptable for a UST projector.
CASIRIS A6 has 2,200 ANSI lumens and 4K (3860×2160) resolution, producing clear and bright images.
In terms of image adjustment, the projector supports electric focus and 8 Points keystone correction, making it convenient to adjust the image shape and clarity. You can adjust the image from various angles to make the image rectangular.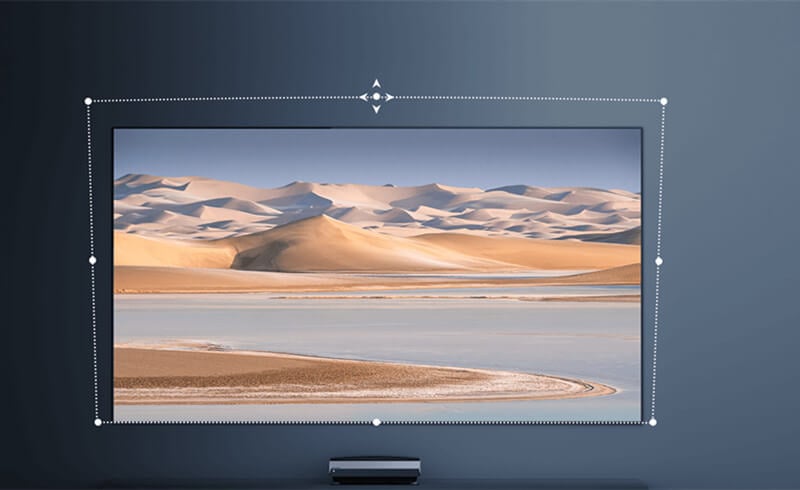 In terms of image color, the projector has 107% color gamut coverage of REC.2020 and a 1.07 billion color display, whose projection image is vivid and colorful. The HDR 10 brings more gradation to the projection image. In addition, the projector supports MEMC, suitable for viewing fast-moving shows such as sports.
It also has an eye protection system, which turns the lights to dim automatically when you walk close to the laser light.
CASIRIS A6 Review: Light Source
CASIRIS A6 adopts a triple laser as the light source, which has a long lamp life of 30,000 hours. If you watch the projector 5 hours a day, then you can use the projector for 6,000 days. The laser light source is convenient to use without repeated maintenance.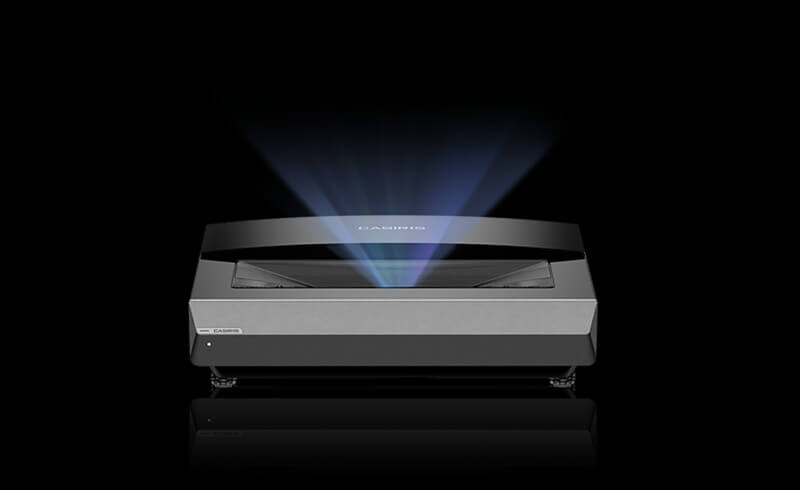 The light source belongs to three primary laser system, which has no light filtering and delivers better color performance compared with laser phosphor.
CASIRIS A6 Review: Sound
CASIRIS A6 is equipped with two 10W speakers, producing a clear and powerful sound. It also supports Dolby Digital, Dolby Digital Plus, and DTS–HD, enabling you to enjoy the pleasant sound. The projector supports Bluetooth, and you can connect the projector to a Bluetooth speaker if you want to enjoy a more powerful and sonorous sound. The Dolby Atmos brings a room-filling effect and a pleasant audio experience.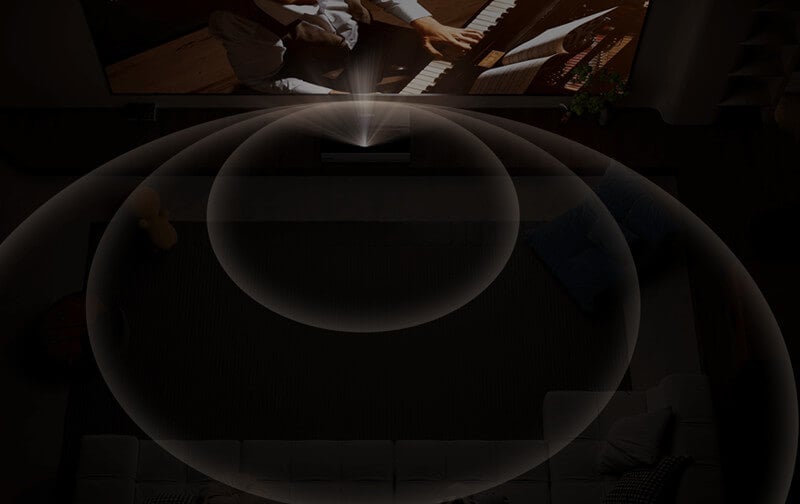 Noise also plays important role in the audio effect. The projector has a noise of 28dB, a reasonable noise range for common projectors.
CASIRIS A6 Review: System
CASIRIS A6 adopts DLP display technology and a 0.47" DMD chip, producing 4K resolution through pixel-shifting technology. It is equipped with an MT9629 chip and has a built-in RAM of 3G and ROM of 32G. You can download more files and videos for offline play.
Regarding the smart system, the projector has an Android TV system and you can access more than 5,000 Google apps by downloading them from Google Play, for example, YouTube, TED, HBO, etc.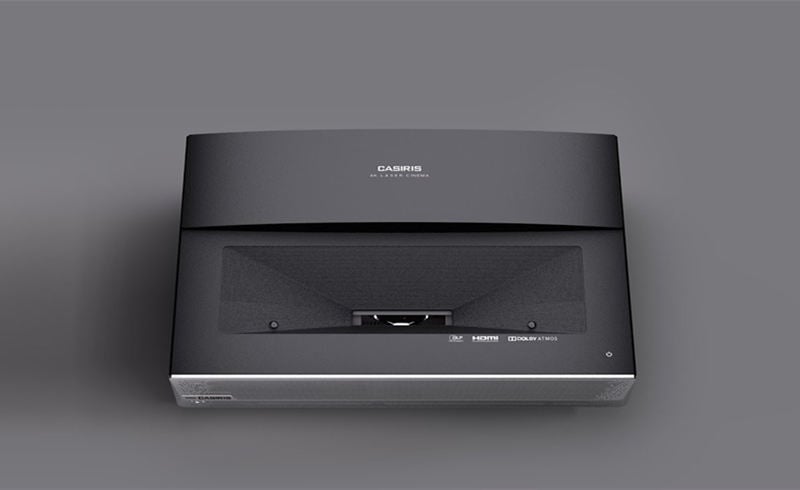 CASIRIS A6 has a built-in Chromecast, meaning that you can mirror your mobile devices conveniently and quickly, for example, smartphone, laptop, or tablet.
The projector has a low latency of 35ms and has a game mode, delivering a smooth play experience.
CASIRIS A6 Review: Interfaces
The projector is equipped with rich interfaces, including two HDMI ports, two USN ports, LAN, and audio input and output interfaces, enabling users to connect the projector to various external devices.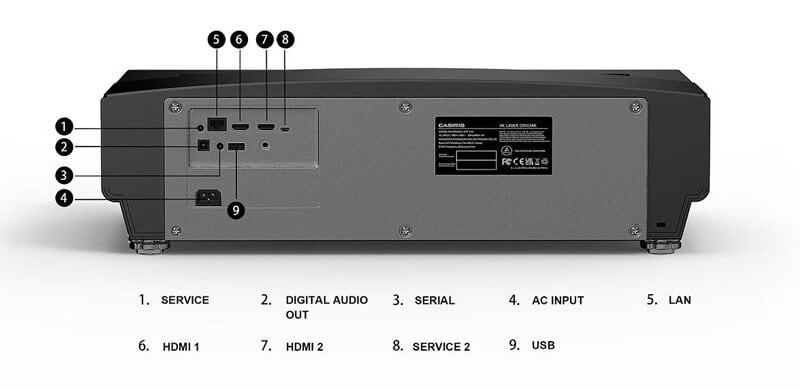 You can connect CASIRIS A6 to a laptop, game console, Apple TV, Amazon fire TV, or Roku TV via HDMI interface, and connect the projector to a USB flash drive via USB drive.
CASIRIS A6 Review: Connectivity
CASIRIS A6 supports both dual-band Wi-Fi and Bluetooth 5.0, meaning that you can connect the projector to the network wirelessly. The Bluetooth function enables you to connect the projector to smartphones, Bluetooth speakers, earphones, and more devices wirelessly.
Screen mirroring is also an important function of the projector. CASIRIS A6 has a built-in Chromecast, and you can cast your content from smartphones and other devices conveniently.
Pros
4K resolution
Android TV
Triple laser light source
Dolby Atmos
Cons
No ALLM
Relatively Long Input Lag
Conclusion
CASIRIS A6 features an ultra-short throw, laser light source, 4K resolution, built-in Android TV, and convenient wireless connectivity. The CASIRIS A6 is priced at $3,199 and now has an early bird price of $1,999 on Kickstarter. The discounted price is cost-efficient in view of its powerful configuration.
Related Posts
CASIRIS Unveils New CASIRIS A6 4K UST Laser Projector