We reviewed many of the top-selling projectors in this price range to find a number of 1080p projectors under $1000 that come with many of the high-end features. We looked specifically at features that differentiate the best projectors from their inexpensive competitors.
Many factors are need to be taken into account while choosing a projector, like display technologies, how would it impact the brightness and contrast, as well as resolution and throw ratio…
BenQ HT2050A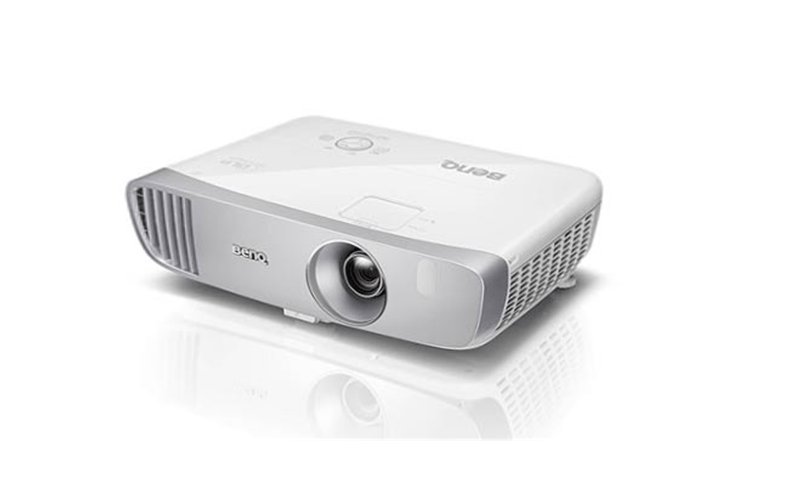 Pros:
3D supported
Great for gaming
Excellent color display
3 years warranty
Cons:
Maximum image size with 180 inches
Only 2,200 lumens brightness
BenQ HT2050A offers resolution of 1080 via DLP display technology. It has contrast ratio that is up to 15,000:1 as well as brightness of 2,200 lumens. Moreover, it is capable of projecting 3D movies and games, which is especially great for blockbuster and sci-fi movie lovers. also sports additional features like 2D keystone correction and has a calibration depending on whether you are viewing during the day – when ambient light is abundant – or at night. The projector also comes with a three-year warranty from BenQ, among the longest warranties found for projectors in this price range.
Plus, the projector has an extremely low input lag among projectors in this price range – just 16 milliseconds, making it a fantastic gaming projector: it's possible to play fast-paced video games on this projector without experiencing video delays. The 100-inch screen size at a distance of 8.2 feet means that you can easily project an enormous display and won't require a large room.
BenQ HT2150ST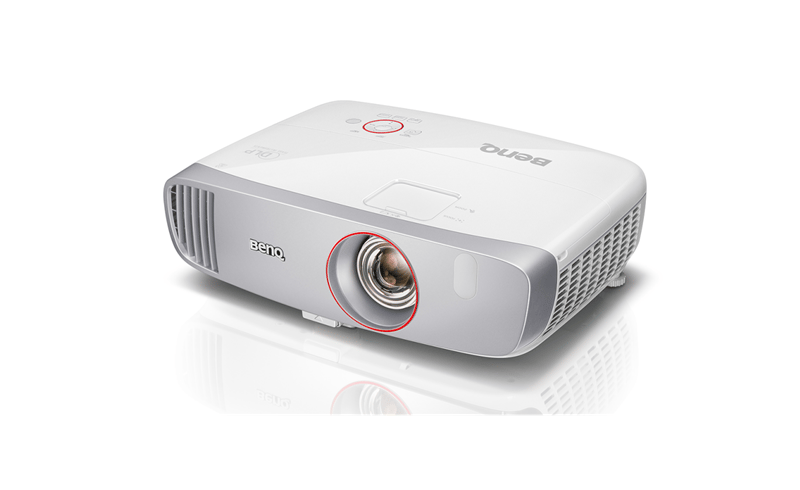 Pros
3D supported
Great for gaming
Short throw ratio
Decent sound
Cons:
Maximum image size with 100 inches
Only 2,200 lumens brightness
1 year warranty
The projector is built with the 3D DLP technology, and 2,200 lumens of brightness, a 15,000:1 contrast ratio, Its 16 millisecond lag makes BenQ HT2150ST is rated as a powerful gaming projector as well. Are these features and specs sound familiar? Yes, BenQ HT2150ST shares the same specifications above with BenQ HT2050A. But there are still some differences between them, BenQ HT2150ST have smaller throw ratio, which means that it is able to produce a 100-inch display at only 4.9 feet from the screen.
It has two 10-watt speakers built into the unit to provide sound, which is quite enough for casual movie viewing. And, BenQ HT2150ST housee a maximum screen size that is only 100 inches, kind of small compared with other projectors with same price range.
Optoma HD39Darbee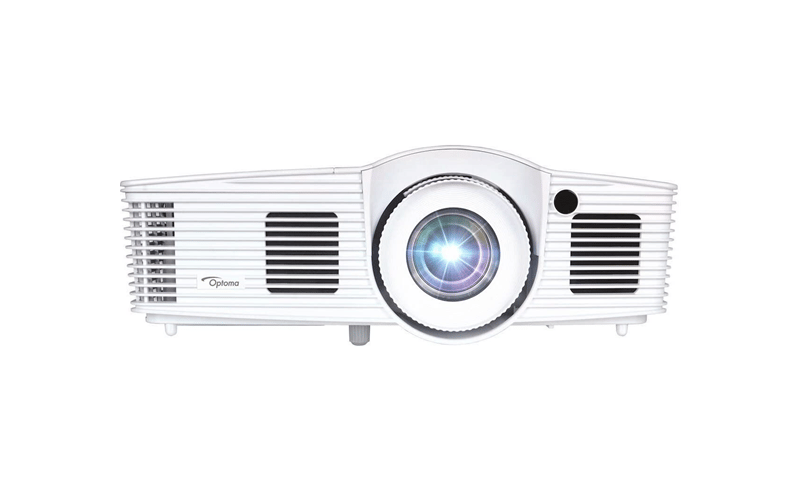 Pros:
maximum screen size of 370 inches
Long lamp life
High brightness and contrast ratio
Cons:
1 year warranty
Long short throw
As a 3D DLP projector, Optoma HD39Darbee offers an incredible 3,500 lumens of brightness as well as the contrast ratio of 32,000:1, you can not doubt the perfect accuracy that the device brings. With this level of brightness means you can watch it in a strong ambient light environment. This projector has no zoom ring or horizontal keystone adjustment. With long throw of this projector, you may need to make sure that you have large enough room to place Optoma HD39Darbee.
It has maximum screen size that is up to 370 inches, which is really impressive. Also it has a long lamp life with 15,000 hours, which can save a lot of money in the replacement of lamps. Optoma HD39Darbee only offers a one-year warranty while average projector manufacturers will provide 2 year warranty.
Epson Home Cinema 2150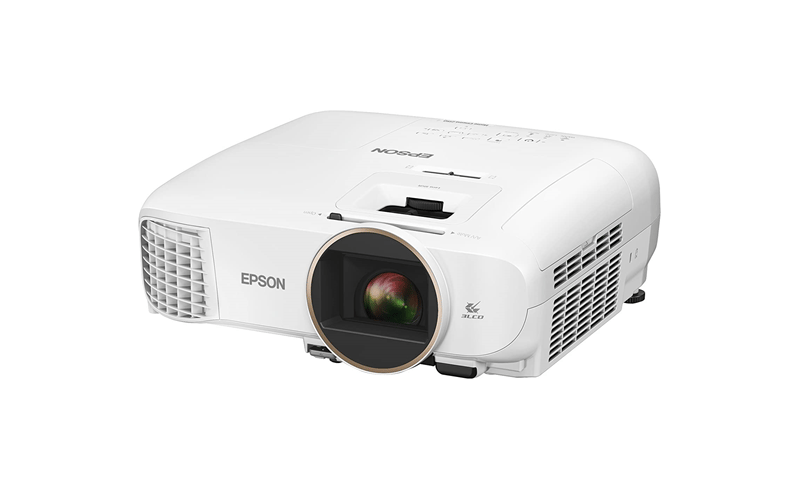 Pros:
maximum screen size of 300 inches
High contrast ratio
Cons:
1 year warranty
So far the projectors we've mentioned above are all DLP display technology, this Epson Home Cinema 2150 here adopts 3LCD display technology. It offers a significantly higher contrast ratio of 60,000:1, indicating its ability of showing deeper blacks. the 2500 lumens provided by Epson Home Cinema 2150 is decent as well.
Speaking of image size, this projector produces giant size that is up to 300 inches, perfect for hosting viewing parties in your backyard. And this projector also has a 10-watt speaker built in.
InFocus IN119HDXA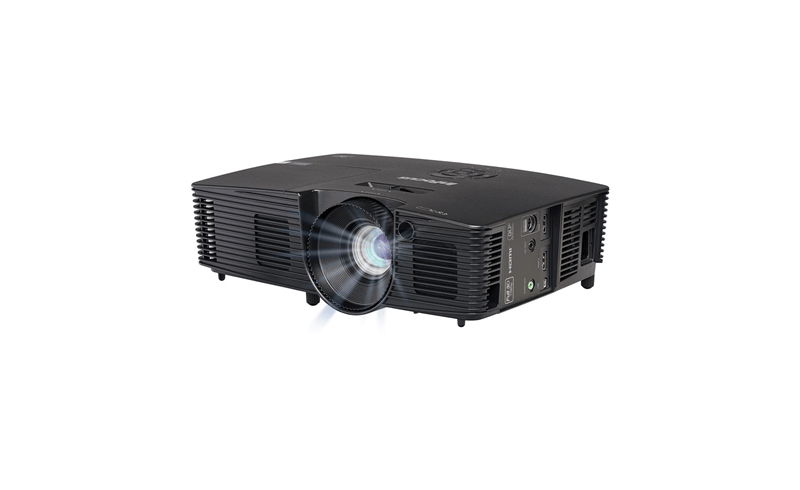 Pros:
maximum screen size of 300 inches
great contrast ratio and brightness
Cons:
Only vertical keystone correction
It comes with a great HD resolution, and it has a great brightness of 3,200 Lumens designed to make every picture look great, especially because the contrast ratio of 15,000:1 delivers bright whites and darker blacks. it is also enriched with a long-life lamp that will display your HD content without any filters.
When it comes to the sound, it is supplemented with built-in speakers and a 3,55 mm audio port, able to provide clear messages don't you agree? Finally, this is not only efficient and easy to set-up, but it also has a practical size and weight – offering you the chance to prepare and host nice events.
See More:
Top 6 Best 4K Projectors for 2022
Top 6 Best Home Theater Projectors for 2022
Top 5 Best Portable Projectors for 2022