VAVA 4K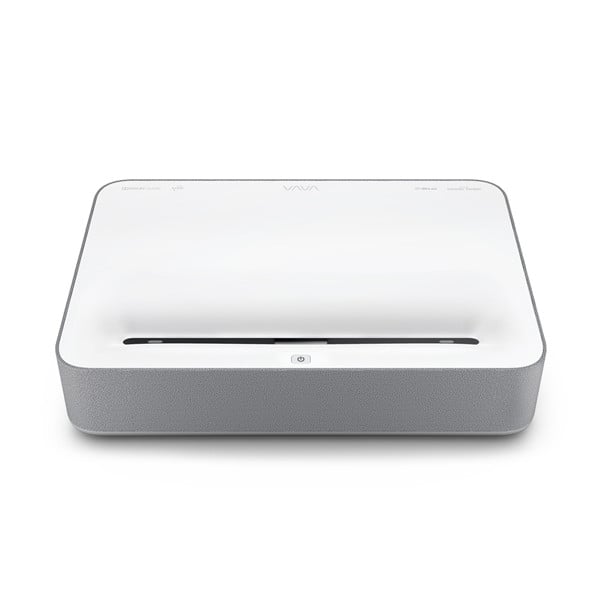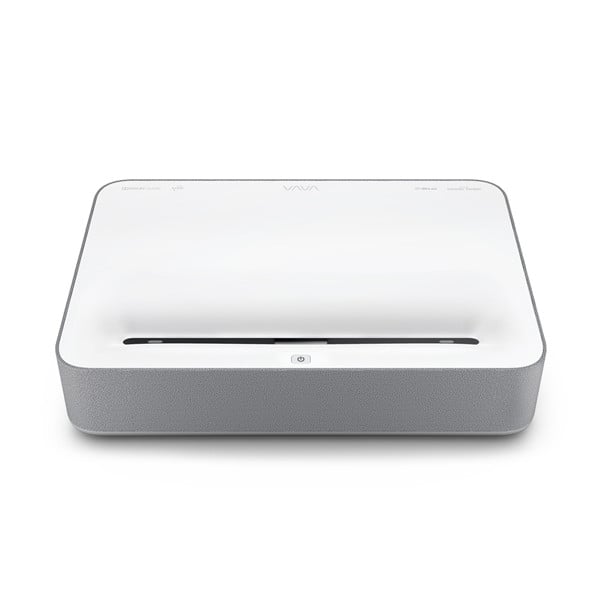 Lumens

:

1,800 ANSI Lumens
Review
VAVA 4K Short-Throw Laser Projector gives you a stunning 4K image up to 150″ display. Get a HUGE image from only 7.2 inches away!
➤ 150" Display
➤ HDR10 (sharper contrast, deeper colors, clearer details)
➤ ALPD 3.0 (cinema-quality – used in 17,000 theaters)
➤ Ultra-Short Throw (7.2 inches for 100" screen)
➤ Harman Kardon Sound (with dts-HD & Dolby Audio)
➤ Easy Setup (no mounts needed)
➤ Sleek Design
4K Ultra HD Resolution
The VAVA 4K Projector projects in full 4K resolution with HDR 10. This means you get ultra-clear & vivid images with incredible pixel depth.
With over 8 million enhanced pixels, you'll see every detail. Experience your games, shows, and movies sharper and clearer than ever before. This is the way your entertainment was meant to be seen.
HDR 10
With HDR 10 support, the VAVA 4K Projector gives you full detail in highlights and shadows. Thanks to DCI-P3 and Rec.2020 color gamut coverage, you'll also get deeper blacks, brighter whites, and more brilliant colors in your images – giving you a higher contrast, fuller saturation, and sharper image.
ALPD 3.0
VAVA 4K Projector uses advanced ALPD 3.0 technology. This is the same technology used in over 17,000 top movie theaters worldwide. Watch all your favorite movies and shows as if they were on a theater screen!
You'll get a significantly brighter display, punchier contrast, and cleaner, richer colors than ever before. Enjoy cinema-quality images on a huge 150" screen in your own living room!
Superb Color Range
An innovative three-stage color wheel technology gives you a 60-80% improvement on red light projection and provides rich and faithful color reproduction to all your videos and films.
You'll get a vibrant, vivid image full of life and sharpness without loss of detail.
Watch your images pop and movies come to life as you experience the best in image technology.
Unparalleled Native Contrast
VAVA 4K Projector's powerful 3000:1 native contrast enhances your cinematic experience like nothing on the market. It far exceeds the standard 2000:1 native contrast found in movie theaters – so you'll be getting a better image than the silver screen! See details unseen in other projectors and displays.
Experience pure blacks, bright whites, and vivid colors in a stunning, uninterrupted display.
We designed the VAVA 4K Projector with simplicity in mind and innovation as our driver. We wanted to bring movie theater cinema quality to your home, without hassle or complicated setup.
Because of the short throw, you'll be able to easily set up VAVA 4K Projector in virtually any space. This means you can get HUGE, CINEMA-QUALITY displays anywhere in your home or office.
Hassle-Free Setup
Set up is easy. Just plug and play.
Since the VAVA projector has a short throw, there's no need for mounting systems, cable extensions, or ceiling placements.
If you ever need to move your projector, simply unplug it and move where you want it.
Cinema-Sized & Cinema-Quality Projection
With 150" projection – you'll get your own cinema-sized display in any room. No more shadows disrupting the view either! The short throw means you don't have to worry about anything blocking the projector light.
And our laser and 4K technology give you image quality that surpasses even movie theaters!
Enjoy epic entertainment on a massive screen with zero interruptions.
The VAVA 4K Projector uses advanced laser projection technology that creates stunning images with vivid color. The laser bulb is extraordinarily bright and boasts incredible longevity.
Bright Even With Lights
With 6000 lumens from the light source, the VAVA 4K Projector can still produce a bright image even with ambient lighting in the room. You no longer need a pitch-black room to get a good image.
This also means that when you have your lights off, the VAVA 4K Projector is even CLEARER and BRIGHTER than ever! All you need to do is dim your lights to experience VAVA 4K in full glory.
Ultra-Long Lamp Life
Best of all, VAVA 4K Projector's laser bulbs have a near limitless lifetime that's up to 10x longer than a traditional bulb! With a lamp life of up to 25,000 hours, you'll never have to replace bulbs again.
You'll have to watch up to 10,000 full-length movies before you worry about changing out your lamp!
Considered one of the best in HiFi home theater sound systems, Harman Kardon speakers create a clear, rich, dynamic sound that is unrivaled in the industry.
Every VAVA 4K Projector is equipped with a built-in soundbar engineered by Harman Kardon to play ultra high-fidelity sound with your ultra high-definition image.
Get full, detailed, accurate sound to perfectly compliment your amazingly clear, vivid image. This is the ultimate cinematic theater package.
With 3 HDMI ports, built-in WiFi capability, ethernet input, and more, you'll have everything you need to get all your entertainment connected – no problem!
We made sure VAVA 4K Projector is seamless and beautiful. Fit it anywhere in your home and add an extra sense of modernity wherever you place it.
Projection is not just technically more advanced than TV, it's better for your eyes. Projected images cause significantly less eye strain than TV and monitor images do.
This is because the image is being reflected off a surface, rather than beamed directly into your cornea.
TVs and monitors, whether OLED, LED, LCD, or others, work by shooting light directly at you. This creates a lot of strain and is why you need to rest your eyes after being on a computer for too long.
This means, with VAVA, you can watch hours of entertainment without straining your eyes! You'll get crystal-clear images and healthier vision easily and powerfully.
Advanced Eye Safety
We made sure to keep your safety in mind. VAVA 4K Projector has a built-in proximity detector that automatically dims the laser projection to protect your eyes if you ever step or lean in front of the projector.
We've gone deep and analyzed the biggest complaints with all major projectors and TVs on the market. Whether it's poor images, bulb burnout, expensive installation, or bulky size, VAVA covers it all.
Source: IndieGoGo
VAVA 4K - Specs
Optical Parameters
Brand

Brand

VAVA

Brand Model

Brand Model

VAVA 4K

Brightness (ANSI lumens)

Brightness (ANSI lumens)

1,800 ANSI Lumens

Display Chip

Display Chip

0.47''DMD

Display Technology

Display Technology

DLP

Standard Resolution

Standard Resolution

4K

Maximum Supported Resolution

Maximum Supported Resolution

4K

Image Contrast Ratio

Image Contrast Ratio

3000:1; 1,500,000:1 (Dynamic)

Throw Ratio

Throw Ratio

0.23:1

Keystone Correction

Keystone Correction

Horizontal/Vertical

Lamp Life

Lamp Life

25,000 hours

Lamp Type

Lamp Type

Laser

Focus technology

Focus technology

Electric Focus
Projection Parameters
Product type

Product type

Laser projector

RAM

ram

2GB

Storage

Storage

32G

Operating System

Operating System

Android 7.1

content

content

Limited options

Image Size

Image Size,projector1

80"-150"

Screen ratio

Screen ratio

16:9

Screen color

Screen color

Rec.709

Image Technology

Image Technology

HDR

MEMC

MEMC

Yes

Bluetooth

Bluetooth

Yes

3D

Stereoscopic film is a type of film that was first introduced in Hollywood on May 24, 1953 when stereoscopic films appeared.

Yes

Sound System

Sound System

Harman Kardon Sound

Projection method

Projection method

Front, Rear, Ceiling

Time to market

Time to market

2019
Ports
I/O Connection Ports

Connection Ports

Audio Out: Mini Jack
Composite: RCA
HDMI x 2
HDMI (HDCP 2.2)
WiFi

WiFi

Yes

Bluetooth

Bluetooth

Yes
Other
Size(HxWxD)

Size(HxWxD)

110 cm x 530 cm x 370 mm

Power Usage

Power Usage

360 W

Noise Level

Noise Level

32 dB

Machine weight

Machine weight

10.8 kg

Accessories

Accessories

1 x Projector
1 x Remote
1 x 1.5m/5ft Power Cable
1 x Cleaning Cloth
2 x AAA Battery
1 x Manual
Warranty

Warranty

1 year
Reviews