JMGO U2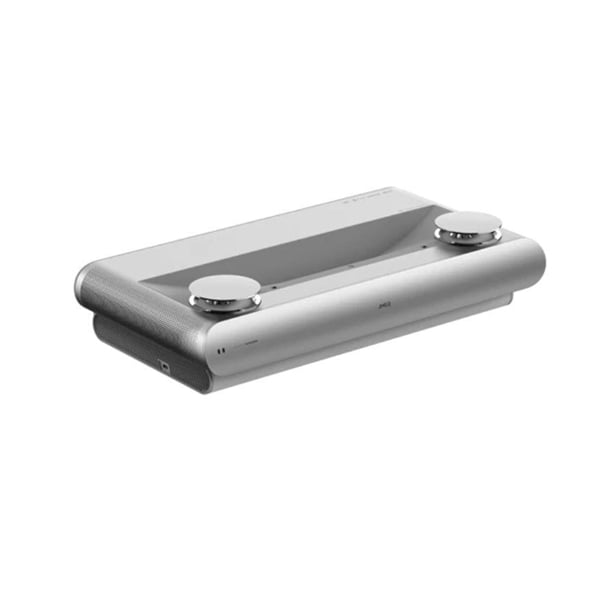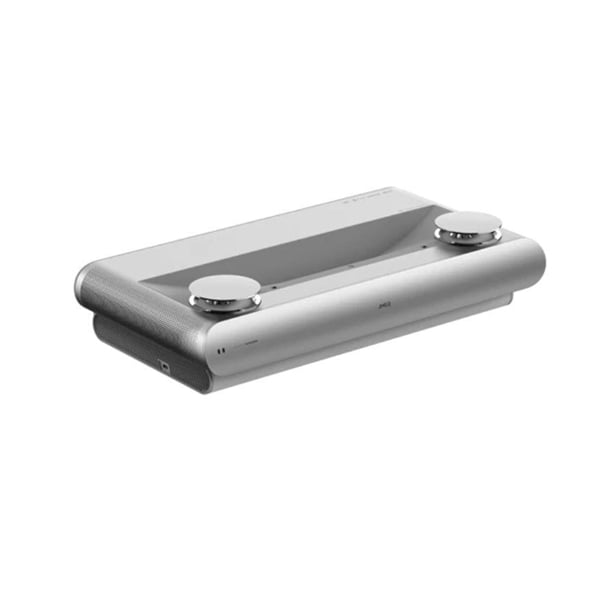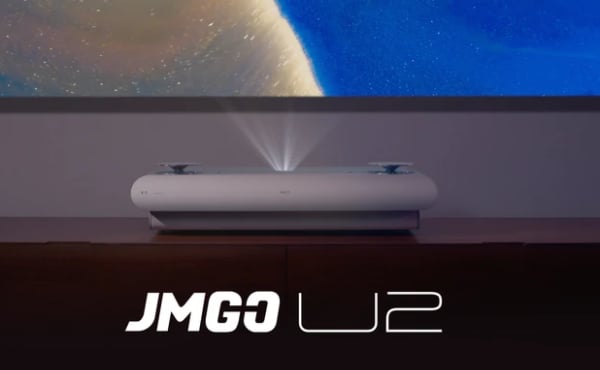 Standard Resolution

:

4K (3840×2160)
Real 4K | 100" Cinema Experience: Excellent contrast ratio, impressive brightness, and accurate color with better detail than 1080p projector.
Tri-Color Laser|BT.2020 114%:Exceeding 159% color standard of IMAX. Unlock a high-end home theater experience.
2400 ANSI Lumens Brightness: Boasts a peak brightness of 3600 ANSI lumens using Fresnel screen with a gain of 1.5.
Dolby Audio|Co-Created With DYNAUDIO: Get cinematic stereo sound to match the stunning display.
Built-In Luna OS: 24/7 companion, including music visualizer, message board, weather dashboard, and more.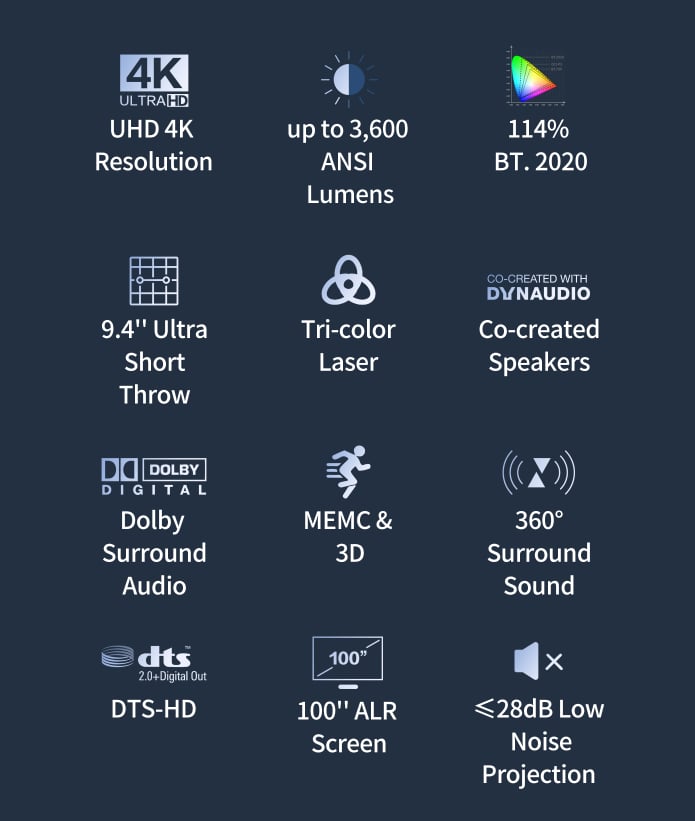 The JMGO U2 utilizes the industry-leading triple laser projection system to provide cutting-edge color reproduction. The U2 achieves 114% BT.2020 color gamut with leading-edge technology, 159% greater than the color standard required of IMAX movies, allowing you to distinguish even the subtlest colors while perfectly reproducing the stunning sights of the natural world.
The best-in-class Wide Color Gamut (WCG) provides stunningly vibrant and true-to-life colors, so precise you can see the difference in lipstick shades at a glance, while also capturing the most breathtakingly colorful sunsets or iridescent dragonfly wings and flawlessly reproducing them in your own home. Bring a truly striking cinematic experience into your home, with the JMGO U2.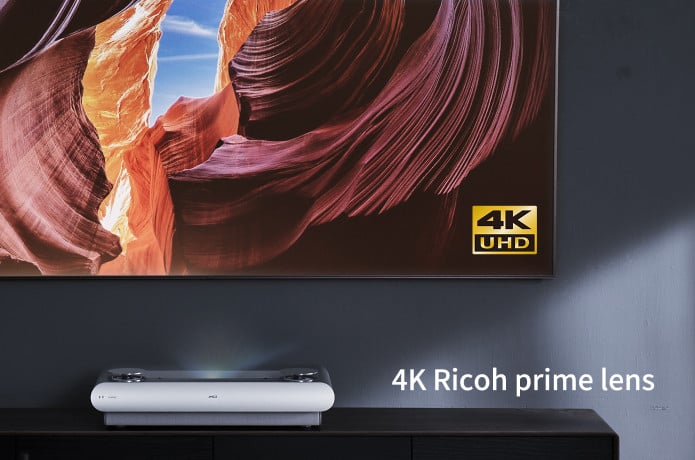 The JMGO U2 uses advanced XPR technology by Texas Instruments, for pixel-shifted 4K with 8.3 million distinct pixels. That means it's capable of playing 4K video at a fraction of the cost of native 4K displays while maintaining the sharp, crisp look of high-resolution video.
It features a powerful lamp, capable of producing 3600 ANSI Lumens on an ALR screen (2400 ANSI lumens without screen), providing crisp and clear images even in daylight – without having to close the curtains or draw the blinds.
Auto-Brightness Adjustment
Worried that your kids or elderly family members may struggle to make adjustments to the brightness level? Don't sweat it! Using a built-in photosensitive camera, the U2 can automatically adjust the brightness of the screen according to the brightness of the ambient light. So no manual adjustment of brightness is needed, no matter what your surroundings are like.
Smooth View Experience
Motion Estimation and Motion Compensation (MEMC) is a technology used to smooth out images and is especially useful in any situation when each frame counts, like action movies or when watching sports. Make even the fastest-moving images crystal-clear, so you can get the most out of every frame!
Finally, the U2 is also fully 3D compatible with the JMGO 3D glasses, available as an add-on. There is no more immersive or powerful viewing experience than watching something in 3D, and now you can do it any time you like, in the privacy and comfort of your own home!
Ultra Short Throw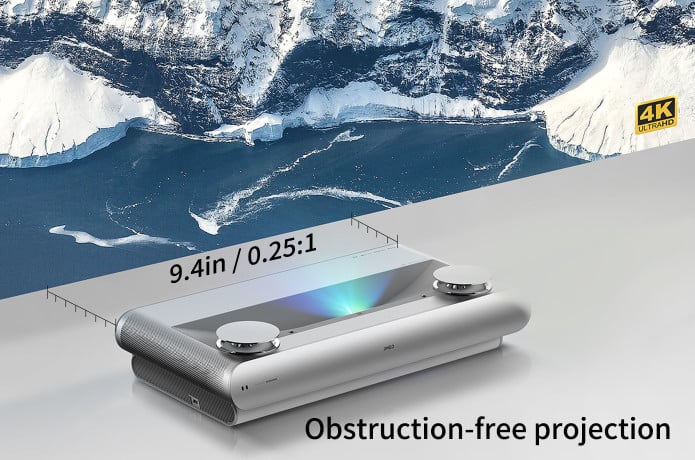 The JMGO U2 is perfect for home theaters, living rooms, or even offices, and its limited lens-to-screen distances mean more obstructed views. The JMGO U2 uses ultra-short-throw technology and boasts a 0.25:1 throw rate. Place it just 9.4" from the wall for a stunning 100" projection.
Cinematic Experience
The U2 isn't just a crystal clear projector- it also features an amazing surround sound system built into the same device! Co-created with Dynaudio, the U2's four powerful electromagnetic speakers earned dual certification from both Dolby Audio and DTS-HD, to ensure the absolute highest quality auditory experience.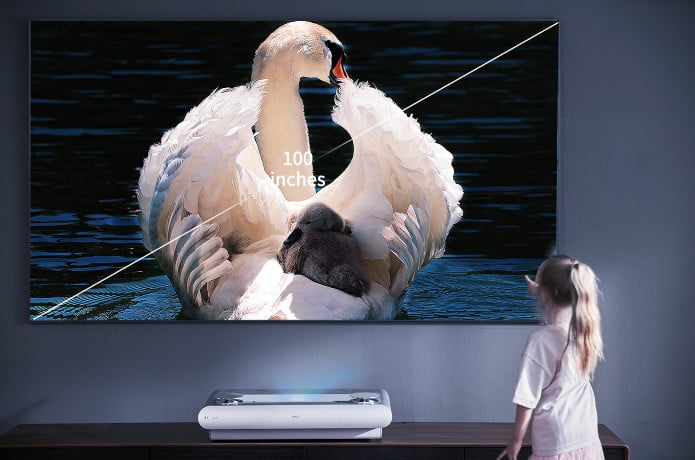 The U2 utilizes Omnidirectional Stereo Compensation Technology to create a full surround sound experience with deep, driving bass and perfect, clear highs. With a 2400cc ultra-large sound cavity, it elevates sound with exceptional clarity, detail, and dynamics at an impressive sensitivity. Fill your entire room with music or even podcasts, and enjoy an immersive, flawless sound experience no matter where you're sitting.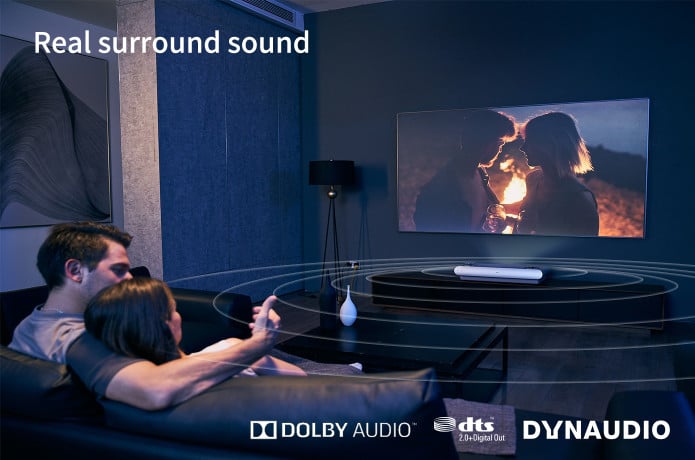 If there's a car driving across the screen, you can hear it transition from left to right as it speeds by. No matter what your audio demands, U2 delivers incredible surround sound to perfectly complete the home cinema experience.
Luna OS
JMGO U2 features Luna OS with a built-in smart Android system, connecting you to a world of premium entertainment.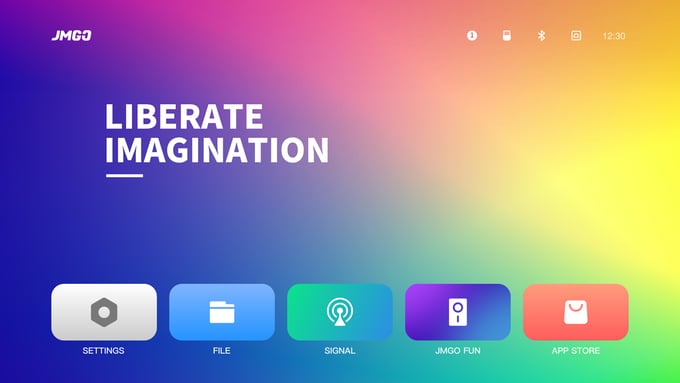 Endless Entertainment
The JMGO U2 has unparalleled connectivity, with 2*HDMI (1 HDMI ARC), 1*Optical, 1*LAN, 1*Service, and 2*USB Ports allow plug-and-play connection to TV sticks like Amazon Fire Stick, Roku, or Chromecast, with ample connections left for cable TV boxes, video game consoles, or other devices. The U2 has everything you need for endless entertainment.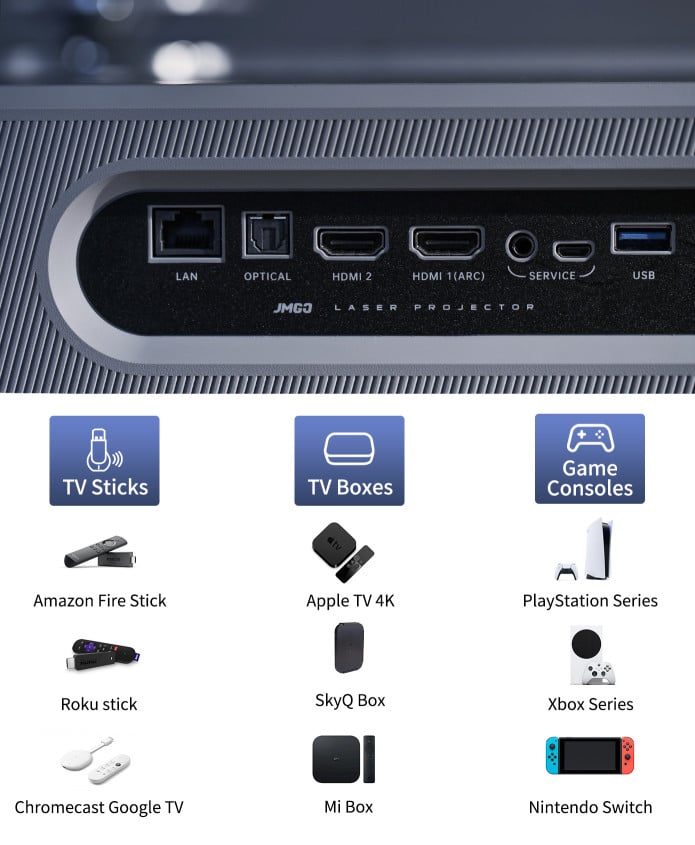 Wireless Casting
Need to cast from your laptop or mobile device? No problem. The U2 features Bluetooth 4.0 for wireless screen projection and supports iOS, Mac OS, Airplay and more. Play a file from your phone to your 100" screen at the push of a button – it's that easy.
From: https://www.indiegogo.com/

Review Video
JMGO U2 - Specs
Optical Parameters
Brand

Brand

JMGO

Brand Model

Brand Model

JMGO U2

Brightness (ANSI lumens)

Brightness (ANSI lumens)

2400 ANSI Lumens

Display Chip

Display Chip

0.47″ DMD

Display Technology

Display Technology

DLP

Standard Resolution

Standard Resolution

4k

Maximum Supported Resolution

Maximum Supported Resolution

4k

Image Contrast Ratio

Image Contrast Ratio

15000:1

Throw Ratio

Throw Ratio

0.25:1

Keystone Correction

Keystone Correction

Yes

Lamp Life

Lamp Life

50000 hours

Lamp Type

Lamp Type

laser

Projector lens

Projector lens

Glass

Focus technology

Focus technology

Auto
Projection Parameters
Product type

Product type

Laser projector

CPU

CPU

MSD6A838

RAM

ram

3GB

Storage

Storage

32GB

Operating System

Operating System

Luna OS/Android OS

Image Size

Image Size,projector1

100 inches

Screen ratio

Screen ratio

16:9

Screen color

Screen color

RGB Tri-color

Image Technology

Image Technology

HDR10

MEMC

MEMC

Yes

Bluetooth

Bluetooth

Yes

3D

Stereoscopic film is a type of film that was first introduced in Hollywood on May 24, 1953 when stereoscopic films appeared.

Yes

Sound System

Sound System

Dolby Audio & DTS

Projection method

Projection method

Front, Rear, Front Ceiling, Rear Ceiling

Time to market

Time to market

2021
Ports
I/O Connection Ports

Connection Ports

2*HDMI (1 HDMI ARC), 1*Optical, 1*LAN, 1*Service, and 2*USB Ports

WiFi

WiFi

WiFi 2.4 GHz/5 GHz

Bluetooth

Bluetooth

Bluetooth 4.0
Other
Size(HxWxD)

Size(HxWxD)

720×382.35×168.2

Noise Level

Noise Level

≤28dB

Machine weight

Machine weight

12.8 kg

Accessories

Accessories

Power Cable*1
Remote Control with Type C Charging*1
Alignment Toolkit*1
Instruction Manual*1
Warranty Card*1
Warranty

Warranty

1 year
Reviews
a powerful smart projector

The projector works just as an expensive TV. It has amazing screen image and audio effect. love it!

Smart 4K home projector

I love the image quality. It is just the projector i want.

Good video projector

JMGO U2 is popular recently. I saw a influencer reviewed the projector, so i bought it. I think it is good so far. The shape and appearance is also special.