XGIMI Aura vs CASIRIS A6: Which is Better?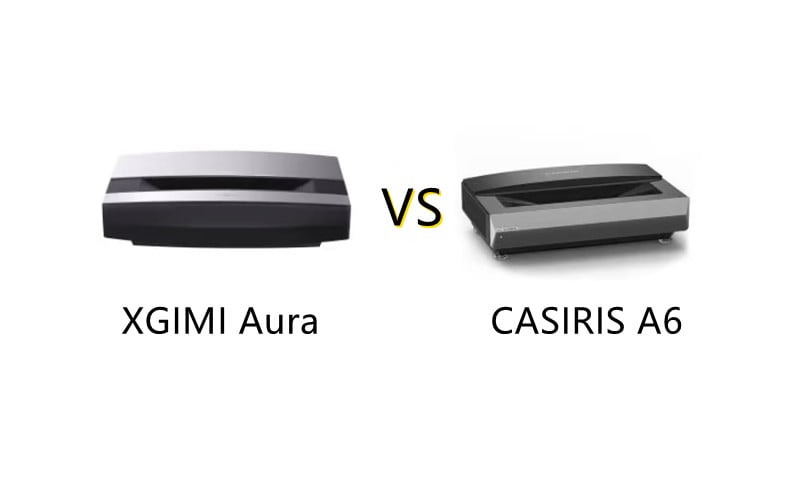 XGIMI Aura and CASIRIS A6 are both UST laser projectors. The two projectors adopt laser as the light source and have the same 4K resolution. Which projector is better?
In terms of throw ratio, XGIMI Aura has a short throw of 0.233:1 while CASIRIS A6 has a throw ratio of 0.25:1, which means that CASIRIS A6 requires a slightly longer distance to project the same screen size compared with XGIMI Aura.
For brightness, XGIMI Aura is rated at 2,400 ANSI lumens while CASIRIS A6 has ANSI 2,200 lumens. XGIMI Aura is brighter than CASIRIS A6.
Regarding lamp life, CASIRIS A6 has 30,000 hours, which is longer than XGIMI Aura's 20,000 hours.
For memory, XGIMI Aura has a built-in memory of 2G+32G, but CASIRIS A6 has 3G+32G memory, meaning that CASIRIS A6 has a bigger RAM memory.
Optical Parameters
Brand

Brand

XGIMI

CASIRIS

Brand Model

Brand Model

XGIMI Aura

CASIRIS A6

Brightness (ANSI lumens)

Brightness (ANSI lumens)

2,400 ANSI Lumens

2200 ANSI Lumens

Display Chip

Display Chip

0.47''DMD

0.47''DMD

Display Technology

Display Technology

DLP

DLP

Standard Resolution

Standard Resolution

4K (3840x2160)

4K (3840x2160)

Maximum Supported Resolution

Maximum Supported Resolution

4K

4K (3840x2160)

Throw Ratio

Throw Ratio

0.233:1

0.25:1

Keystone Correction

Keystone Correction

8-Point Keystone Correction

8-Point Keystone Correction

Lamp Life

Lamp Life

20,000 hours

30,000 hours

Lamp Type

Lamp Type

Laser Phosphor

RGB Laser

Focus technology

Focus technology

Electric Focus

Electric Focus

Projection Parameters
Product type

Product type

Laser projector

Laser projector

CPU

CPU

MT9629

MT9639

RAM

ram

2GB

3GB

Storage

Storage

32GB

32GB

Operating System

Operating System

Android 10.0

Android TV 10.0

content

content

Disney +, HBO Max, and YouTube

Netflix, Disney +, Prime Video, and more

Image Size

Image Size,projector1

80-150 inches

90"-120"

Screen ratio

Screen ratio

16:9

16:9

Screen color

Screen color

90% Rec.709 color gamut

107% BT.2020 Color

Image Technology

Image Technology

HDR 10

HDR 10

MEMC

MEMC

Yes

Yes

Bluetooth

Bluetooth

Bluetooth 5.0

Bluetooth 5.0

3D

Stereoscopic film is a type of film that was first introduced in Hollywood on May 24, 1953 when stereoscopic films appeared.

Yes

Sound System

Sound System

Dolby Audio/DTS-HD

Dolby Audio/DTS-HD

Projection method

Projection method

Front

Front, rear, front ceiling, rear ceiling

Time to market

Time to market

2021

2022
Ports
I/O Connection Ports

Connection Ports

Audio Out: Mini Jack
Audio Out: Optical
HDMI 2.0 x 3
USB x 1
LAN x 1
HDMI 2.0 with CEC function
HDMI ARC
Built-in 2.1 speakers (2x 10w)
USB-A
RJ 45
USB2.0 x2
WiFi

WiFi

Dual-band 2.4/5GHz, 802.11a/b/g/n/ac

Yes

Bluetooth

Bluetooth

Bluetooth 5.0

Bluetooth 5.0
Other
Size(HxWxD)

Size(HxWxD)

606 x 401 x 139.5 mm

520 x 331 x 152mm

Power Usage

Power Usage

100V - 240V

175 W

Noise Level

Noise Level

< 30dB

< 30dB

Machine weight

Machine weight

11 kg

9.2 kg

Accessories

Accessories

Power Plug×1
Warranty Card×1
Manual×1
Remote Control×1 Remote control with 2x AAA battery
Quick start guide with warranty card
HDMI Cable
Charger and cables (UK, CH, US, EU)
Warranty

Warranty

1 Year