ViewSonic LS500WH vs LS550W vs PX703HD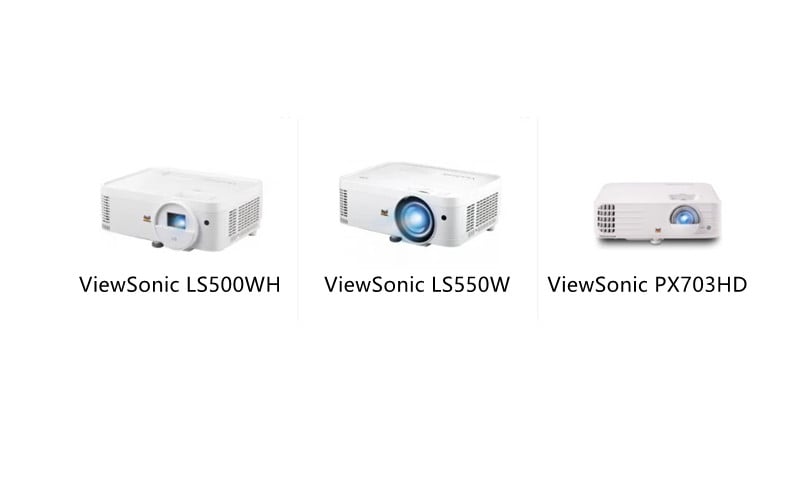 ViewSonic LS500WH, ViewSonic LS550W, and ViewSonic PX703HD are all DLP projectors with LED as the light source, but they are different in terms of brightness, resolutions, and contrast ratios. ViewSonic PX703HD features 1920×1080 while ViewSonic LS500WH and ViewSonic LS550W have 1280×800.
Check the side-by-side comparison below to know more differences between them.
Optical Parameters
Brand

Brand

ViewSonic

ViewSonic

ViewSonic

Brand Model

Brand Model

ViewSonic LS500WH

ViewSonic LS550W

ViewSonic PX703HD

Brightness (ANSI lumens)

Brightness (ANSI lumens)

2,000 ANSI lumens

2,000 ANSI lumens

3500 lumens

Display Chip

Display Chip

Texas Instruments DLP digital optical processing projection technology

Display Technology

Display Technology

DLP

DLP

DLP

Standard Resolution

Standard Resolution

1280x800

1280x800

1920*1080

Maximum Supported Resolution

Maximum Supported Resolution

1920 x 1080

1920 x 1080

Image Contrast Ratio

Image Contrast Ratio

3000000:1

3000000:1

12000:1

Throw Ratio

Throw Ratio

1.55-1.70

0.49:1

1.13-1.47:1

Keystone Correction

Keystone Correction

Horizontal/Vertical keystone, +/- 40°

Horizontal/Vertical keystone, H:+/-40° , V:+36°/-40°

Vertical: ± 40 degrees

Lamp Life

Lamp Life

30000 hrs

30000 hrs

Economy mode: 20000 hours

Lamp Type

Lamp Type

LED

LED

Ultra high pressure mercury lamp

Focus technology

Focus technology

Manual

Manual
Projection Parameters
Product type

Product type

Commercial projector

Commercial projector

Home theater

Image Size

Image Size,projector1

30"-300"

60"-300"

30-300 inches

Screen ratio

Screen ratio

16:9

16:9

16:9

Screen color

Screen color

1.07 Billion Colors

1.07 Billion Colors

3D

Stereoscopic film is a type of film that was first introduced in Hollywood on May 24, 1953 when stereoscopic films appeared.

Yes

Sound System

Sound System

10-watt speaker

Projection method

Projection method

Table, ceiling, rear, forward

Time to market

Time to market

2022

2022
Ports
I/O Connection Ports

Connection Ports

Input
HDMI: 1(HDMI 1.4/ HDCP 1.4)
Audio-in (3.5mm): 1
Output
Audio-out (3.5mm): 1
Speaker: 2W
USB Type A (Power): 1 (5V/2A)
Control
RS232 (DB 9-pin male): 1 Input
Computer in (share with component): 1
HDMI: 1(HDMI 1.4/ HDCP 1.4)
Audio-in (3.5mm): 1
Output
Monitor out: 1
Audio-out (3.5mm): 1
Speaker: 2W
USB Type A (Power): 1 (5V/2A)
Control
RS232 (DB 9-pin male): 1
RJ45 (LAN control): 1
USB Type A (Services): 1(share with USB A Output) Input port
2 x HDMI
1 x Audio input
1 x VGA
Output port
1 x USB
1 x Audio output
Control interface
1 x RS232
1 x USBtypeA
Other
Size(HxWxD)

Size(HxWxD)

293x221x115mm

293x221x115mm

312×222×108mm

Power Usage

Power Usage

156W

157W

300W

Noise Level

Noise Level

Audible Noise (Normal): 30dB Audible Noise (Eco): 26dB

Audible Noise (Normal): 30dB Audible Noise (Eco): 26dB

27dB

Machine weight

Machine weight

2.45kg

2.45kg

2.62kg

Accessories

Accessories

Power Cord: 1
Remote Control: 1
QSG: Yes Power Cord: 1
VGA Cable: 1
Remote Control: 1
QSG: Yes
Lens Cover: Yes
Warranty Card: Yes (CN Only) host   x1
power cord   x1
Remote control (including battery)   x1
Quick use guide & warranty card   x1
VGA cable   x1
Warranty

Warranty

2 years

other

other

Input Lag: 16ms
Resolution Support: VGA(640 x 480) to FullHD(1920 x 1080)
HDTV Compatibility: 480i, 480p, 576i, 576p, 720p, 1080i, 1080p
Video Compatibility: NTSC, PAL, SECAM
Horizontal Frequency: 15K-102KHz
Vertical Scan Rate: 23-120Hz Input Lag: 16ms
Resolution Support: VGA(640 x 480) to FullHD(1920 x 1080)
HDTV Compatibility: 480i, 480p, 576i, 576p, 720p, 1080i, 1080p
Video Compatibility: NTSC, PAL, SECAM
Horizontal Frequency: 15K-102KHz
Vertical Scan Rate: 23-120Hz