Optoma UHD55 vs Optoma UHD50X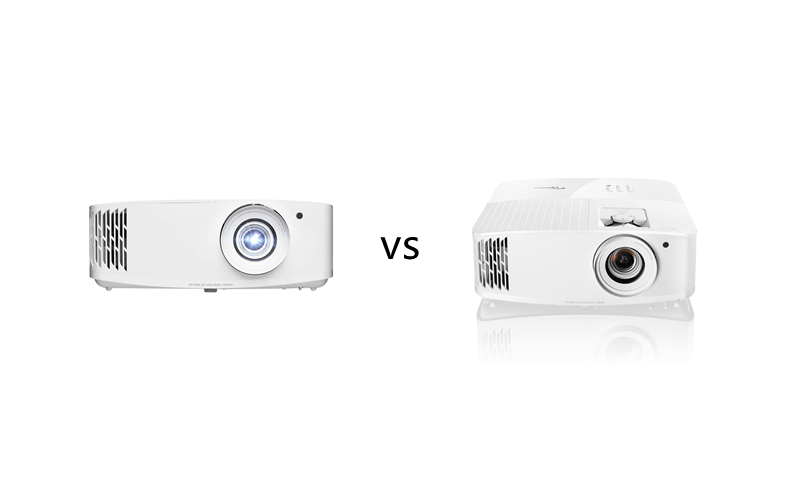 Optoma UHD55 vs Optoma UHD50X, which projector is better? The Optoma UHD50X is among the best projectors regarding price for the technology you get. You can mount the projector on either a table or the ceiling, and its UltraDetail technology displays crisp images with dark black tones.Optoma designed the UHD50X to display both images and video with perfect clarity, including video games. With its 36 ms response time on 4K projection, you won't miss a second of gaming with this projector. 
Optoma's new UHD55 smart true 4K UHD projector delivers impressive cinematic experiences at home. It is able to offer stunning, larger-than-life images with vibrant color. Featuring 3,600 lumens of brightness, Optoma UHD55 allows you to enjoy shows and movies even if there are strong ambient light in the viewing space.
Optical Parameters
Brand

Brand

Optoma

Optoma

Brand Model

Brand Model

Optoma UHD50X

Optoma UHD55

Brightness (ANSI lumens)

Brightness (ANSI lumens)

3,400 ANSI Lumens

3,600 ANSI lumens

Display Chip

Display Chip

0.47" DLP x 1

Display Technology

Display Technology

DLP

DLP

Standard Resolution

Standard Resolution

3840x2160

3480 x 2160

Maximum Supported Resolution

Maximum Supported Resolution

3840x2160

3480 x 2160

Image Contrast Ratio

Image Contrast Ratio

500,000:1 dynamic contrast ratio

Dynamic Contrast Ratio: 1,200,000:1

Throw Ratio

Throw Ratio

1.21:1 - 1.59:1 (D:W)

1.21:1 - 1.59:1

Keystone Correction

Keystone Correction

Vertical only

Horizontal & Vertical

Lamp Life

Lamp Life

4,000 hours / 15,000 hours (Eco)

4,000 hours / 15,000 hours (Eco)

Lamp Type

Lamp Type

240W Metal Halide bulb

Metal Halide bulb

Focus technology

Focus technology

manual focus

manual focus
Projection Parameters
Product type

Product type

Home theater

Home theater

Image Size

Image Size,projector1

34.20" - 302.67"

34.03" - 302.22"

Screen ratio

Screen ratio

16:9 (4K HD)

16:9 (4K HD)

Screen color

Screen color

10-bit

3D

Stereoscopic film is a type of film that was first introduced in Hollywood on May 24, 1953 when stereoscopic films appeared.

3D Ready

Full HD 3D

Sound System

Sound System

5.0 Watts Mono speaker

10.0 Watts Mono

Projection method

Projection method

Rear, forward, table, ceiling
Ports
I/O Connection Ports

Connection Ports

12-Volt Trigger
Audio In: Mini Jack
Audio Out: Optical
HDMI 1.4a
HDMI 2.0
RS232: DB-9pin
USB x 2
VGA In: Dsub-15pin 12-Volt Trigger
Audio In: Mini Jack
Audio Out: Optical
HDMI (HDCP 2.2)
HDMI 2.0
Network: RJ-45
RS232: DB-9pin
USB x 2
VGA In: Dsub-15pin
Wireless Networking
Other
Size(HxWxD)

Size(HxWxD)

4.60" x 12.40" x 10.60"

115 x 315 x 254mm

Power Usage

Power Usage

347 Watts

330 Watts

Noise Level

Noise Level

26 dB

26dB

Machine weight

Machine weight

8.6 lbs

5.09kg

Accessories

Accessories

UHD50X, AC power cord, remote control, batteries for remote and quick start guide card

AC power cord
Remote control with CR2025 battery
Quick start user manual
WUSB wireless adapter
Warranty

Warranty

3 years

other

other

4K/60: 25.8ms | 1080p/60: 23.8ms

Frame Interpolation
HDR
Amazon Alexa
Streaming Apps
Google Assistant
Input lag: 4K/60: 16.9ms | 1080p/240: 4ms