Optoma UHD55 vs Optoma UHD38:What Are the Differences?
Optoma UHD55 and Optoma UHD38 are both 4K projectors, but they have different brightness, contrast ratio, throw ratios, and smart features.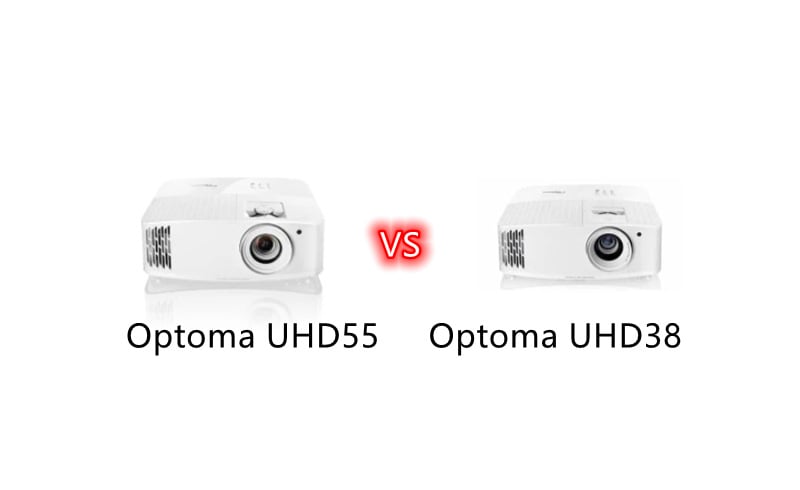 Compared with Optoma UHD38, Optoma UHD55 is better in terms of image contrast, shorter throw ratio, and smart features like voice assistants.
Optical Parameters
Brand

Brand

Optoma

Optoma

Brand Model

Brand Model

Optoma UHD55

Optoma UHD38

Brightness (ANSI lumens)

Brightness (ANSI lumens)

3,600 ANSI lumens

4,000 Lumens

Display Chip

Display Chip

0.47" DLP x 1

Display Technology

Display Technology

DLP

DLP

Standard Resolution

Standard Resolution

3480 x 2160

3840x2160

Maximum Supported Resolution

Maximum Supported Resolution

3480 x 2160

3840x2160

Image Contrast Ratio

Image Contrast Ratio

Dynamic Contrast Ratio: 1,200,000:1

1,000,000:1

Throw Ratio

Throw Ratio

1.21:1 - 1.59:1

1.50:1 - 1.66:1 (D:W)

Keystone Correction

Keystone Correction

Horizontal & Vertical

Horizontal/vertical+/-40°

Lamp Life

Lamp Life

4,000 hours / 15,000 hours (Eco)

4,000 hours / 15,000 hours (Eco)

Lamp Type

Lamp Type

Metal Halide bulb

240W Metal Halide bulb


Focus technology

Focus technology

manual focus

manual focus

Projection Parameters
Product type

Product type

Home theater

Home theater

Image Size

Image Size,projector1

34.03" - 302.22"

33" ~ 300"

Screen ratio

Screen ratio

16:9 (4K HD)

Screen color

Screen color

10-bit

3D

Stereoscopic film is a type of film that was first introduced in Hollywood on May 24, 1953 when stereoscopic films appeared.

Full HD 3D

Full HD 3D

Sound System

Sound System

10.0 Watts Mono

10.0 Watts Mono

Projection method

Projection method

Rear, forward, table, ceiling
Ports
I/O Connection Ports

Connection Ports

12-Volt Trigger
Audio In: Mini Jack
Audio Out: Optical
HDMI (HDCP 2.2)
HDMI 2.0
Network: RJ-45
RS232: DB-9pin
USB x 2
VGA In: Dsub-15pin
Wireless Networking Inputs 2 x HDMI 2.0, 1 x VGA (YPbPr/RGB), 1 x Audio 3.5mm
Outputs 1 x Audio 3.5mm, 1 x S/PDIF, 1 x USB-A power 1.5A
Control 1 x RS232, 1 x 12V trigger
Other
Size(HxWxD)

Size(HxWxD)

115 x 315 x 254mm

12.4" x 10.63" x 4.65"

Power Usage

Power Usage

330 Watts

202W~305W

Noise Level

Noise Level

26dB

26dB

Machine weight

Machine weight

5.09kg

3.97kg

Accessories

Accessories

AC power cord
Remote control with CR2025 battery
Quick start user manual
WUSB wireless adapter AC power cord
Remote control
2x AAA batteries
Basic user manual
Warranty

Warranty

1 Year

other

other

Frame Interpolation
HDR
Amazon Alexa
Streaming Apps
Google Assistant
Input lag: 4K/60: 16.9ms | 1080p/240: 4ms


4.20ms input lag at 1080P, 16ms at 4K