Optoma UHD38 vs BenQ TK700STi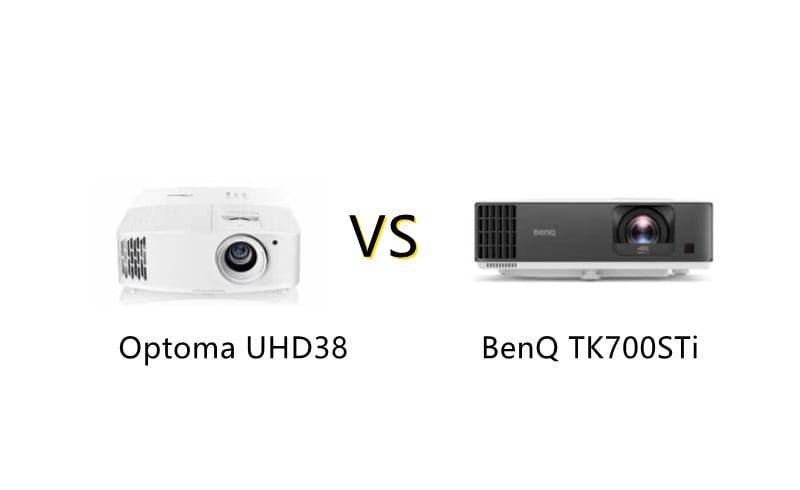 Optoma UHD38 and BenQ TK700STi are both 4K projectors. What are the differences between them?
Regarding brightness, Optoma UHD38 has 4,000 lumens while BenQ TK700STi has 3,000 lumens. That is to say, Optoma UHD38 is much brighter.
In terms of throw ratio, Optoma UHD38 has a longer throw than BenQ TK700STi (0.90:1-1.08:1).
In view of the system, BenQ TK700STi has a built-in Android system but the Optoma UHD38 has no smart system.
In terms of noise, BenQ TK700STi produces a louder noise than Optoma UHD38.
Optical Parameters
Brand

Brand

Optoma

BenQ

Brand Model

Brand Model

Optoma UHD38

BenQ TK700STi

Brightness (ANSI lumens)

Brightness (ANSI lumens)

4,000 Lumens

3,000 ANSI Lumens

Display Chip

Display Chip

0.47" DLP x 1

Display Technology

Display Technology

DLP

DLP

Standard Resolution

Standard Resolution

3840x2160

3840x2160

Maximum Supported Resolution

Maximum Supported Resolution

3840x2160

3840x2160

Image Contrast Ratio

Image Contrast Ratio

1,000,000:1

10,000:1

Throw Ratio

Throw Ratio

1.50:1 - 1.66:1 (D:W)

0.90:1-1.08:1

Keystone Correction

Keystone Correction

Horizontal/vertical+/-40°

Horizontal, Vertical, ± 40 degrees

Lamp Life

Lamp Life

4,000 hours / 15,000 hours (Eco)

4,000 hours / 15,000 hours (Eco)

Lamp Type

Lamp Type

240W Metal Halide bulb



240W Metal Halide bulb

Focus technology

Focus technology

manual focus


manual focus
Projection Parameters
Product type

Product type

Home theater

Home theater

Operating System

Operating System

Android 10.0

Image Size

Image Size,projector1

33" ~ 300"

29.96" - 300.15"

Screen ratio

Screen ratio

16:9 (4K HD)

Screen color

Screen color

96% Rec.709 color gamut

Image Technology

Image Technology

HDR

Bluetooth

Bluetooth

Bluetooth 4.2

3D

Stereoscopic film is a type of film that was first introduced in Hollywood on May 24, 1953 when stereoscopic films appeared.

Full HD 3D

Full HD 3D

Sound System

Sound System

10.0 Watts Mono

5.0 Watts Mono speaker
Ports
I/O Connection Ports

Connection Ports

Inputs 2 x HDMI 2.0, 1 x VGA (YPbPr/RGB), 1 x Audio 3.5mm
Outputs 1 x Audio 3.5mm, 1 x S/PDIF, 1 x USB-A power 1.5A
Control 1 x RS232, 1 x 12V trigger HDMI-1 (2.0b/HDCP2.2) ,
HDMI-2 (2.0b/HDCP2.2)
USB Type A (x1) ,
USB Type A-1 (2.0/Power Supply1.5A)
RS232 in (DB-9pin) (x1)
WiFi

WiFi

2.4G/5G Wi-Fi

Bluetooth

Bluetooth

Bluetooth 4.2
Other
Size(HxWxD)

Size(HxWxD)

12.4" x 10.63" x 4.65"

312 x110 x246 mm

Power Usage

Power Usage

202W~305W

380 Watts

Noise Level

Noise Level

26dB

35 dB / 29 dB (Eco)

Machine weight

Machine weight

3.97kg

3.1 KG

Accessories

Accessories

AC power cord
Remote control
2x AAA batteries
Basic user manual Remote Control w/ Battery RCI067
Quick Start Guide (x1) 21L
Warranty

Warranty

1 Year

3 years

other

other

4.20ms input lag at 1080P, 16ms at 4K

(Fast Mode),16 ms ([email protected]),16 ms ([email protected]) *downscaling to 1080p,4 ms ([email protected]),8 ms ([email protected])
Short-Throw
Full HD 3D
Geometric Correction
HDR
Android OS
Streaming Apps