Optoma EH503 vs Optoma EH460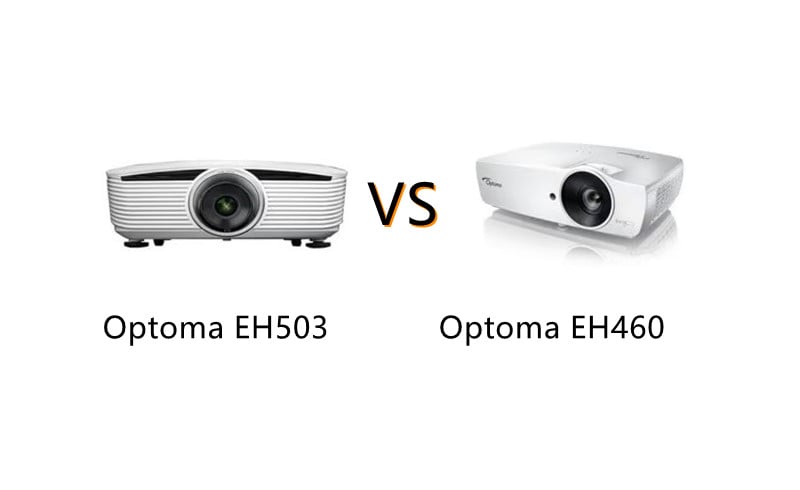 Optoma EH503 and Optoma EH460 are both Optoma EH series. They have the same 1080P resolution, but they are different in terms of brightness. Optoma EH503 has 5,000 lumens while Optoma EH460 has 4,800 lumens.
Regarding the throw ratio, Optoma EH503 has a throw ratio of 1.54-1.93:1 while Optoma EH460 has a throw ratio of 1.22-1.463:1. That is to say, Optoma EH460 has a shorter throw.
For image size, Optoma EH503 has a max image size of 500 inches while Optoma EH460 projects at most 208 inches.
Optical Parameters
Brand

Brand

Optoma

Optoma

Brand Model

Brand Model

Optoma EH503

Optoma EH460

Brightness (ANSI lumens)

Brightness (ANSI lumens)

5000 lumens

4800 lumens

Display Chip

Display Chip

DMD chip

DMD chip

Display Technology

Display Technology

DLP

DLP

Standard Resolution

Standard Resolution

1920*1080

1080P(1920*1080)

Maximum Supported Resolution

Maximum Supported Resolution

WUXGA(1920*1200)

Image Contrast Ratio

Image Contrast Ratio

2000:1

20000:1

Throw Ratio

Throw Ratio

1.54-1.93:1

1.22-1.463:1

Keystone Correction

Keystone Correction

Vertical: ± 15 degrees

Horizontal: ± 25 degrees
Vertical: ± 30 degrees
Lamp Life

Lamp Life

Highlight mode: 1500 hours, economy mode: 3000 hours

Normal mode: 3000 hours, economic mode: 5000 hours

Lamp Type

Lamp Type

Replaceable high efficiency bulb

Focus technology

Focus technology

Manual focus

Manual focus

Projection Parameters
Product type

Product type

Engineering Projector

Home projector

Image Size

Image Size,projector1

30-500 inches

15-208 inches

Screen ratio

Screen ratio

4:3/16:9/16:10

4:3/16:9/LBX/Native/Auto

Screen color

Screen color

1 billion 70 million
Ports
I/O Connection Ports

Connection Ports

1×HDMI 1.4b
1×DVI-D
1×DisplayPort
2×VGA in
1×BNC(RGBHV)
1×YPbPr
1×S-Video
1×Video
1×VESA 3D(3 pin)
3×Mini-jack Audio-In
2×RCA(R/L) Audio-in
1×VGA Out
1×Mini-jack Audio-Out
1×+12V
1×RS-232(9 pin)
1× wired remote interface
1×RJ-45
1×USB Type A
1×USB Type B 2×USB Type A
1×VGA input
1×mini USB
1×Audio In
1×RS-232
1×RJ-45
1×VGA 1 OUT
1×Audio out
1×12V out
2×HDMI 1.4a
Other
Size(HxWxD)

Size(HxWxD)

430×340×183mm

345×216×109mm

Power Usage

Power Usage

370W, standby power: < 0.5W

Noise Level

Noise Level

Normal mode: 37db

Normal mode: 31dB, economic mode: 29dB

Machine weight

Machine weight

8.6kg

2.95kg

Warranty

Warranty

2 years

2 years

other

other

3D

M4 × 10mm × 3 pcs